baked chocolate doughnuts with brown sugar icing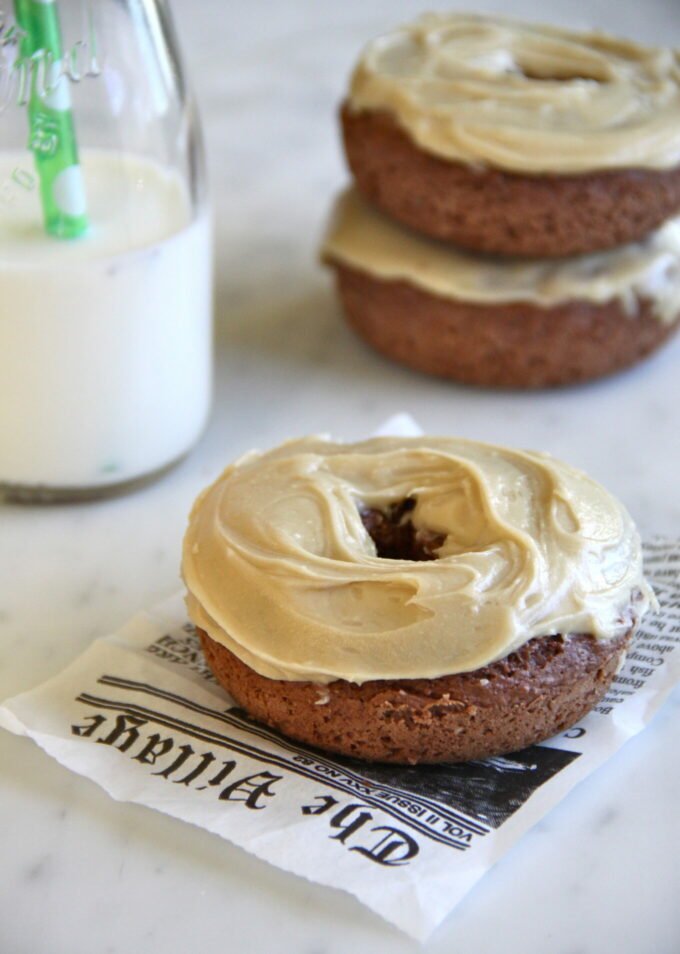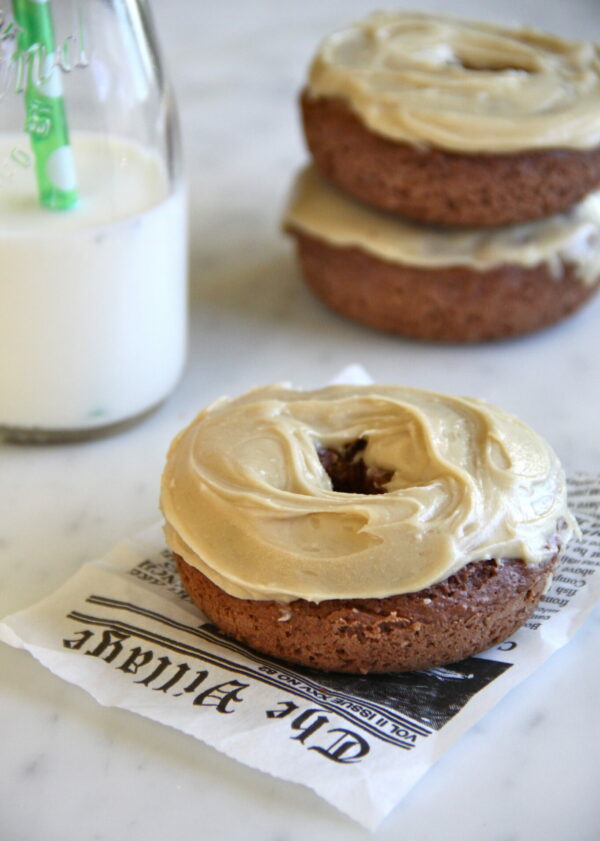 Strange notions are rummaging through my mind.
Not in a creepy-creeperton kind of way; but rather, more like, "Wow, I didn't think that was possible."
Maybe it's because I'm turning thirty in exactly twenty-nine days (heaven help me). Or, it's because I haven't kissed my sweet Mr. B in two weeks. Or, it's because the month of chocolate and love is five seconds away. I dunno?
As I was writing in my top-secret recipe playbook (read: writing bullet points on purple post-it-notes), I sensed an unfamiliar feeling. At first, I was excited because I was finally ahead of the food blogging game for once. (Can I get a high-five for two weeks worth of posts? Bueller?) Then suddenly, I began to distrust my euphoria. As I continued to write and peel off notes assigning recipes to particular days, I noticed the newly scribed recipes were dessert. GASP!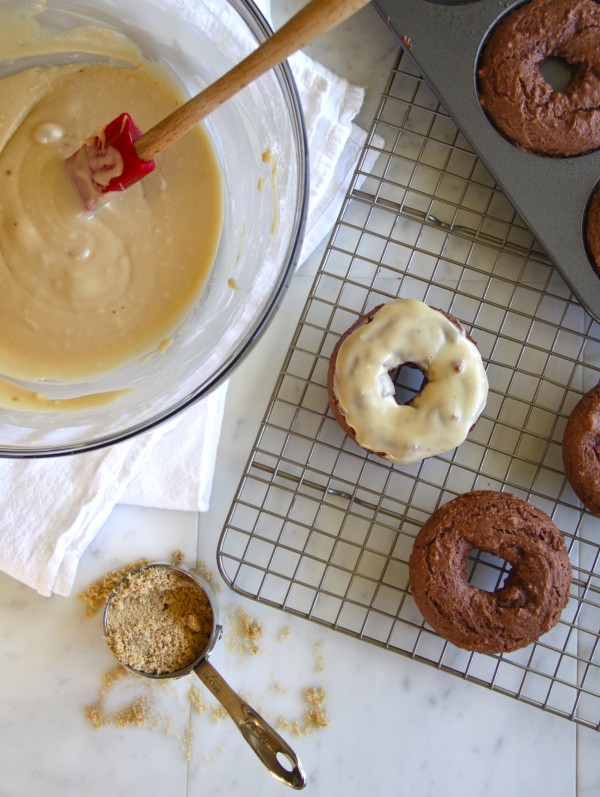 How did this come to be? I'm not a baker. I don't lie awake at night with visions of sugar plums dancing in my head. Was my subconscious secretly playing sweet tricks on me? Was I now entering the baking abyss?
Whatever is the cause of this sugar craze may be, between you and me, I'm secretly digging it. Case in point: these chocolate baked doughnuts with brown sugar icing may be my ultimate baking prize. They are super chocolate-y and fluffy, and the brown sugar icing takes these bad boys to the 11/10 status. Don't believe me? I triple butter dare you to bake them.
Now, if you'll excuse me, I have some cake flour to make. Do wha? I don't even know myself anymore. Send help.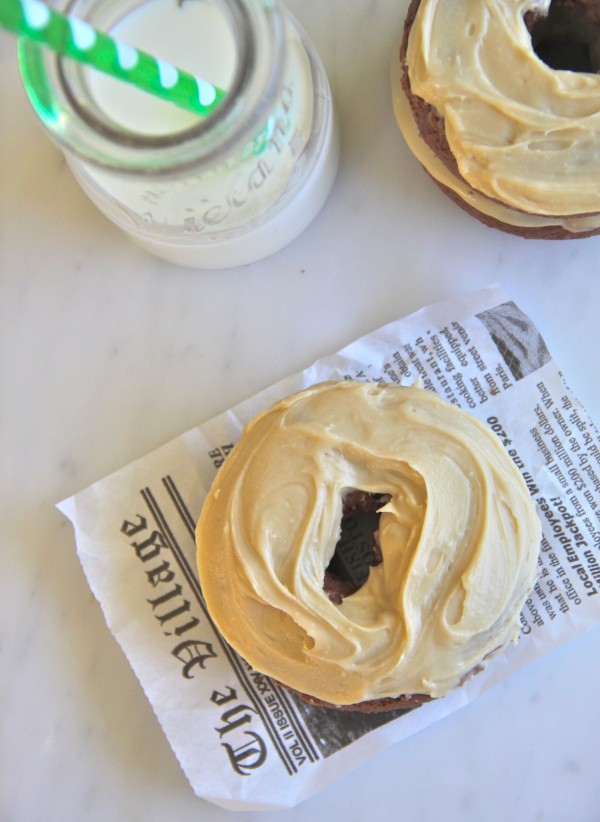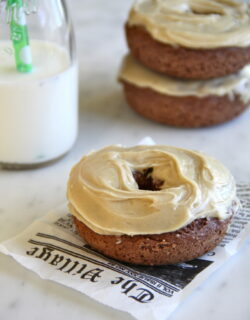 Chocolate Baked Doughnuts with Brown Sugar Icing
Ingredients:
for the chocolate doughnuts:
2 cups cake flour
3/4 cup granulated sugar
2 teaspoons baking powder
1/4 cup unsweetened cocoa powder
1/2 teaspoon nutmeg
1 teaspoon kosher salt
3/4 cup buttermilk
2 eggs
2 tablespoons unsalted butter, melted, cooled
for the brown sugar icing:
1 cup brown sugar
4 tablespoons unsalted butter, room temperature
1/2 cup cream
2 cups confectioners sugar
2 teaspoons vanilla extract
Directions:
for the chocolate doughnuts:
Preheat oven to 425 degrees. Spray doughnut pan with nonstick cooking spray. In large mixing bowl, sift together cake flour, sugar, baking powder, nutmeg, cocoa powder, and salt. Add buttermilk, eggs, and butter. Beat until just combined. Fill each doughnut cup approximately 2/3 full.
Bake 10 to 12 minutes or until the top of the doughnuts spring back when touched. Let cool in pan for 4 to 5 minutes before removing. Finish doughnuts with brown sugar icing.
for the brown sugar icing:
Place brown sugar, butter, and cream in a small saucepan. Bring to boil and stir. Remove saucepan from heat. In a large bowl, add confectioners sugar and vanilla. Pour brown sugar over the confectioners mixture and beat until smooth. You may want to set the icing in the fridge for about 5 minutes to let it thicken.
doughnuts adapted from doughnut pan purchased at William Sonoma
brown sugar icing adapted from the Roder Family Cookbook
All images and text ©