Baked Miso-Hoisin Salmon with Crunchy Slaw
Baked Miso-Hoisin Salmon with Crunchy Slaw is a tasty and healthy meal! Miso and hoisin combined make for a wonderful sauce that's perfect over salmon! Bake the salmon for 12 minutes and top with a citrus slaw. This dish is two-thumbs way up!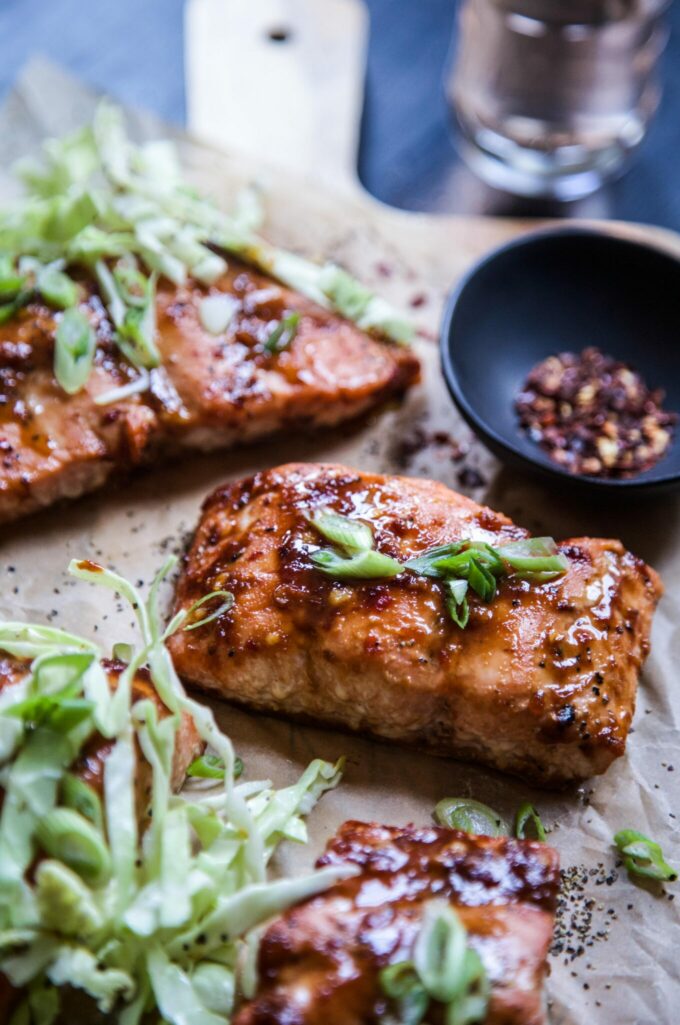 Greetings from Richmond!
I'm in the great state of Virginia for literally 24 hours hanging with my favorite hummus folks. The last time I visited Sabra headquarters was back in 2015. Hard to believe that was two years ago??!
Anyway, it feels good to be back chatting all things hummus and getting introduced to Sabra's Plants with a Purpose initiative. More details to come, but follow along on InstaStories and Snapchat for behind the scenes!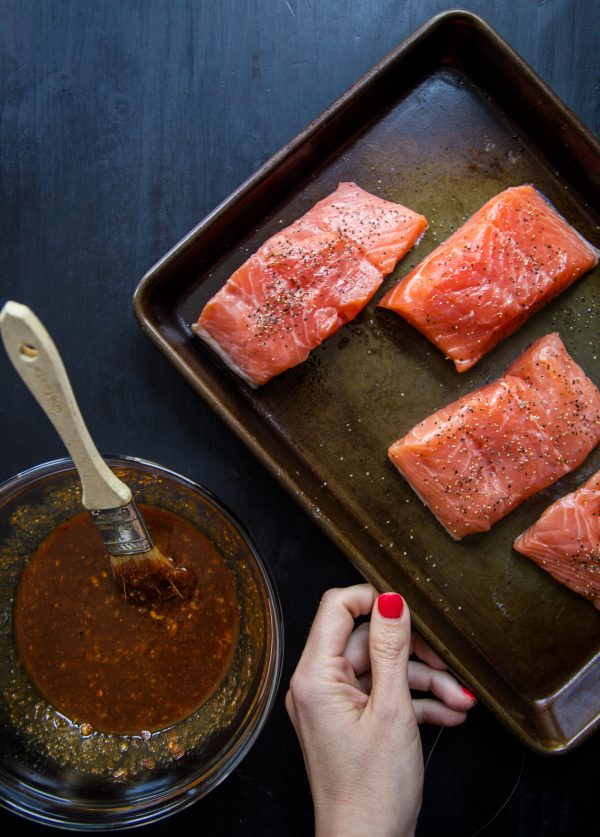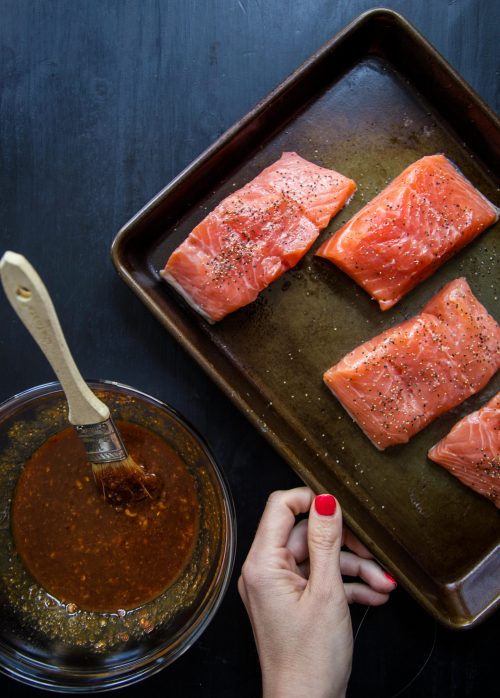 Okay, today's recipe is a new favorite. For some reason I am on a big salmon kick right now. Maybe it's because swimsuit season will be here in two seconds. Dear. Sweet. Baby. Jesus. Truth? I am not ready to be dancing around a pool or beach sporting a two piece. All the cookbook recipe testing got me like WHOA.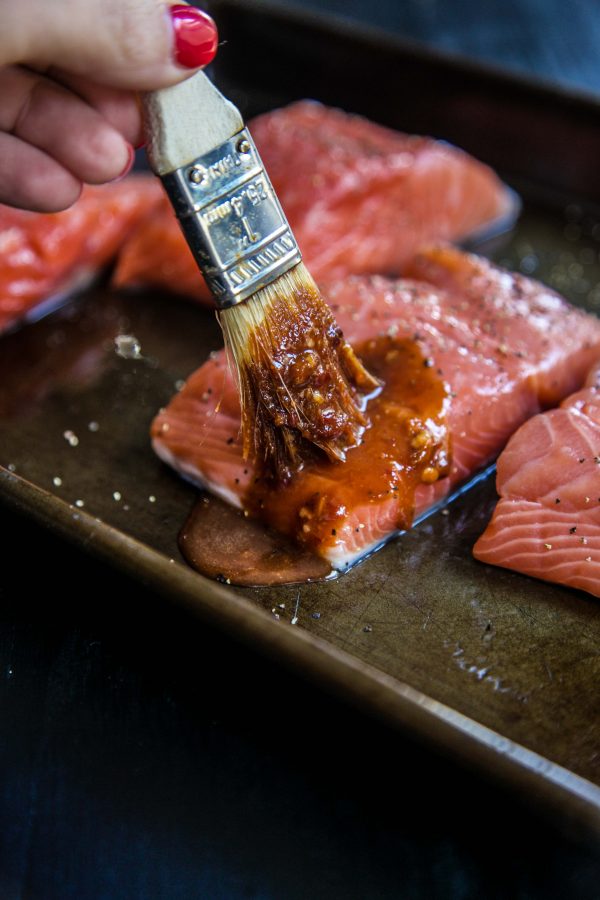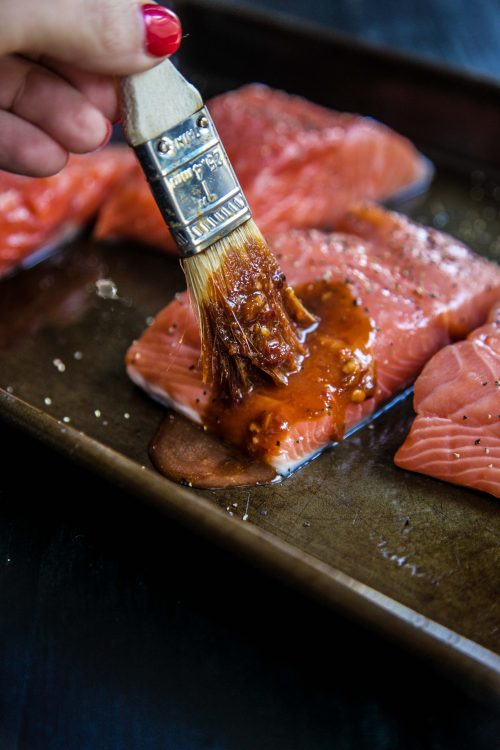 So my goal for the next month and a half before we head to Hilton Head over Memorial weekend is to exercise and eat healthy when I can. Because let's be real, I am never going to say no to a plate of nachos and a glass of red wine. That would be a criminal. Random question, do you think I should get a fitbit? I wondering if that would help calm my LB shredding nerves.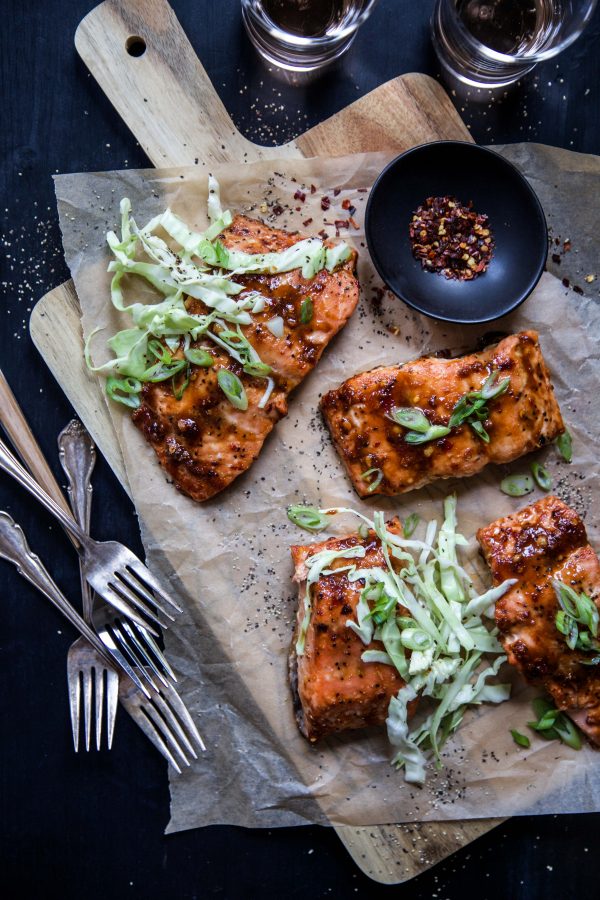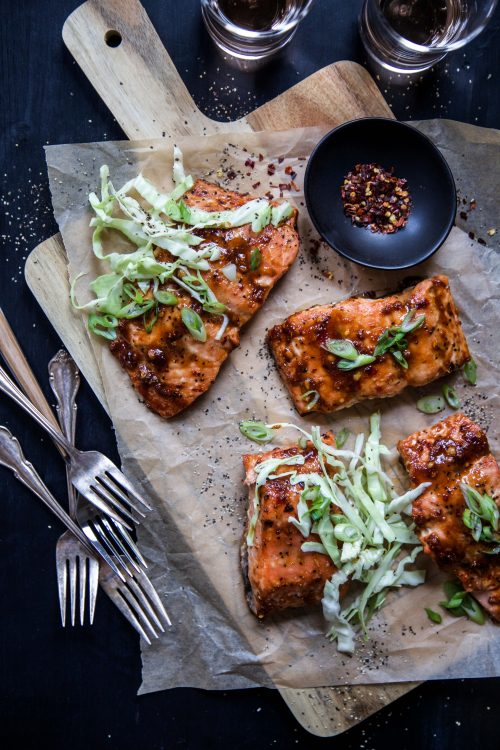 Alright, back to the salmon. This Baked Miso-Hoisin Salmon with Crunchy Slaw is ridiculously easy which is why it's become a new favorite. Mix all the ingredients for the sauce in a bowl, brush the salmon with the sauce, and then bake. Top with crunchy slaw if you are feeling sassy. I eat the salmon as is or it goes great on top of salads….you know what? This would be great for lettuce wrap nights!
Yaaaaaaaas.  Add that to the list as well as tacos.
Shoot. I might need two Fitbits.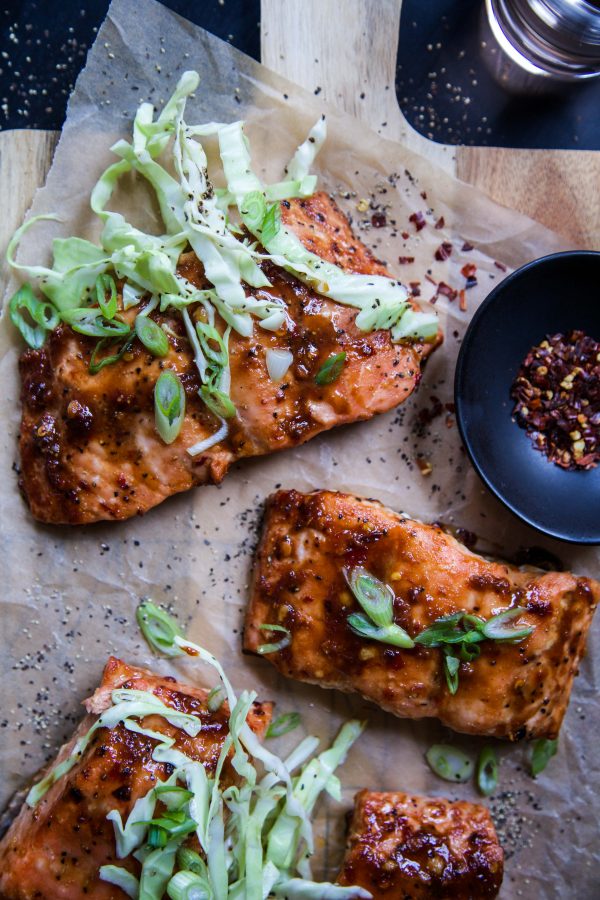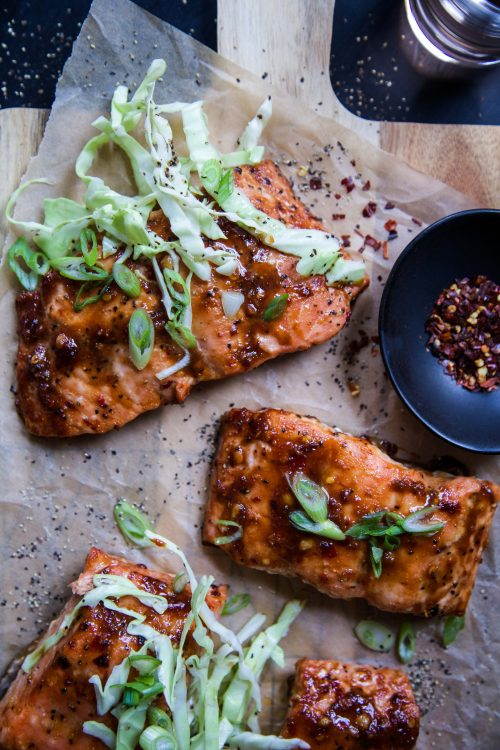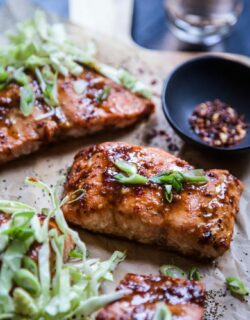 Baked Miso-Hoisin Salmon with Crunchy Slaw
Ingredients:
2 tbsp hoisin sauce
1 tbsp white miso paste
1 tbsp chili garlic sauce
1 tbsp low sodium soy sauce
1 tbsp rice vinegar
2 tsp toasted sesame oil
1 tbsp grated fresh ginger
1/4 tsp ground pepper flakes
4 (6-ounce) salmon filets
2 cups shredded Napa cabbage
2 tbsp lime juice
Green onions, for garnish
salt and pepper to taste
Directions:
Preheat an oven to 400 degrees. Line a baking sheet with non-stick cooking spray and set aside. In a small bowl whisk together the first eight ingredients. Place the salmon filets on the prepared baking sheet. Using a pastry brush, brush the hoisin mixture all over the salmon. Salt and pepper as needed. Bake the fish for about 13 minutes. While the salmon cooks, prepare the slaw. In a large bowl, toss together the cabbage, lime juice, salt, and pepper. Set the bowl aside. Remove the salmon from the oven. To serve, place a filet on a plate and top the with the slaw and green onion slices. Repeat process for remaining filets. Enjoy!
All images and text ©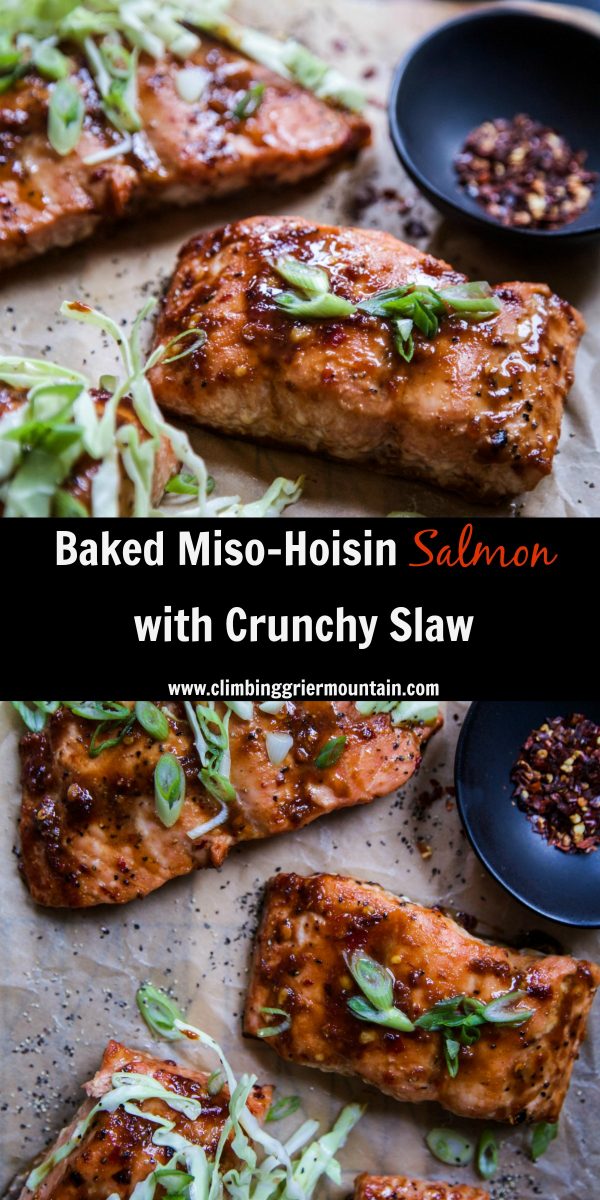 In conclusion, the Baked Miso-Hoisin Salmon with Crunchy Slaw offers a culinary symphony of savory and crunchy textures. The miso-hoisin glazed salmon, paired with the fresh, crisp slaw, creates a harmonious and satisfying meal that leaves you craving its delightful flavors.