Loaded Carnitas Puffed Tacos
Loaded Carnitas Puffed Tacos are the perfect way to celebrate Cinco de Mayo! Juicy, slow cooked carnitas are piled-high into a fried puffed taco. Grab a margarita and celebrate this festive holiday in style!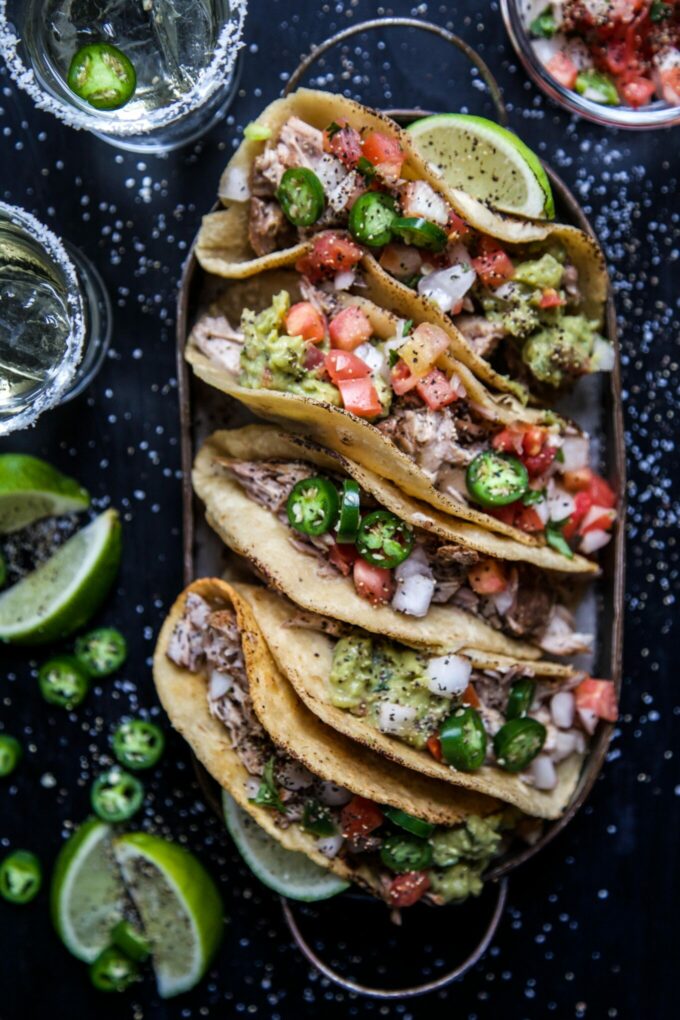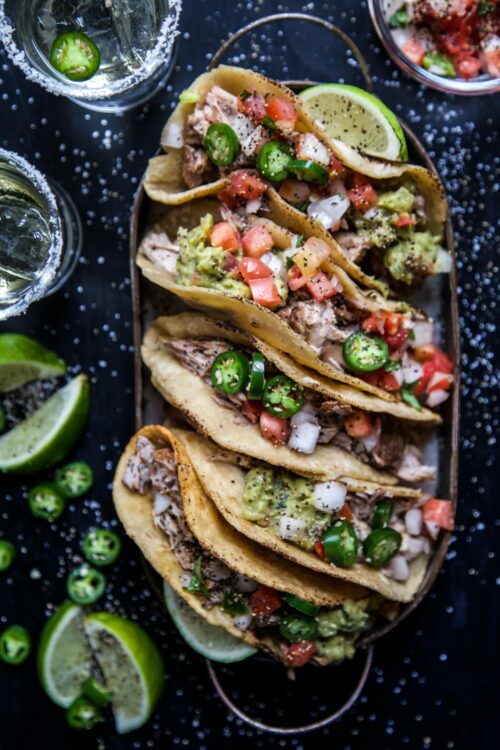 We are t-minus two days until Cinco de Mayo.
Are you ready?
I'm headed to Kansas City today to spend time with family, but also to take part in my friend Katy's bachelorette party. We are taking a train from downtown Kansas City to Hermann, Missouri. Have you ever heard of Hermann, MO? Chances are probably not. This city hasn't quite reached Napa Valley notoriety, but for the Midwest this charming town has a collection of wineries fit for a weekend of sipping wine in the sunshine.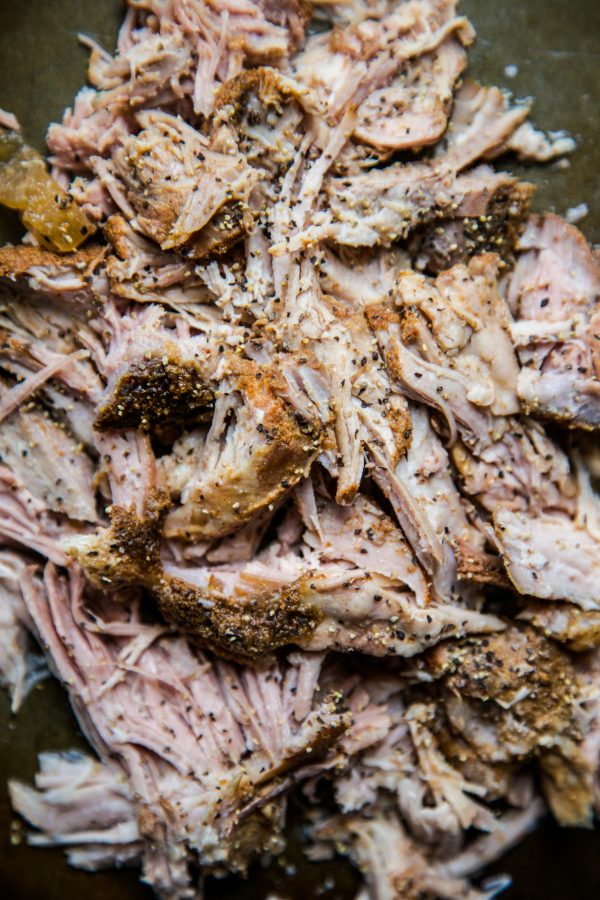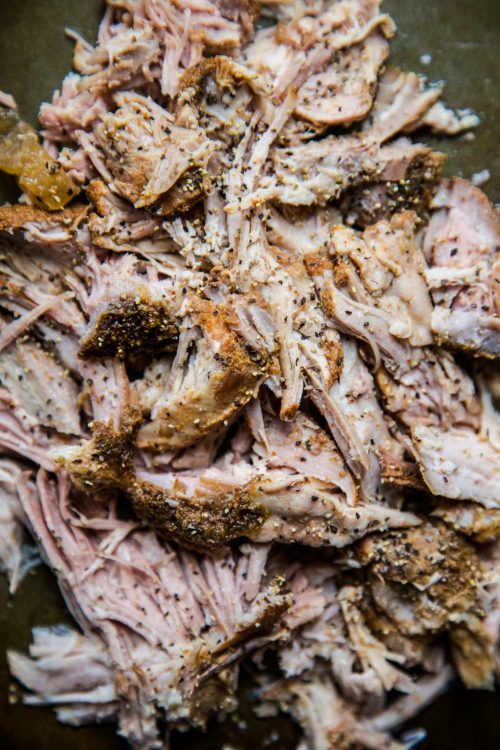 Since we arrive on Friday, I am keeping my fingers crossed that there will be a restaurant in town that offers a margarita and a taco. If not, I do have a back up plan and it includes smuggling a few of these Loaded Carnitas Puffed Tacos onto the train. I don't think anyone will notice. In fact, I might want to bring extra.
Until this week I have never eaten a puffed taco. Which I find odd and very unacceptable since I was just down in Austin – The Land of Tacos and never spotted this fried goodness. Well, the beauty of the puffed taco is that it's so easy to make at home. Just bring a pot of oil to high heat and place a corn taco in said oil for 20 to 30 seconds until puffed, AND BOOM! Puffed taco perfection.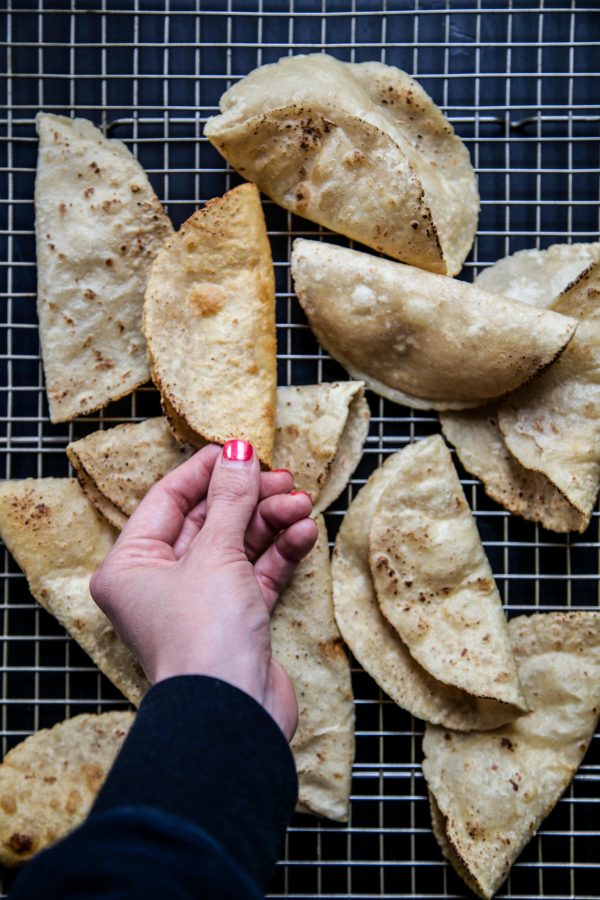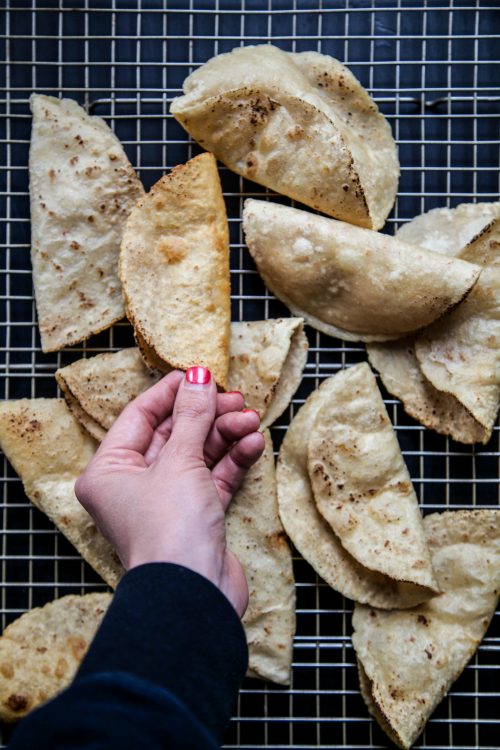 Whatever you do don't skip the chance to make these carnitas because they are killer! Oh, and also super duper easy to make. Load these tacos up with all the fixings. Curious, what are your favorite toppings? I always go with pico de gallo, sour cream, a shit ton of guac, and jalapenos. I'm seriously getting hungry just thinking about it.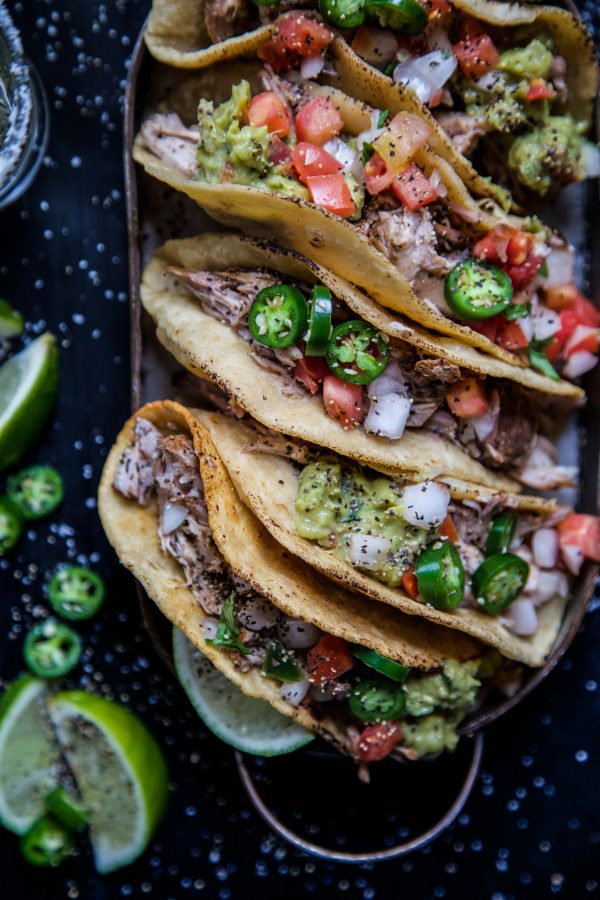 However you celebrate Cinco de Mayo, I highly suggest arming yourself with these Loaded Carnitas Puffed Tacos on Friday. Just don't forget wash it down with a glass of wine, I mean margarita. Note to self: bring jug of marg on train.
OLE!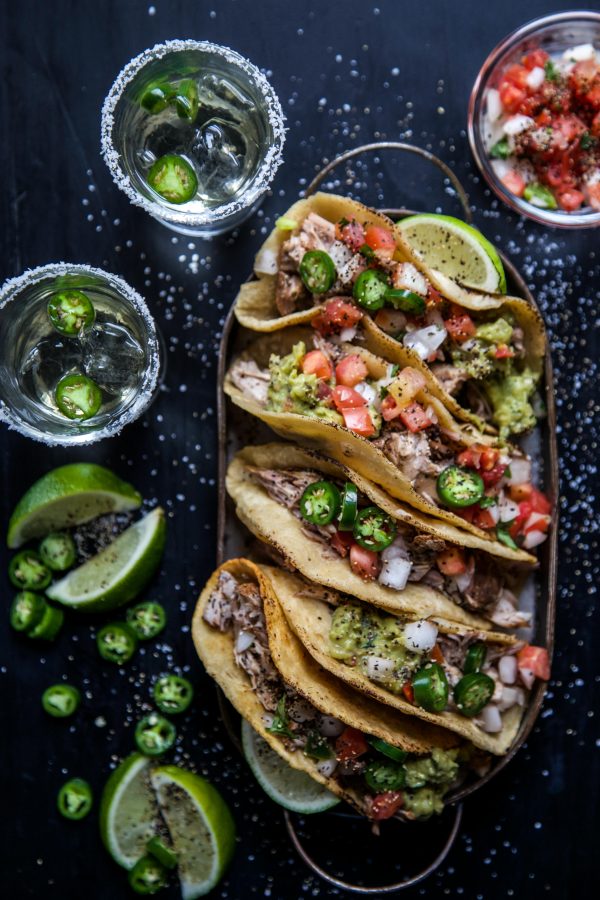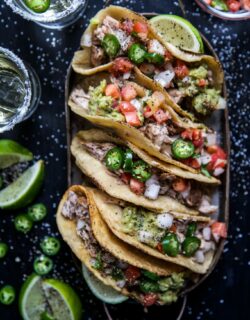 Loaded Carnitas Puffed Tacos
Ingredients:
for the carnitas:
2 lbs boneless pork shoulder
1 yellow onion, sliced
1 cup orange juice
1 tablespoon chili powder
1 tablespoon cumin
1 tablespoon garlic powder
1 teaspoon liquid smoke
3 cups chicken stock
Sour cream, for garnish
Pico de gallo, for garnish
Jalapenos, for garnish
Guacamole, for garnish
Fresh cilantro, for garnish
for the puffed tacos:
8 corn tortiallas
Vegetable oil, for frying
Directions:
for the carnitas:
Combine chili powder, garlic powder, cumin, salt, and pepper in large bowl. In a slow cooker, add the onions, pork, liquid smoke, orange juice and chicken stock. Set the slow cooker on low for eight hours. Once cooked, remove the carnitas from the slow cooker and shred. Take a puff taco and fill it with some of the carnitas. Top with garnishes. Repeat until all tacos have been filled. OLE!
for the puffed tacos:
Pour vegetable oil into a large Dutch about two to three inches deep. Preheat the Dutch oven to medium high heat. The best way to gage if the oil is hot is to tear a piece of the corn tortilla and place it into the oil. If sizzle automatically it's ready to go! Using a pair of tongs, place a corn tortilla into the oil and press down in the center to create a fold while the taco puffs. It's okay if it wobbles around. Keep the taco in the oil for about 20 to 30 seconds and then remove the taco from the oil and place on a paper towel. Repeat process until all tacos have been puffed.
All images and text ©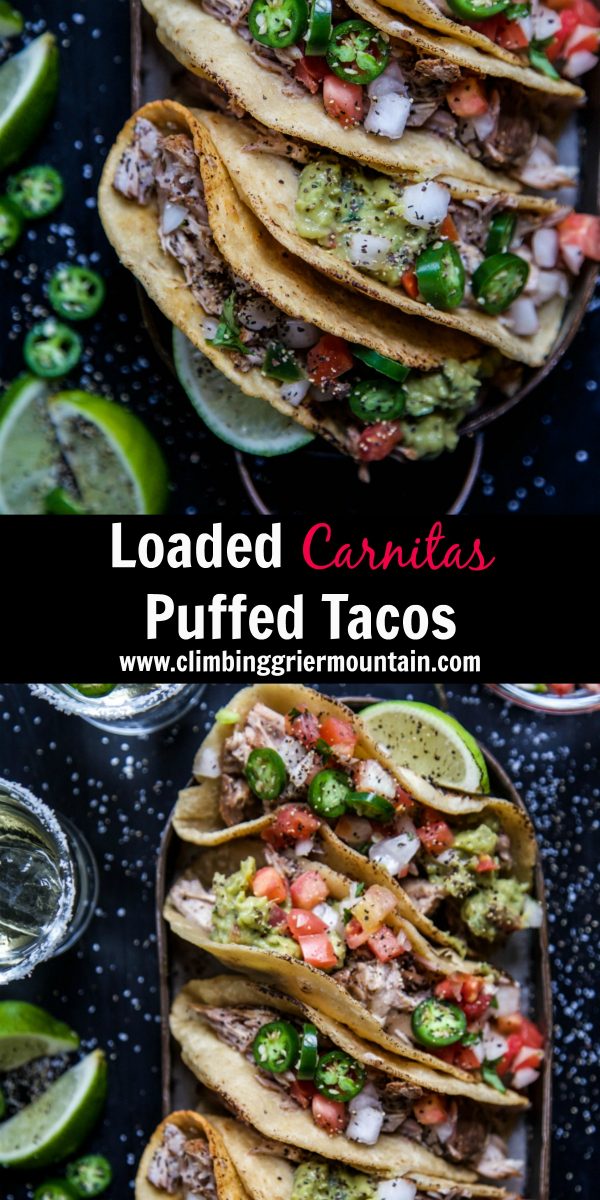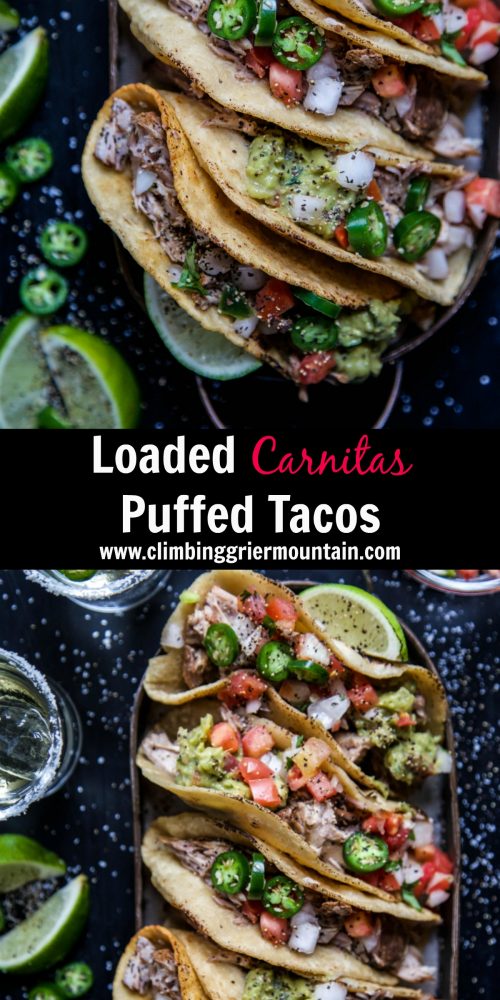 In conclusion, Loaded Carnitas Puffed Tacos are a mouthwatering explosion of flavors and textures. The tender, flavorful carnitas combined with an array of toppings creates a satisfying and indulgent taco experience that will leave you craving more.