Paleo Fiery Baked Eggs with Chorizo
Paleo Fiery Baked Eggs with Chorizo is a fantastic meal that's great for breakfast or brunch! Made with Mulay's Chorizo Sausage, a fiery tomato sauce, and oven baked eggs. It will be your go-to during the week or weekend! 
Truth: I never had chorizo until I moved to Colorado.
GASP!
Before Mr. B and I landed in the Centennial state, we would consume the usual Midwestern suspects of bacon and sausage for breakfast. With a few sunny side up eggs, a slice of buttered white toast and a sprinkle of honeydew that was about the extent of our breakfast ritual.
Fast forward ten years and now our breakfast routine has moved towards brunch. Living in Colorado you adapt to a regular brunching schedule and said brunch schedule isn't even reserved for those Saturday and Sunday leisurely morning meals. You can dive into brunch during the work week and no one would even blink an eye.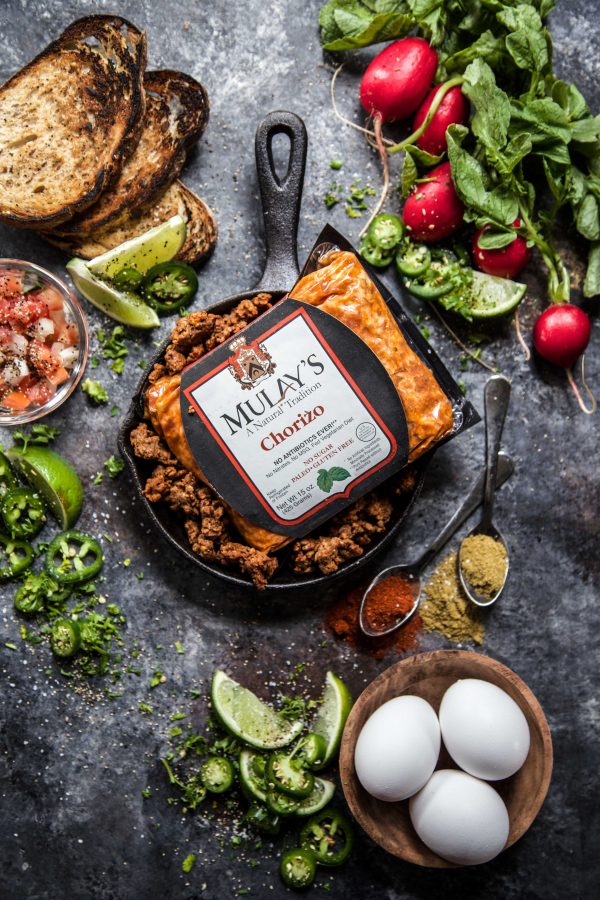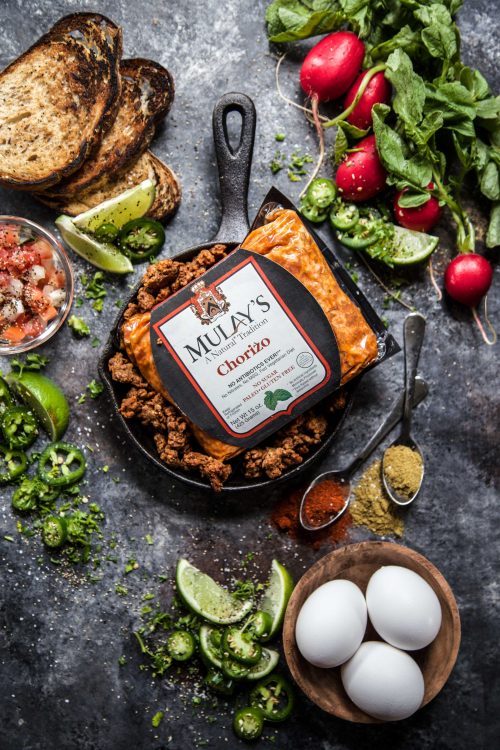 Our typical go-to for brunch fare is a breakfast burrito smothered in a green chili sauce or huevos rancheros. Sorry sweet and savory folks, no chicken and waffles for us! But lately, I've been jonesing for something with a little more kick. Enter, Mulay's Chorizo Sausage.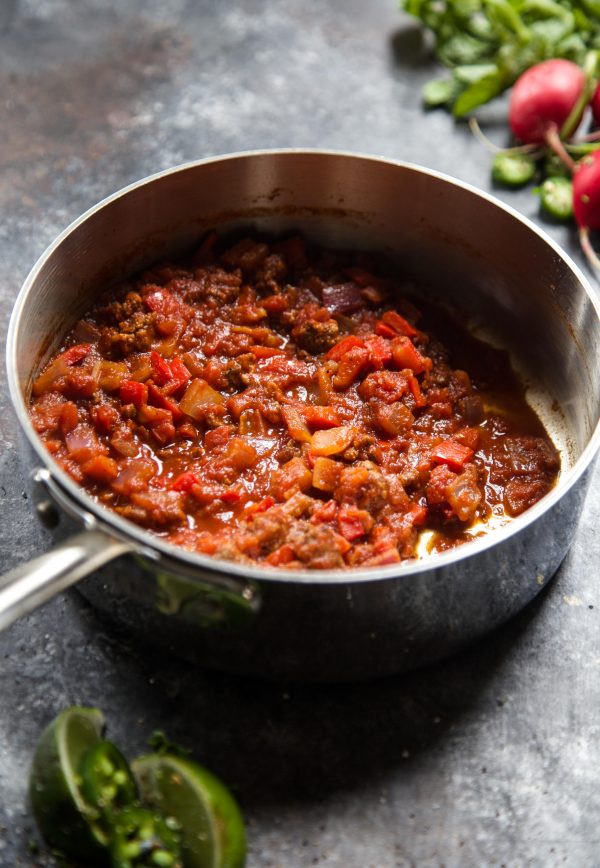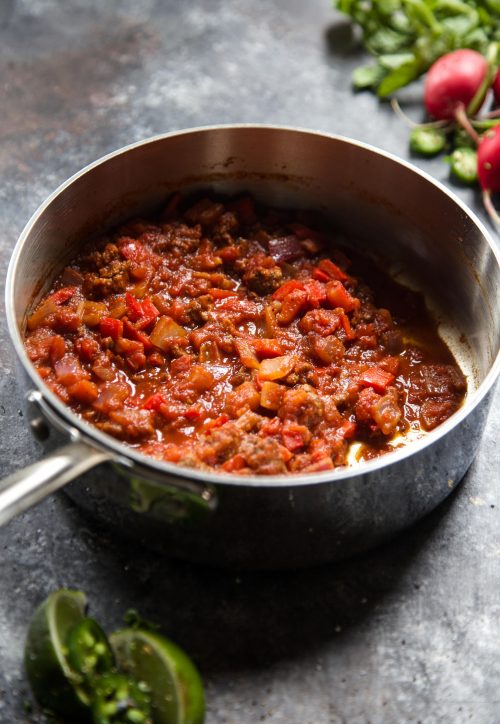 I can't believe I have been in Colorado this long and am just now sampling their delicious chorizo. Not only are the chorizo locally made in Colorado, but they've been serving up all kind of sausages – Italian, breakfast, and brautwurst for over thirty- plus years! Mulay's sausages are truly one of kind because all of their sausages are gluten free, and in addition there's no dairy, soy or sugar. Which means you are getting a delicious, family- crafted sausage full of flavor!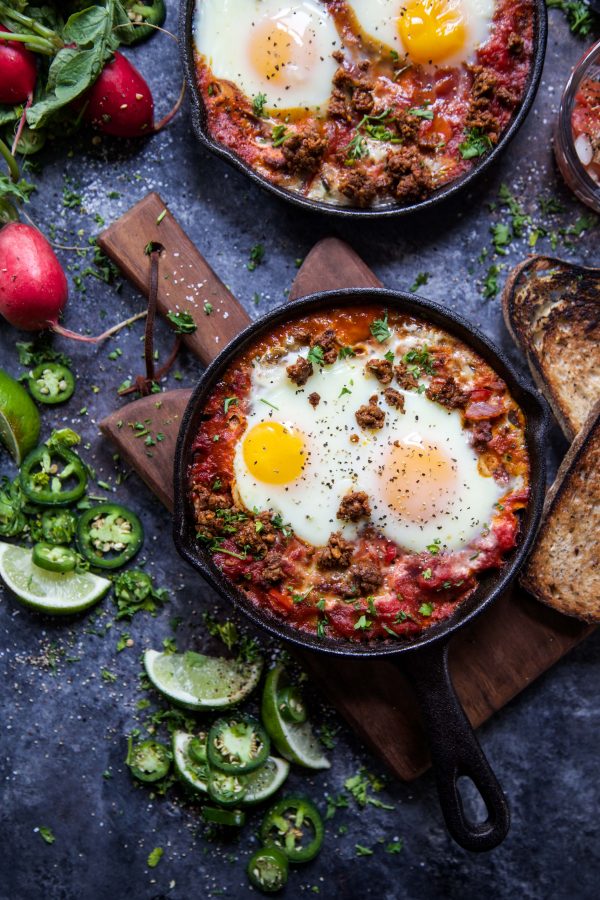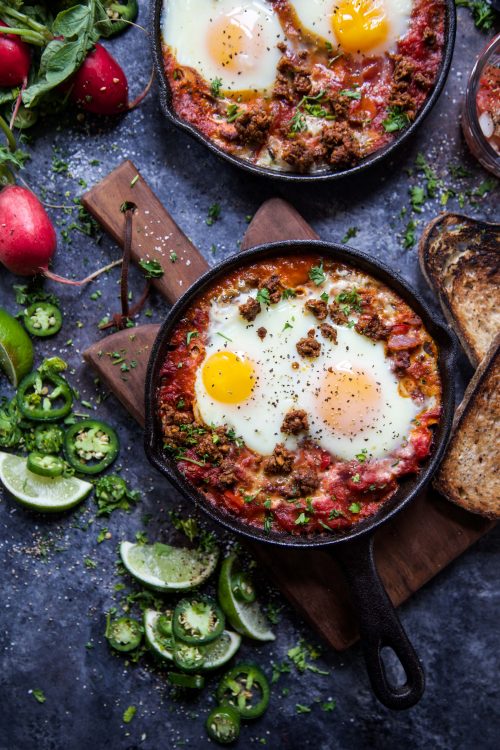 With that, I knew I had to make something with their chorizo. This Paleo Fiery Baked Eggs with Chorizo will become a staple at your brunch table. Fire roasted tomato sauce topped with crumbled chorizo, red pepper, and shallots. Top with an egg and baked until golden runny perfection. One bite of this and you'll be in chorizo heaven!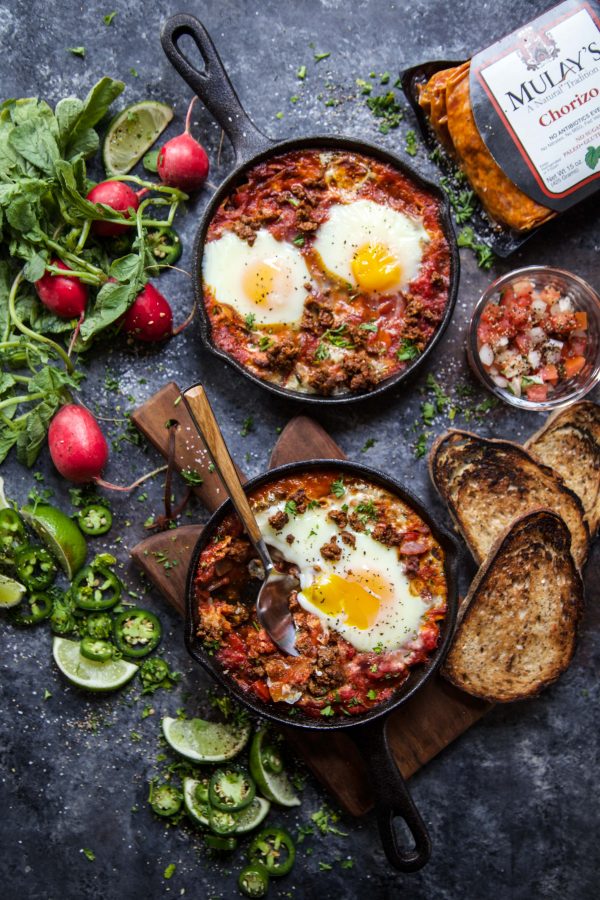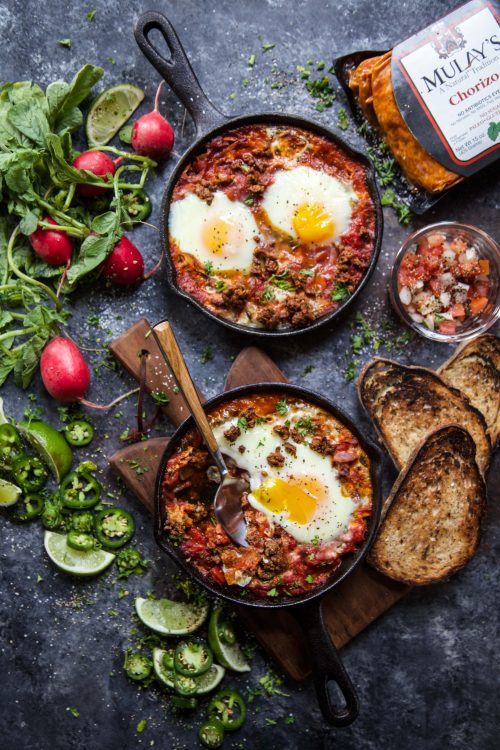 ***This post was sponsored by Mulay's Sausage. As always, all opinions expressed are 100% my own.****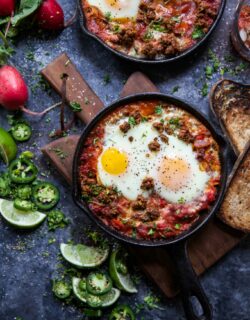 Paleo Fiery Baked Eggs with Chorizo
Ingredients:
1 tbsp olive oil
1 shallot, diced
1 red pepper, diced
1 tsp cumin
1 tsp paprika
1 tsp coriander
1 tsp garlic powder
1/4 tsp red pepper flakes
1 14 oz can fire roasted tomatoes
1/2 cup tomato sauce
4 to 5 large eggs
Fresh cilantro, for garnish
Pico de gallo, for garnish
Fresh jalapenos, for garnish
salt and pepper to taste
Directions:
Preheat an oven to 375 degrees. Spray either one 10-inch cast iron skillets or two 6-inch cast iron skillets. For this recipe, I used two 6-inch skillets. Spray them with non-stick cooking spray just for a little extra insurance so that sauce doesn't stick.
Next, preheat a large skillet to medium high heat. **Quick note if you are using the 10-inch cast iron skillet you may cook all the chorizo and veggies in the skillet. Add the olive oil and chorizo. Break up the chorizo with a wooden spoon and cook until no longer pink about five minutes. Remove the chorizo from the skillet with a slotted spoon and place on a plate. In the same skillet as the chorizo add the shallot, red pepper, cumin, paprika, coriander, garlic powder, red pepper flakes, salt and pepper. Saute the veggies until softened about five minutes. Then pour in the fire roasted tomatoes, tomato sauce, and chorizo. Continue to stir until the sauce has warmed through.
Once the sauce has warmed through divide the tomato mixture between the two 6-inch skillets. Using a spoon make a well for the eggs to sit in the tomato sauce. Crack the eggs into the well. I was only able to crack about two eggs in each of the small skillets. Place the skillets into the oven and bake for about 10 to 15 minutes or until egg whites have turned opaque. Remove the skillet from the oven and garnish with fresh cilantro, pico de gallo, and jalapenos. Enjoy!
All images and text ©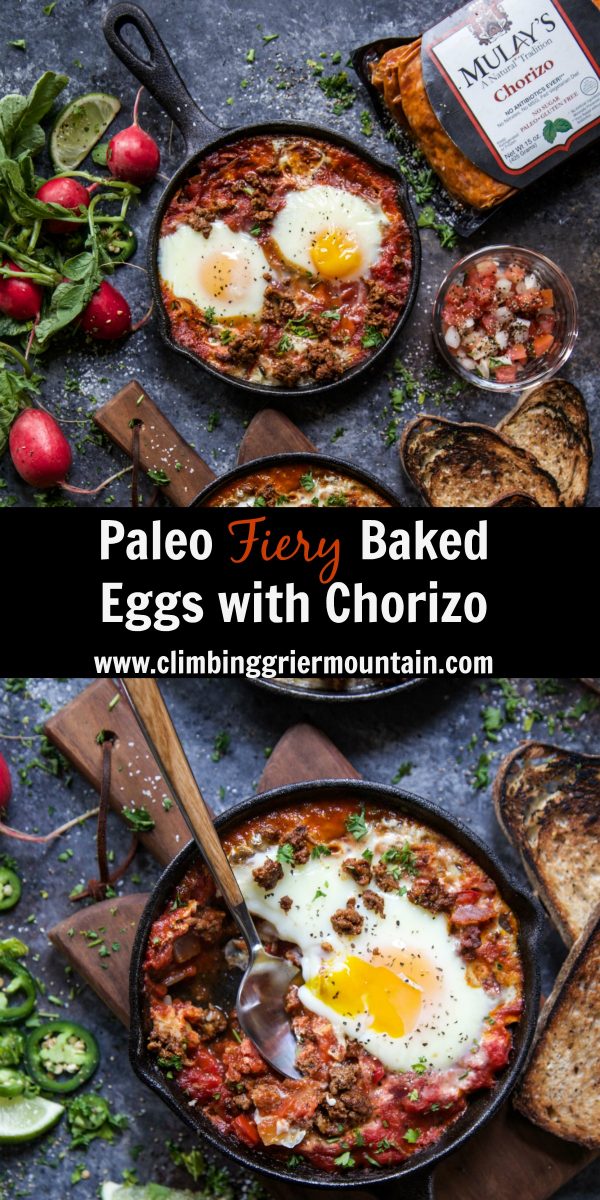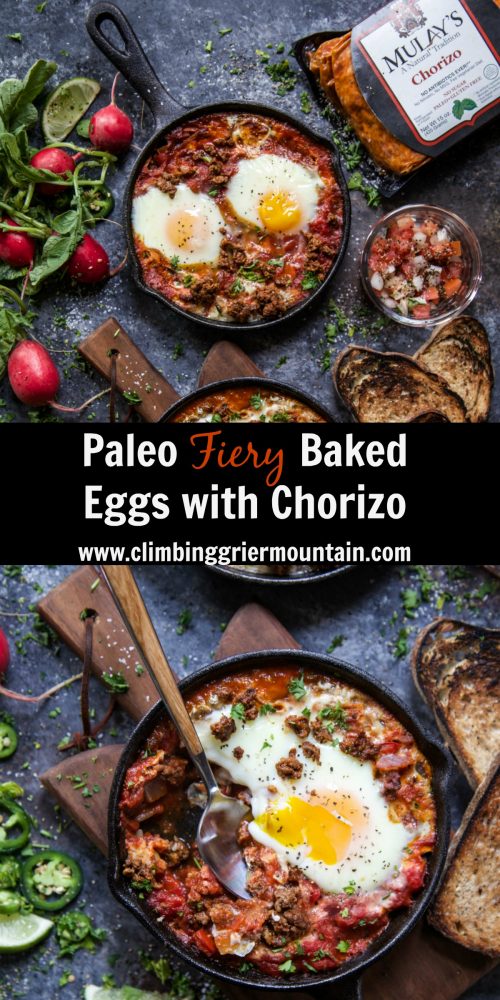 In conclusion, Paleo Fiery Baked Eggs with Chorizo is a fiery and flavorful journey for your taste buds. The spicy chorizo and baked eggs make a satisfying, protein-rich breakfast that's perfect for those following a paleo lifestyle.