Chickpea Panzanella with Hummus Vinegar Dressing
Chickpea Panzanella with Hummus Vinegar Dressing is a fabulous summer salad that is easy to make! Bursting with chickpeas, herbs, feta, cucumbers, and covered in a hummus vinegar dressing! This salad will be your 'unofficial meal' all summer long!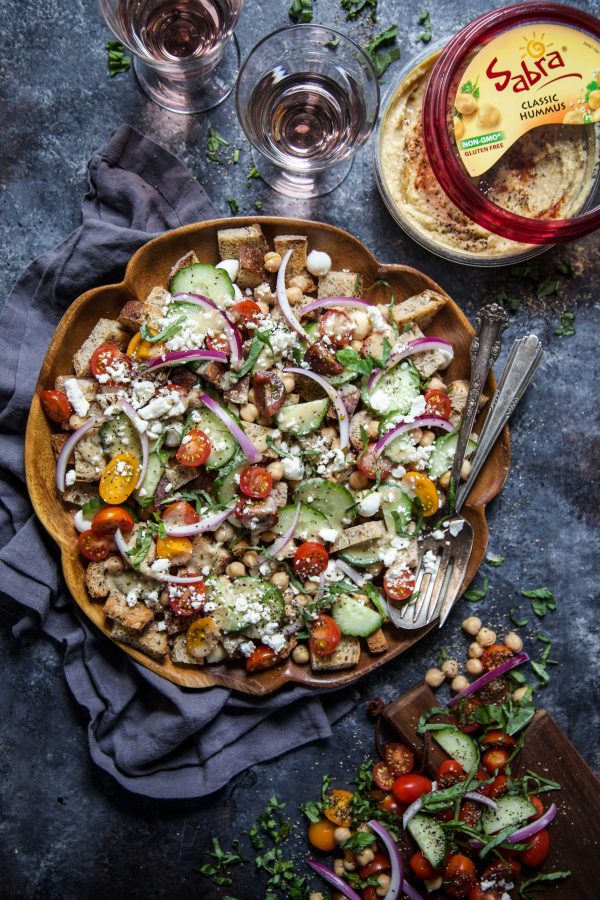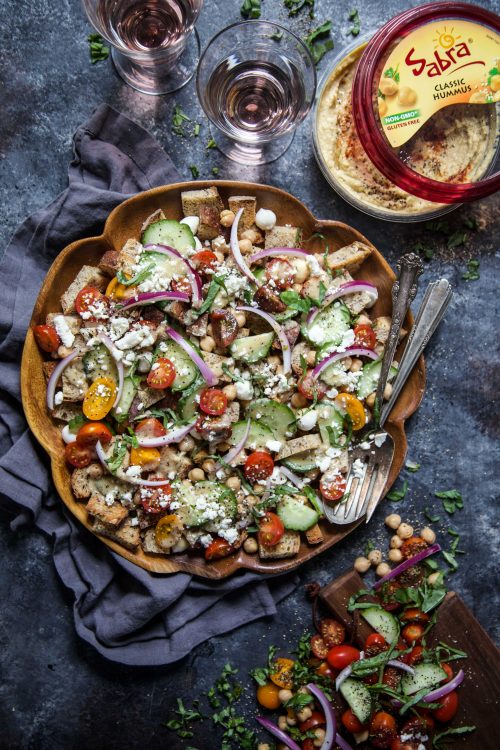 Decisions are the worst.
Right now we are in the process of deciding what fruits and veggies will be making the garden bed cut. We did a 'drive thru' of all the options at the garden store the other day and between the herbs, leafy greens, and tomatoes I started to get lost. For me, it's like walking into Nordstrom's shoe department and not knowing where to start because it's all so shiny and pretty.
Thankfully, our friend Ben gave us some good advice. Look at your garden bed as real estate. Assign a value per fruit or vegetable versus the cost you would get at the store. For example, if you can get a cauliflower at the grocery store for $0.89 then you probably don't need to plant cauliflower. But things like arugula, heirloom tomatoes, herbs; those things are expensive and are a better value for your garden.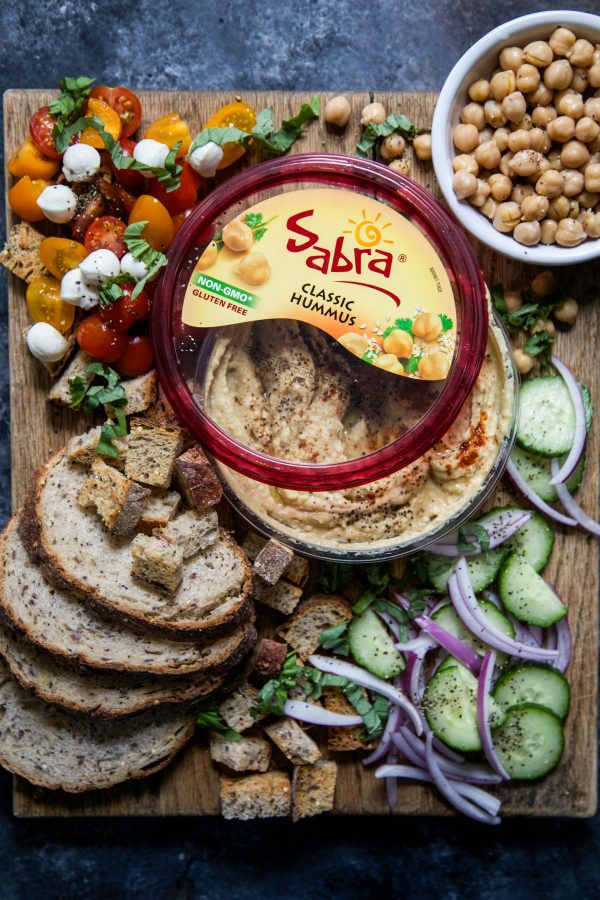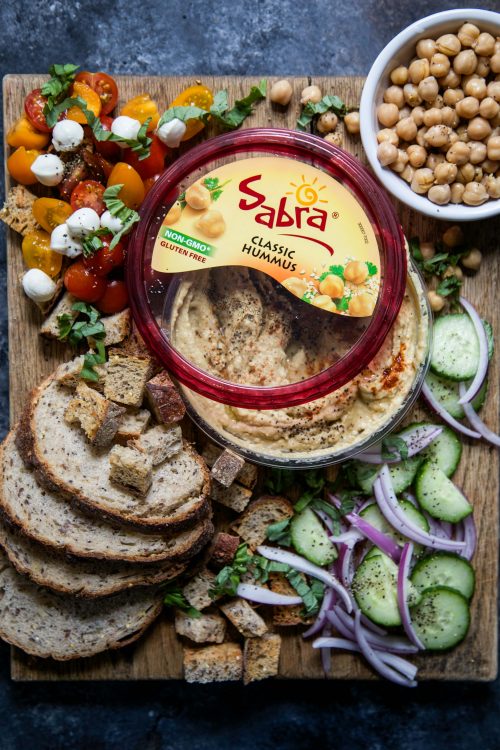 Who knew gardening could be such a financial decision? And this is why I am not a farmer. Instead, I want all the fruits and veggies to magically appear and everything to be hunky dory. Truth: Mr.B is the green thumb of our family. All the produce perk up and listen when he's out there watering.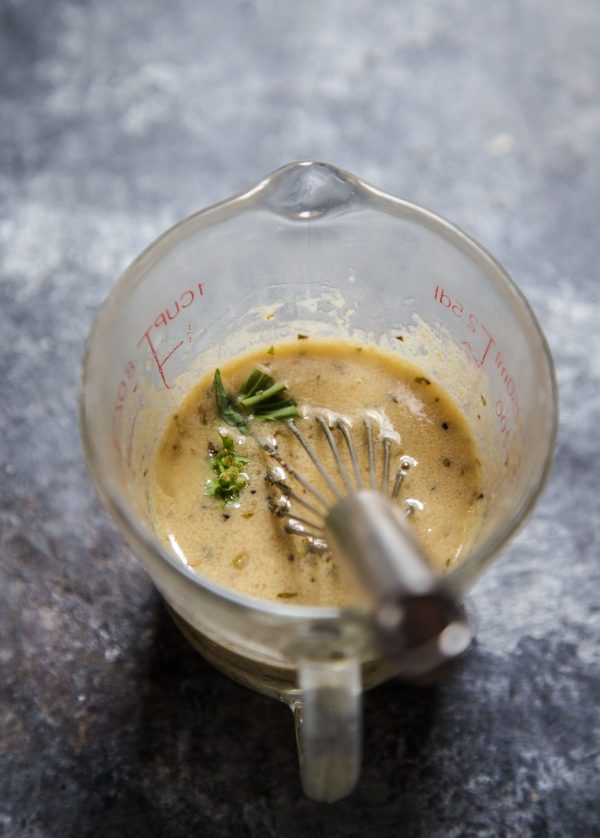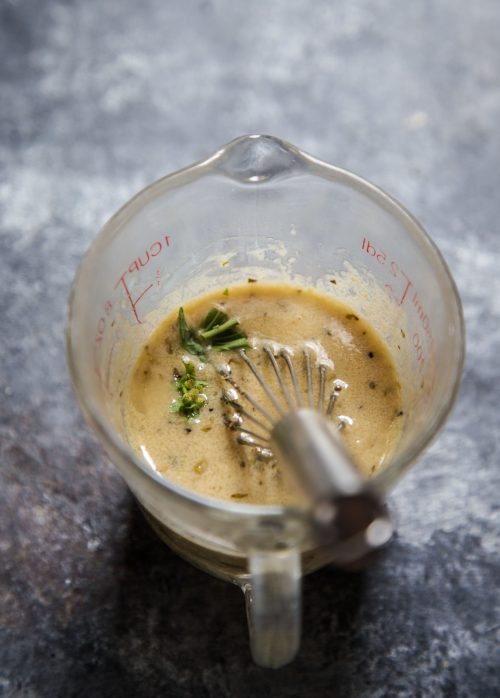 Fingers crossed we can keep our garden alive because I will be so excited when tomatoes and cucumbers arrive and I can make this Chickpea Panzanella with Hummus Vinegar Dressing! But before we dive into making this panzanella, we need to do some celebrating! YOU GUYS! National Hummus Day is this Saturday, May 13th. All week long some fabulous food bloggers and I will be sharing Sabra-focused hummus recipes to get ready for the big day.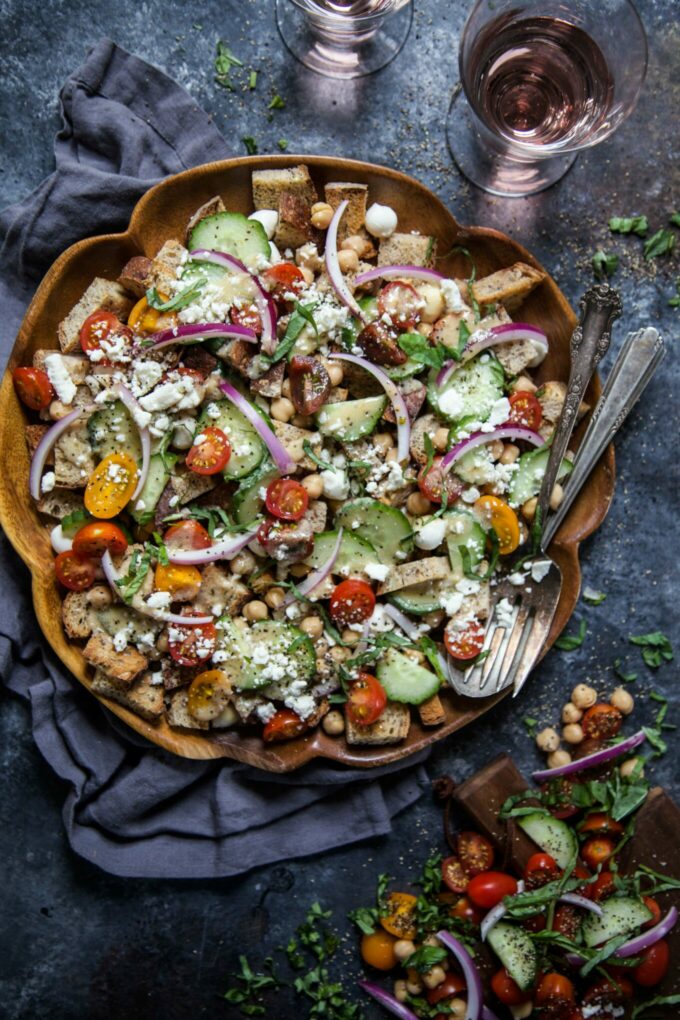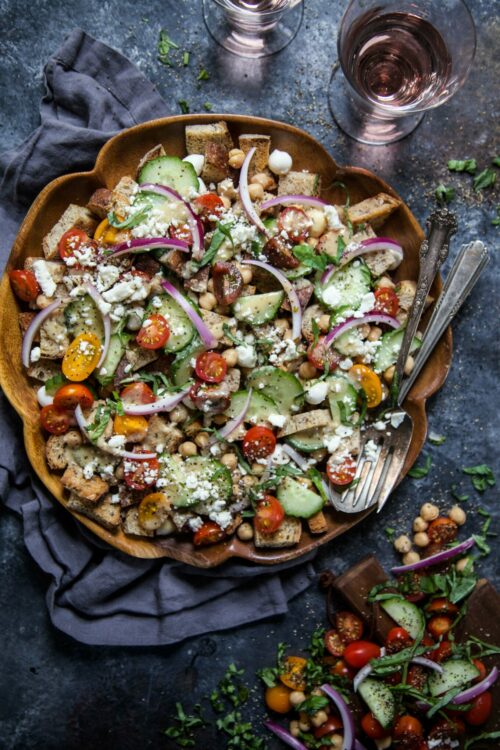 Y'all know my love for Sabra hummus runs deep. Which is why I am so exited about this Chickpea Panzanella with Hummus Vinegar Dressing. And if you are thinking, hummus in a dressing? NO WAY. Um, let me tell you it's a definite YES, WAY. Just mix Sabra classic hummus with olive oil, oregano, and red wine vinegar. Pour it over toasted bread cubes, chickpeas, red onion, and feta. This salad will be your 'un-official' meal all summer long!
Now, who needs a fork?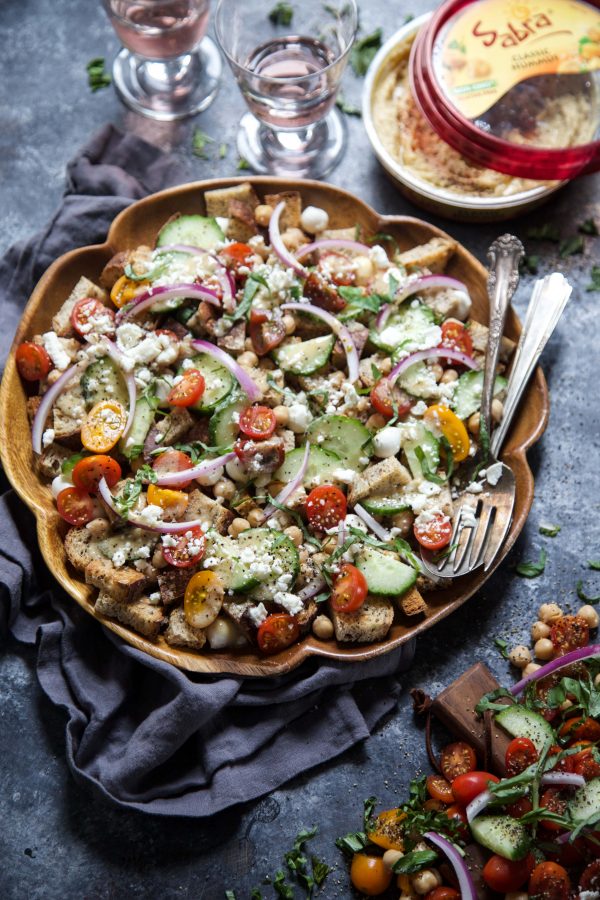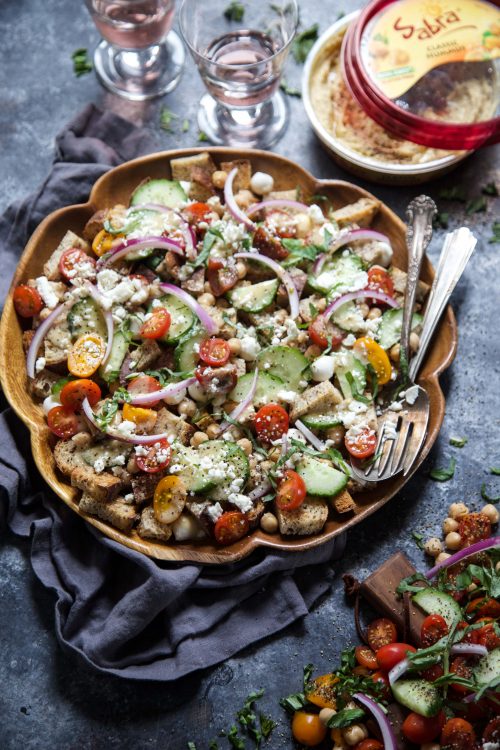 ****This post was sponsored by Sabra. As always, all opinions express are 100% my own.***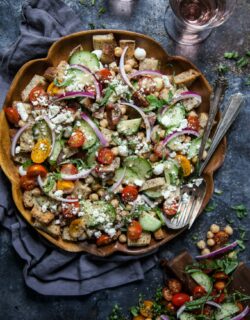 Chickpea Panzanella with Hummus Vinegar Dressing
Ingredients:
1 8oz whole wheat bread sliced into 1-inch cubes
1/4 cup olive oil
3 tbsp red wine vinegar
1 1/2 tsp dried oregano
2 1/2 cups halved grape tomatoes
1 cup chickpeas, drained, rinsed
1/2 cup red onion, sliced thinly
1/2 cup sliced cucumbers
1/3 cup crumbled feta
2 tbsp fresh chopped basil
2 tbsp fresh chopped parsley
2 tbsp fresh chopped chives
salt and pepper to taste
Directions:
Preheat your oven to 375 degrees. Spray a baking sheet with non-stick cooking spray. Place the bread cubes on the baking sheet and toast the cubes for about 7 to 10 minutes. Remove the baking sheet from the oven and let the bread cubes cool completely before assembling the salad.
While the bread cubes cool, assemble the hummus Vinegar Dressing. In a mixing bowl, add Sabra hummus, olive oil, red wine vinegar, oregano, salt and pepper. Whisk all together until well combined.
To assemble the salad in a large bowl combine grape tomatoes, chickpeas, red onion, cucumber, feta, basil, parsley, chives, and toasted bread cubes. Next, drizzle some of the hummus vinegar dressing over the top and toss again. Serve immediately!
All images and text ©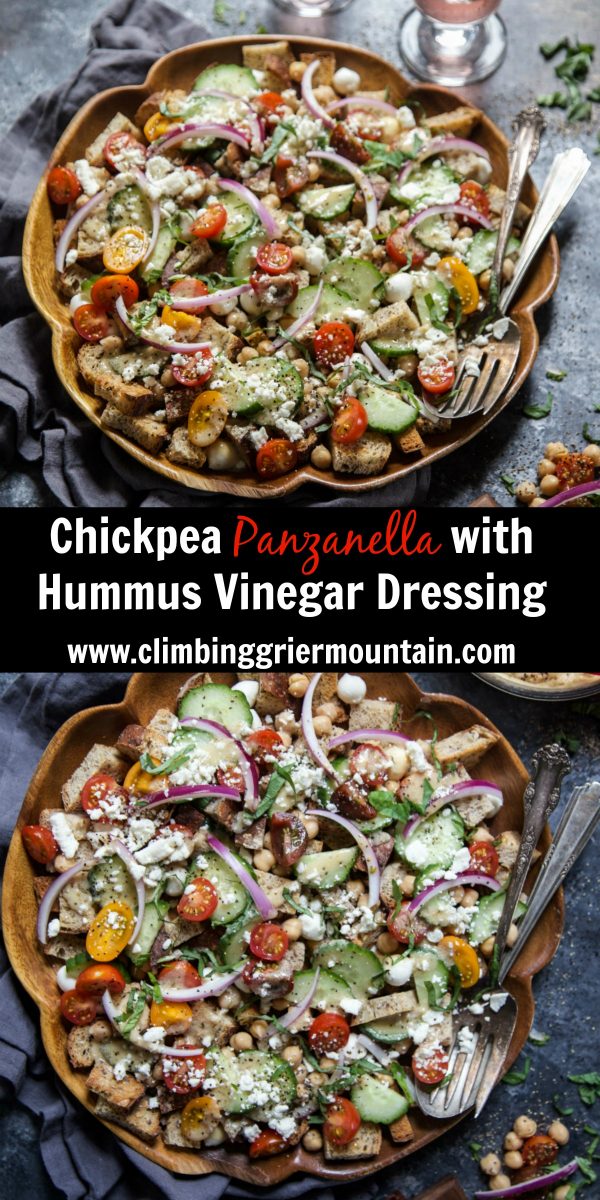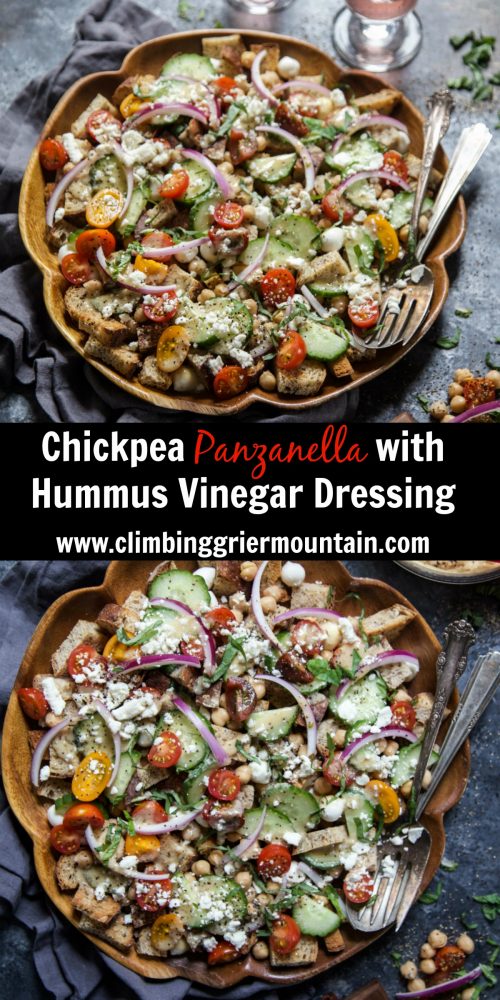 In conclusion, Chickpea Panzanella with Hummus Dressing offers a delightful fusion of vibrant Mediterranean flavors. This refreshing twist on a classic salad, with its hearty chickpeas and tangy hummus dressing, is a satisfying and healthy culinary journey.