Chocolate Chip Tahini Banana Bread Muffins
Chocolate Chip Tahini Banana Bread Muffins are a great snack or breakfast treat! Made with bananas, Greek yogurt, organic whole wheat flour, and tahini. Whip these up for a healthy grab and go option during the busy week!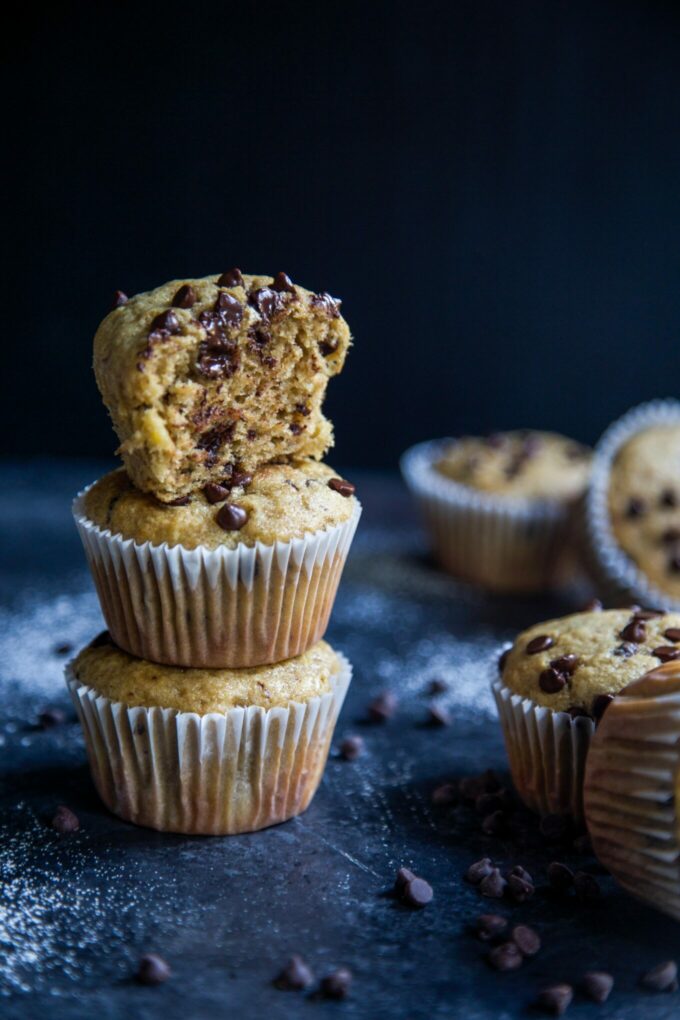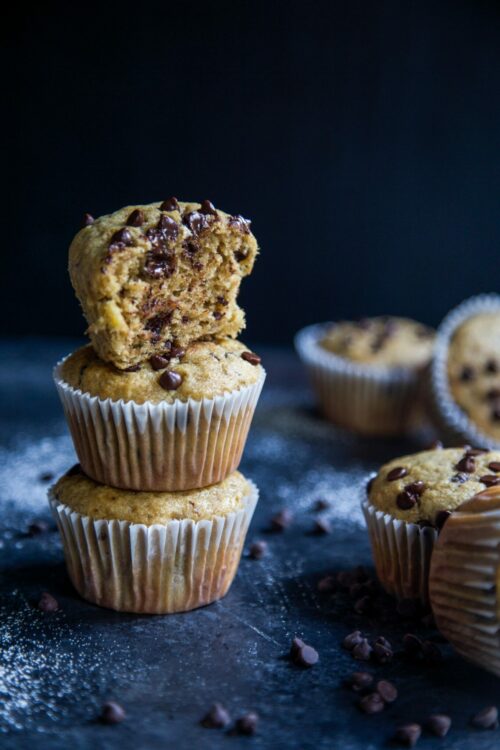 So a very important holiday is on the horizon.
Okay, maybe two because let's be real Cinco de Mayo is my mecca holiday. Wait. Can that be a thing? Um….let's just go with yes. Bueno?
Anyway, the holiday I'm speaking of is MOTHER'S DAY. I will be the first to admit I fail at parental unit holidays. Truth: my forgetfulness is not intentional, but stems from the fact that my parents live in Kansas City. BUT! That is no excuse for me not to acknowledge all they did for as parents because they truly kicked ass raising my brothers and I.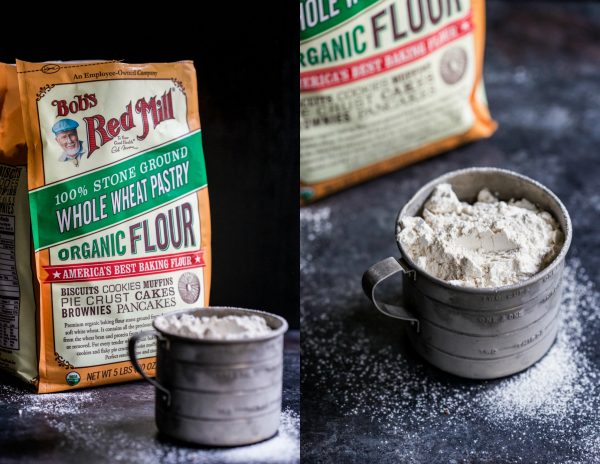 With that, I wanted to create a recipe that covers two main points: 1) reminds myself to call my mother on Mothers Day and 2) pays homage to a woman who rocked the traditional banana cake like no other. My mom is a wonderful baker. As a kid she would always let my brothers and I help her roll out the dough, whisk the eggs, and the best part, lick the beaters clean.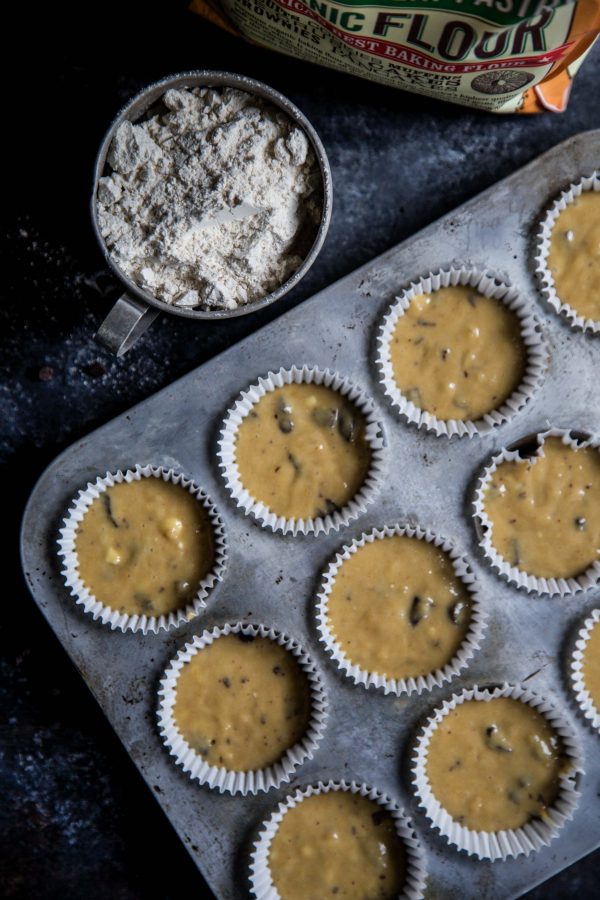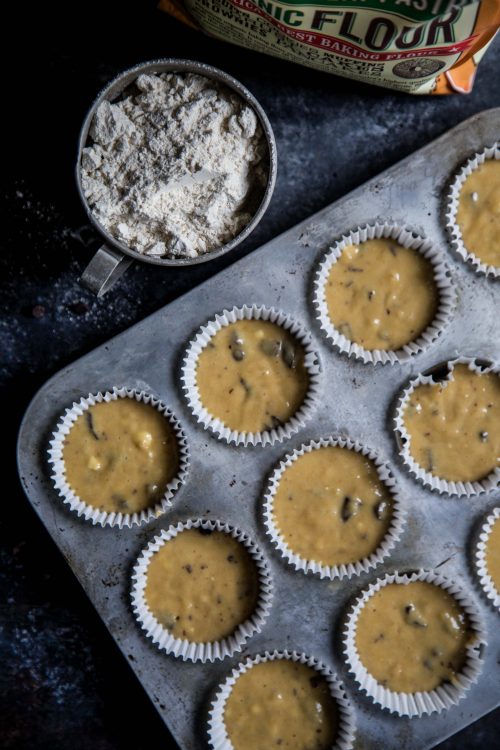 I would love to say my baking skills are as good as hers. I'm getting there…..slowly. I did have some help with a much needed ingredient when I whipped up these Chocolate Chip Tahini Banana Bread Muffins. Actually, I think my mother would be thrilled to know that I used Bob's Red Mill Organic Whole Wheat Pastry Flour. She was using whole wheat flour while baking back in the 80's!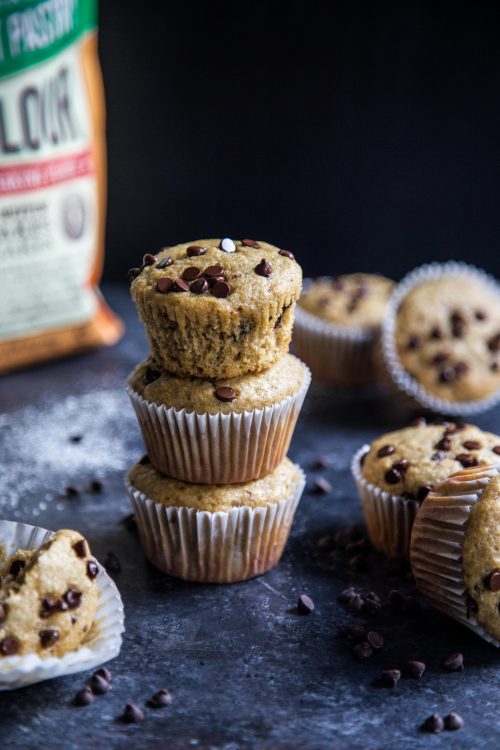 This organic whole wheat pastry flour is quite magical. With a lower protein content it makes these muffins extra tender and fluffy. Oh, and not to mention healthier. Can I get a high-five?I plan on making a big batch on Mother's Day and don't worry I will call my mom.
Wait. What day is Mother's Day on?
Kidding.
No, but seriously.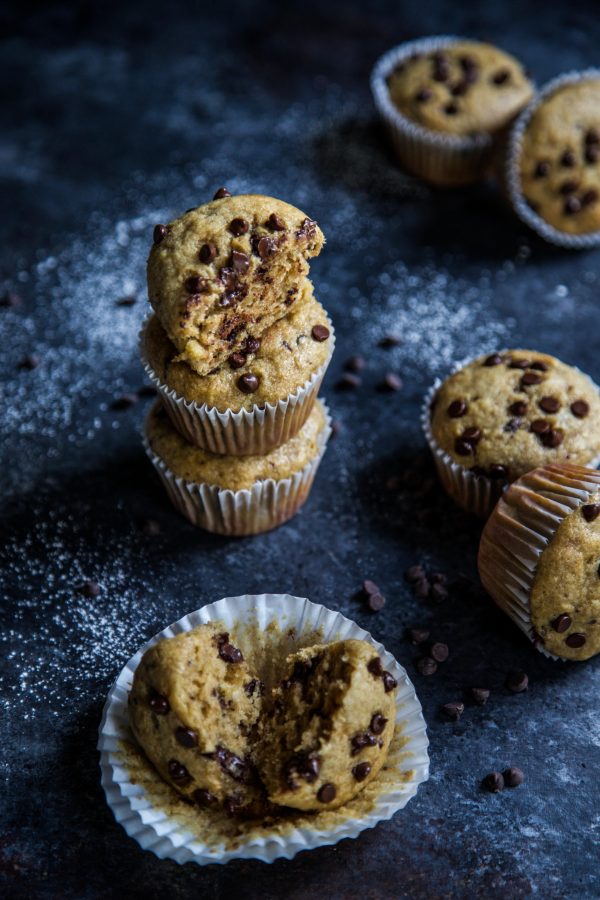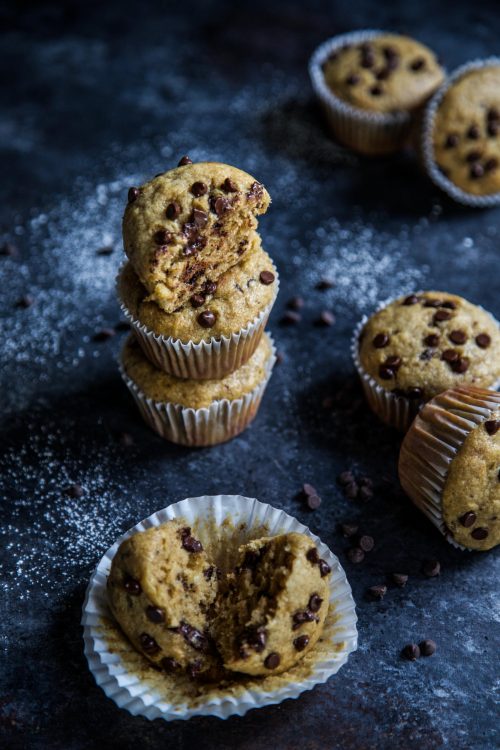 ***This post was sponsored by Bob's Red Mill. As always, all opinions expressed are 100% my own.***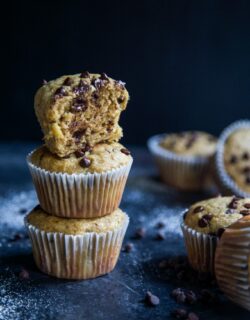 Chocolate Chip Tahini Banana Bread Muffins
Ingredients:
1 1/2 cups mashed ripe banana
1/3 cup plain Greek yogurt
1/3 cup tahini
3 tbsp unsalted butter, melted, slightly cooled
1 tsp vanilla extract
2 large eggs
1/2 cup granulated sugar
1/2 cup brown sugar
1 1/2 cups Bob's Red Mill whole wheat flour
3/4 tsp baking soda
1/2 tsp kosher salt
1/3 cup dark chocolate chips, finely chopped
1/3 cup mini chocolate chips + more for garnish
Directions:
Preheat an oven to 350 degrees. Spray a 12 cup muffin pan with non-stick cooking spray if you aren't using muffin liners. Set aside.
In a mixer fitted with a paddle attachment combine bananas, Greek yogurt, tahini, unsalted butter, vanilla extract, and eggs. Once combined, add in granulated sugar and brown sugar. Mix until thoroughly combined.
In a medium bowl combine whole wheat flour, baking soda, and salt. In thirds add the flour to the wet ingredients. Once combined turn off the mixture and fold in the chocolate. Take an ice cream and scoop some of the batter into the muffin liner filling about 3/4 way full. Repeat until all muffin liners have been filled.
Place the muffin into the oven and bake for about 15 to 20 minutes or until a wooden pick inserted into the center of the muffin comes out clean. Remove the muffin pan from the oven and let cool before removing liner.
All images and text ©