baked thai beef stuffed artichokes
'Tis the season for artichokes and these Baked Thai Beef Stuffed Artichokes are a must-make!
Is it me, or does it feel weird to start thinking about Spring Break plans?
I am still getting used to the idea that it's actually March and we will be sipping green beer in ten days to celebrate a certain Irish holiday. Wait. Do people still drink green beer? Or is that something my nineteen year-old self on Spring Break in Padre Island is secretly trying to get me to drink?
Even though I won't be jetting off to Padre Island with my best gaggle of gals and soaking up some much needed sun while attempting a keg stand….shite. Did I just say keg stand? OY VEY. I will be visiting the next best place, Steamboat Springs. The whole Griswold family is getting together for an 80's montage ski vacation next week. Complete with neon clothing, pole slapping, and nude sledding.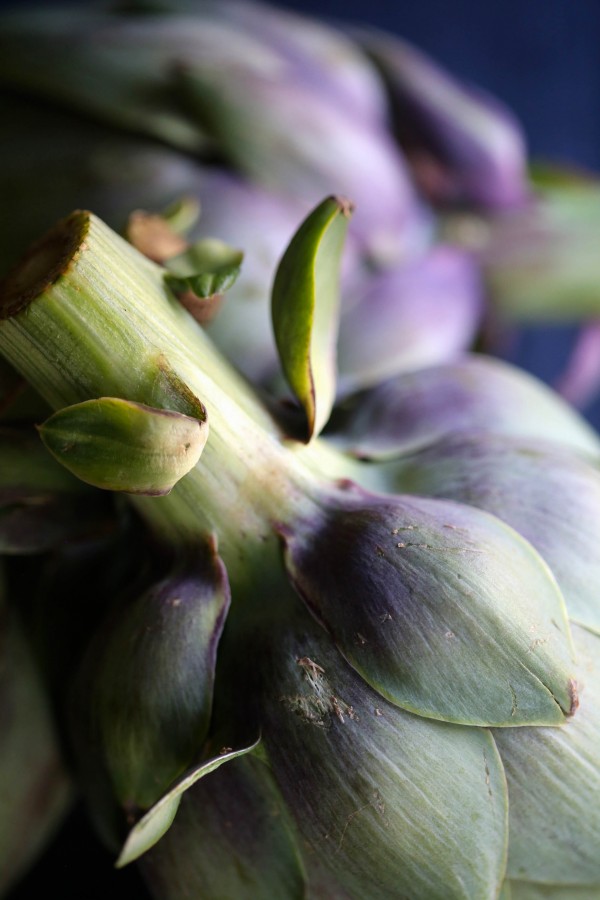 Mr. B and I haven't been able to ski much this year with our needy hundred year-old house so our excitement to hit the slopes is like an effing 15 out of 10. Let's hope El Nino burps up another storm while we are there because this girl needs to ski some fresh tracks STAT.
Anyway, depending on what you are doing for Spring Break, I highly recommend adding these Baked Thai Beef Stuffed Artichokes to your apre ski menu. Yes, it's a little weird town USA to have Thai flavored beef stuffed into an artichoke, but let me tell you, it works. Plus, artichokes are in season right now and are showing off in the super market, which means they are worthy of an impulse purchase.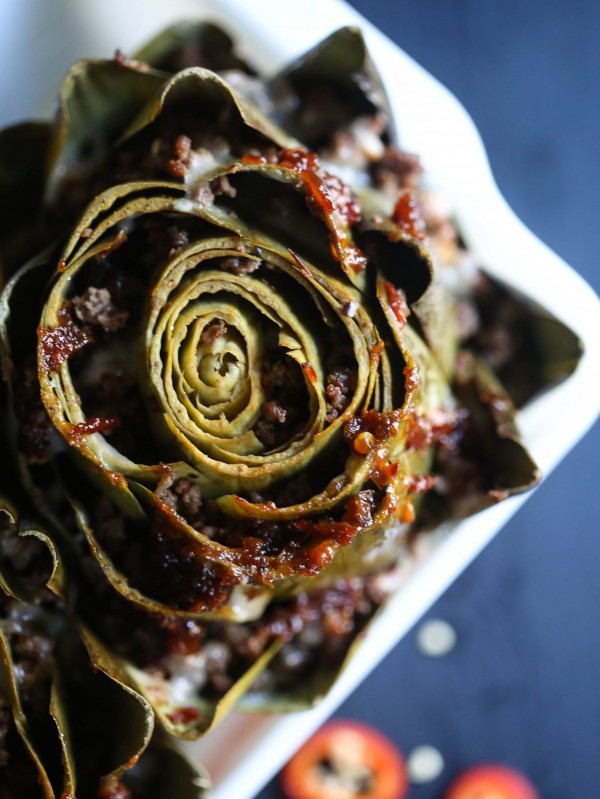 So what do you say? Let's get stuffed and do a little pole whacking.
#springbreak2016
Eat Seasonal Series: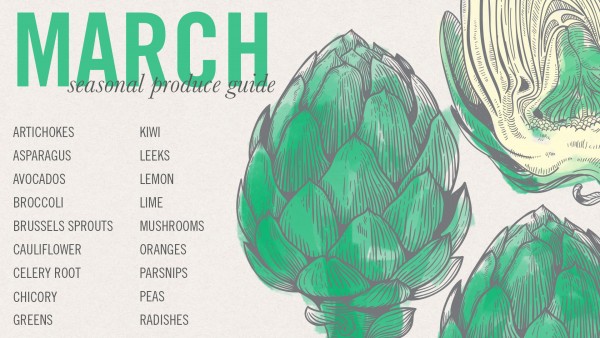 Each month my friend Becky provides a Seasonal Produce Guide, which you can save on your iPhone or desktop so you can get in the seasonal eating spirit.
Not only does she provide a beautiful illustration each month like the one above, you can also join me and a few fabulous food bloggers who are serving up seasonally inspired recipes. Follow us on Instagram and tag your photos with the #eatseasonal hashtag!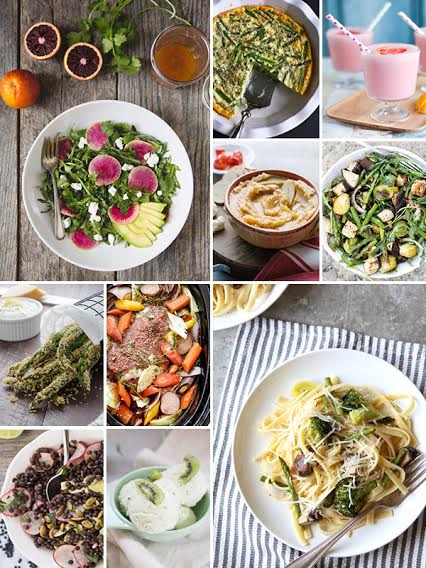 Roasted Asparagus and Brussels Sprout Panzanella Salad from Floating Kitchen
Strawberry and Preserved Lemon Lassi from Simple Bites
Asparagus & Feta Cheese Crustless Quiche from Cookin' Canuck
Roasted Vegetable Asiago Fettuccine Alfredo from Completely Delicious
Crispy Parmesan Asparagus Fries with Lemon Greek Yogurt Dip from Flavor the Moments
Watermelon Radish and Arugula Salad from Food for My Family
Pappadew Pepper Cauliflower Hummus from Kitchen Confidante
Lentil, Avocado, and Radish Salad from Letty's Kitchen
Tuna Salad with Pickled Habeneros from Project Domestication
Kiwi Lime Sherbet from The Vintage Mixer
Corned Beef and Cabbage from FoodieCrush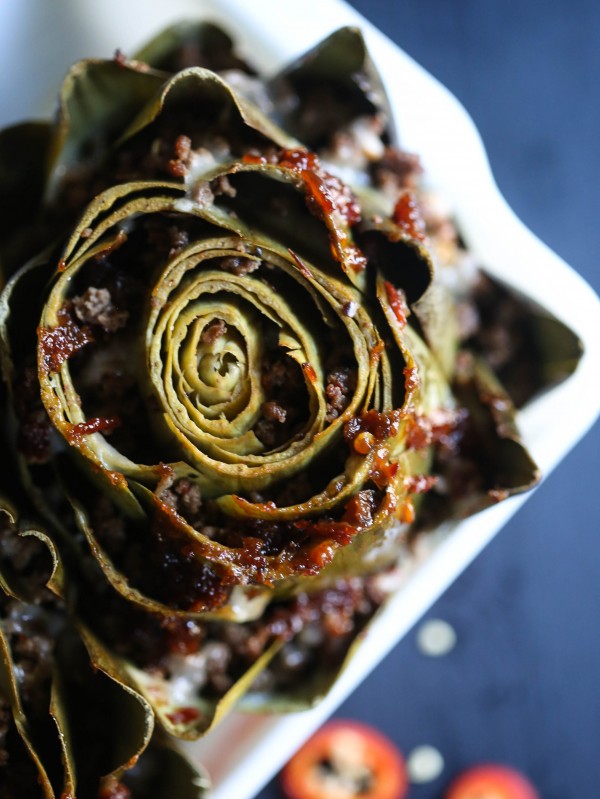 Baked Thai Beef Stuffed Artichokes
Ingredients:
1 tablespoon olive oil
1 lb ground beef
1 large shallot, diced
2 tablespoons Thai roasted red chili paste
1 tablespoon chili garlic sauce
4 large artichokes, trimmed, cleaned
2 large lemons, cut in half
1 cup mozzarella, shredded
salt and pepper to taste
for the Thai glaze:
3 tablespoons unsalted butter
1 tablespoon Thai roasted red chili paste
1 tablespoon chili garlic sauce
salt and pepper to taste
Directions:
Preheat oven to 400 degrees.
Bring a large stock pot filled with water to a boil. Add the artichokes and lemons. Boil the artichokes for about 20 minutes. Once cooked, remove the artichokes and place them stem side up on a wire rack to allow the liquid to drain.
Meanwhile, preheat a medium-skillet to medium-high heat. Add the olive oil, shallot, salt and pepper. Saute the shallots until softened about two minutes. Next, add in the ground beef and cook until no longer pink about five minutes. Then stir in the roasted chili paste and garlic sauce until with the ground beef and shallots. Remove from heat.
Spray a small baking dish with non-stick cooking spray. Take an artichoke and cut the stem off so the artichoke will stand evenly. Repeat process with remaining three. Place the artichokes in the baking dish and stuff them with the ground beef mixture. Sprinkle a 1/4 cup of the mozzarella on top of the artichokes and place the baking dish into the oven. Bake for about 10 to 12 minutes or until the cheese is golden brown. Remove from oven and garnish with Thai glaze.
for the Thai glaze:
In a medium saucepan melt the butter. Next, stir in the chili paste and garlic sauce and whisk until smooth. Add salt and pepper if desired.
All images and text ©