guinness chocolate quinoa bark with whiskey ganache
Guinness Chocolate Quinoa Bark with Whiskey Ganache is an easy, no-bake dessert that's perfect for St. Patrick's Day & ready in 30 minutes!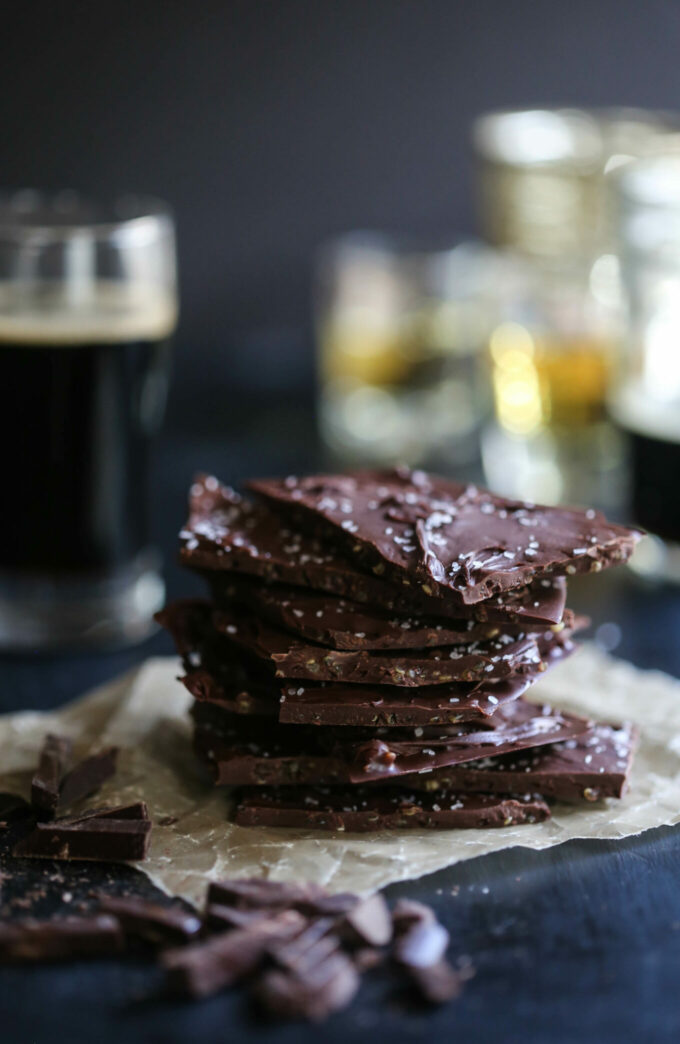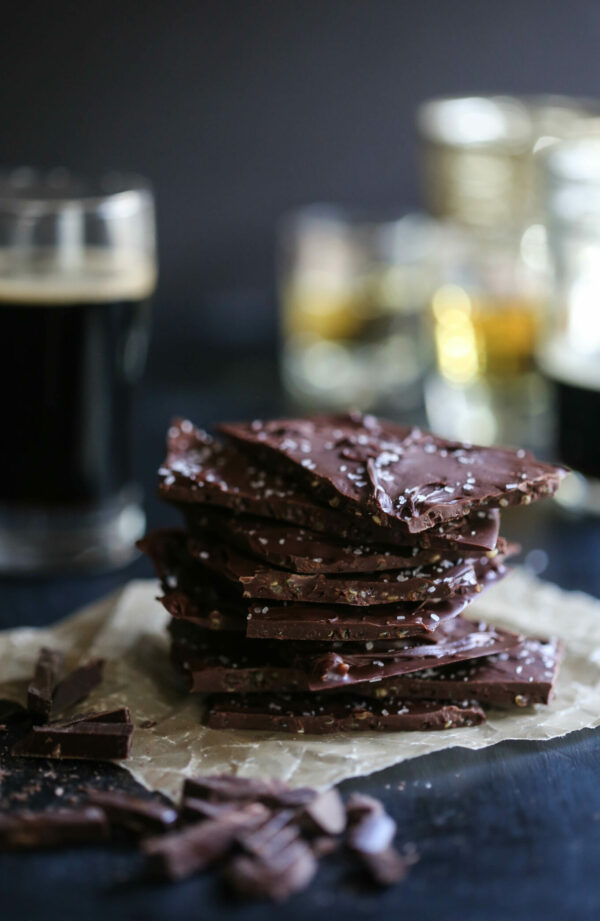 Today, we are having our giggle juice and eating it too.
Because that's how we roll on a hump day. Or at least that's what the camel said as he was making rounds around the office this morning. What? You don't have a talking camel that walks around cubicles asking people what day it is? I thought that was a thing. No?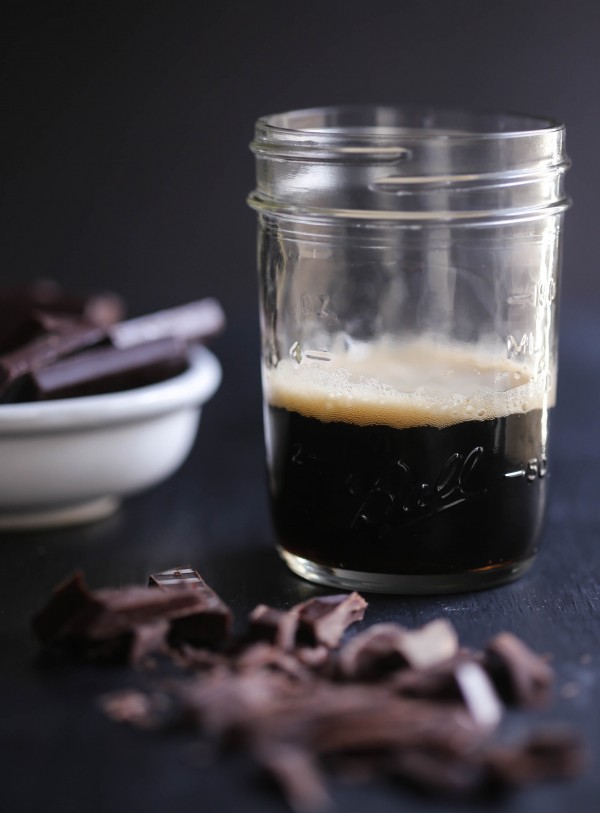 I guess we will save the talking camel conversation for next Wednesday because we do have very important matters to discuss. First, this Guinness Chocolate Quinoa Bark with Whiskey Ganache. YOU GUYS. This was my first attempt at making chocolate bark and I might be seriously addicted. I always thought it was a huge undertaking and would need Willy Wonka candy making skills. So not the case!
You can imagine my relief when after melting the chocolate chips, spreading it evenly onto a baking sheet, and freezing it for 15 minutes that it actually resulted in the best chocolate bark ever! Of course, I immediately gave myself a high-five and broke into a celebratory running man dance.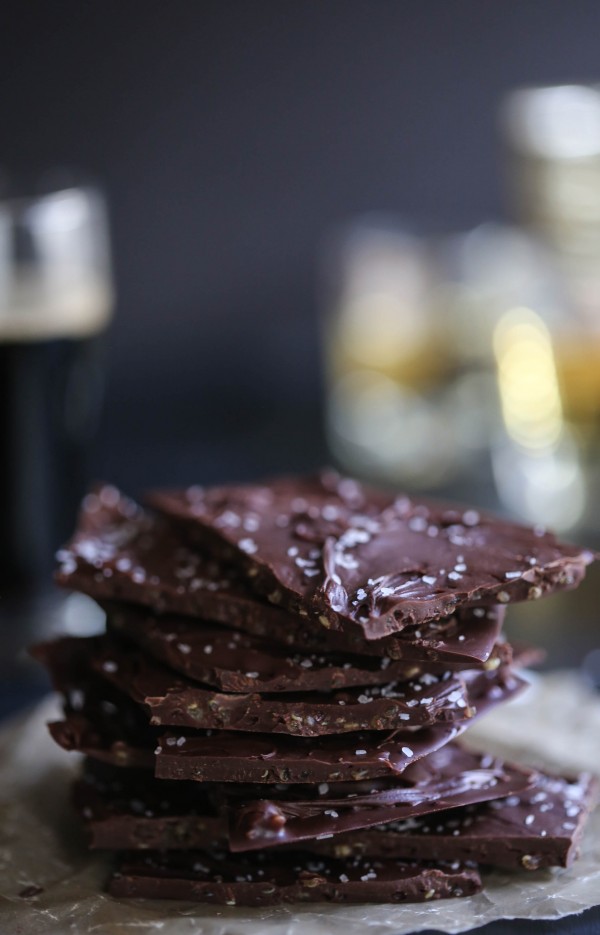 And this brings me to matter number two. You can't make chocolate bark without adding in a little giggle juice. I mean St. Patrick's Day is in like five minutes and what better way to celebrate than with chocolate and booze. You can definitely make this Guinness Chocolate Quinoa Bark with Whiskey Ganache sans giggle juice for a healthier dessert option. Because isn't summer like five minutes away?
Or at least that's what the camel said.
Happy hump day, friends.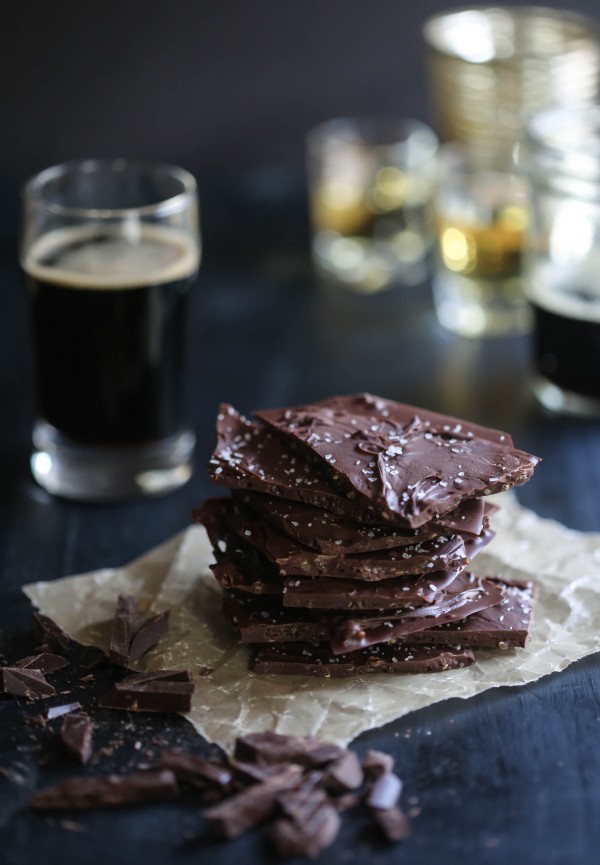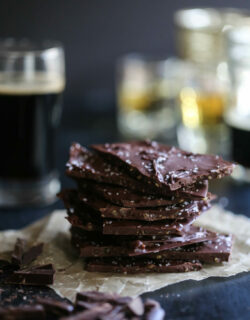 Guinness Chocolate Quinoa Bark with Whiskey Ganache
Ingredients:
for the quinoa bark:
1/2 cup uncooked quinoa
1/4 cup turbinado sugar
1 tablespoon Guinness
1 cup dark chocolate, chopped
Sea salt flakes, garnish
for the whiskey ganache:
1 tablespoon Irish whiskey
1 cup dark chocolate chips
1 tablespoon whipping cream
Directions:
for the quinoa bark:
In a large skillet preheated to medium heat, add the quinoa. Cook for a few minutes, stirring so it doesn't burn. Add the sugar and Guinness to the skillet and stir to combine with the quinoa until the sugar has melted and beer has been absorbed. On a small baking sheet covered with parchment paper, spread the golden quinoa into an even layer. You will want to cool the quinoa completely.
Next, in a small saucepan melt the chocolate. Stir until most of the chocolate has melted and smooth. Add the 1/4 cup of the quinoa to the chocolate and stir to combine. Take another small baking sheet lined with parchment paper and spread the chocolate-quinoa mixture in an even layer about 1/16-inch. Sprinkle the remaining 1/4 cup of quinoa on top of the chocolate. Place baking sheet into the freezer for about 10 minutes.
Remove baking sheet from freezer and spread the whiskey ganache on the top in an even layer. Place the baking sheet back in the fridge for another 10 minutes or until the ganache has set. Remove the baking sheet from the freezer and break off pieces of the bark to serve. Garnish with sea salt if desired.
for the whiskey ganache:
To make the ganache, melt 1 cup chocolate chips, cream, and whiskey in a small saucepan over medium heat. Stir until smooth and remove from heat.
adapted from Cooking Light Magazine
All images and text ©