potato chip crusted chicken meatball and waffle bites
Potato Chip Crusted Chicken Meatball and Waffle Bites are a fun twist on chicken waffles. Easy to make and the perfect addition to your brunch menu!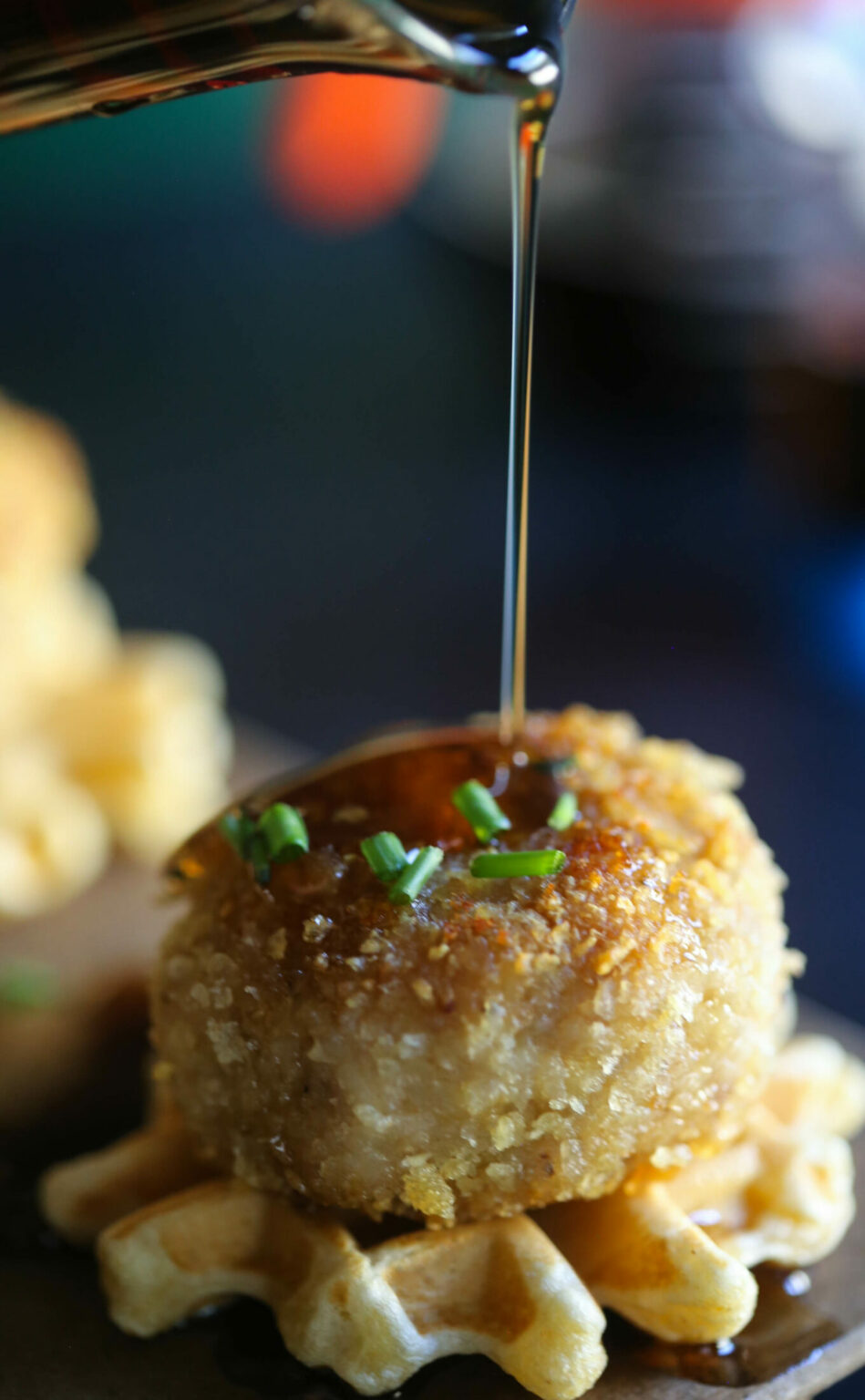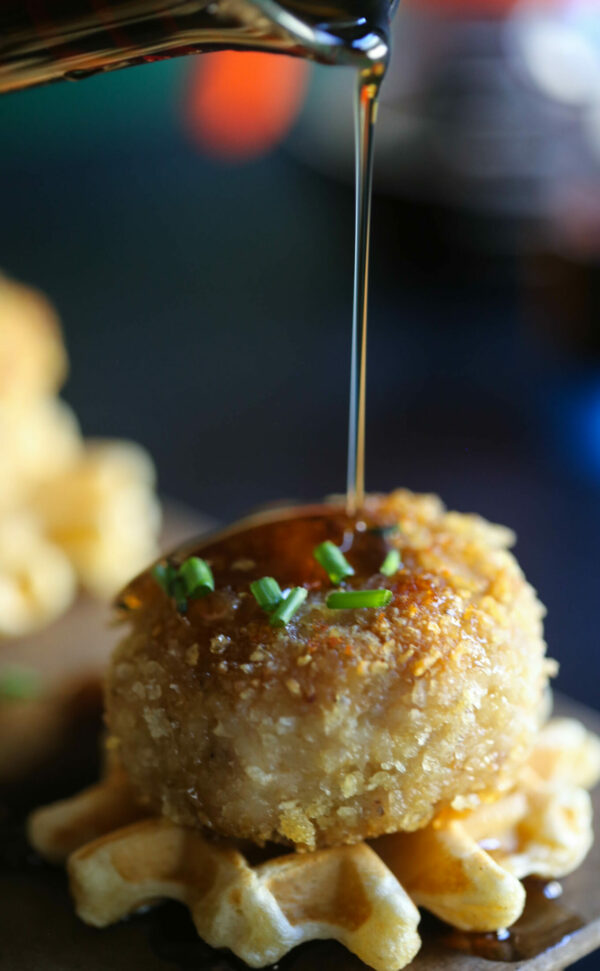 We are exactly 18 days, 23 hours, 14 minutes, and 3.7 seconds away from the official first day of spring.
But who's counting? (ehem, ehem)
This time of the year is the worst for yours truly because I have zero patience for inconsistency. One minute it's sixty-five degrees, sunny, and I'm jogging around Wash Park in Nike shorts sporting some bright white legs. And the next, Old Man Winter decides after being four fingers in the bourbon to let four feet of snow appear out of nowhere.'Tis the life of being a Denverite I guess, but I am hoping once we reach March 20th, we will be on a consistent path towards warmer weather and dare I say, SUMMER!
However, let's not get ahead of ourselves just yet. I'll save the flippy-floppy, maxi dress, margarita happy hour on a rooftop conversation for next week. Because we need to talk about these Potato Chip Crusted Chicken Meatball and Waffle Bites for your upcoming brunch this weekend. Y'all know that I love me some chicken and waffles, but sometimes a girl needs to jazz up the basics. Ya feel me?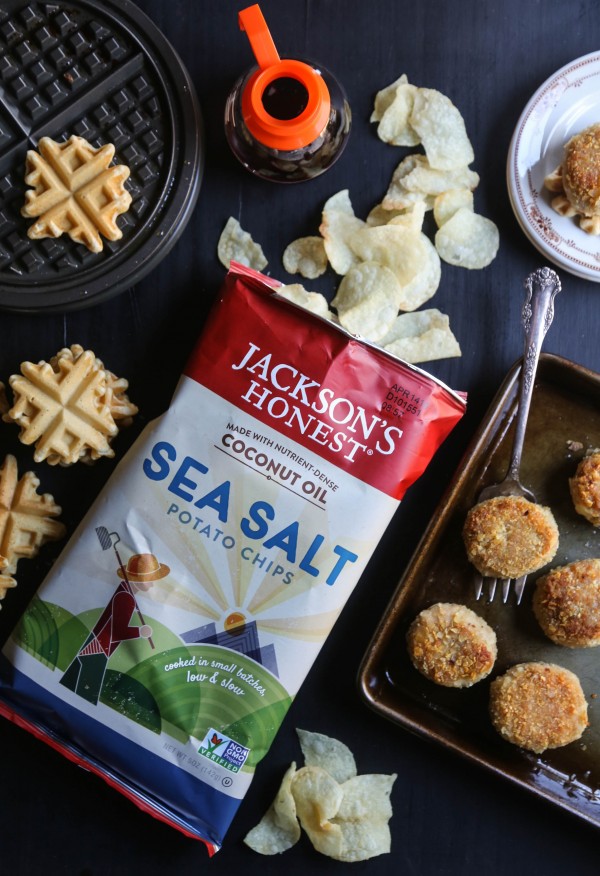 See, these Potato Chip Crusted Chicken Meatballs are made with crushed Sea Salt Potato Chips from an amazing and inspiring Colorado company who is wholeheartedly committed to using real ingredients, Jackson's Honest. Their potato chips are made of THREE ingredients – potatoes, organic coconut oil, and salt. When's the last time you looked at a bag of chips and only saw three ingredients listed? (crickets)
Not only does Jackson's Honest have a smorgasbord board of potato chips, but they also have an assortment of tortilla chips that are equally fantastic. But what makes Jackson's Honest one of my favorite companies is their story. If you have a moment you need to read about Jackson and his health journey. It will open your eyes and make you understand that healthy, homemade food is possible and in fact, life changing.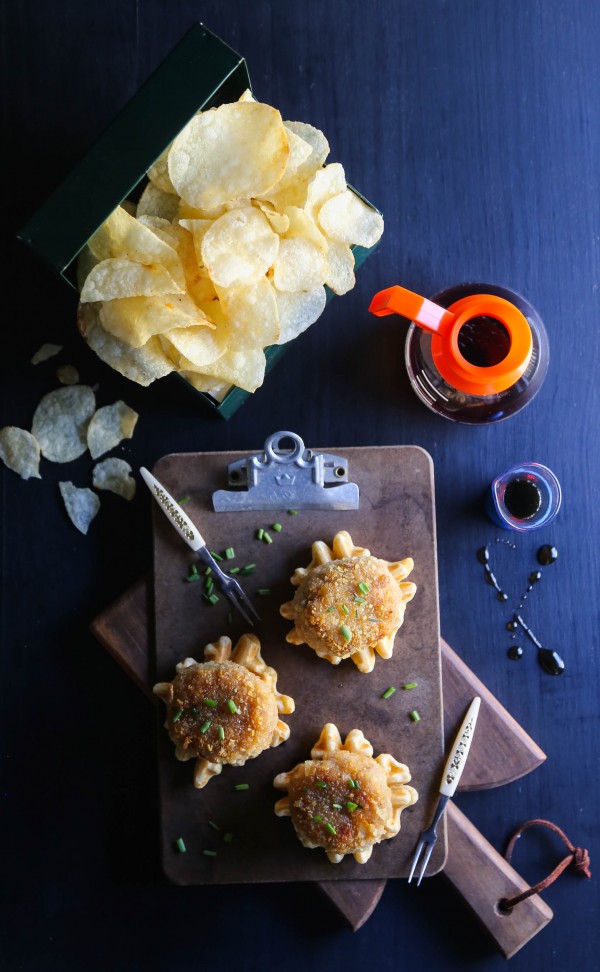 With that, if you want to get your mitts on some Sea Salt Potato chips to make these Potato Chip Crusted Chicken Meatball and Waffle Bites, check out Jackson's Honest store locator. Don't say I didn't warn you. Once you have a chip, you'll never be the same. In fact, you may have to brunch at your house every weekend unless you keep Old Man Winter out of the booze.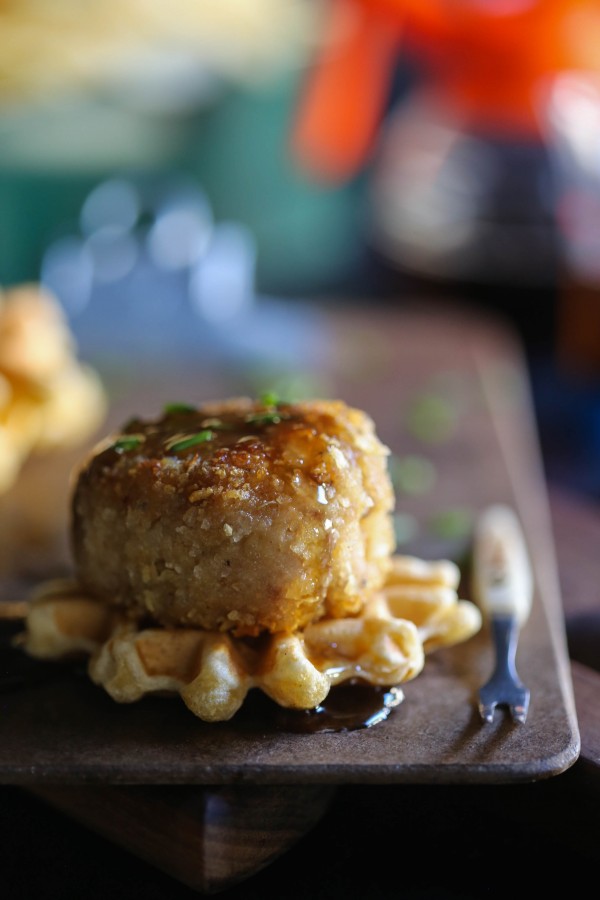 ***This post is sponsored by Jackson's Honest. As always, all opinions expressed are 100% my own.***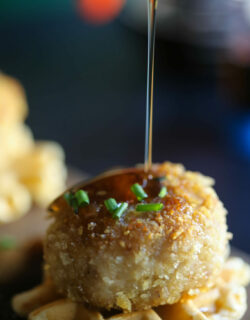 Potato Chip Crusted Chicken Meatball and Waffle Bites
Ingredients:
for the chicken meatballs:
1 lb ground chicken
1 large egg
1/4 teaspoon cayenne pepper
1 teaspoon maple syrup
1/3 cup panko breadcrumbs
2 cups Jackson's Honest Sea Salt Potato Chips, crushed finely
1/4 cup olive oil
1/2 teaspoon kosher salt
1/2 teaspoon ground pepper
Fresh chives, garnish
for the waffles:
1 1/2 cups all-purpose flour
2 large eggs
1 1/2 teaspoons baking powder
1 1/2 cups whole milk
3 tablespoons unsalted butter, melted
2 tablespoons granulated sugar
1 teaspoon vanilla extract
1/4 teaspoon kosher salt
Maple syrup, garnish
Directions:
for the chicken meatballs:
Preheat oven to 400 degrees. In a large bowl, combine ground chicken, egg, cayenne pepper, maple syrup, panko, salt, and pepper. Form the chicken mixture into eight, one-inch sized meatballs. Next, pour the potato chips into a large bowl. Take a meatball and roll it around the crushed chips making sure it's evenly coated. Continue the same process with the remaining meatballs.
Preheat a skillet to medium-high heat and add the olive oil. Add the meatballs (four at a time) to the skillet and brown on both sides. Place the meatballs on a baking sheet sprayed with non-stick cooking spray. Repeat process until all meatballs have been browned. Place the meatballs into the oven and bake for about 10 to 12 minutes or until cooked through. Remove from oven and let them cool slightly.
To serve, take a waffle and place on a serving plate. Top the waffle with the chicken meatball. Garnish top of the chicken meatball with fresh chives and maple syrup. Continue until all meatballs have been used. You will have leftover waffles.
for the waffles:
Preheat a waffle iron. In a large bowl, combine the first eight ingredients. Add one tablespoon of the waffle batter to the waffle iron. Once the waffle iron says ready, lift the lid, and remove the waffle bite. Place the waffle bite on a baking sheet and place in a 250 degree oven to keep warm. Repeat process until all the waffle batter has been used.
All images and text ©