Banana Cake with Chai Vanilla Frosting
Banana Cake with Chai Vanilla Frosting is a delightful and delicious cake! Fluffy banana cake topped with a chai infused vanilla frosting. Pour yourself a cup of coffee grab a slice or two!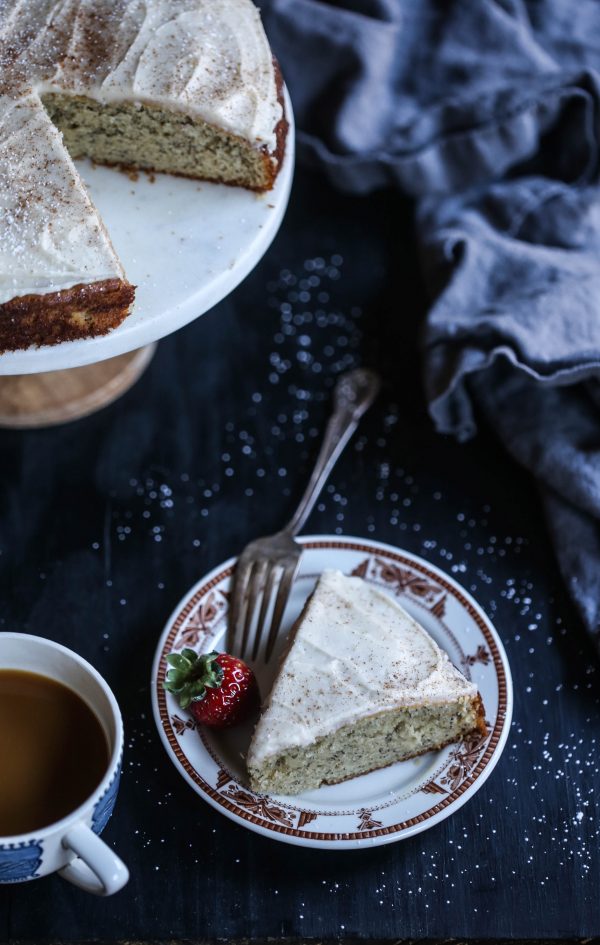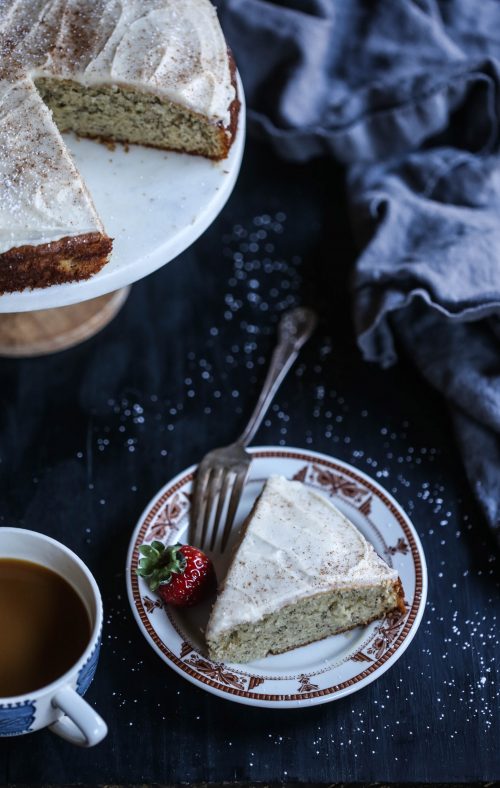 Um, hold the phone.
Wait. Do people say that phrase? I just dated myself, didn't I?
Truth: we still have a land line phone. GASP! But in full disclosure it's not plugged into the wall. The model S4 Samsung black phone just sits in our office feeling neglected because no one has called since 2009. The reason we still have a "land line" has nothing to due with emergencies, but with saving money via our internet provider. Is that not the dumbest thing ever? Whatevs.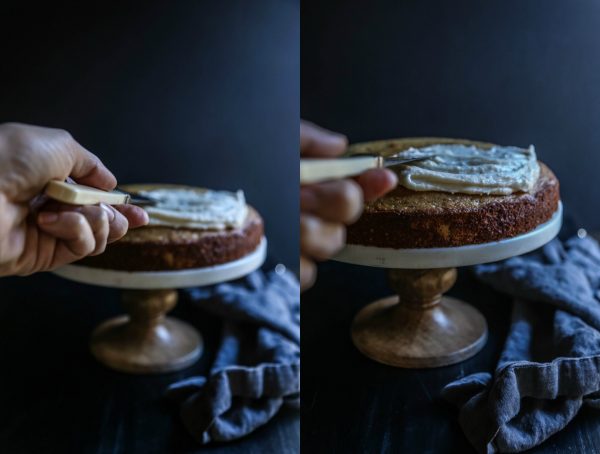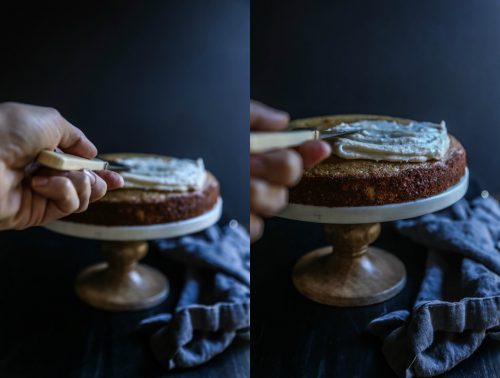 Anyways, what I was trying to ask you earlier, did anyone notice that today is the last Monday in January? 2017 already feels like a blur and we are only a month in. I feel like I need three martini's and a long vacation.
But! To look at things in a positive manner on Wednesday starts my birthday month. Hip-hip-hooray! I think once you turn thirty one deserves an entire month of birthday celebrating shenanigans. I turn 34 this year. I'm actually not sour about being almost halfway to 40. Life is all about perspective and I can tell you this, there is someone else out in the world that has it way worse.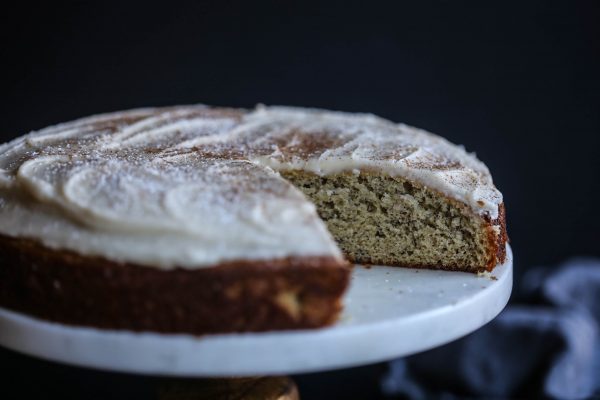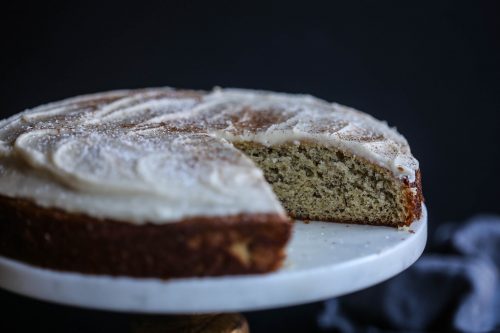 So, I've decided to do some pre-birthday month celebrating with this Banana Cake with Chai Vanilla Frosting. I've made a few banana cakes on this blog, but I am seriously into chai flavors at the moment. If I could glaze a pot roast with a chai tea reduction I would. Actually……..that's not a bad idea.
Anywho, I figured we could use some spice and sass on this Monday AM and this cake is the golden ticket. It's dense, but still moist. And the chai vanilla frosting is the perfect, sugary match. You could leave the frosting off if you are still eating healthy.
But!
Um, hold the phone.
You only live once. Better make that two slices with frosting.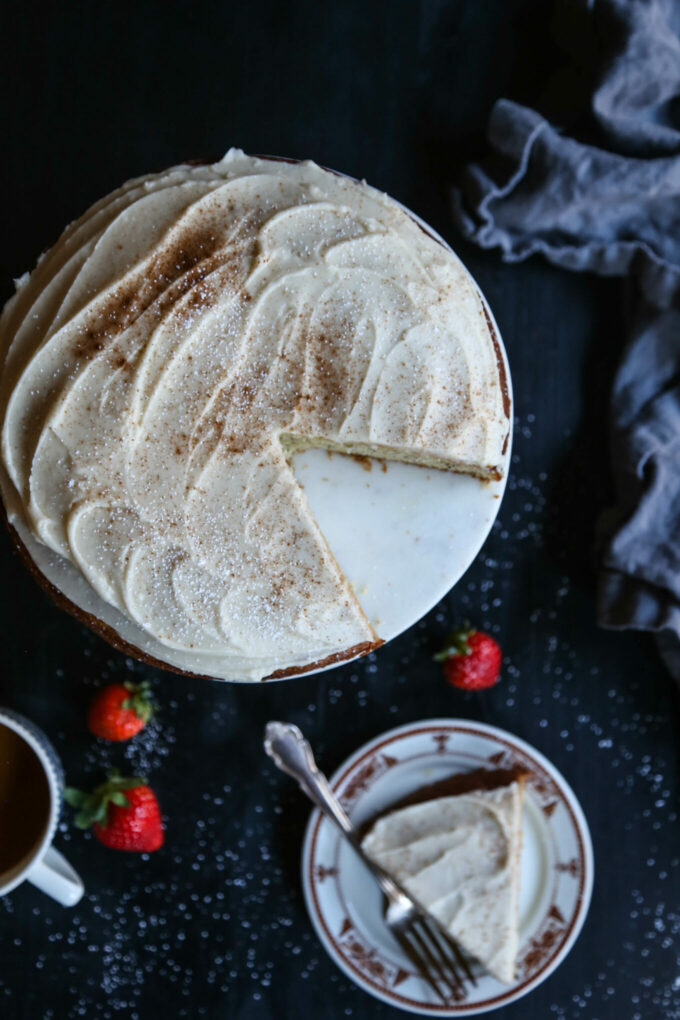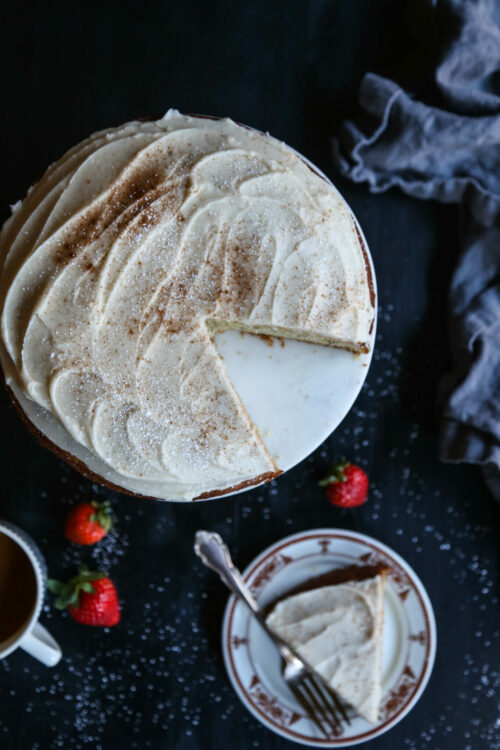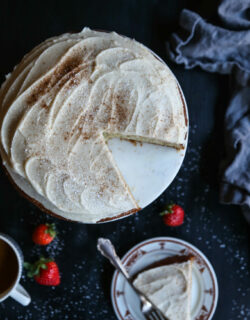 Banana Cake with Chai Vanilla Frosting
Ingredients:
for the cake: 
1/4 cup unsalted butter, room temperature
3/4 cup granulated sugar
2 large egg yolks
2 large egg whites
2/3 cup mashed bananas – approximately 2 small or one large
1/4 cup sour cream
1 cup all-purpose flour
1/2 tsp. baking soda
1/4 tsp. salt
1/2 tsp. vanilla
1/4 tsp. nutmeg
for the chai vanilla frosting:
4 tablespoons unsalted butter, room temperature
2 cups confectioner sugar
2 tablespoons brewed chai tea
2 tablespoons whole milk
1/4 teaspoon salt
1 teaspoon vanilla extract
1 teaspoon almond extract

Directions:
for the cake:
Preheat oven to 350 degrees. Spray a nine-inch cake pan with non-stick cooking spray. In a mixer, cream butter and sugar. Beat the egg yolks and stir into sugar mixture. Add mashed bananas. In a medium bowl, combine baking soda, salt, nutmeg, and flour. Add the sour cream to the egg/sugar mixture. Take turns adding the egg/sugar/sour cream mixture to the flour, along with the mashed bananas.
Beat the two egg whites until stiff, and fold into the batter gently. Stir in the vanilla. Bake in a conventional oven for about 22 to 25 minutes. Let it cool before adding frosting and serving.
for the chai vanilla frosting:
Cream butter with 1 cup of sugar. Stir in vanilla, almond extract, and salt. Frosting will be thick. Add chai and milk. Stir well. Frosting will be runny, now stir in the other cup of powdered sugar. If too thick, add more milk, chai tea, and sugar to desired spreadable frosting consistency.

All images and text ©