Mini Heart-Shaped Supreme Pizzas
Forget buying chocolate and flowers for your love on Valentine's Day! Instead make these easy, cheesy Mini Heart-Shaped Supreme Pizzas! Perfectly shaped mini hearts topped with chicken sausage, veggies, and smoked mozzarella. You'll totally steal their heart!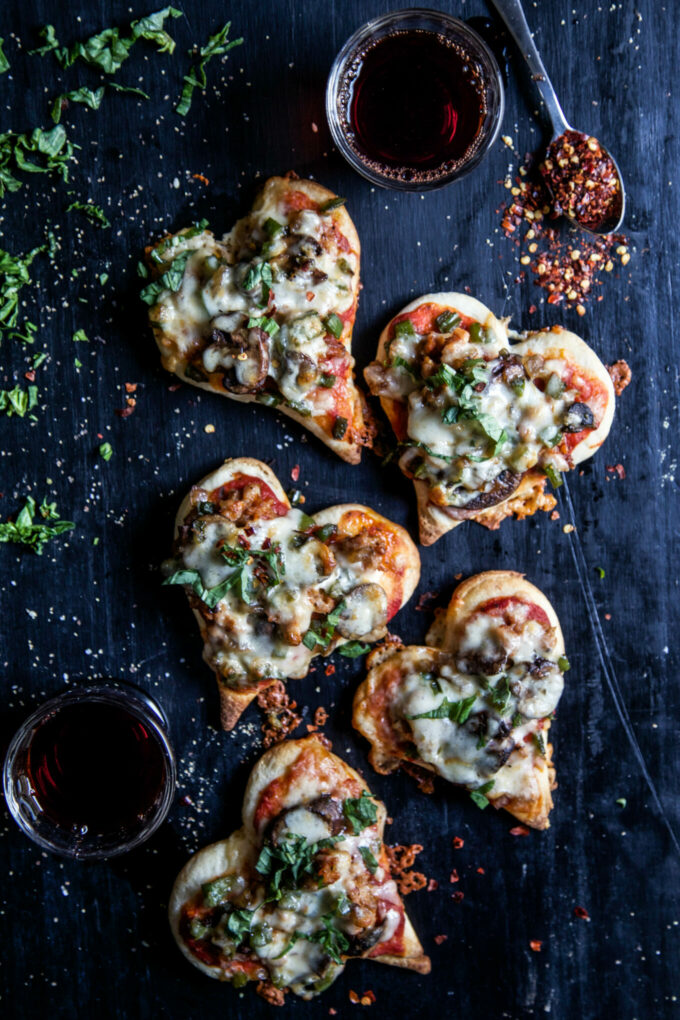 Aren't these the cutest little pizzas E-V-E-R?
GAH.
I feel like I am wining at Valentine's this year. Which is odd because I could honestly give two flying trucks about this over-marketed-chocolate-induced-stuffed-teddy-bear-akward-gram holiday. Correct me if I'm wrong, but should Valentine's Day really be a holiday? I won't judge. Just tell me the truth.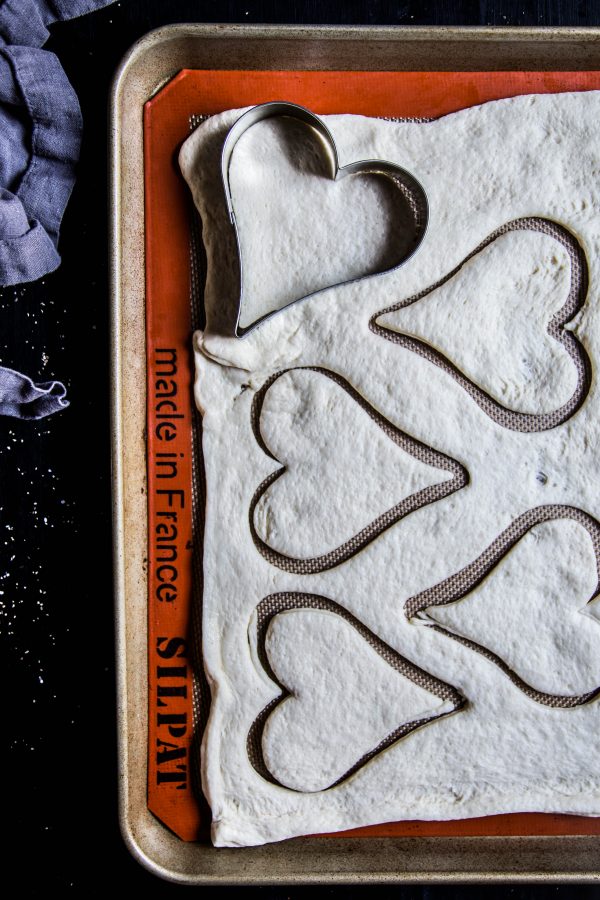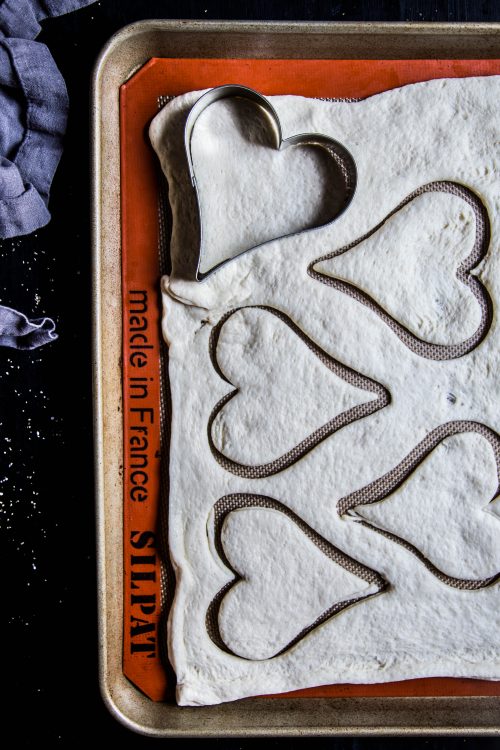 Christmas I get going the full nine yards. Everyone is committed and you can't go half ass when it comes to spreading Christmas cheer. But on Valentine's Day if one person doesn't get a teddy bear stuffed with chocolate delivered by a sexy fireman somehow mankind loses it. I just don't get what the big deal is about Feb. 14th.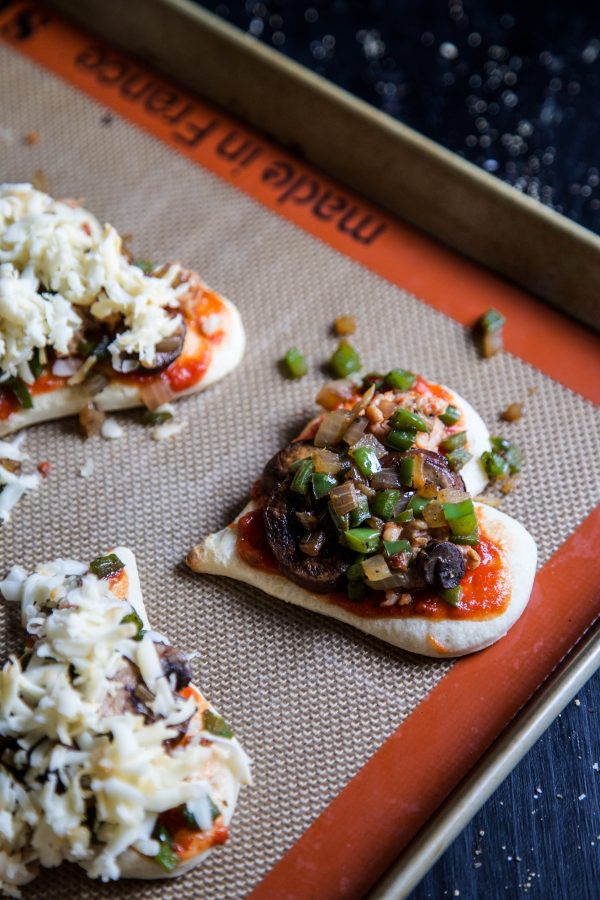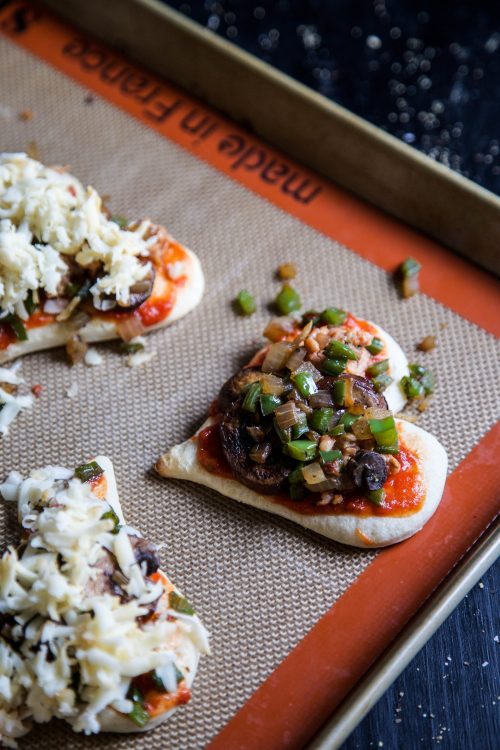 I digress. If you want to make Valentine's Day an 11/10 situation for your loved one, I say go for it. You won't find any judgement over here. But! If you want to show a little more affection on Feb 14th without spending money on a big fancy dinner and nine hundred pounds of chocolate, make these Mini Heart-Shaped Supreme Pizzas.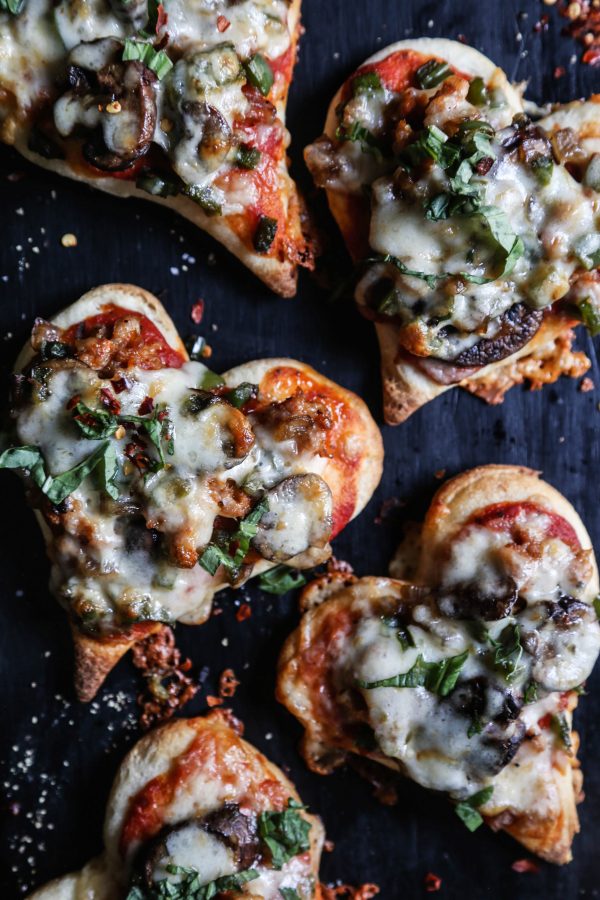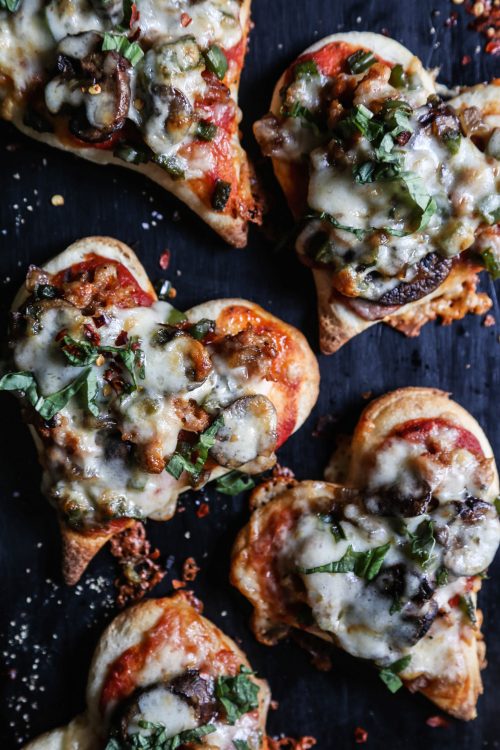 How could anyone resist little heart-shaped pizzas? I'm smiling just thinking about making mini heart-shaped pizzas for Mr.B for our traditional Valentine's Day night in where we watch movies in our pi's, drink wine, and eat pizza. The best part of these pizzas? They are stupid easy to make. Roll out the dough, cut out heart-shapes, top with all of the sexy toppings, and bake.
If these pizzas don't bring a smile to his or her face, you might need to have a sexy teddy-gram on call.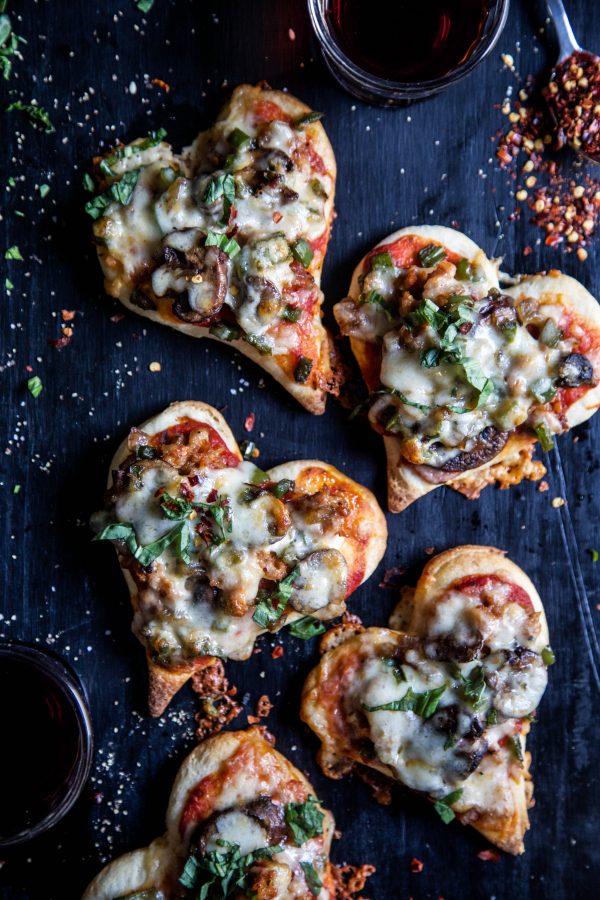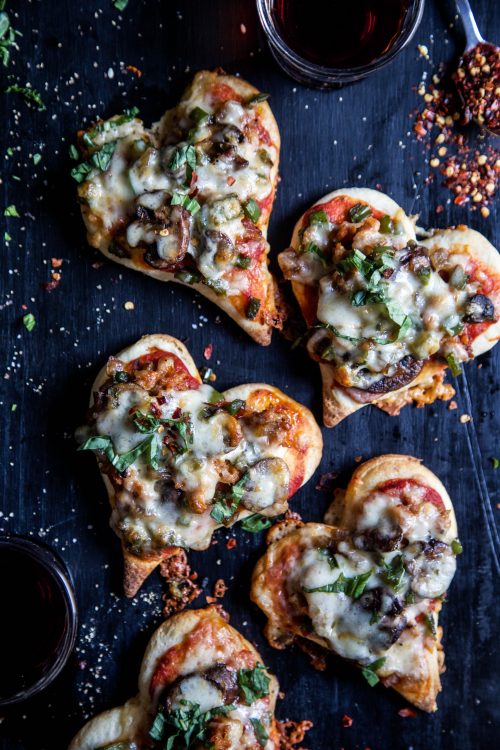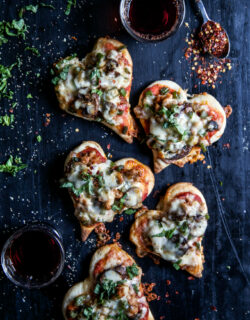 Mini Heart-Shaped Supreme Pizzas
Ingredients:
1 pkg homemade or store bought pizza dough
1 tbsp olive oil
1/2 lb ground chicken sausage
1/3 cup diced green pepper
1/3 cup diced shallot
1/2 cup chopped baby bella mushrooms
1 cup shredded smoked mozzarella cheese
1/2 cup favorite pizza sauce
Fresh basil, for garnish
salt and pepper to taste
Directions:
Preheat an oven to 400 degrees. Dust your counter top with flour and roll out pizza dough. Using a 5-inch wide heart-shaped cookie cutter, cut out roughly 10 heart-shaped pizzas. Place the heart pizzas on a baking sheet and partially bake for about three minutes. Remove the baking sheet from the oven and set aside.
Meanwhile, preheat a medium skillet to medium-high heat. Add olive oil and chicken sausage. Cook the sausage until no longer pink and remove with a slotted wooden spoon onto a plate. You might have leftover sausage depending on how much you use on the pizza. In the same skillet, add the mushrooms. Saute the mushrooms for a few minutes or until slightly golden brown. Next, add green pepper, shallot, salt and pepper. If you need to add a little more olive oil to the skillet that's okay. Cook the veggies until softened about four minutes. Remove skillet from heat.
Grab the partially baked pizza hearts and spread some of the pizza sauce on top leaving a small border. Top the sauce with chicken sausage followed by veggie mixture and cheese. Bake the pizzas for additional 7 to 10 minutes or until the crust is golden brown and cheese has melted. Remove the pizzas from the oven and garnish with fresh basil.
All images and text ©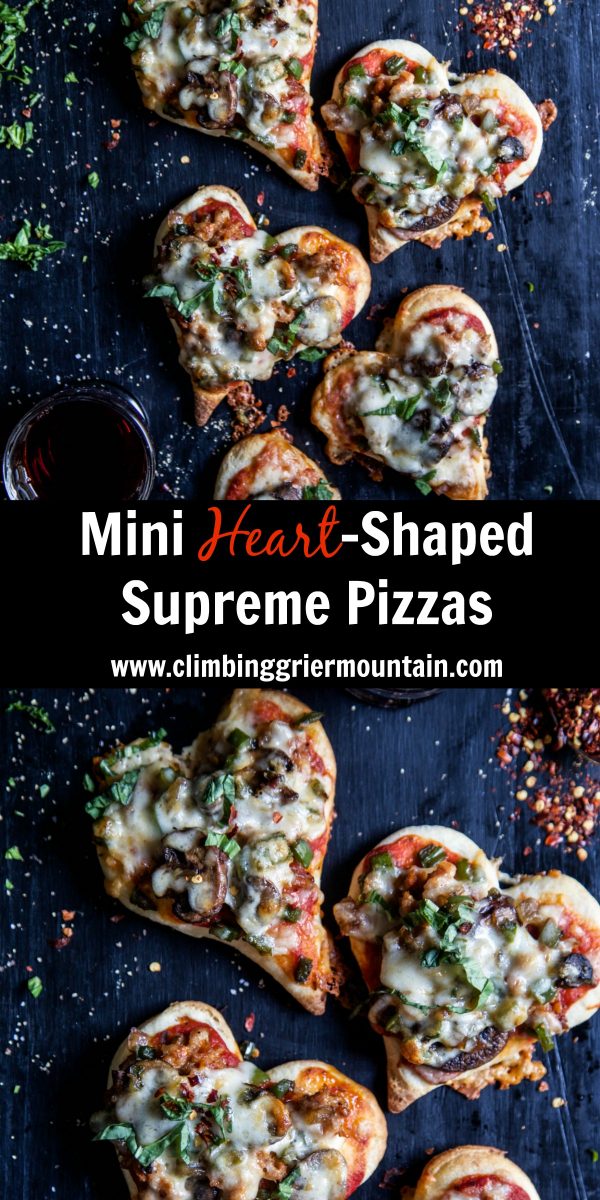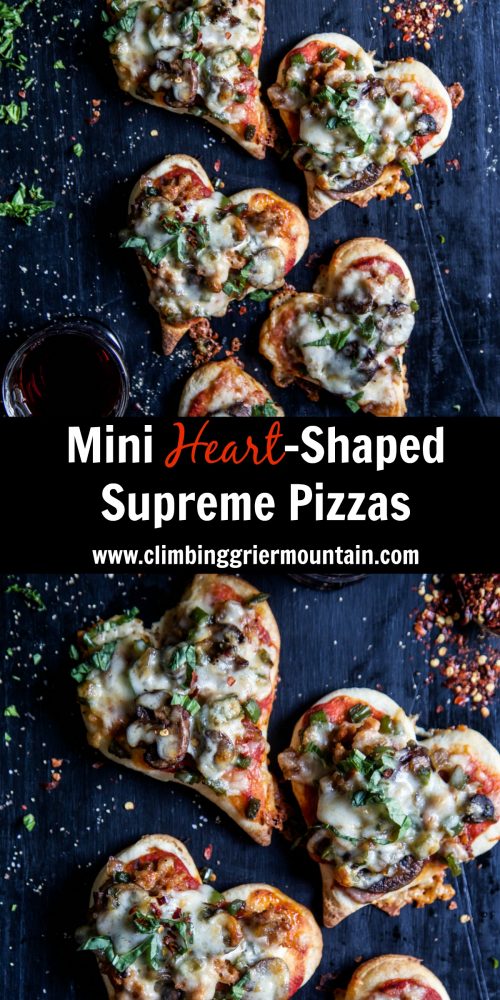 In conclusion, Mini Heart-Shaped Supreme Pizzas are a delightful expression of love through savory flavors, making them perfect for any romantic occasion or a charming treat to enjoy with loved ones.