banana cake with dark chocolate frosting & salted caramel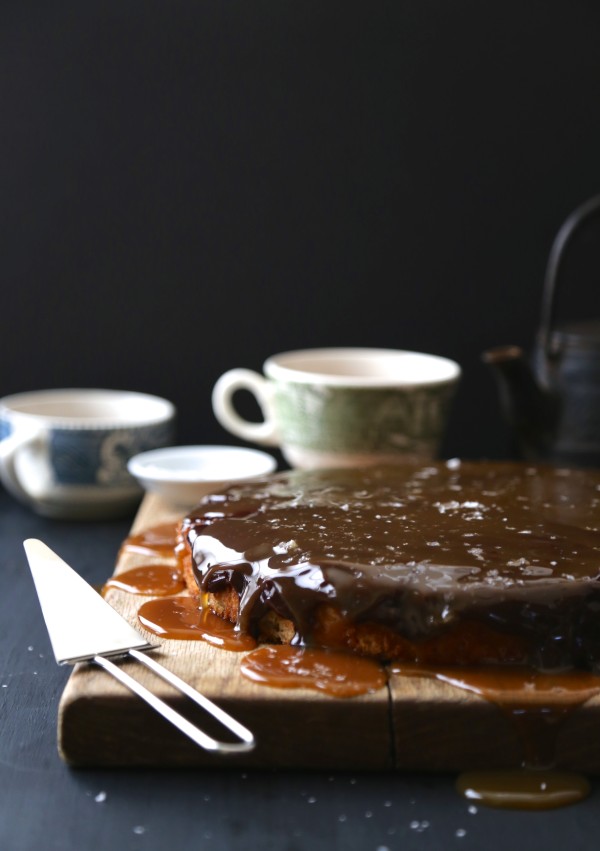 Does anyone else have spring tunnel vision?
Like if you see a flake of snow you might go all, "HERE's JOHNNY!" on someone. I realize it's wishful thinking to pull out my flippy-floppies, maxi dresses, and fedora permanently. Because living in Colorado you can always expect a giant snow storm right smack in the middle of April….and even May. Sigh.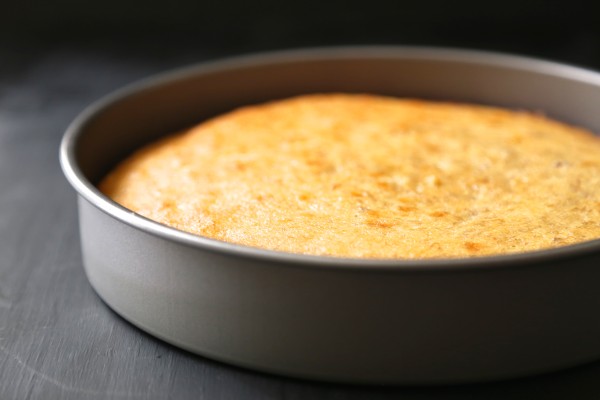 But I'm lonnnnnging for continuous warm, sunshine filled days where the grass is green and the girls are pretty. Sorry, Guns-n-Roses just burped up on the shuffle. Did I ever tell y'all that I do a mean Axel Rose impression? Mr. B says it is one of my better impressions besides my Russian accent.
Anyways, to keep my spring tunnel vision in check on this Monday morning, I thought we needed some cake. I mean, what's a Monday morning without cake? Just a "meh" morning, am I right? This cake is actually an updated version of my mom's classic banana cake. Instead of vanilla frosting, I topped it with chocolate frosting and poured caramel all over. Sprinkled a few salt flakes on top….oh, my word.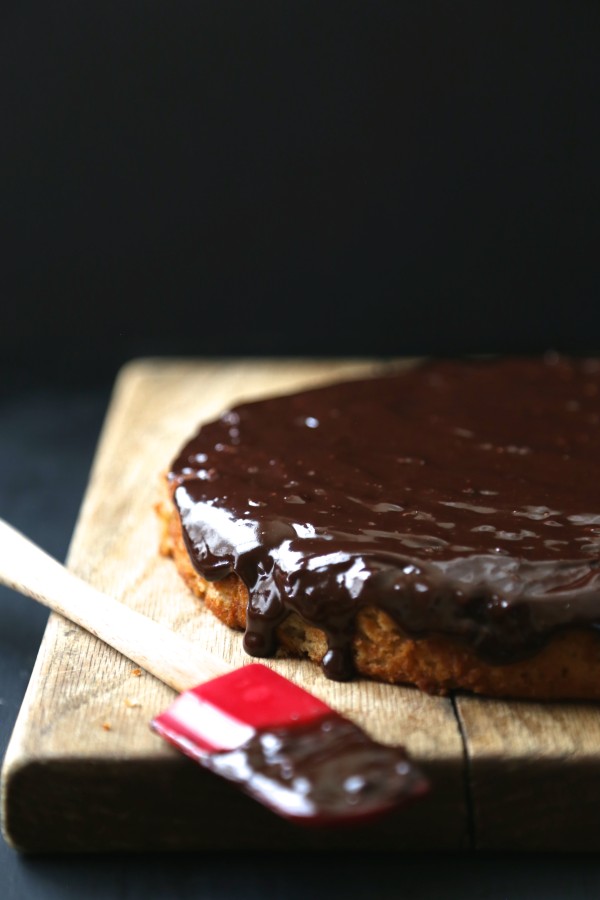 Really this could be considered a dessert. Mr. B says it is. But I say, you can eat dessert for breakfast anytime. It keeps you young and able to dance like Axel Rose on a whim.
"Take me down to the paradise city….."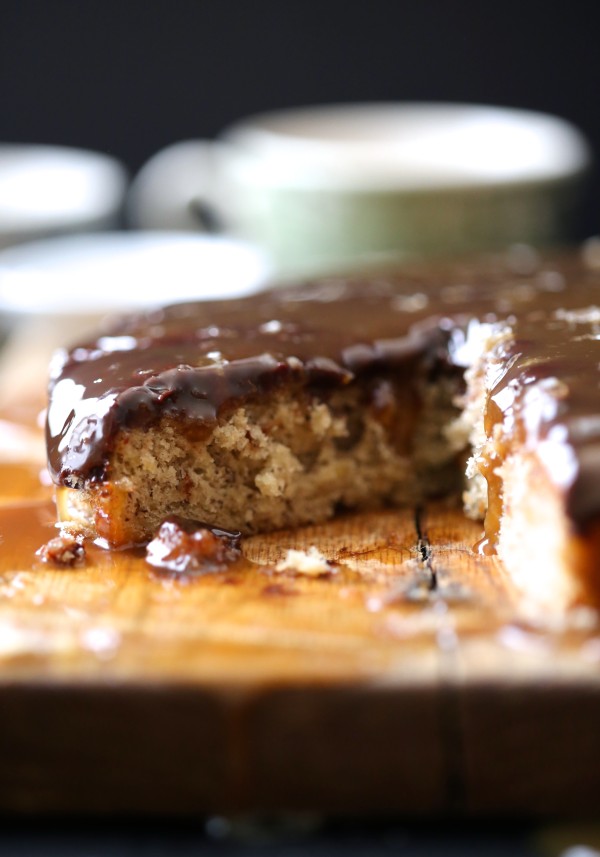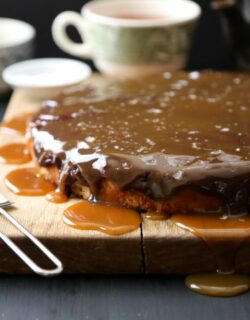 Banana Cake with Dark Chocolate Frosting & Salted Caramel
Ingredients:
for the banana cake:
1/4 cup unsalted butter, room temperature
3/4 cup sugar
2 eggs, separated
2/3 cup mashed bananas - approximately 2 small or one large
1/4 cup sour cream
1 cup all-purpose flour
1/2 tsp. baking soda
1/4 tsp. salt
1/2 tsp. vanilla
1/4 tsp. nutmeg
1/2 cup caramel
salt flakes, garnish
for the chocolate frosting:
1 cup granulated sugar
1/2 cup whole milk
6 tablespoons unsalted butter
2 cups semi-sweet chocolate chips
1 to 2 teaspoons hot brewed coffee
Directions:
for the banana cake:
Preheat oven to 350 degrees. In a mixer, cream butter and sugar. Beat the two yolks and stir into sugar mixture. Add mashed bananas. In a medium bowl, combine baking soda, salt, nutmeg, and flour. Add the sour cream to the egg/sugar mixture.Take turns adding the egg/sugar/sour cream mixture to the flour, along with the mashed bananas.
Beat the two egg whites until stiff, and fold into the batter gently. Stir in the vanilla. Bake in a conventional oven for about 22 to 25 minutes. Let it cool before adding frosting and serving. Once the chocolate frosting has set, pour the caramel on top of the chocolate. Sprinkle the top with salt flakes. Serve and enjoy!
for the chocolate frosting:
In a small saucepan, combine the milk and sugar. Add the butter and bring to a slight boil, stirring so nothing burns to the bottom. Remove the saucepan from the heat, and stir in the chocolate chips. Add the hot coffee and stir until smooth. You may need to add more coffee if the frosting is to thick. Also, you will likely have left over frosting.
chocolate frosting adapted from Food and Wine magazine
All images and text ©