beef & caramelized kimchi pizza with sriracha greek yogurt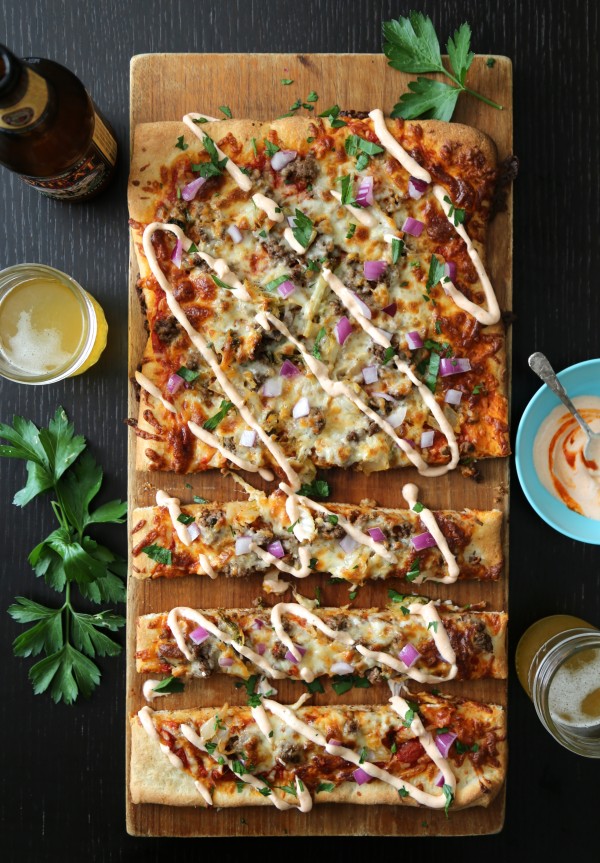 So, we aren't doing so HAWT this year.
I guess these things happen???
Our beloved Kansas State Wildcats football team is having a tough go of it this season. I feel bad because we have been plagued with inquires. You know it's bad when your wide receiver plays quarterback!!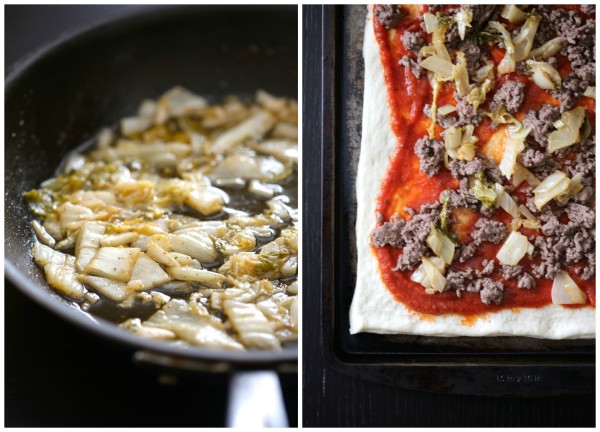 Sigh. Even though we have lost the last few games, my hat goes off to Bill Snyder and the players because they don't give up. They keep fighting, pushing, and Bill even wrote an apology letter to the student body telling everyone if they were to blame anyone for recent performance blame him! He is the sweetest coach ever. Bill, you have nothing to worry about, we are behind you 110 percent.
With the season a little more than half over, I hope we can pull off one more win especially against a team who resides directly two hours east of Manhattan, KS. In order to get through that game we are going to need some fuel. And not just your standard nachos, burgers, and brats, I'm talking something hearty with some sass.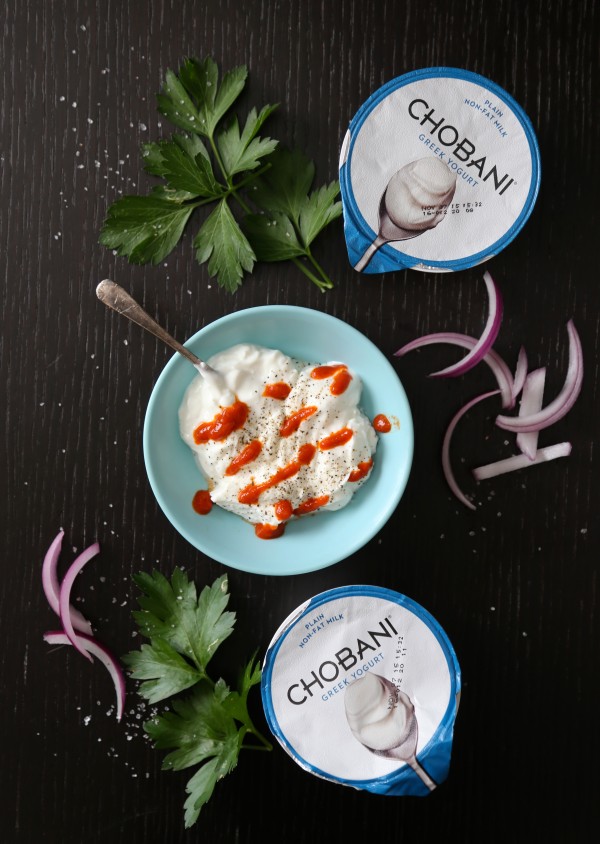 This Beef & Caramelized Kimchi Pizza with Sriracha Greek Yogurt has your name written all over it. Why I haven't caramelized kimchi before, I haven't a clue. But it's definitely a game changer. Plus, thanks to some recipe inspiration with the addition of Chobani plain yogurt mixed with Sriracha drizzled on top makes this pizza a touchdown
Now, let's hear it….."K……S…….U……WILDCATS!"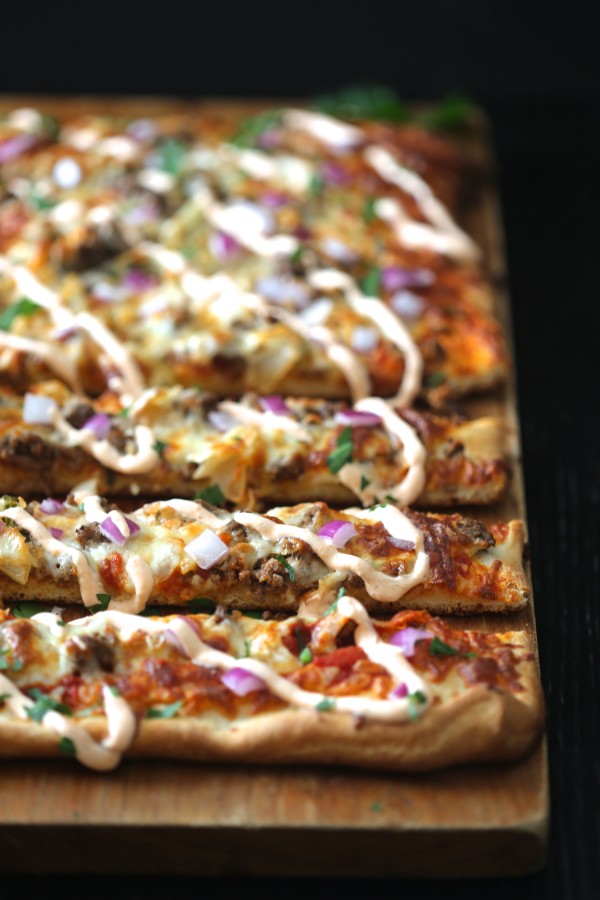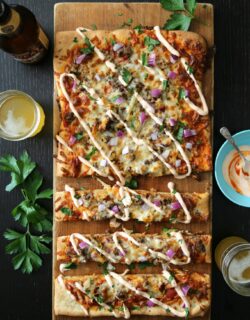 Beef & Caramelized Kimchi Pizza with Sriracha Greek Yogurt
Ingredients:
1 ball pizza dough (either store bought or homemade)
1 pound lean ground beef
1 tablespoon olive oil
1/2 cup kimichi, chopped
3 tablespoons unsalted butter
1 1/2 cups marinara sauce
2 cups mozzarella, shredded
1 tablespoon Sriracha
1 cup Chobani Plain Greek Yogurt
Parsley, garnish
salt and pepper to taste
Directions:
Preheat oven to 400 degrees. Spray a baking sheet with non-stick cooking spray and spread pizza dough into a large rectangle.
In a large skillet preheated to medium-high heat, add the olive, salt, pepper, and ground beef. Saute beef until no longer pink about seven minutes. Once cooked, remove ground beef from the skillet and set aside in a large bowl.
In the same skillet preheated to medium heat, melt the butter. Add the kimchi to the skillet and saute on low until golden brown about 10 minutes. Remove from heat and set aside.
To make the pizza, pour the marinara sauce on top of the pizza dough leaving a one-inch border around the pizza. Top with ground beef, kimchi, and cheese. Bake for about 20 minutes or until golden brown. In a bowl, combine Greek Yogurt and sriracha. Once the pizza has cooled slightly, drizzle the top with the sriracha Greek Yogurt and serve.
All images and text ©