whole wheat pancakes with balsamic caramel apples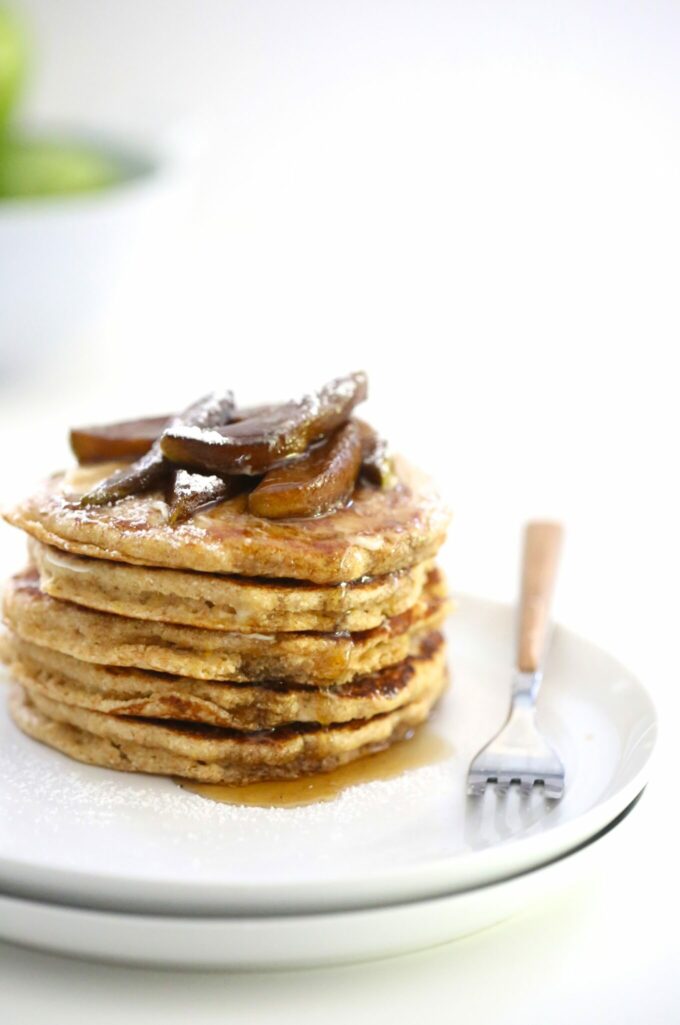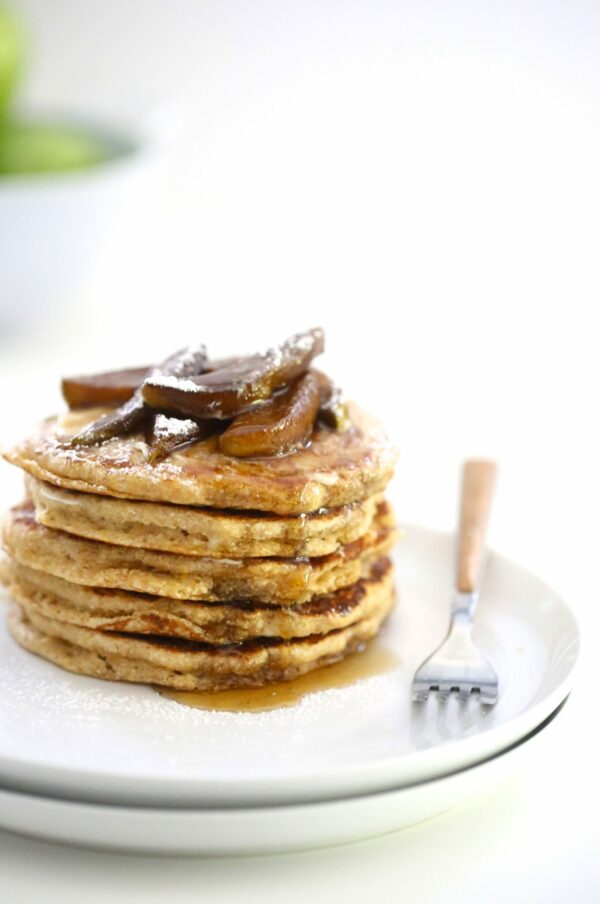 A certain someone's birthday is today!
You may have seen him around CGM because let's be honest, he is the other half behind this crazy operation. You've likely seen him sporting an abominable snowman beard, hand modeling tasty sandwiches, sporting classic t-shirts such as 'Midwest Side', and recently dressing up as famed guitarist, Slash.
Yep, today is Mr. B's birthday. I say this, but I feel he's been kind of MEH about his birthday this year. Typically he is the one that's all "let's rock out with our cock-a-doodle-doo- out", but this year, not so much. Let me fill you in on a little secret, he is turning 35.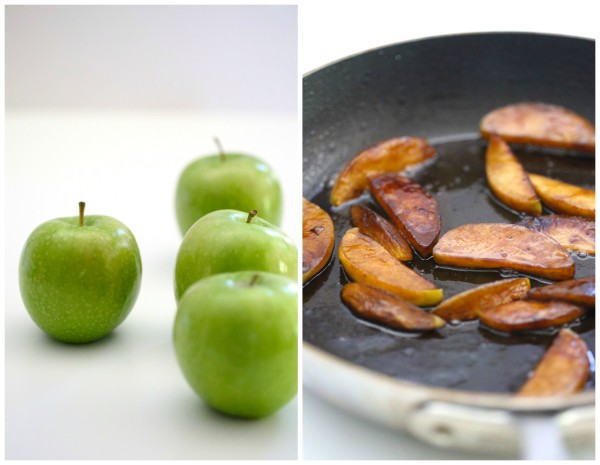 For those of you have that have turned 35, is it scary? Does it feel like you are closer to 40? Maybe Mr. B has a right to be unenthusiastic at celebrating this birthday? I think I will be a royal effing mess if I was him. Note to self: don't turn 35.
Even though he is feeling blah about the whole day, I am going to turn that frown upside down. I plan on making him a full spread for dinner – brisket, taters, and brussel sprout hash. Plus, I am pulling on my big girl unmentionables and attempting to make his favorite birthday cake again, Texas Sheet Cake. My plan in case I fail miserably at the whole cake thing, German chocolate cupcakes on standby.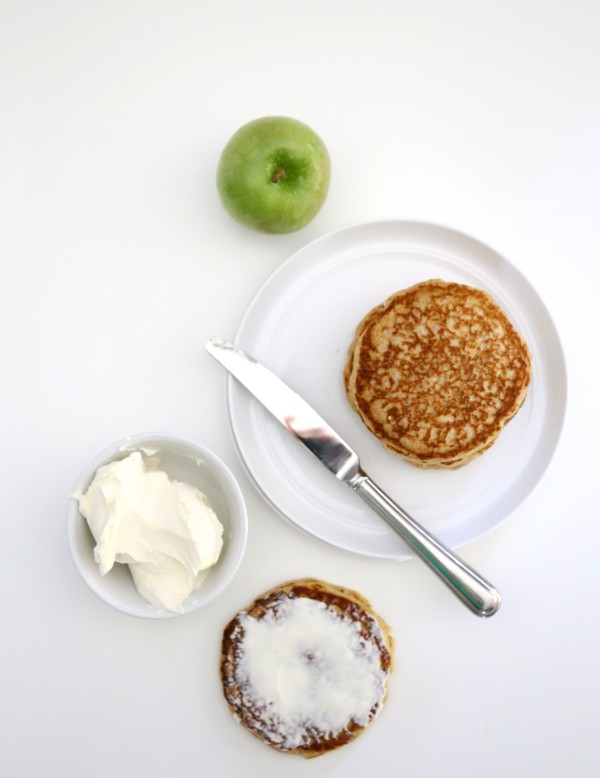 BUT! I think the thing that will make his day shine brighter, a giant stack of these Whole Wheat Pancakes with Balsamic Caramel Apples. Fluffy pancakes, topped with caramelized balsamic apples, dusted in confectioners sugar, and drizzled with maple syrup. If that doesn't make him smile, I don't know what will!
Now, say it with me, "Happy Birthday to you!"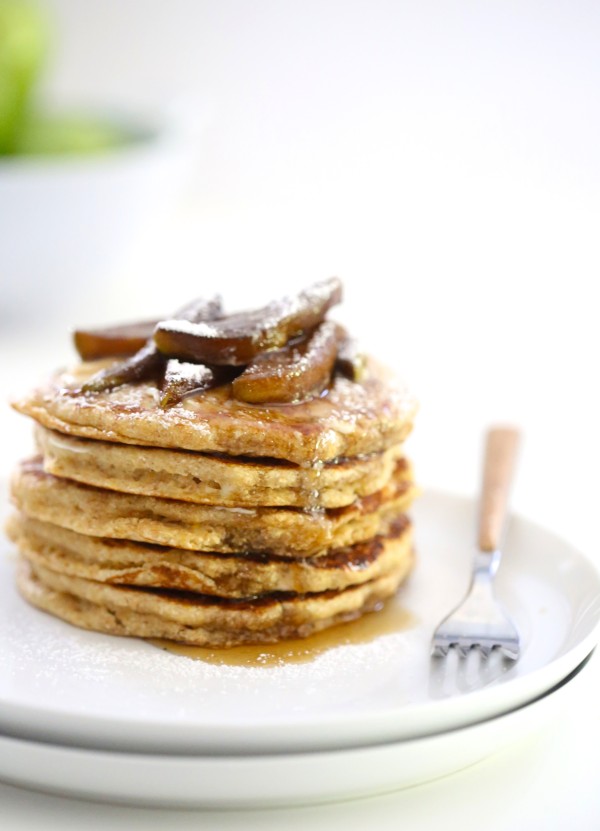 Eat Seasonal: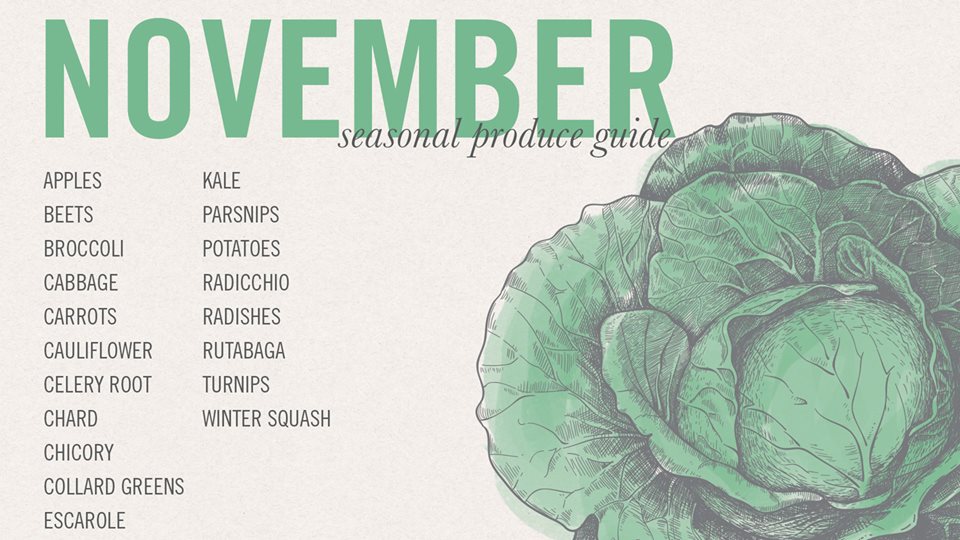 My talented and fantastic friend, Becky, author of The Vintage Mixer, is showing us that eating seasonally can be fun! Each month she provides a Seasonal Produce Guide, which you can save on your iPhone or desktop so you can get in the seasonal eating spirit.
Not only does she provide a beautiful illustration each month like the one above, you can also join me and a few fabulous food bloggers who are serving up seasonally inspired recipes. Follow us on Instagram and tag your photos with the #eatseasonal hashtag!
Butternut Squash Apple Soup with Sage Parmesan Croutons by Well Plated
Portuguese Kale and Potato Soup by Letty's Kitchen
Easy Cranberry, Apple & Pomegranate Sauce by Cookin' Canuck
Beet, Goat Cheese and Hazelnut Galette by Vintage Mixer
Endive Salad Bites with Pears, Blue Cheese, & Pecans by Flavor the Moments
Pumpkin Roll by Foodie Crush
Butternut Squash Burrito Bowls by Mountain Mama
Slow Cooker Creamy Turkey and Butternut Squash Chili by Bless this Mess
Butternut Squash and Rosemary Biscuits by Completely Delicious
Mascarpone Mashed Potatoes with Sage Browned Butter by Floating Kitchen
Honey Roasted Beets and Kale by Food for My Family
Homemade Cinnamon Apple Pop-Tarts by From Gate to Plate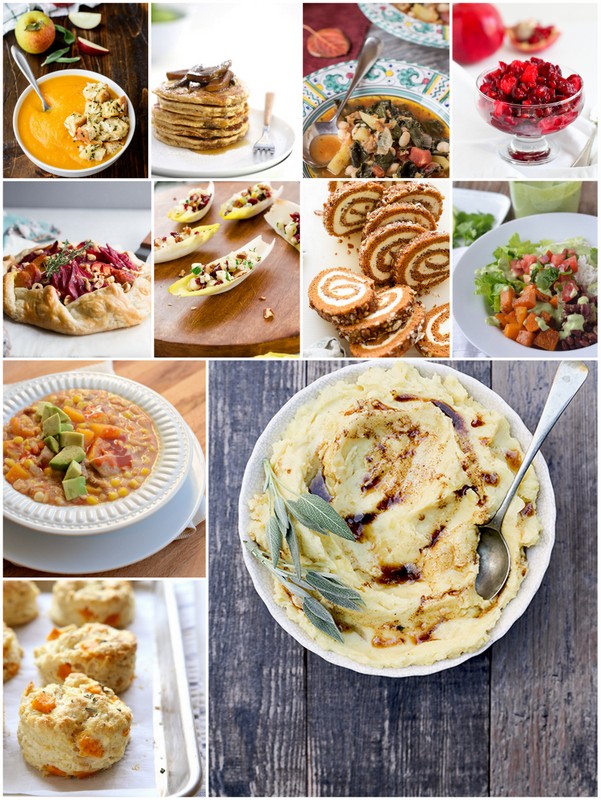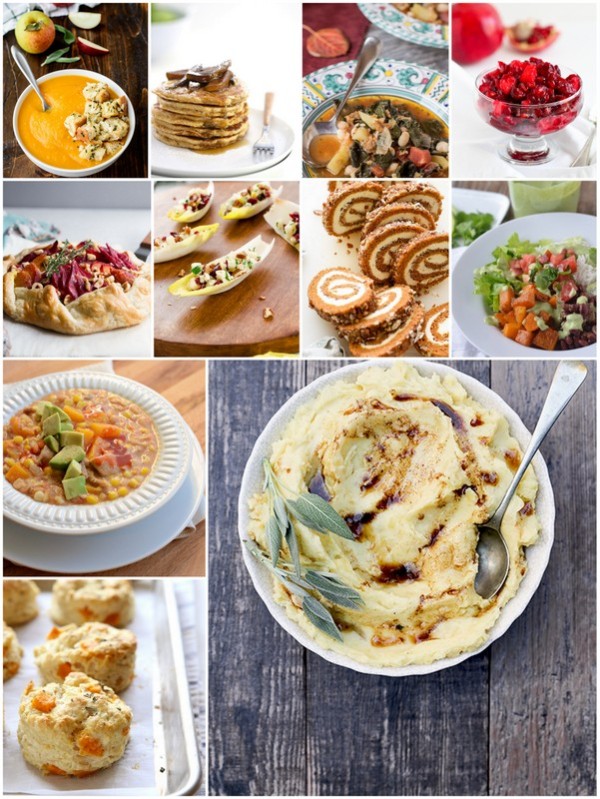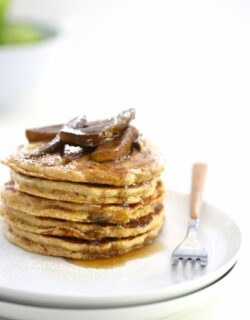 Whole Wheat Pancakes with Balsamic Caramel Apples
Ingredients:
for the whole wheat pancakes:
1 cup whole wheat flour
3 1/2 teaspoons baking powder
1 egg
1 teaspoon kosher salt
1 1/4 cups whole milk
1 tablespoon granulated sugar
3 tablespoons unsalted butter, melted
1 1/2 cups whole milk ricotta
Confectioners sugar, dusting
Maple syrup, garnish
for the balsamic caramel apples:
3 tablespoons unsalted butter
3 larges granny smith apples, peeled, cored, sliced thinly
1/2 cup granulated sugar
2 tablespoons balsamic vinegar
Directions:
for the whole wheat pancakes:
Preheat a skillet to medium heat. In a large bowl, combine flour, baking powder, egg, salt, sugar, and butter. Once the batter is combined, pour about 1/4 cup of the batter into the skillet. Brown on both sides. Repeat process until all the batter has been used. To serve, spread the tops of the pancakes with ricotta, stack the pancakes, garnish with maple syrup and dust with confectioners sugar. Top with balsamic caramel apples.
for the balsamic caramel apples:
In a large skillet over medium heat, melt butter. Add the apple slices and cook for about 3 to 5 minutes or until starting to turn golden brown. Add the sugar and toss to combine. Add the balsamic vinegar, stir, and simmer apples until thickened; about five minutes. Remove skillet from heat.
adapted from Food and Wine Magazine
All images and text ©