black-eyed pea pull-apart pizza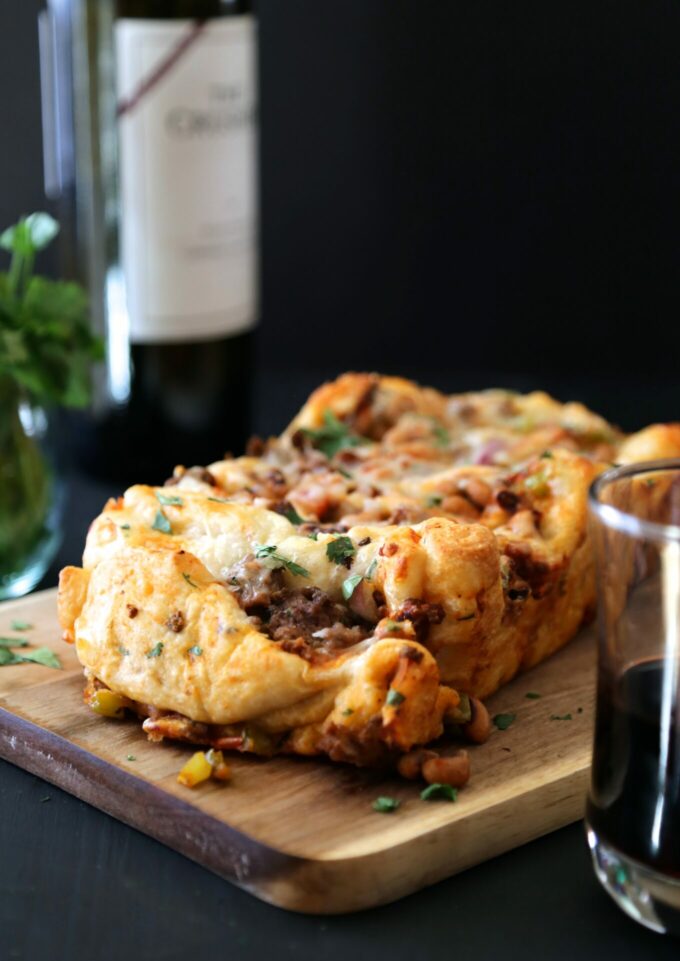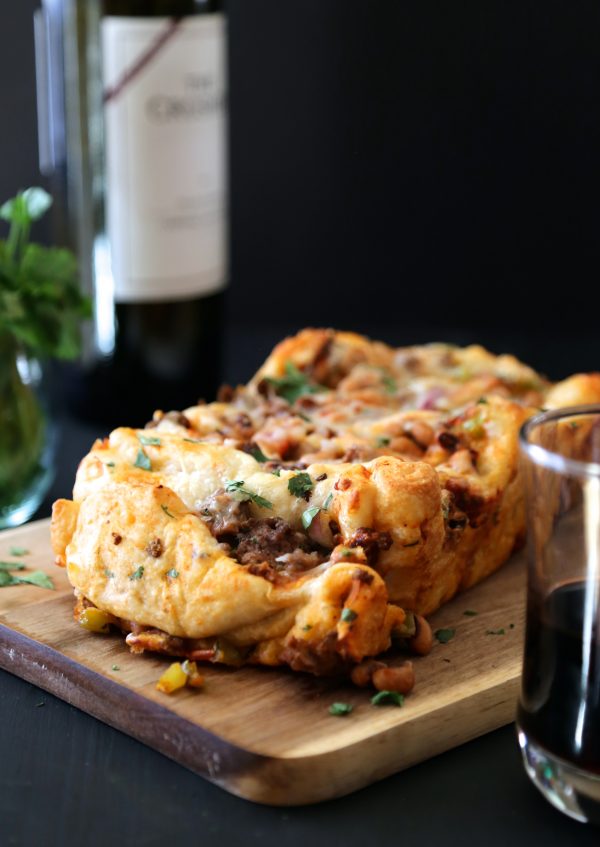 Let's chat.
How was your Christmas?
Did Aunt Claire send you a giant bunny suit? You know some kid, some where, in the US of A is modeling said suit right now. If the world ever went apocalyptic, there would never be a shortage of pink velour bunny suits and those half-n-half creamers on restaurant tables. In fact, I am surprised we haven't seen a zombie sporting a pink bunny suit in The Walking Dead.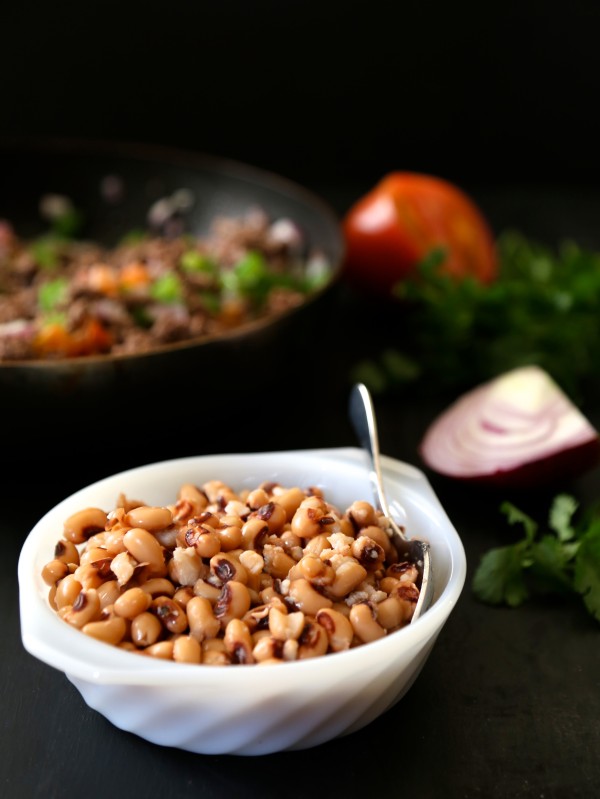 We had a cozy and easy Christmas. Made delicious food, consumed way to much vino, and opened presents with the whole Griswold gang. Since we are sans kids, it's always fun to be around our nieces and nephews during this time of year because I forget how much anticipation goes into Christmas day. Once Santa drops those presents, it's game on. Apparently Frozen was all the rage this year.
Now that Christmas is successfully behind us, should we talk New Years? I know, I know, I am not ready either. I feel like I was just getting used to 2014. Sigh.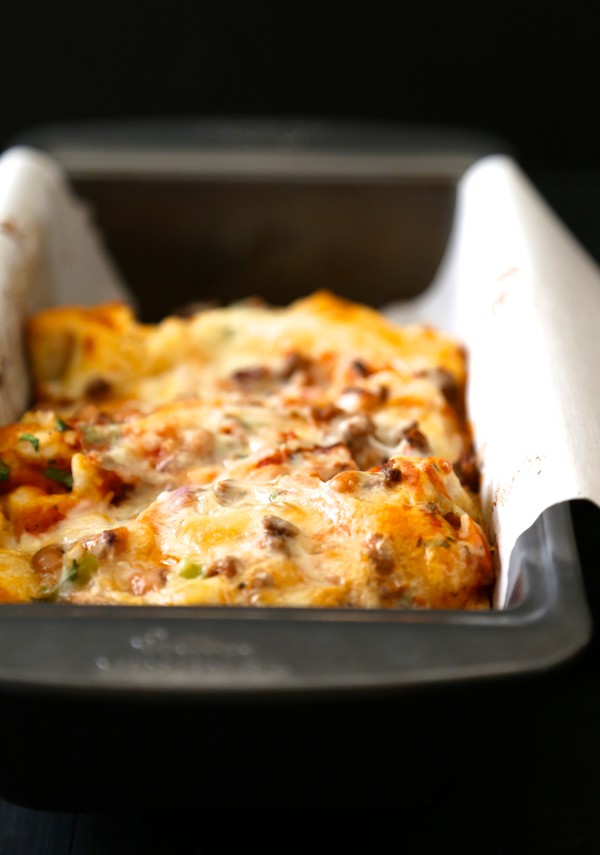 Instead of dreading the do's and don'ts of the new year, let's talk pizza. But not just any pizza. This pie will bring you luck and prosperity if eaten on New Year's Day. Are you in? Sa-weeeet. You may know of the old Southern tradition if you eat black-eyed peas on New Years you will have a year full of luck and prosperity. Well, after this year, homegirl here could use a little something extra in 2015.
There are a zillion ways you can eat black-eyed peas and one of my favorite ways is in this Texas Caviar. But I wanted to go a little bigger. So, I decided to bust out the tried and true pull-apart pizza and add black-eyed peas to the fellow. With some ground beef, peppers, cilantro, and cheese all baked together for one giant party.
If this doesn't bring you luck and prosperity, you have my permission to send me a pink bunny suit next year.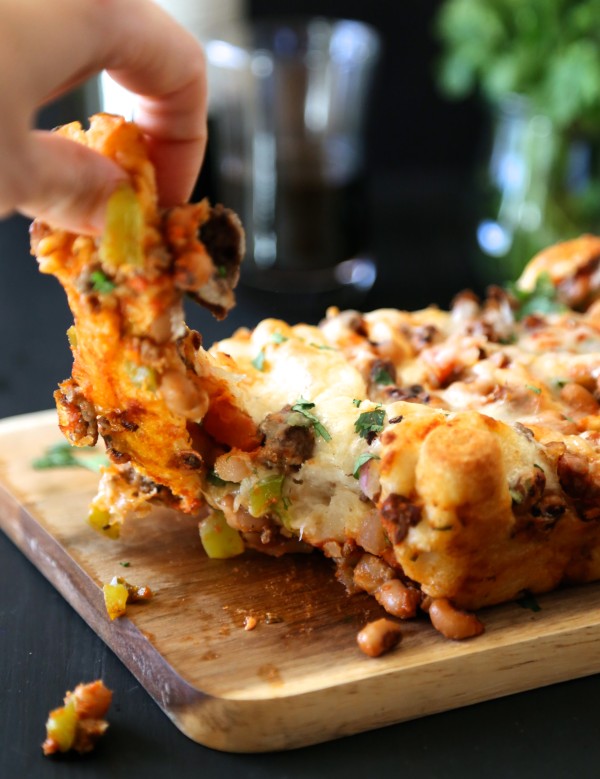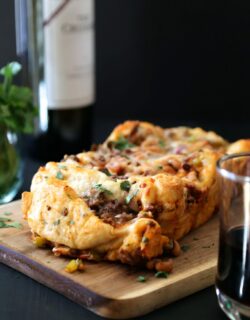 Black-Eyed Pea Pull-Apart Pizza
Ingredients:
1 package store bought pizza dough
2 tablespoons olive oil
1/2 pound lean ground beef
1/2 red onion, diced
1 jalapeno, seeds removed, diced
1 green pepper, diced
1 15oz can Black-eyed peas, drained, rinsed
1 small tomato, diced
1/4 cup cilantro
1 cup Mariana sauce
2 cups mozzarella, shredded
salt and pepper to taste
Directions:
Preheat oven to 350 degrees.
Preheat a skillet to medium-high heat. Add the olive oil, ground beef, and s&p. Saute for a few minutes until the beef is no longer pink. Add the onion, jalapeno, green pepper and continue to cook until softened. Next, add the tomato, black-eyed peas and cilantro. Cook for another few minutes and remove skillet from heat.
To make the pull-apart pizza, spray a large loaf pan with non-stick cooking spray. You'll want to place some parchment paper in the loaf pan that over hangs by two inches so it's easier to pull out the bread.
Take the dough and roll out into a 12 x 20 inch rectangle. Pour marinara on top, followed by black-eyed pea mixture. Cut the rectangle into 5 equal sized strips. Put the strips on top of each other and cut into five or six stacks. Place stacks against each other in the loaf pan. Sprinkle top with mozzarella. Bake for 30 minutes and then pour butter over the top. Bake for another 30 minutes. Remove and cool before serving.
All images and text ©