slow cooker shrimp creole with easy garlic bread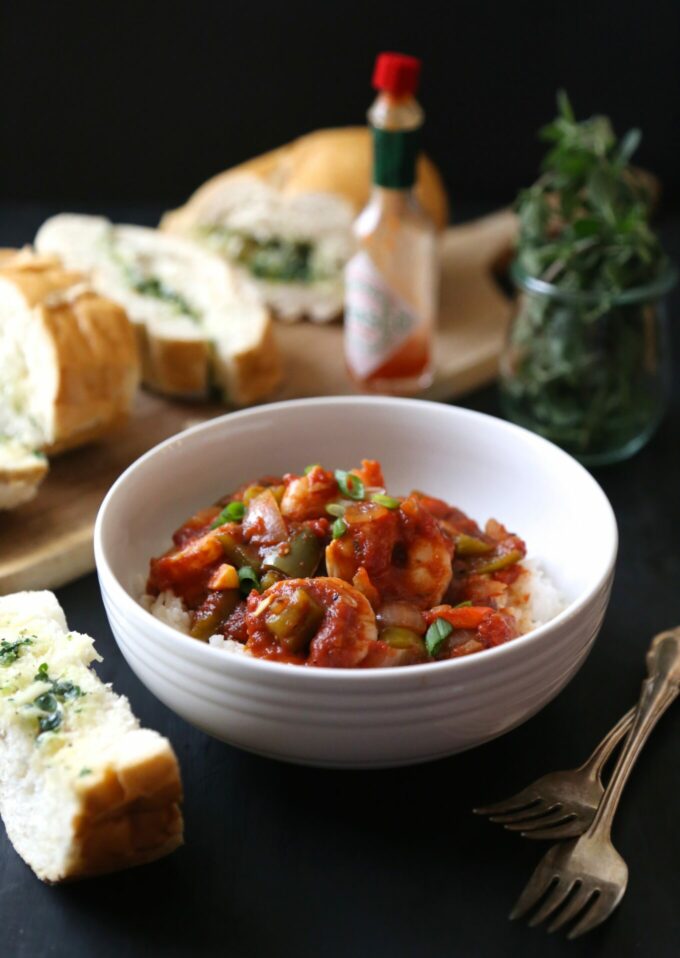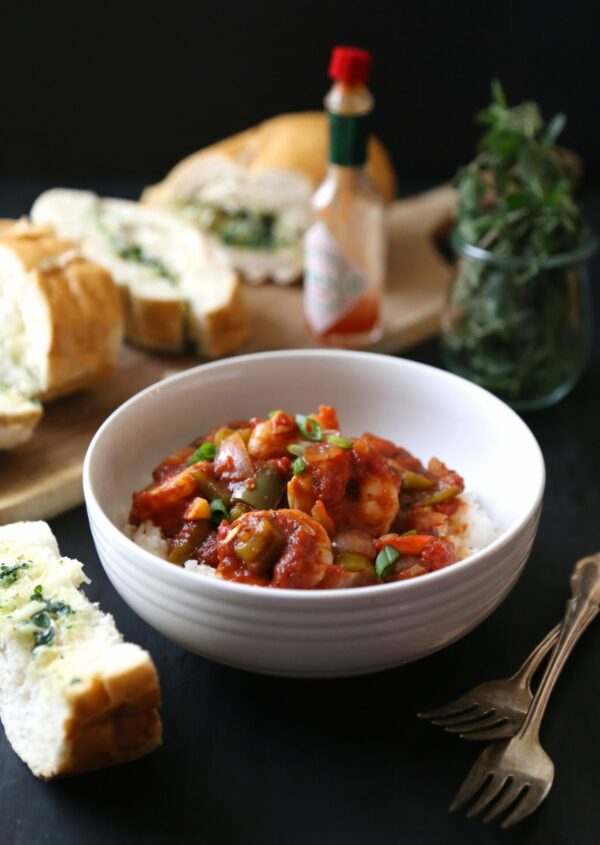 The Eve of Christmas.
Do you think Santa is freaking out?
I realize this isn't his first trip around the world, but you'd think he would get some kind of candy cane jitters. I mean, it's not like he has any pressure. Just fly a giant sled, slide down chimneys, leave presents, eat cookies, all while being invisible. I feel Santa might have a giant therapy bill once he settles back in at the North Pole.
Anyways, while Santa prepares for his big tour tonight, Mr. B and I are diving into a few Christmas Eve traditions. We always do a little shopping on Christmas Eve because…well, honestly, I don't have a good answer-other than plain ole' procrastination mixed in with the joy of people watching. Plus, we always manage to snag a gag gift or two for an unsuspecting sibling (cue maniacal laugh).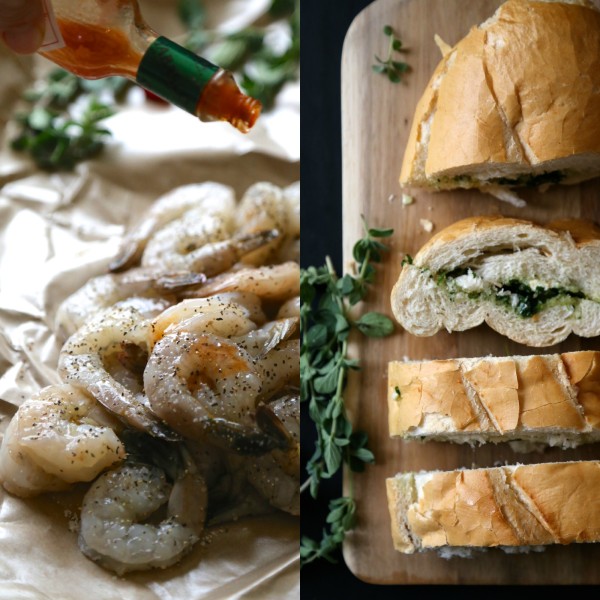 Our favorite tradition is to get each other ornaments to exchange instead of gifts. Last year, Mr. B got me a brussel sprout ornament. He hid the darn thing in a pile of actual brussel sprouts that I was chopping  for Christmas dinner. Well, needless to say, we were one chop away from having brussel sprout broken glass hash.
We are with Mr. B's family for Christmas this year, so my mother-in-law Susie, is making her famous Shrimp Creole this evening. She started this tradition back when Mr.B and his brothers were little. She procured this recipe from a military couple that was stationed in New Orleans. Her friend gave her a Cajun cookbook that had this recipe inside. Well, instead of preparing the standard Christmas ham, she decided to spice dinner up with this Creole dish.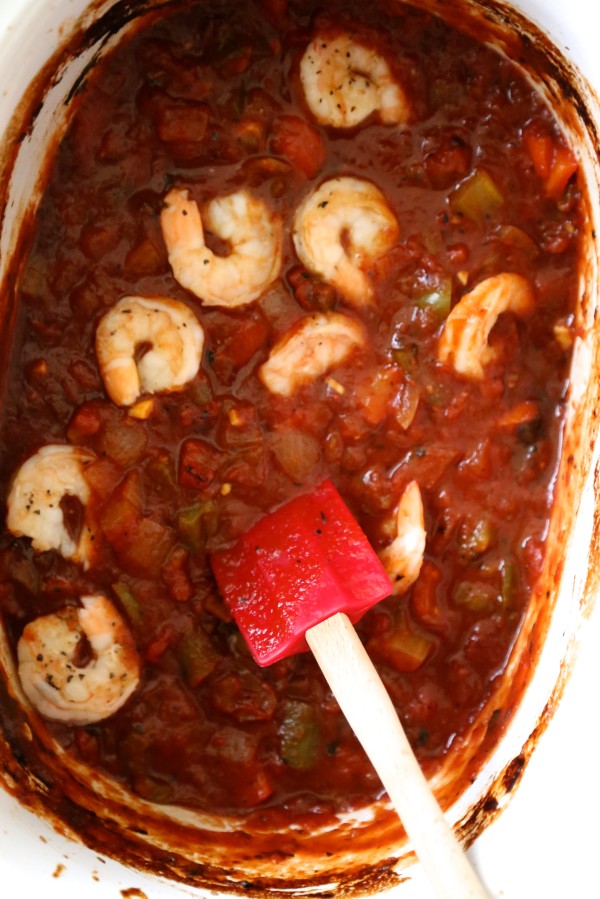 If you are craving some Shrimp Creole, you gotta' try my version. Now, if you are thinking, I don't have time to mess with the roux, etc, etc, etc. I chose to make a slow cooker version for y'all sans the roux. GASP! All you have to do is throw the ingredients in the cooker tub for a few hours and BOOM! Shrimp Creole lickty-split.
And whatever you do, don't' forget the garlic bread for dipping.
Merry Christmas, friends!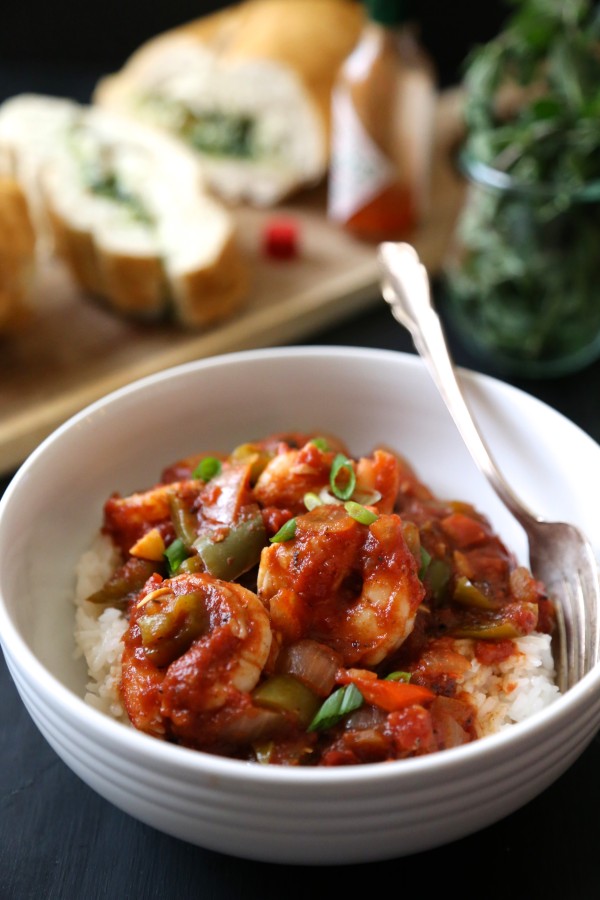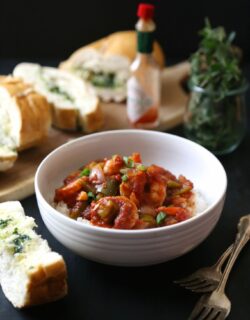 Slow Cooker Shrimp Creole with Easy Garlic Bread
Ingredients:
for the shrimp creole:
1 green bell pepper, diced
1 red bell pepper, diced
1 yellow onion, diced
3 celery stalks, diced
1 teaspoon chili powder
1 teaspoon Cajun seasoning
1 tablespoon Worcestershire sauce
1 14oz can fire roasted tomatoes
1 8oz can tomato sauce
dash of hot sauce
2 garlic cloves, minced
20 large shrimp, peeled, devained
Green onions, garnish
White rice
salt and pepper to taste
for the garlic bread:
1 large sourdough loaf
6 garlic cloves, finely minced
1/4 cup parsley, chopped
2 tablespoons oregano, chopped
1/2 cup olive oil
3 tablespoons unsalted butter, room temperature
salt and pepper to taste
Directions:
for the shrimp creole:
In a slow cooker, add the first 11 ingredients. Stir to combine and set the slow cooker on high for 3 to 4 hours. With 30 minutes remaining, add the shrimp. Once done cooking, put rice into a bowl, pour the creole over the rice, and garnish with green onions. Serves alongside with garlic bread.
for the garlic bread:
Preheat oven to 350 degrees.
In a bowl, combine parsley, oregano, garlic, olive oil, and s&p. Slice the sourdough in half horizontally. Spread the butter on top of both halves. Next, spread the garlic mixture all over each half. Put the halves together and wrap in foil. Place in oven for about 5 to 7 minutes or until warmed through.
All images and text ©