bourbon pomegranate sangria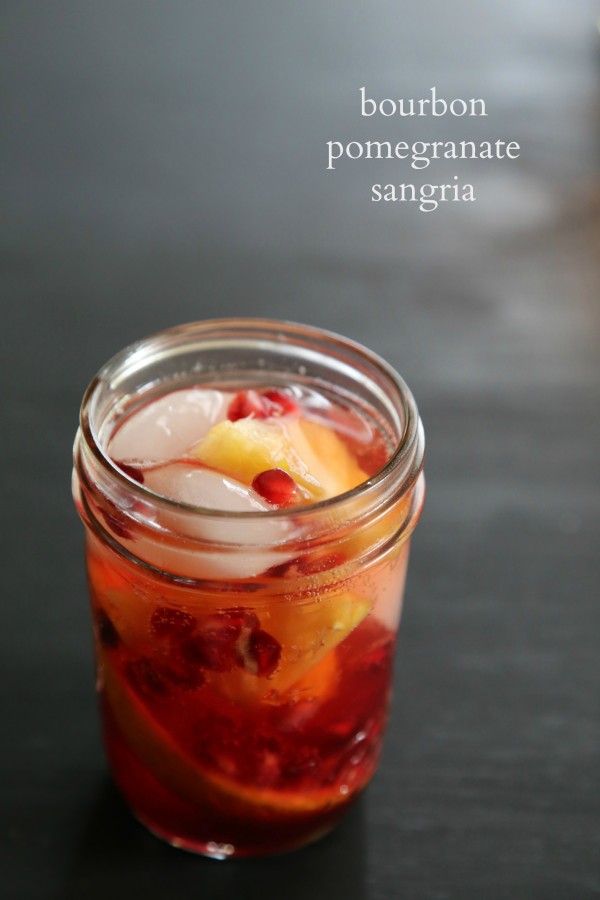 Well, here we are, Thanksgiving Eve. Are you ready for the big turkey dance tomorrow?
Currently Mr. B and I are on the second leg of our Tour de Kansas. Our first stop was in Manhattan, Kansas (the Little Apple) to check on the new restaurant. Have I mentioned we have a restaurant that just opened? Yep, yep! It's a family owned restaurant with my brother-in-law and sister-in-law (who live in Manhattan) running the day to day operations. The restaurant is called Bourbon and Baker. The menu is soul food from around the world with a whiskey list that will pucker your puss. If you are ever in the area stop by and have a drink…..or two.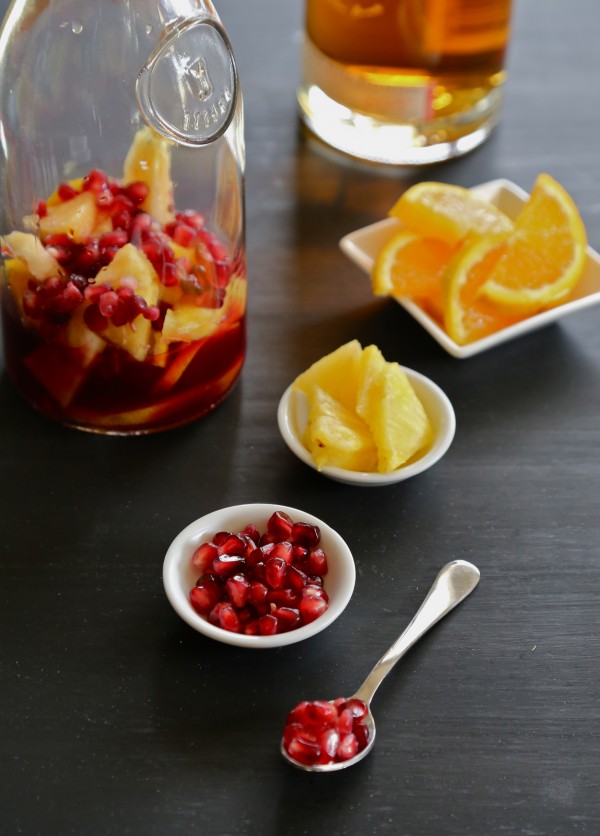 We are having Thanksgiving dinner with Mr. B's family. Mr. B and I both grew up in Wichita, but didn't know each other until we went to Kansas State University. My parents' now live in Kansas City so when we go back to Wichita, it's fun to reminisce about the old days, especially how we got caught making out by the airport by the cops. Ooops!
Anyways, I'm looking forward to helping my mother-in-law and sister-in-law prepare the Thanksgiving feast. This time of year I am reminded that I am truly blessed to be surrounded by people who love and support me. So, instead of sharing another turkey, stuffing, or veggie recipes, I thought it would be fun to make a cocktail. And not just any cocktail, a Bourbon Pomegranate Sangria cocktail. Pomegranates scream the holidays to me. The color and fruit in this drink really give it a special festive touch.
Plus, I figured we should be toasting to everything positive in our lives. Each and every one of us has something to be grateful for so why not raise our glasses to our health, loved ones, and the future.
Salud! Clink.
Happy Thanksgiving, friends!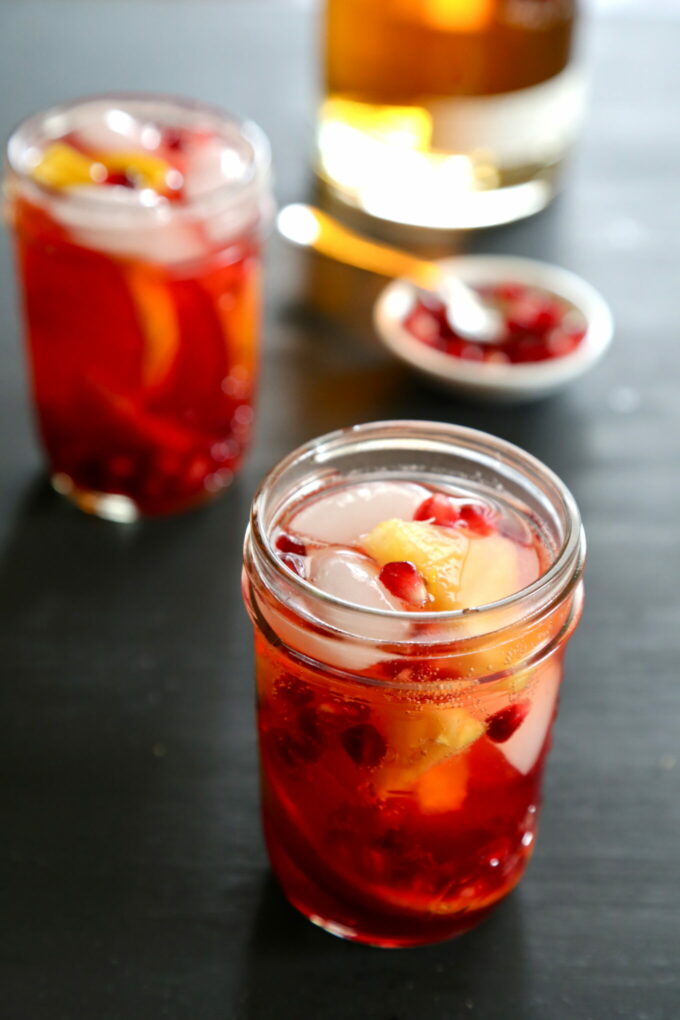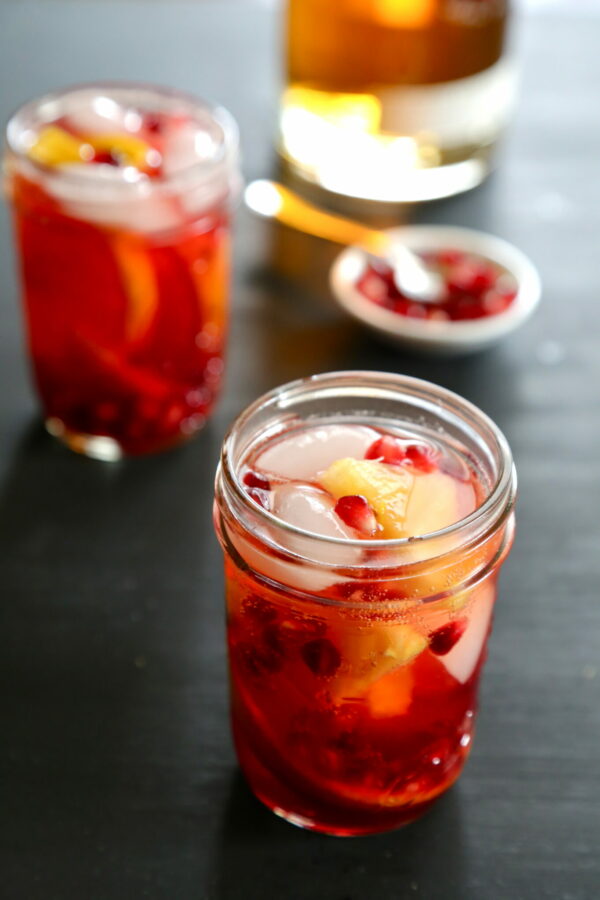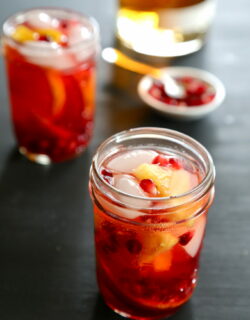 Bourbon Pomegranate Sangria
Ingredients:
2 oranges, sliced thinly
1 cup fresh pineapple, sliced thinly
1/4 pomegranate seeds
1 cup pomegranate juice
3 tablespoons granulated sugar
1/4 cup bourbon
squeeze of lemon juice
1 bottle sparkling wine or champagne
Ice
Directions:
In a large pitcher, combine pomegranate juice and granulated sugar. Stir to dissolve sugar. Add orange slices, pineapple, pomegranate seeds, bourbon, and squeeze of lemon to the pitcher. Stir again. Place pitcher in the fridge to let the flavors combine for at least thirty minutes.
Before serving, pour sangria into ice filled glasses about halfway. Fill the rest with sparkling wine or or champagne. Garnish with pomegranate seeds. Cheers!
adapted from Food and Wine Magazine
All images and text ©