Brussel Sprout, Pecan & Blue Cheese Pull Apart Pizza
Brussel Sprout, Pecan & Blue Cheese Pull Apart Pizza is an easy, cheesy dish perfect for game day or weeknight dinner!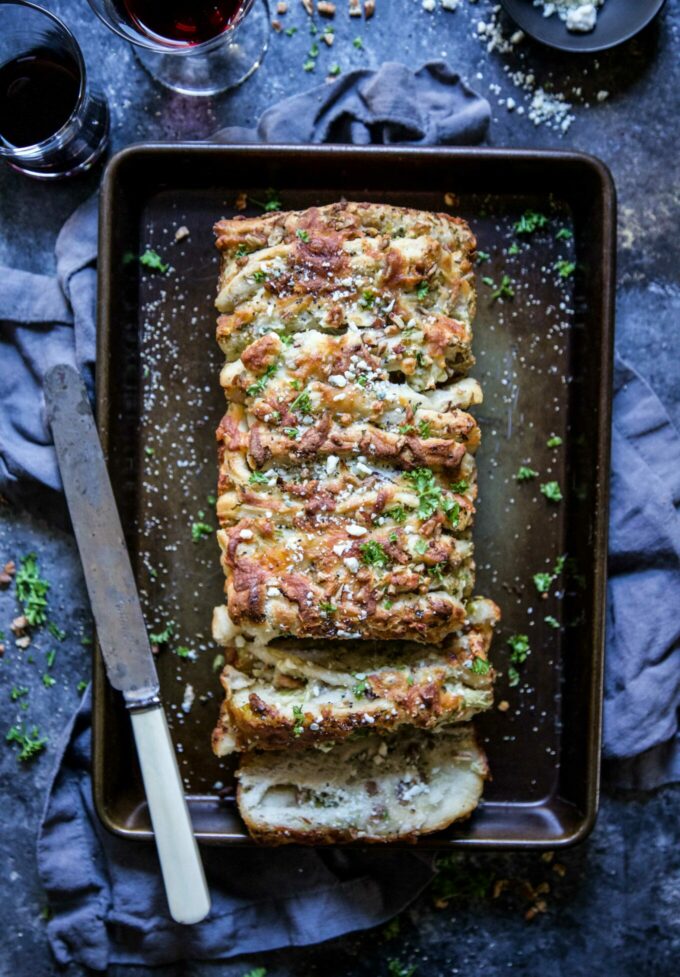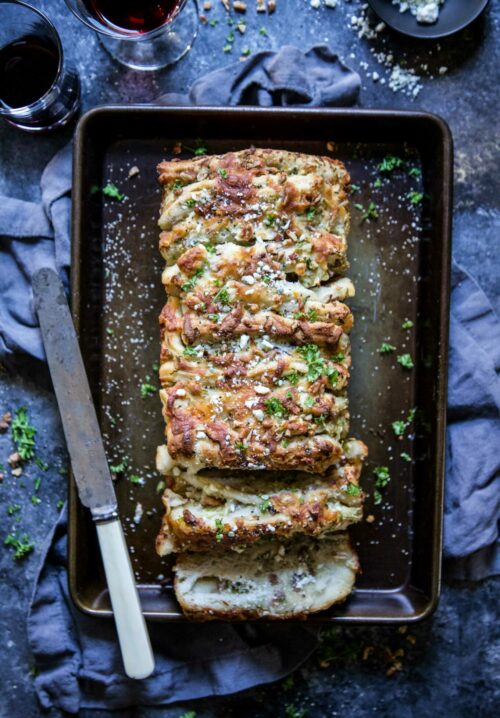 I'm in quite the predicament.
With our garden that is.
See, I am not entirely sure when you are supposed to properly shut a garden down. Is it after the first freeze? Because if yes, then I have exactly 28 hours 37 minutes and 14 seconds to get my shit in order before we have our first freeze in Denver. I seriously thought we at least had another month!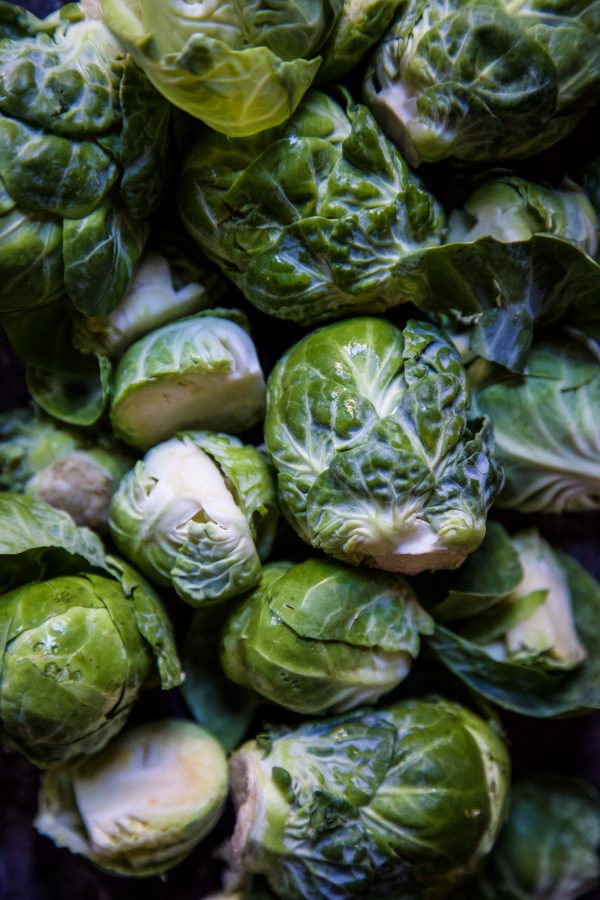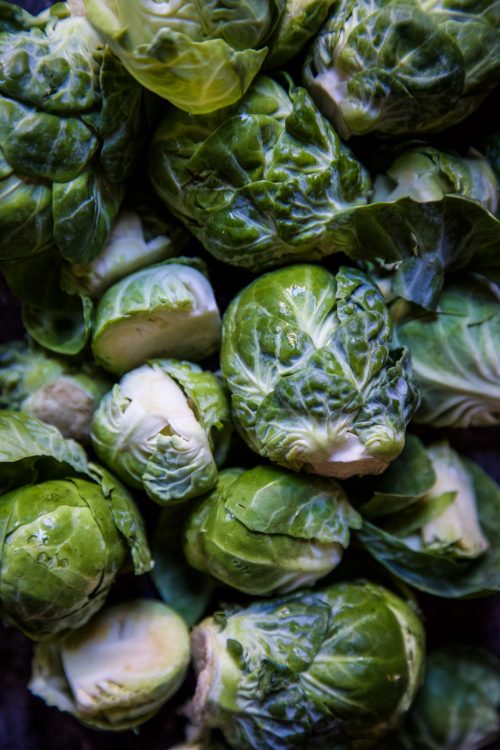 Or do you wait for that initial freeze to blow over and keep working on the garden? As in throw some blankets over the top of the tomatoes and cross our fingers for a few extra warm days. I seriously don't know what to do. A part of me just wants to walk away from the entire operation, but Mr. B would probably not sign off on that action. Sighhhhh….
So, I'm looking to you guys for winter garden advice. Any tips and/or advice are greatly appreciated! While I continue to be in the land of predicament, I figured I better keep myself distracted with a savory treat. Enter this, Brussel Sprout, Pecan & Blue Cheese Pull Apart Pizza.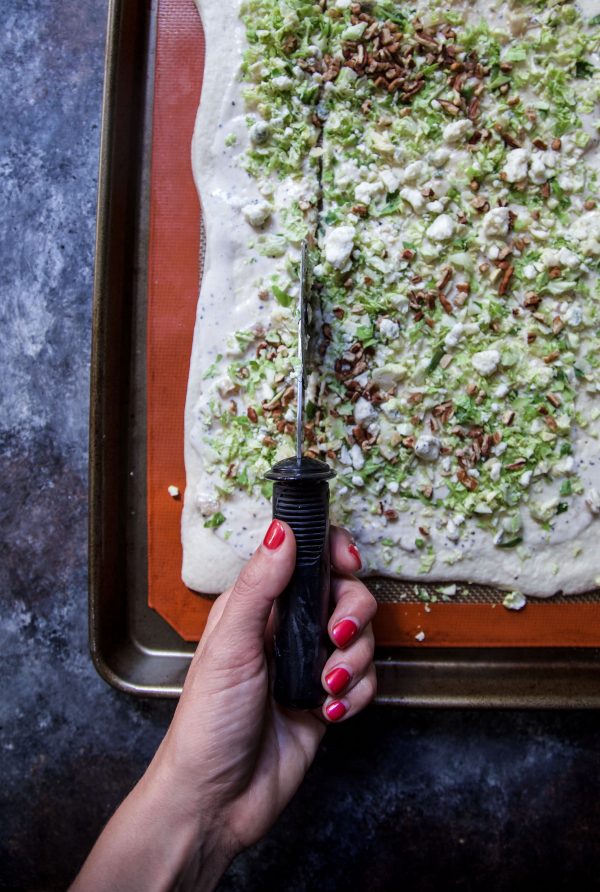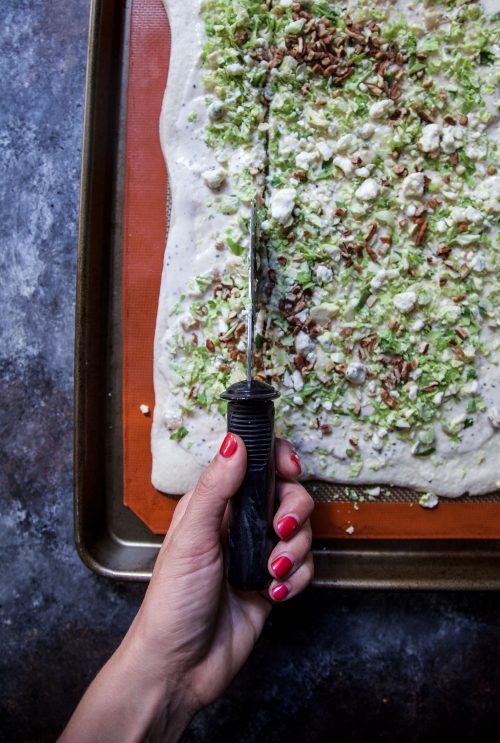 I am a sucker for a good slice of pizza, but sometimes it's nice to mix up my pizza eating ways. I know pull apart pizza is kind of 2013. Don't judge. But when I got back from Jordan all I was craving was pull apart pizza. Haven't a clue where the hankering came from, but that's how this Brussel Sprout, Pecan & Blue Cheese Pull Apart Pizza came to fruition. Pure craving.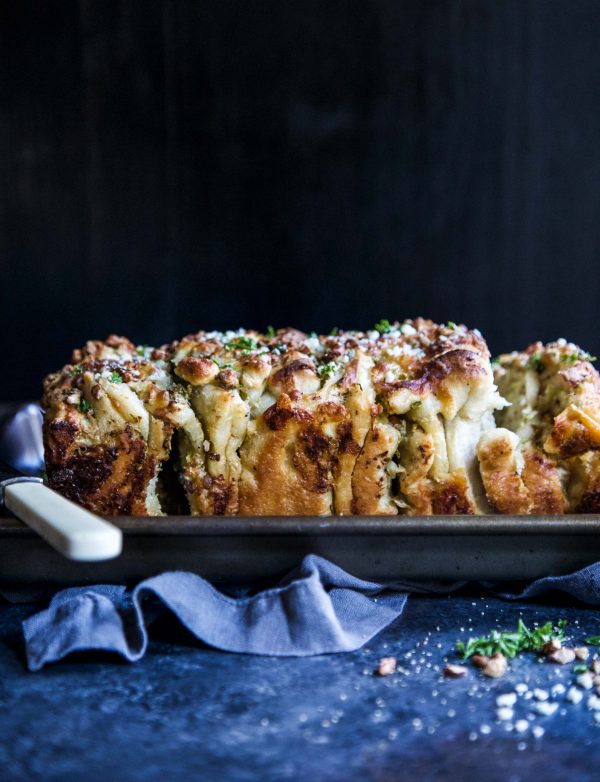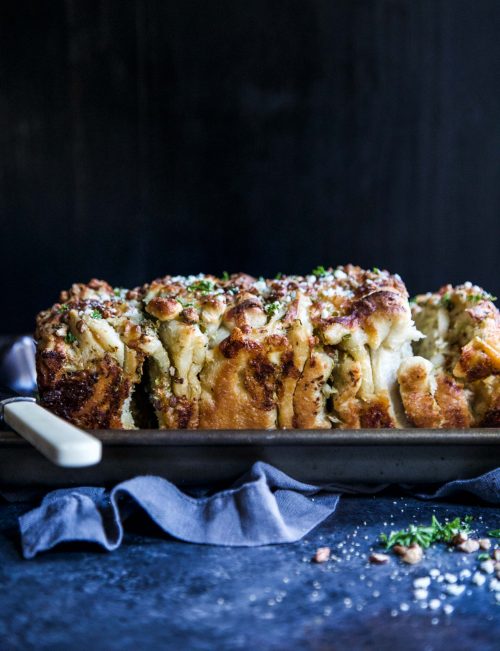 The base of this pizza has my killer white sauce oozing from the edges. If anything, just eat this sauce by spoonful because it's that damn good. Other than that, all you do is assume the pull apart pizza making position. Slice, stack, top, and bake. Garnish with more blue cheese and mozzarella for good measure.
Now, what we were talking about earlier? Oh yes, leaving Mr. B to tend the garden. Kidding. Maybe.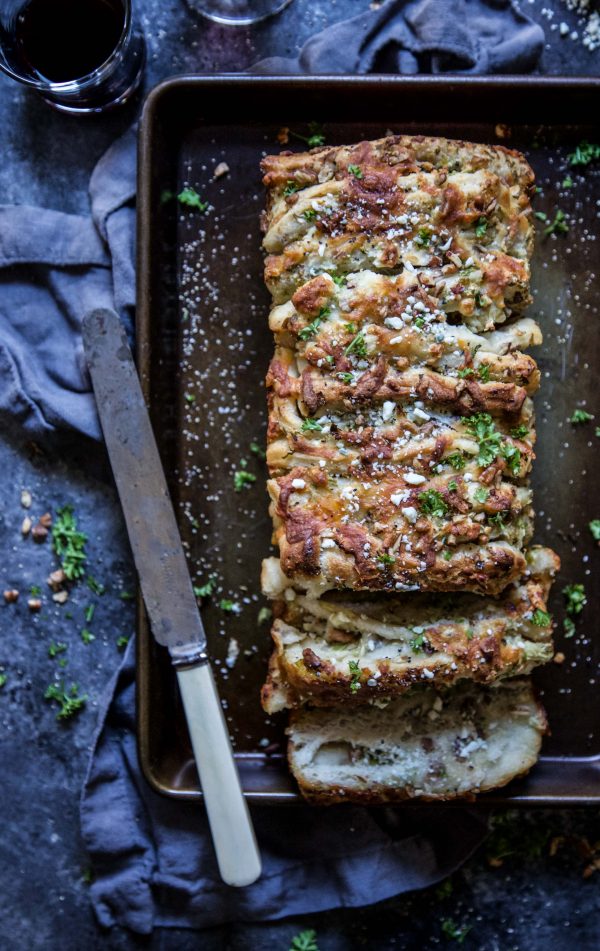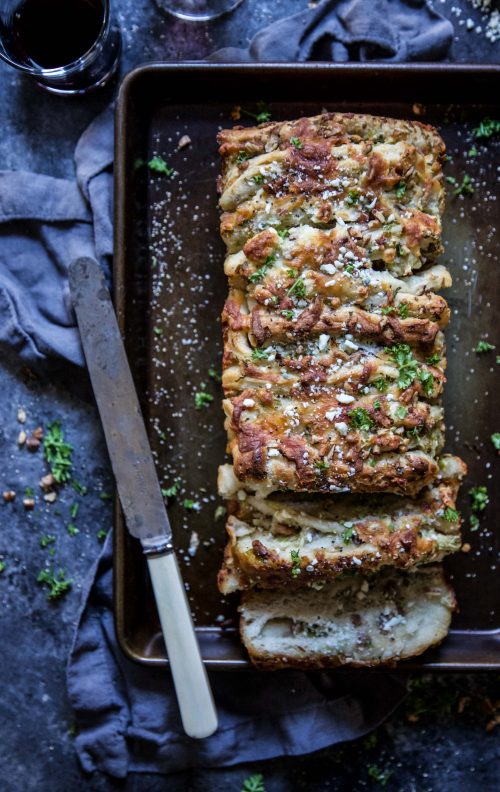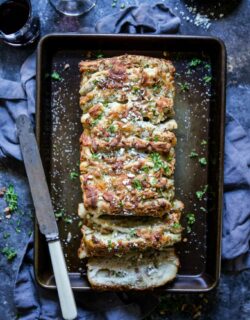 Brussel Sprout, Pecan & Blue Cheese Pull Apart Pizza
Ingredients:
for the pizza: 
1 pkg store bought pizza
1 cup shredded brussel sprouts
1/3 cup blue cheese crumbles + more for garnish
1/2 cup shredded mozzarella cheese
1/3 cup chopped pecans
3 tbsp unsalted butter melted
salt and pepper to taste
for the white sauce:
3 tbsp unsalted butter
3 tbsp all-purpose flour
¾ cup whole milk
pinch of nutmeg
salt and pepper to taste
Directions:
for the pizza:
Preheat oven to 350 degrees.
Spray a large loaf pan with non-stick cooking spray. You'll want to place some parchment paper in the loaf pan that over hangs by two inches so it's easier to pull out the bread.
Take the dough and roll out into a 12 x 20 inch rectangle. Pour white sauce on top, followed by brussel sprouts, blue cheese, mozzarella cheese, and pecans. Cut the rectangle into 5 equal sized strips. Put the strips on top of each other and cut into five or six stacks. Place stacks against each other in the loaf pan. Bake for 30 minutes and then pour butter over the top. Bake for another 30 minutes. Remove and cool before serving.
for the white sauce:
In a small saucepan, add butter. Once melted whisk in the flour. Let the flour cook out for a minute and then slowly add the whole milk whisking while adding. Bring to a slight simmer and reduce heat to medium low. Let the sauce thicken for about about five minutes. Add nutmeg, along with a pinch of salt and pepper. Stir until the sauce coats the back of a spoon.
All images and text ©