Cod & Cauliflower Chowder with Tarragon Bacon Crumble
**This post is sponsored by Zoup! Good, Really Good™ Broth. They provided me with product for the purpose of this post, as well as compensation for my time. As always, all opinions expressed in this post are 100% mine.**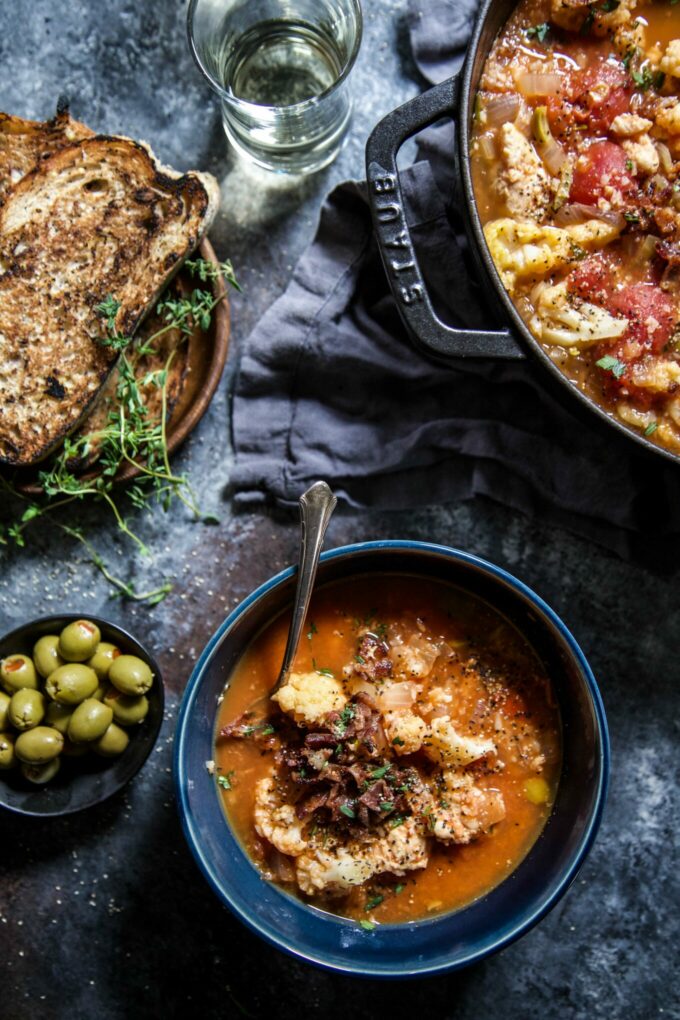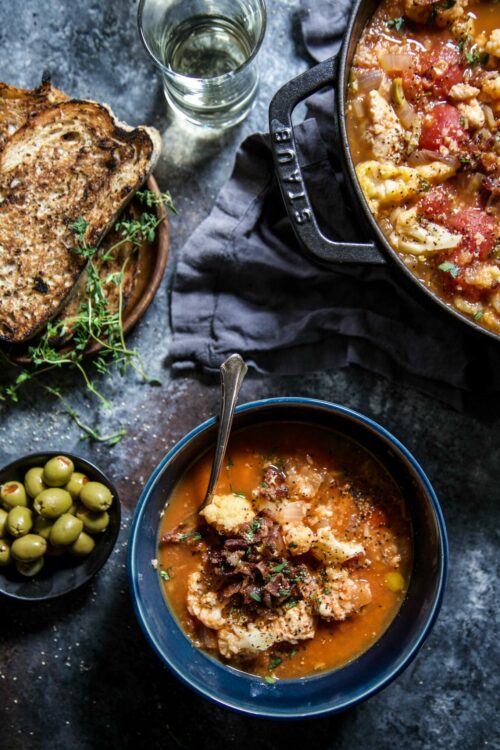 Can you feel it?
The cool autumn breeze blowing gently across your skin. Isn't fall the best? Add in football watch parties, sipping PSL's, and lots of sweater layering, what more could a girl want? Okay, maybe watching Chris Hemsworth carve a pumpkin.
Now that we're in a full autumn routine, I've started making a lot more one-pot meals filled with chili, soups, and chowders. There's something about a big pot of food slowly simmering away on the stove that makes hunkering in for the night quite magical. One of my current favorites I've been making is this Cod & Cauliflower Chowder with Tarragon Bacon Crumble.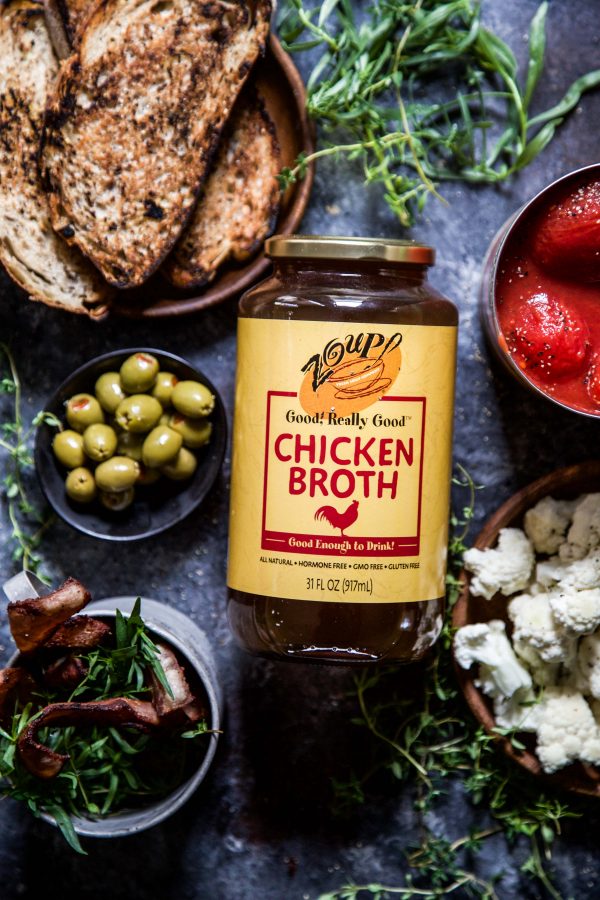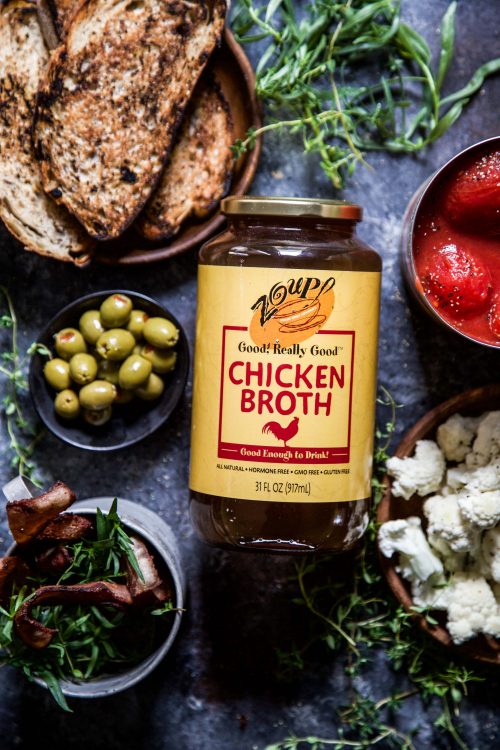 Don't let the recipe title fool you because this chowder is simple to make yet bursting with flavor thanks to the base made with Zoup! Good, Really Good™ Chicken Broth. What I love about Zoup! Good, Really Good™ Chicken Broth is the homemade flavor. Their broth is cooked in kettles in small batches, low in calories, paleo-friendly / zero carb, and completely free of hormones, gluten, GMO's, fat, trans fat and saturated fat. A low-sodium version is also available. Talk about superior flavor!
Zoup! actually got started in the soup business as a fast-causal franchise chain of restaurants and is now also bringing restaurant-quality broth to supermarkets. Needless to say they know their broths and like I mentioned above is why this Cod & Cauliflower Chowder with Tarragon Bacon Crumble is so flavorful!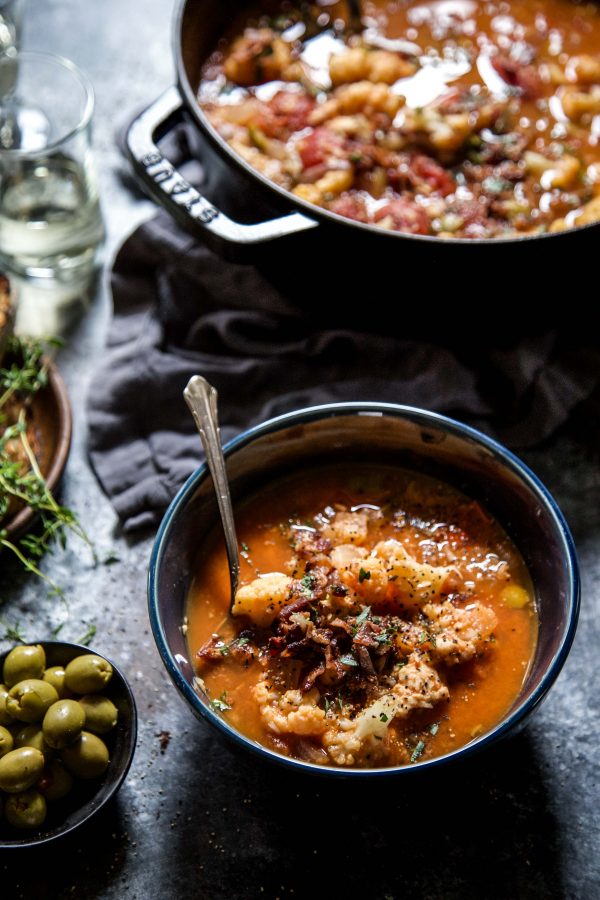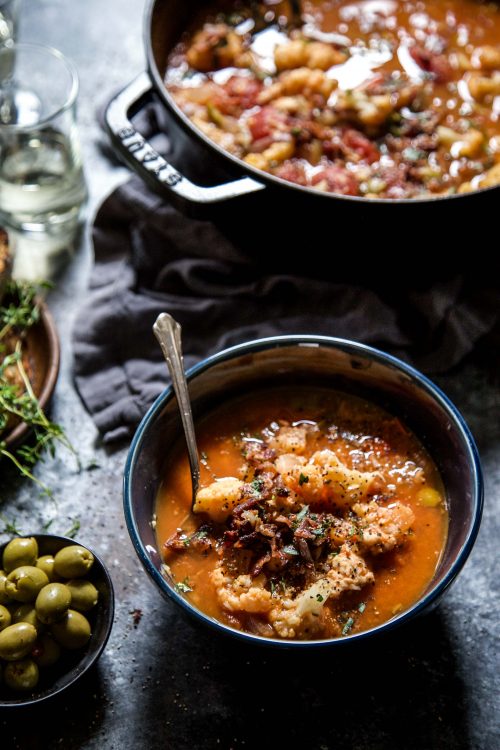 Put all the ingredients into a pot, bring to a simmer, and in 30 minutes you have a hearty, but healthy meal. Just don't forget to sprinkle on the tarragon bacon crumble! You can get your hands on a jar of Zoup! Good, Really Good™ Broth all across the country at major retailers like Albertsons, The Fresh Market, Giant, Giant Eagle, Kroger, Rouse's, Gelson's, Central Market, Fresh Thyme and Safeway. Contact info@zoupbroth.com with any questions.
To find out more about all the Zoup! Good, Really Good™ Broth flavors and to download a coupon, make sure to check out their website: www.zoupbroth.com. You can also find them on Facebook, Instagram and Twitter!
Now, who needs a spoon?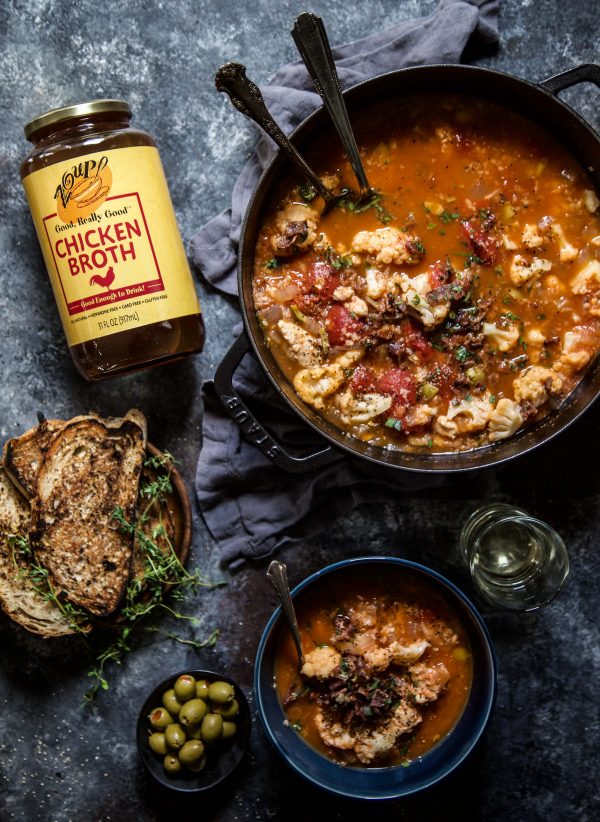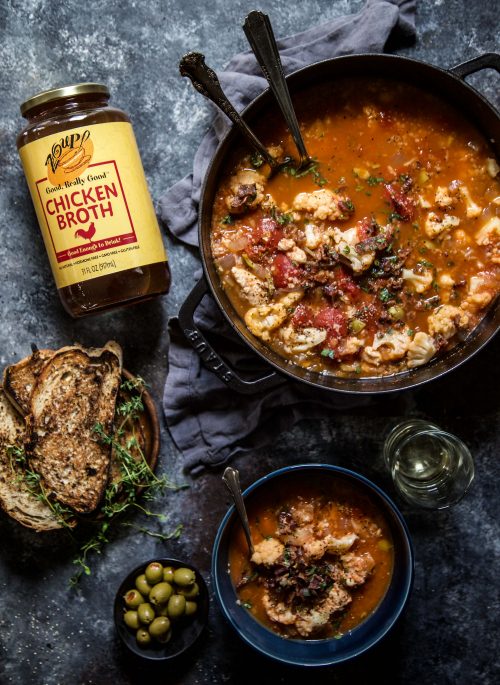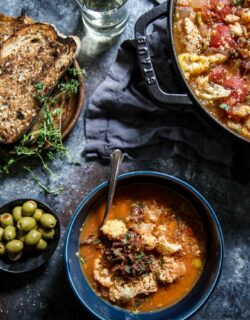 Cod & Cauliflower Chowder with Tarragon Bacon Crumble
Ingredients:
1 medium head of cauliflower
2 tbsp olive oil
1 medium yellow onion, chopped
4 garlic cloves, minced
2 14.5-ounce cans whole tomatoes
1 cup Zoup! Good, Really Good™ Chicken Broth
1 lb cod or any white fish cut into 1/2 inch pieces
1/4 cup pitted green olive chopped
1/2 cup chopped tarragon, divided
8 slices cooked bacon, chopped
salt and pepper to taste
Sourdough bread slices, for serving
Directions:
Discard leaves from stem of cauliflower. Slice the cauliflower in half. Take one half of the cauliflower and roughly chop it. Place it in the food processor and pulse until fine crumbles form. Take the other half and cut into small florets. Set cauliflower aside.
Preheat a large Dutch oven to medium-high heat. Add the olive, onion, salt, and pepper. Cook the onions until softened about five minutes. Next, add in the garlic and all the cauliflower. Toss to combine. Then add in the tomatoes, Zoup! chicken broth, and stir to combine smashing a few of the whole tomatoes. Bring the mixture to a simmer and then add in the cod, olives, 1/4 cup tarragon, salt and pepper. Return the Dutch oven to a simmer and let the chowder cook for 20 minutes. Stir during cooking time to make sure the ingredients don't stick to the bottom of the pot.
While the chowder simmers, combine bacon and remaining 1/4 cup of tarragon. Set aside.
Once the chowder is ready, divide it among bowls. Garnish with tarragon bacon crumble and serve with a slice of sourdough bread. Enjoy!
All images and text ©