brussels sprout thai pizza
"Embark on a culinary adventure with our Brussels Sprout Thai Pizza. Explore the bold fusion of Thai-inspired flavors atop a delicious pizza canvas, creating a unique and delightful dining experience."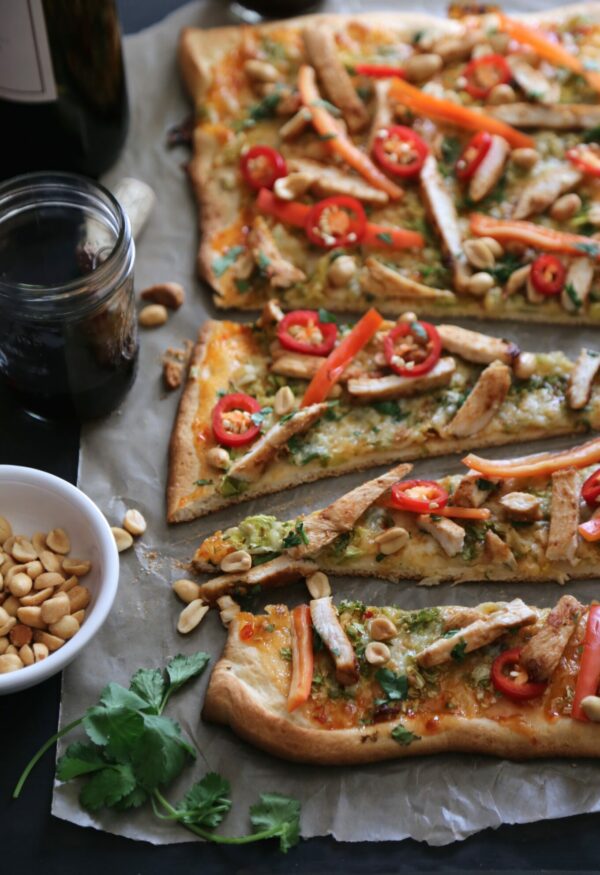 Raise your hand if celebrating Valentine's Day is a thing, thing?
As in, you do the full show – chocolates, roses, wine, steak for two, and have those sexy pajama grams delivered to your sweetie's door. Okay, maybe not those sexy pj's. By the way, who orders those? If Mr. B rolled in with a box of those things I honestly don't know what I would do! Probably put them on and dance around like a complete jackass.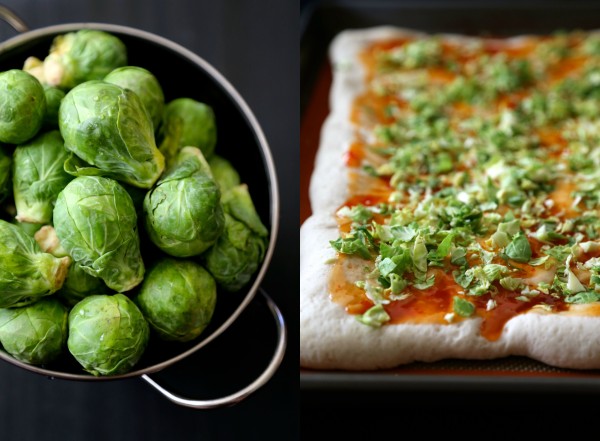 Really, there is no wrong or right way to celebrate the day of love. Mr. B and I always assume the usual Valentine position. HEYYYY. Not that one. Geez. Trying to keep things around here Pajama Gram-13 if you know what I'm sayin'.
We always get each other some mushy-gushy card, sip red wine in our alma mater pj's, watch a move, snuggle on the couch, and order or make pizza. We are Russell Stovers' worst nightmare. For us, simple but genuine gestures are the keys to a long, healthy marriage. This year, instead of having the pizza delivered on Valentine's Day, I thought I would whip up a spicy pizzzzzza pie.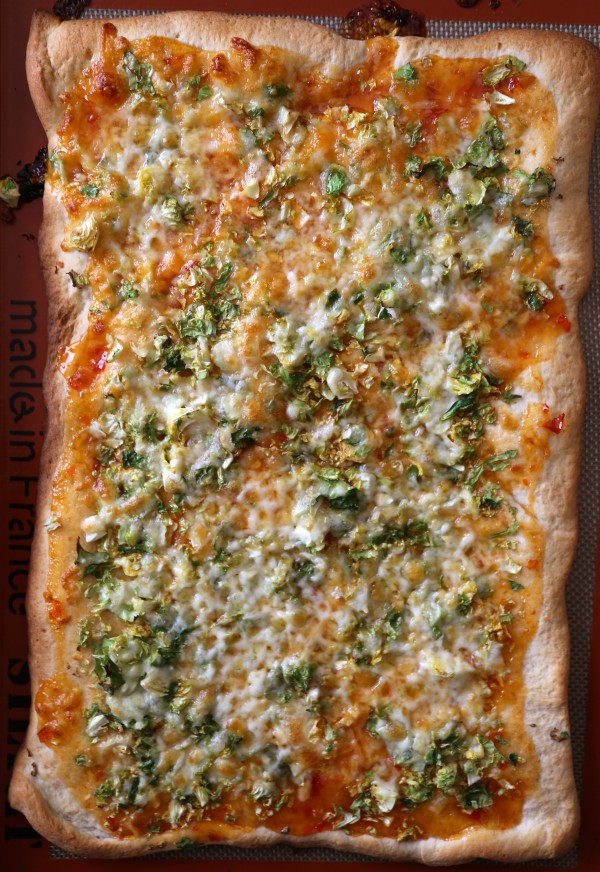 Since Brussels sprouts are in season at the moment, I am taking full advantage of these suckers right now. These little fellows are the new kale and the darlings of 2015. I am putting them on E-V-E-R-Y-T-H-I-N-G, starting with this Thai pizza. Thai red chili sauce smothered over perfect golden pizza crust topped with sauteed peanut chicken and roasted Brussels sprouts; it's like a mini vacay without the jet lag. Or the awkwardness of pajama grams.
Eat Seasonal Series:
My talented and fantastic friend, Becky, author of The Vintage Mixer, and her husband Josh, are showing us that eating seasonally can be fun! Each month they will provide a Seasonal Produce Guide, which you can save on your iPhone or desktop so you can get in the seasonal eating spirit.
Not only do they provide a beautiful illustration each month like the one above, you can also join me and a few fabulous food bloggers who are serving up seasonally inspired recipes. Follow us on Instagram and tag your photos with the #eatseasonal hashtag!
Roasted Cauliflower with Lemon Vinaigrette by Bless this Mess
Quinoa Salad with Grapefruit and Golden Beets by Cafe Johnsonia
Brussels Sprout Thai Pizza by Climbing Grier Mountain
Meyer Lemon and Zahatar Seasoning Salt by Project Domestication
Broccoli and Shiitake Mushrooms With or Without Soba Noodles by Foodie Crush
Parmesan Parsnip Fries by Well Plated
Acorn Squash Bread with Seeds and Nuts by Vintage Mixer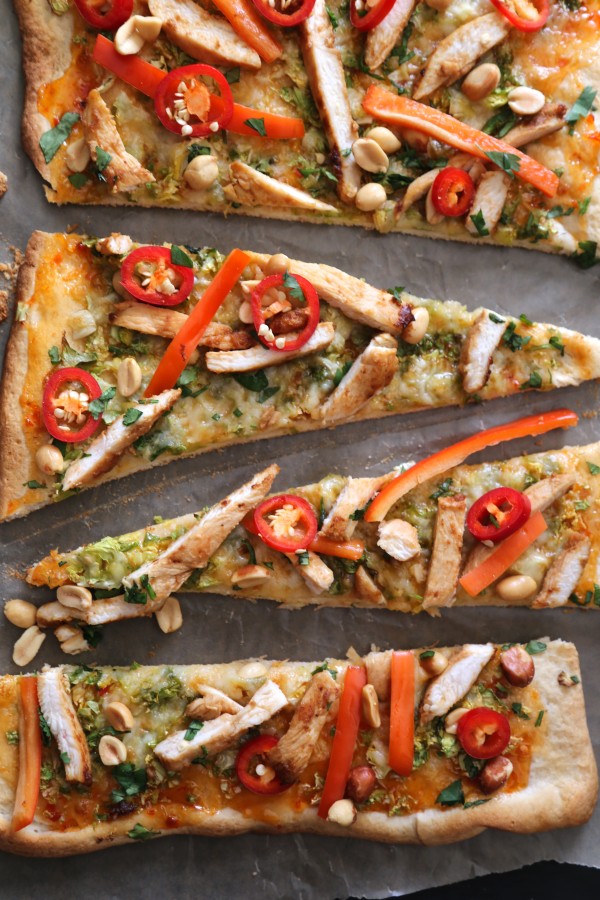 Brussels Sprout Thai Pizza
Ingredients:
1 package store bought pizza dough
1/3 cup Thai red chili sauce
1 1/2 cups brussels sprouts, sliced
2 cups provolone cheese, shredded
3 cups chicken cutlets, cubed
1 tablespoon peanut butter
2 tablespoons soy sauce
1 teaspoon Tabasco
1 tablespoon vegetable oil
1/2 red pepper, sliced
cilantro, garnish
peanuts, garnish
red chilies, garnish
salt and pepper to taste
Directions:
Preheat oven to 400 degrees. Place pizza dough onto a baking sheet lined with parchment paper. Spread the Thai red chili sauce over the pizza leaving a one-inch border. Sprinkle brussels sprouts and cheese on top. Bake in the oven for about 15 to 17 minutes. Remove pizza from oven and set aside.
Next, combine vegetable oil, peanut butter, Tabasco, salt and pepper. Add the chicken to the bowl and toss. Preheat a skillet to medium-high heat and cook chicken for about 5 to 7 minutes. Remove skillet from heat and set aside.
To serve, top the pizza with chicken, red peppers, cilantro and peanuts. Serve immediately.
All images and text ©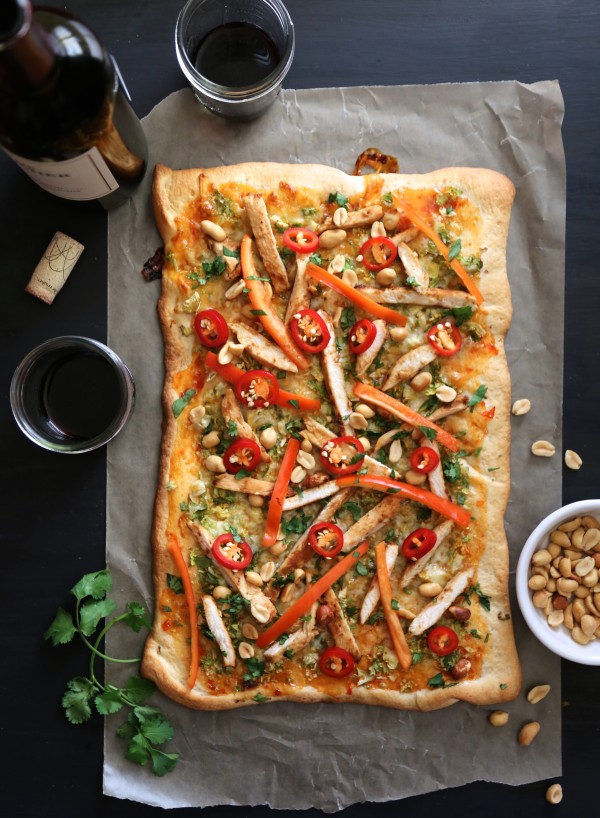 "In conclusion, our Brussels Sprout Thai Pizza delivers a captivating finale, blending Thai-inspired vibrancy with the classic charm of pizza. Every bite is a symphony of flavors, concluding a delightful culinary journey."