grilled cheese & chocolate sandwich with ganache dipping sauce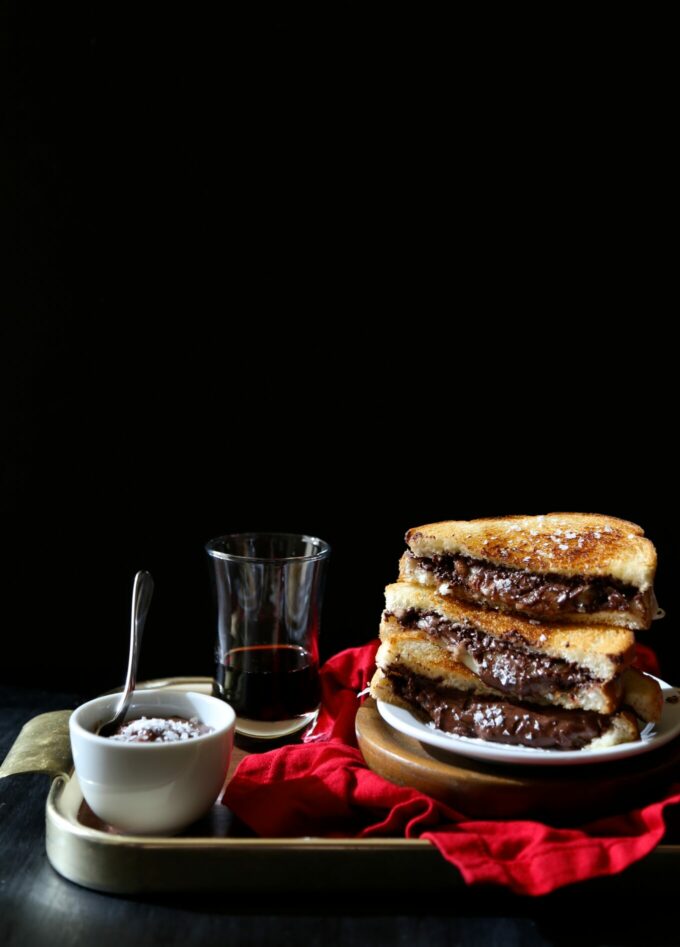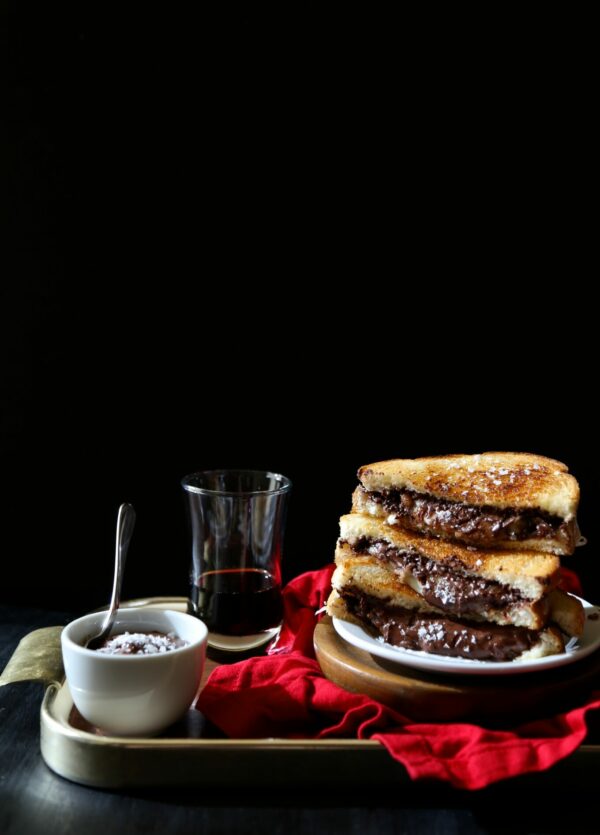 Happy Galentine's Day!!
(insert: chest bump)
Last year was my first year to celebrate this girl power holiday. GAH. So fun. I made Blood Orange Bourbon Fizz with Fried Sage cocktails and danced around with my hands in the air. Wait. You've heard of Galentine's Day, right? If not, lezzzz me's explain, mmkay.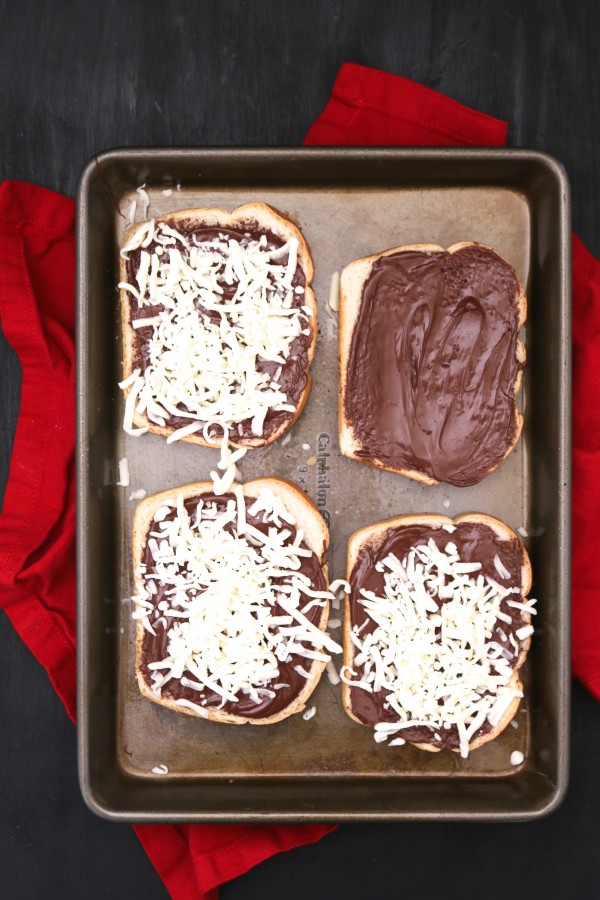 Galentine's Day is a special, Katie-Perry-hear-me-roar-woman holiday created by the effing hysterical TV folks over at Parks and Recreation. If you need details, this video will explain everything. In a nutshell, it's a way to celebrate all of our home-girl friendships. Pretty cool, huh?
Anyways, to celebrate this pink driven "tine" holiday, I decided to make something cheesy and chocolaty. This sandwich is a no-fly zone for Mr. B. He doesn't partake in sweet and savory mixing. It's a constant struggle in our household because he is also a sectional eater. Someday I will get him to turn, someday (cue maniacal laugh).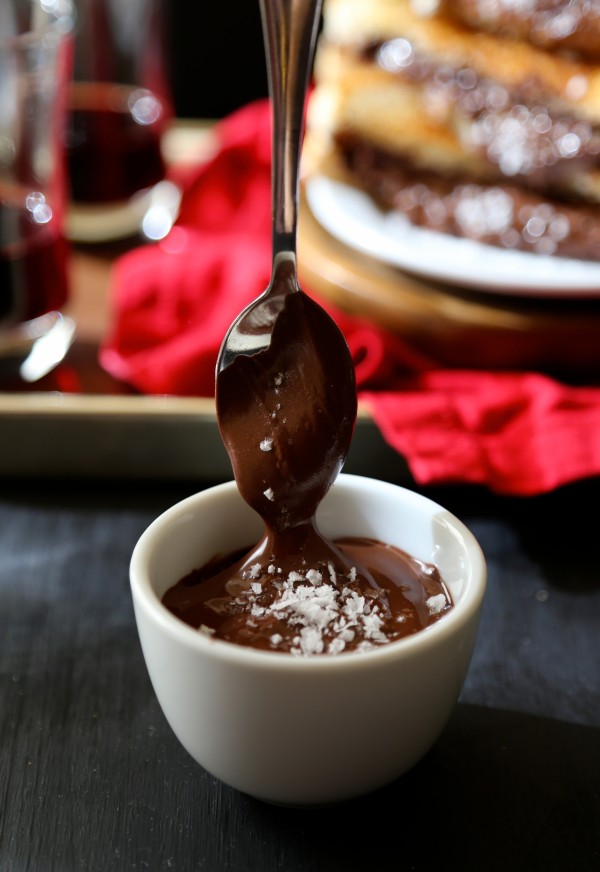 I am kind of smitten with this sammie because you can make it for yourself or make a bunch for your favorite gals! And the best part, it takes like 2.2 nano seconds to make, which means more time for giggle juice!
Happy Galentine's Day!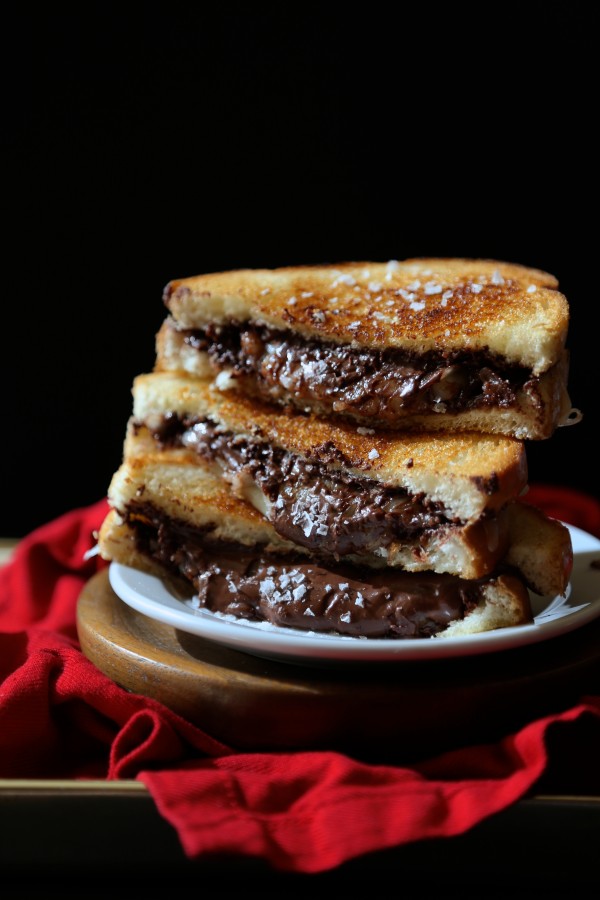 Make sure and check out the other fab ladies! And also head over to our Pinterest board for more inspiration!
Ganache Topped Truffle Brownies from That Skinny Chick Can Bake
Orange Yogurt Waffles from Savvy Eats
Chocolate Honey Bombs from The Live-In Kitchen
Brownie Batter Chocolate Tarts from Melanie Makes
Coeur a la Creme with Dark Chocolate Ganache and Strawberries from Heather's Dish
Chocolate Cheesecake from NeighborFood
Chocolate Covered Strawberry Cream Puffs from The Redhead Baker
Meyer Lemon Cranberry Scones from Girl in the Little Red Kitchen
Strawberry Covered Dark Chocolate Truffles from Girl Versus Dough
Cheesecake Milkshakes from Chocolate Moosey
Campari and Passion Fruit Sorbet from Food Lust People Love
Boston Cream Trifles from gotta get baked
Grilled Cheese & Chocolate Sandwich with Ganache Dipping Sauce from Climbing Grier Mountain
Red Velvet Chocolate Chip Cookies from Namely Marly
Red Wine Ice Cream Floats from Mind Over Batter
Wicked Waikiki Sour from Pineapple and Coconut
Anise-Scented Ice Cream with Candied Fennel Seeds from girlichef
Nutella Fudge with Raspberries from The Food Charlatan
Mini Heart-Shaped Chocolate Cakes with Raspberry Whipped Cream from A Cookie Named Desire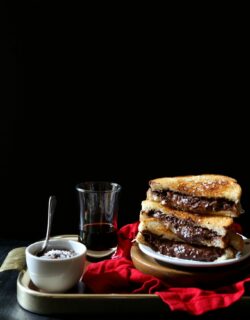 Grilled Cheese & Chocolate Sandwich with Ganache Dipping Sauce
Ingredients:
for the sammies:
4 slices brioche bread
4 slices fontina cheese
4 tablespoons unsalted butter
1/2 cup melted semi-sweet chocolate chips
sea salt flakes, garnish
for the dipping sauce:
1 cup semi-sweet chocolate chips
1 tablespoon whipping cream
Directions:
for the sammies:
Preheat a skillet to medium heat. Spread 1/4 cup of the melted chocolate onto two slices of bread. Place slices of fontina on top of the chocolate. Top with remaining two bread slices and butter both sides.
Add the sammies to the skillet and cook until the cheese has melted about three to four minutes per side. Serve with ganache dipping sauce and sprinkle of sea salt flakes
for the dipping sauce:
To make the ganache, melt 1 cup chocolate chips and cream in a small saucepan over medium heat. Stir until smooth and remove from heat
All images and text ©