Buffalo Chicken Casserole with Tahini Ranch Dressing
Buffalo Chicken Casserole with Tahini Ranch Dressing is an easy, cheesy dish perfect for dinner or game day!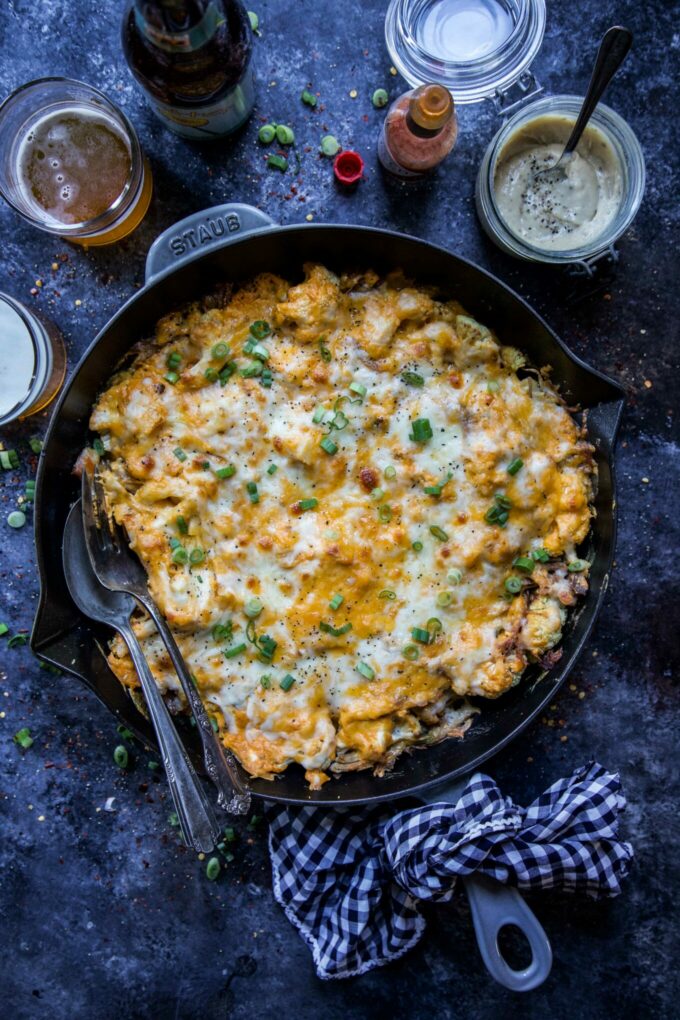 Well, here we are.
Right smack in the middle of January.
Two things have either happened at this point: 1) The adulting diet phase has begun to wide down because let's be real one has to get excited about all the eats for the Super Bowl. 2) You've been stuck in your house for the past couple of weeks wishing to the almighty for double digit temperatures. Why must January be so rough?
Raise your hand if you're like me and want to fast forward to February! Hello, best 28 days of the year. Short, sweet, and the birth month of yours truly. I turn the big 3-5 this year and for once in my birthday career, I'm looking forward to turning another year older. Anything I should do to celebrate?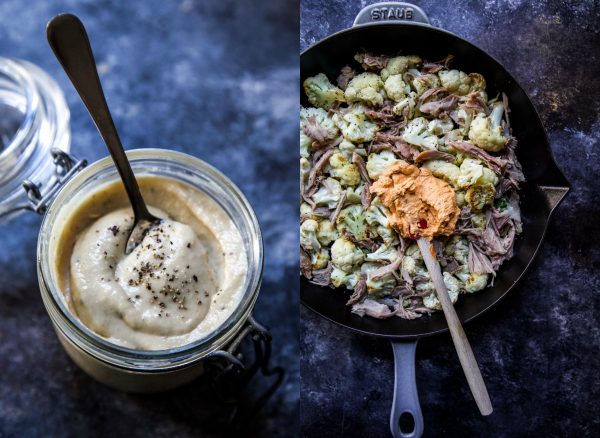 Anyway, as we creep our way through the rest of January, I have the perfect solution to keep us distracted. Enter, this Buffalo Chicken Casserole with Tahini Ranch Dressing. This casserole is my compromise to point number one. If you are still crushing it with your diet, high-five. But! If you are looking for something other than rabbit food this casserole is the shizzzzz.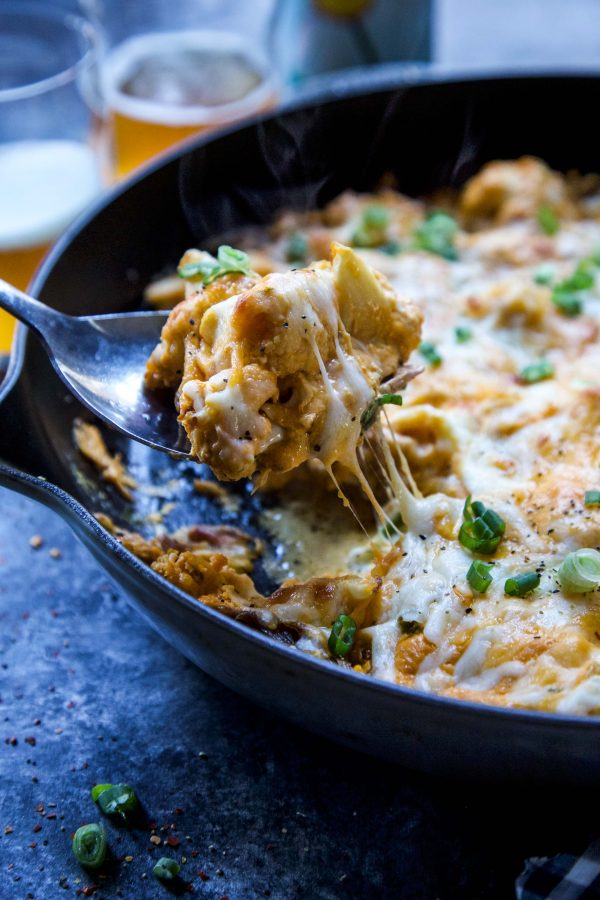 Made with roasted cauliflower instead of pasta. Can I say real quick that cauliflower has had one hell of a year? I wonder if kale is super jelly. You know they all talk about each other behind their cruciferous back. Where was I? Yes, the roasted cauliflower.
Toss it with some shredded chicken thighs. You can certainly use rotisserie chicken if you aren't a fan of dark meat. Then mix together cream cheese, buffalo sauce, and wait for it……Tahini Ranch Dressing. It's 2018 folks you knew this was coming. I promise it's still sexy as a bottle of Hidden Valley Ranch, but with this version it has an extra kick!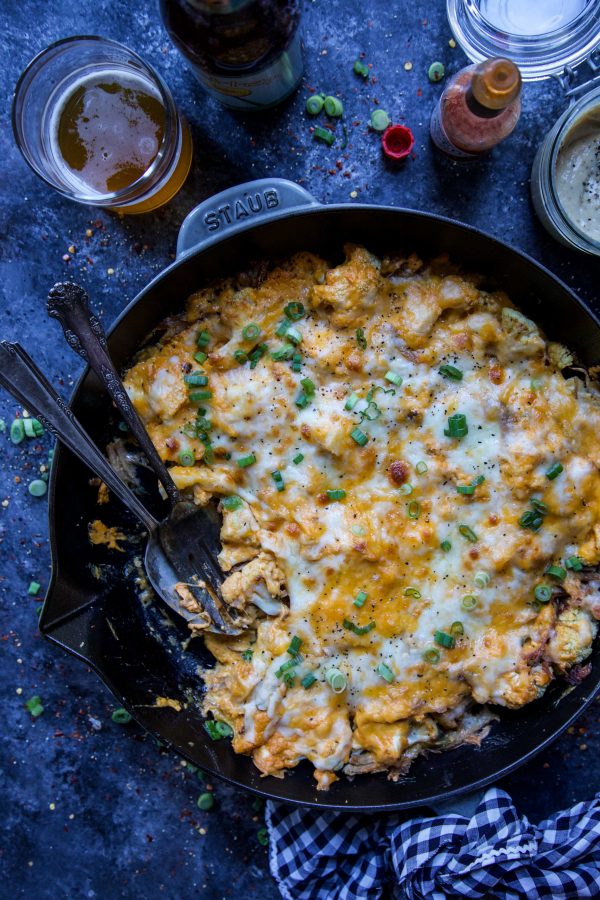 Once everything is combined, bake it in a large lunch lady sized casserole dish (or skillet) and boom! Easy, cheesy, healthy dinner ready in 30 minutes. Now, if we could only get Old Man Winter to take a bite….
Buffalo Chicken Casserole with Tahini Ranch Dressing
Ingredients:
for the tahini ranch dressing:
1/4 cup + 2 tbsp lemon juice
1/4 cup olive oil
1/4 cup + 2 tbsp tahini
2 tbsp while miso
2 tsp maple syrup
1 1/2 tsp onion powder
1 1/2 tsp garlic powder
salt and pepper to taste
for the casserole:
1 medium cauliflower, cut into florets
2 tbsp olive oil
12 oz plain cream cheese, room temperature
1/3 cup buffalo sauce (*I use Tabasco kind)
1/4 cup tahini ranch dressing (*see recipe above)
1/3 cup sliced green onions + more for garnish
1 tbsp garlic powder
2 cups shredded cooked chicken thighs or rotisserie chicken
1/2 cup shredded cheddar cheese
1/2 cup shredded mozzarella cheese
salt and pepper to taste
Directions:
for the tahini ranch dressing:
In a blender or food processor puree lemon juice, tahini, olive oil, miso, maple syrup, onion powder, garlic powder, and 1/2 cup water. Puree until smooth. Once at desired consistency season with salt and pepper. Set aside.
for the casserole:
Preheat your oven to 450 degrees. In a 9X13 baking dish toss together the cauliflower florets, olive oil, salt and pepper. Bake the cauliflower for about 20 minutes. Remove the baking dish from the oven and then reduce the oven temperature to 350 degrees.
Next, in a medium bowl combine cream cheese, buffalo sauce, tahini ranch dressing, scallions, and garlic powder until well combined. Set the bowl aside.
Take the shredded chicken and toss it with the roasted cauliflower in the baking dish.
Spread the cream cheese mixture over the top of the chicken and cauliflower followed by cheddar and mozzarella cheese. Bake for about 20 minutes or until golden brown and bubbly.
Remove the baking dish from the oven and let it cool for about 10 minutes before drizzling the top with more tahini ranch dressing and garnishing with scallions. Serve and enjoy!
All images and text ©