Butternut Squash Bolognese Pasta Bake with Melted Brie
Looking for a super easy recipe to bring to your next holiday potluck? You guys are going to flip over this Butternut Squash Bolognese Pasta Bake with Melted Brie. Veggie packed sauce mixed with your favorite pasta and topped with melted brie. It will be the star of the par-tay!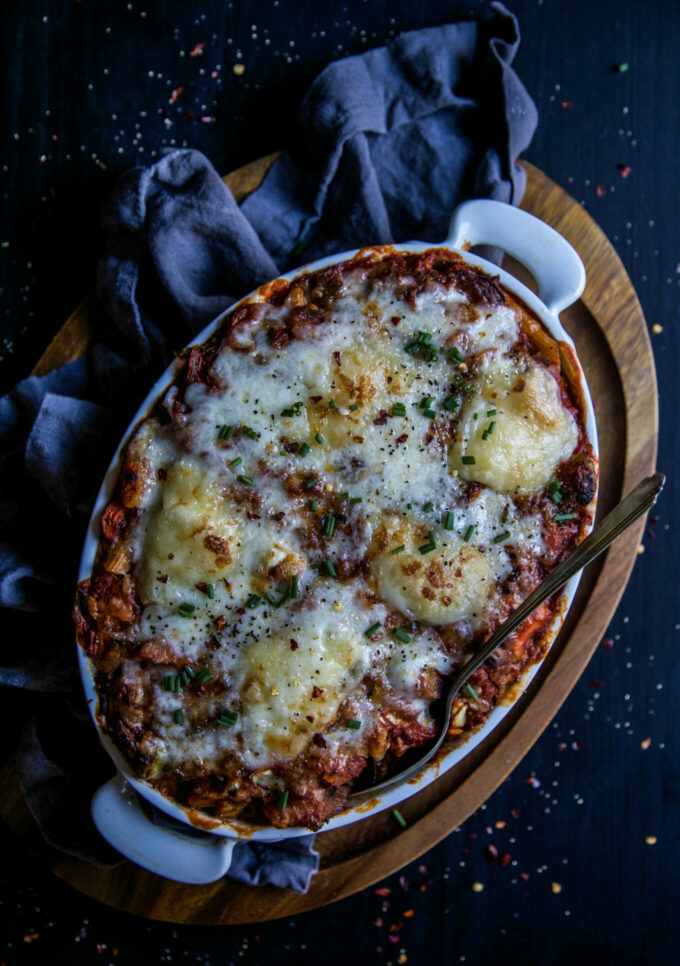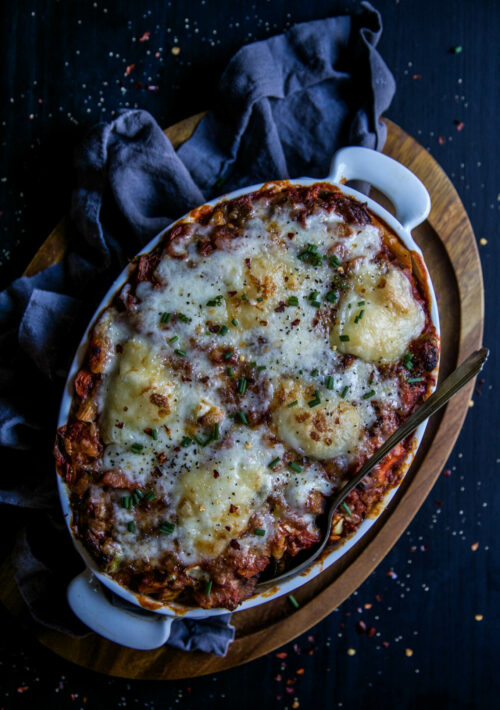 How do you potluck?
Wait. People still partake in potlucks, right? It's not just restricted to church gatherings and funerals?
Okay, PHEW.
You had me nervous there for a second. I'm glad potlucks are still a "thing" because I need your help. Whenever I'm asked to bring a dish to a potluck gathering I silently freakout. And it's not because I'm food blogger and have some high expectation of delivering picture perfect food, blah, blah, blah. It's more of along the lines that I wayyyyyy overthink and complicate a one-pot dish.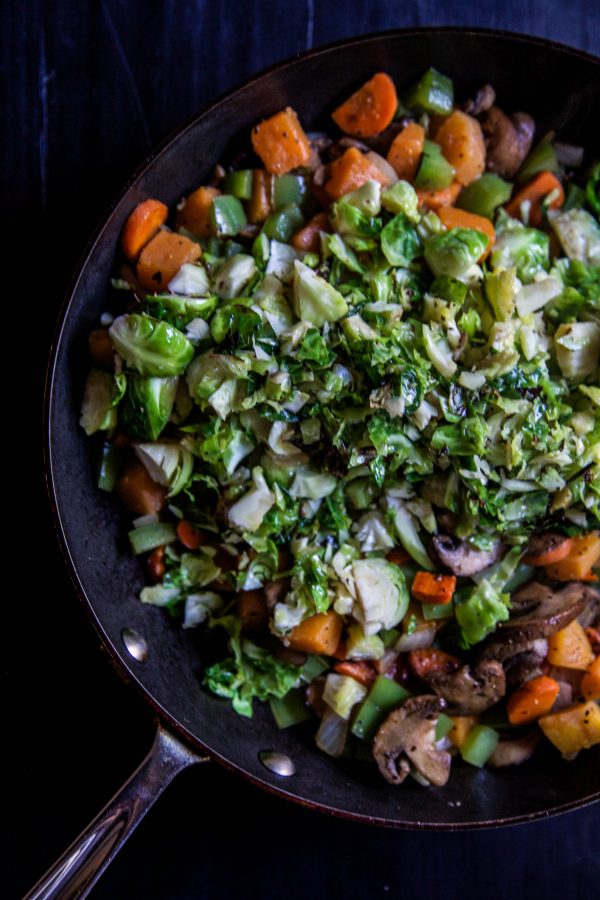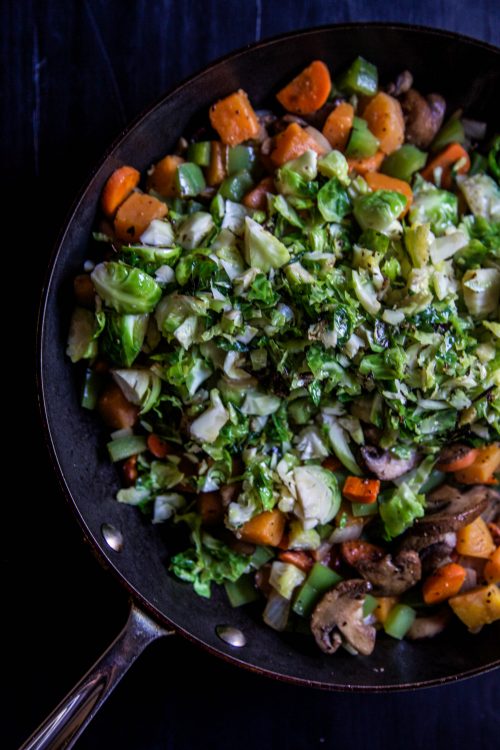 You'd think my high anxiety for creating such a well rounded dish I was serving her majesty. But let's be real. Queen Elizabeth would love to eat a pot of mac and cheese while watching James Corden's karaoke skits on You Tube with her corgs by her side. Maybe that's the secret to living a long live? Comedy, cheese, and corgs.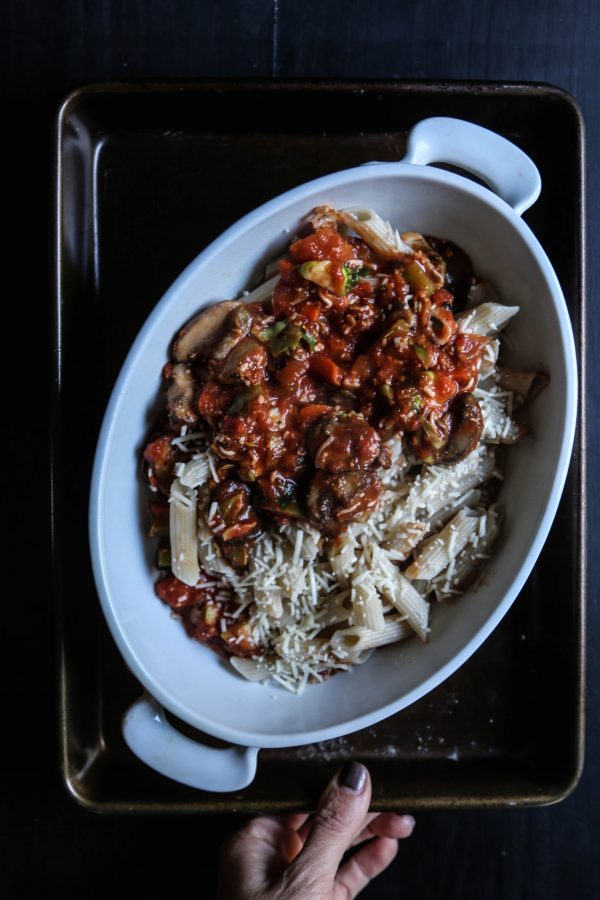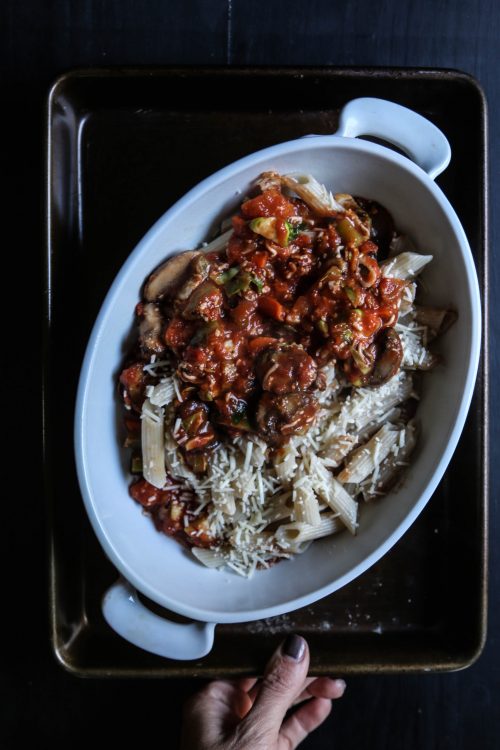 Well, after much contemplation and running around like a chicken with my head cut off, I decided to bring this Butternut Squash Bolognese Pasta Bake with Melted Brie to a holiday potluck hosted by the wonderful folks over at ADA Mideast. I am a big advocate for sharing food with families, especially kids during holidays. Because in between all those cookies and candies a kid needs to eat something hearty and full of calcium.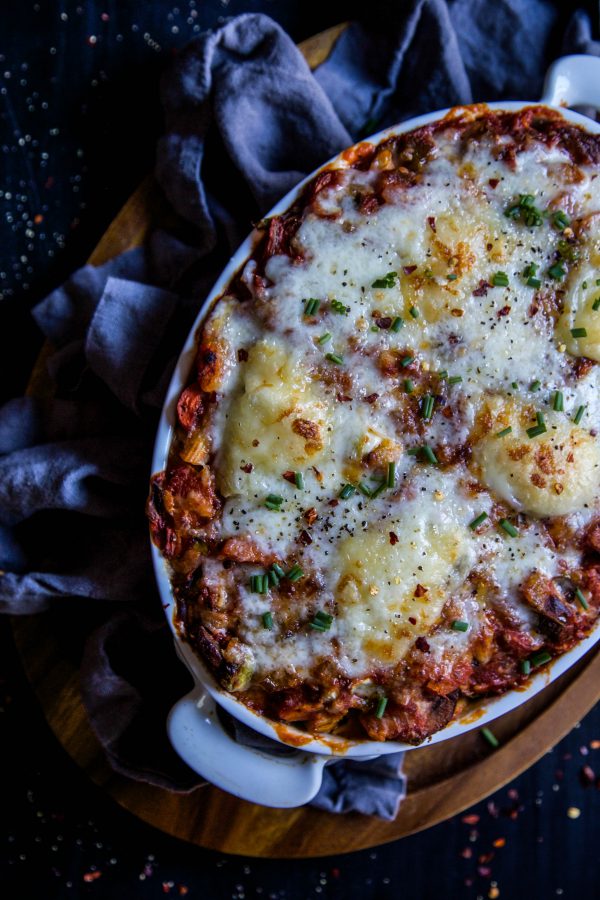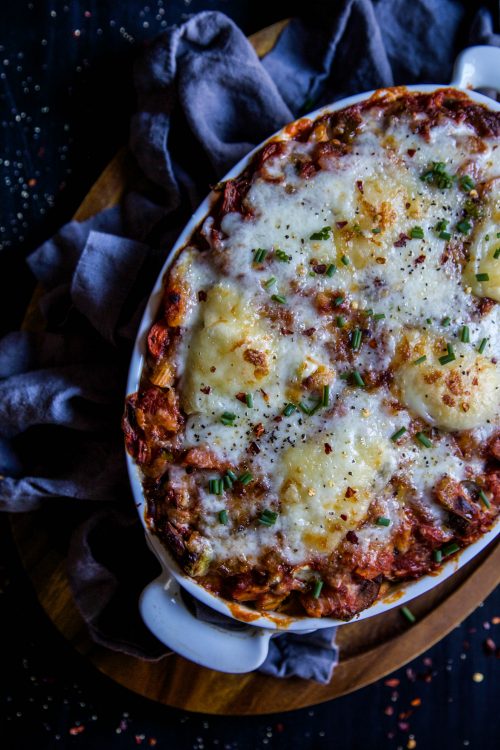 Did you know that milk is the No. 1 nutritious product requested by food bank clients, but it is rarely donated? The Great American Milk Drive is delivering thousands of gallons of milk to families who would otherwise go without. Donate milk this holiday season, and how much milk has been donated in your state at www.MilkLife.com/give. A $5 donation gives a gallon of milk to a family in-need.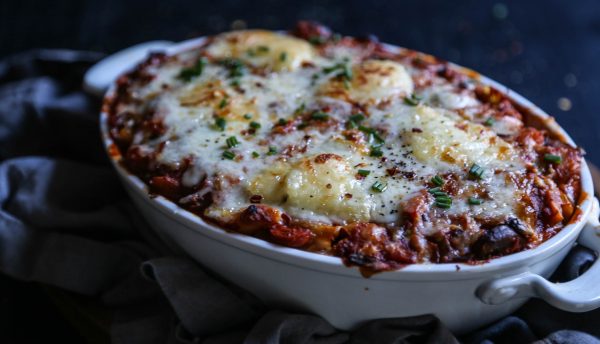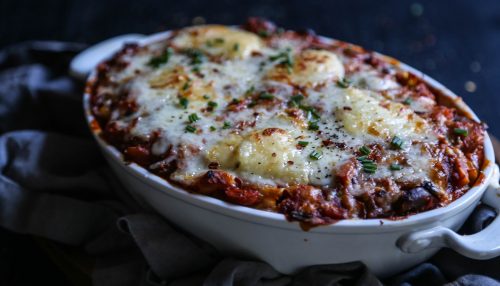 Also, ADA Mideast will donate 25 cents, the average cost of 1 glass of milk, to the Great American Milk Drive for every new follower on Facebook, Twitter and Instagram through Monday, Dec. 12, up to $2,500. Together, we can make sure everyone has a glass of milk to drink this holiday season.
So, this Butternut Squash Bolognese Pasta Bake with Melted Brie….do you think I knocked it out of the park? What if I told you get could eat it while watching James Corden? I thought you might agree.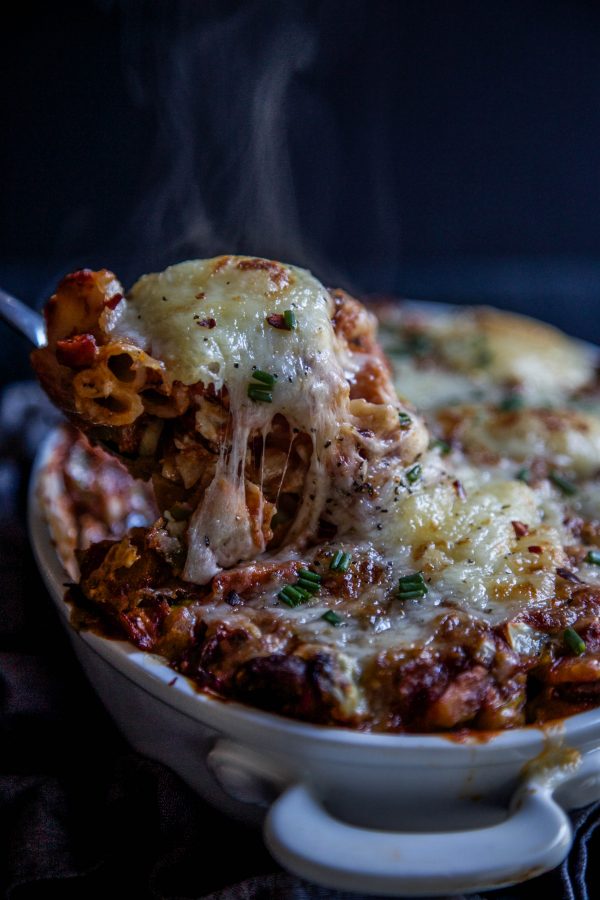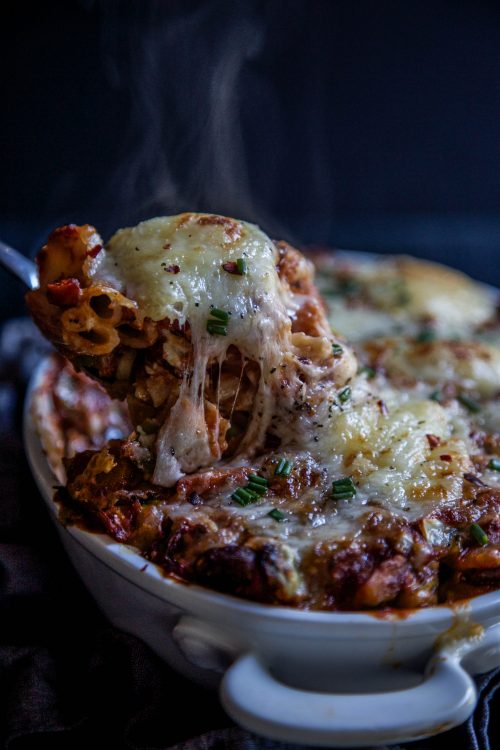 ***This post was sponsored by ADA Mideast. As always, all opinions expressed are 100% my own.***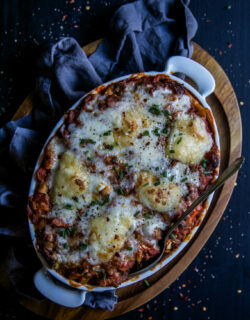 Butternut Squash Bolognese Pasta Bake with Melted Brie
Ingredients:
3 tablespoons olive oil
1 cup mushrooms
1/2 cup carrots, diced
1 cup brussel sprouts, shredded
1/2 cup yellow onion, diced
1 green pepper, diced
3 garlic cloves, minced
1 cup butternut squash, cubed
1 1/2 tablespoons tomato paste
1 15oz can tomato sauce
1 15oz can diced fire roasted tomatoes
1 teaspoon garlic powder
1 teaspoon oregano
1/2 teaspoon red pepper flakes
1/2 teaspoon dried thyme
1 bay leaf
1/3 cup chicken stock
1/3 cup whole milk
1/4 cup Parmesan
1/2 cup mozzarella, shredded
1 cup Brie (skin removed)
1/2 pound penne pasta
Fresh basil, garnish
salt and pepper to taste
Directions:
Preheat oven to 350 degrees
In a large Dutch oven preheated to medium-high heat, add the olive oil and mushrooms. Saute the mushrooms until slightly golden brown. Then add the carrots, brussel sprouts, onion, green pepper, garlic, butternut squash, salt, and pepper. Saute the vegetables until softened about 10 minutes. Adding more olive oil to the pan if the veggies start to stick.
Once the veggies have softened stir in the tomato paste followed by tomato sauce, tomato puree, garlic powder, oregano, red pepper flakes, thyme, bay leaf, and chicken stock. Stir to make sure everything is well combined and bring to a simmer. Simmer for about 15 minutes.
Meanwhile, bring a large pot of water to a boil. Add the penne pasta and cook until al dente; about 10 minutes. Strain through a colander and then add the pasta to a the Dutch oven. Remove the bay leaf and then stir in milk and Parmesan. Let it simmer for a few minutes. Spray a baking dish with non-stick cooking spray. Pour the pasta mixture into the baking dish and top with brie and mozzarella. Cover with foil and bake the dish for about 30 minutes. Remove foil and turn on the broil for the last few minutes to get that golden cheese crust. Garnish with fresh basil, serve and enjoy!
All images and text ©