French Onion Gnocchi Casserole
The only way to get through the winter is with a giant ass serving of this French Onion Gnocchi Casserole. All the flavors of the classic french onion soup morphed into a cheesy delicious casserole!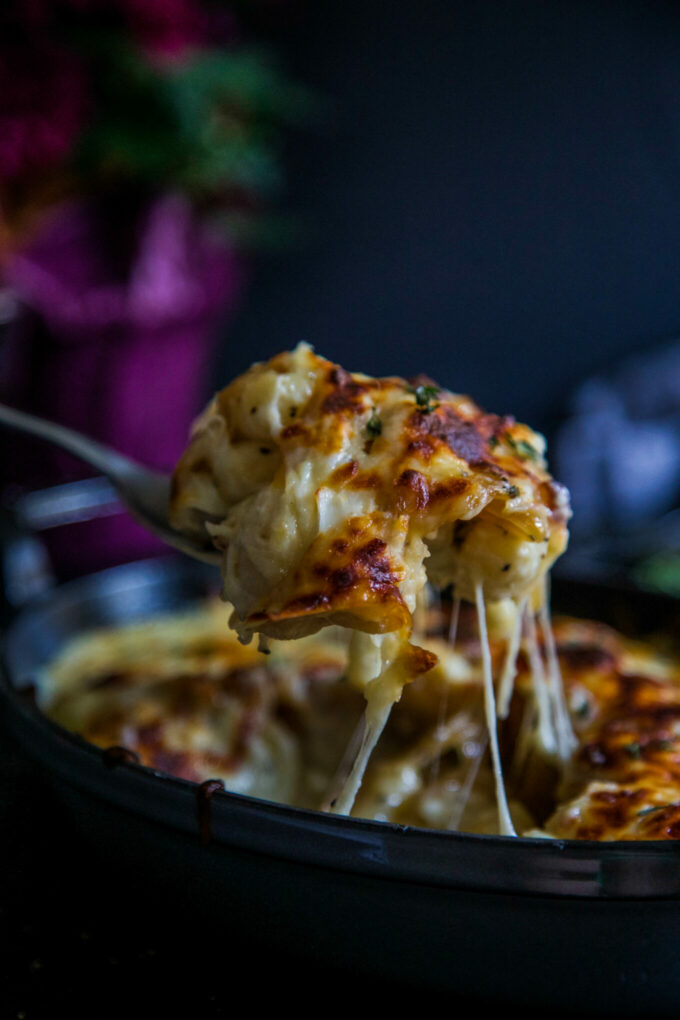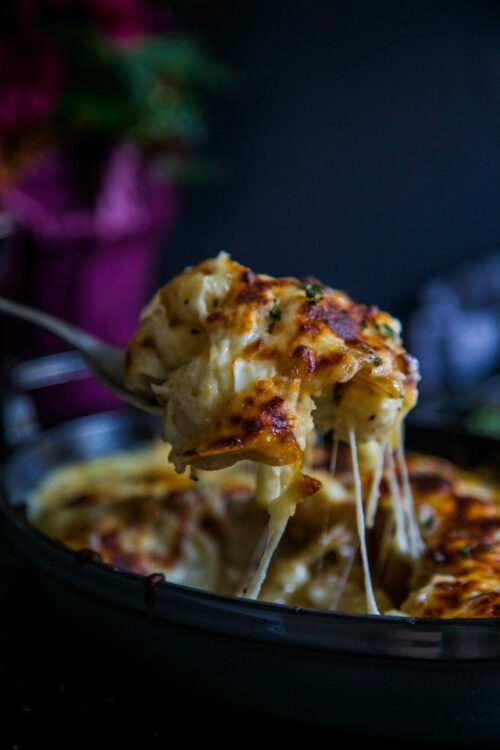 I need a kick in the ass.
Like a full on Chuck Norris round house kick to my tookus.
My procrastination is at an all time high. Or could it be my motivation is at an all time low? I am still getting my ducks in a row from hosting my family for Thanksgiving. You guys the holiday weekend was magical. I got to cuddle with my niece and nephew – mind you it was at 6:30AM, but I loved watching Finding Nemo for the eighteenth time and watching them giggle when Dory touches the butt.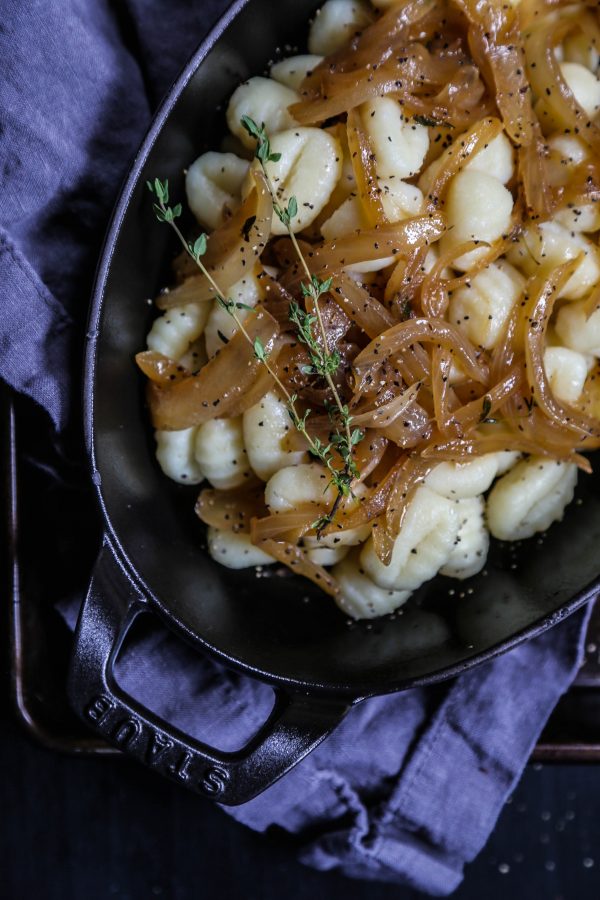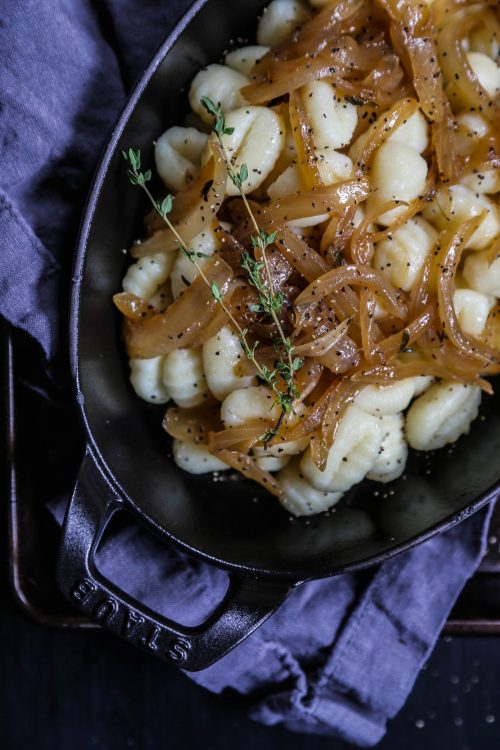 Spending time with my folks who are literally my best friends was a blessing. And getting to cook in the kitchen with my brothers and sister-in-laws was something I will treasure forever. It was one of the moments in time where no one had an agenda and we all just wanted to be together. And not to toot my own horn, but the dinner was deemed the best Thanksgiving in history. TOOT. TOOT.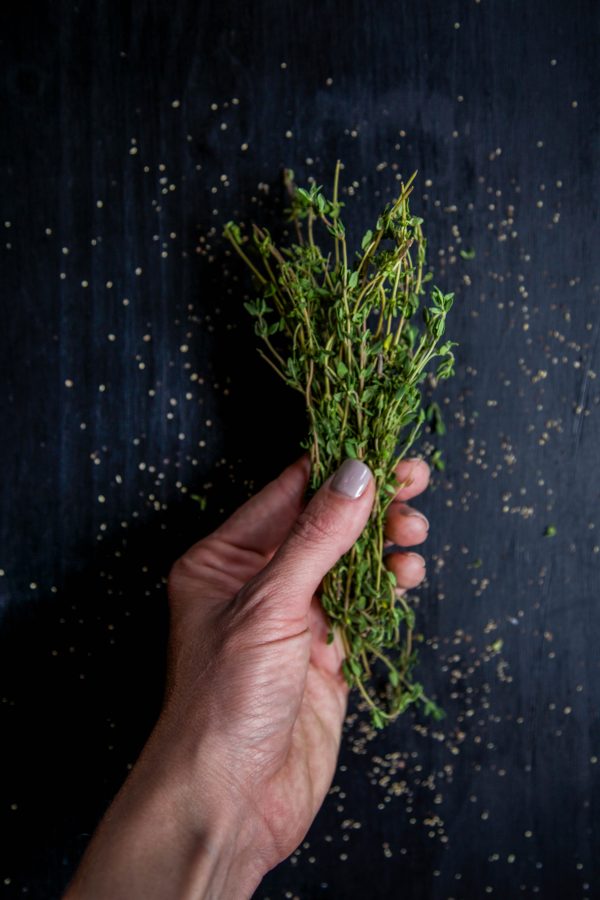 So, as we enter into full on Christmas mode, I am trying to get my tookus in the holiday spirit. Maybe my lack of cheerleader enthusiasm is the fact it's not even December 1st and I feel I should have all the shopping done and decorations up. I sound like a Christmas curmudgeon, don't I? Sighhhhhh.
Well, the only way to kick my procrastination to the curb is with comfort food. This French Onion Gnocchi Casserole was made to cure any woe. Fluffy gnocchi covered in French style caramelized onions toss in a decadent white gravy and topped with gooey mozzarella. If this decadent casserole doesn't put pep in my Christmas step, I submitting my two week notice and working for the Grinch.
Now, who's ready to kick my tookus?
Bueller?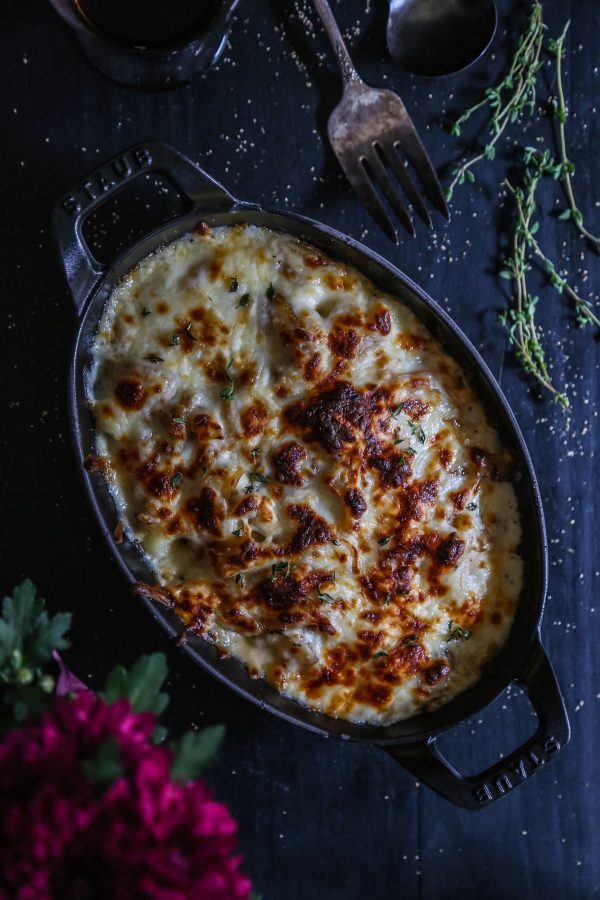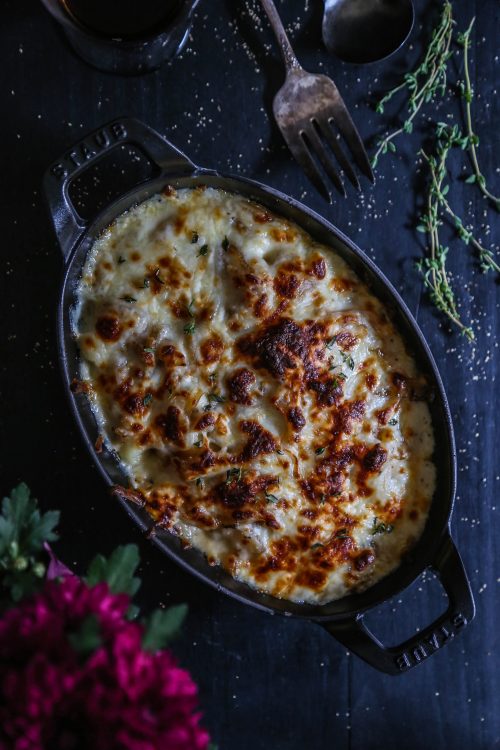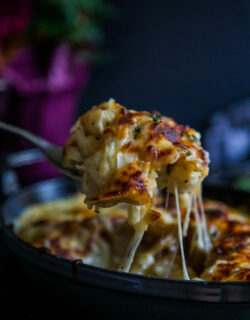 French Onion Gnocchi Casserole
Ingredients:
1 package gnocchi (or roughly 2 cups)
5 tablespoons unsalted butter
3 tablespoons all-purpose flour
1 1/2 cups whole milk
1 large yellow onion, sliced thinly
2 teaspoons granulated sugar
1 tablespoon Worcestershire
1 1/2 teaspoons fresh thyme ( + more for garnish)
1/2 cup beef broth
1 cup mozzarella, shredded
salt and pepper to taste
Directions:
Preheat oven to 400 degrees.
In a large skillet, melt two tablespoons butter over medium-high heat. Once melted, add the onions. Let the onions saute for about two minutes. Next, add the sugar, Worcestershire, thyme, salt, and pepper. Continue to cook the onions for another minute or two and then add the beef broth. Scraping the bottom of the skillet making sure everything is well combined, turn the heat to simmer. Stir the onions to keep them from burning at the bottom of the skillet until golden brown about 20 minutes. Set aside once cooked.
While the onions cook, bring a large pot full of water to a boil. Add the gnocchi and cook according to package instructions. Once the gnocchi has cooked, drain through a colander and add to a baking dish.
In a saucepan, melt the remaining tablespoons of butter over medium heat. Next add the flour and whisk until a roux forms about a minute. Pour in the milk and whisk until thickened about five minutes. Add salt and pepper to taste.
To assemble the casserole, evenly place the onions over the gnocchi. Next, pour the white sauce over the onions followed by mozzarella. Baked for about 10 to 15 minutes or until cheese has turned golden brown. Garnish with fresh thyme.
All images and text ©