Leftover Turkey Ratatouille Skillet with Herbed Dumplings
Leftover Turkey Ratatouille Skillet with Herbed Dumplings is a great way to use up leftovers! Veggies and turkey topped with fluffy dumplings is an easy one-pot dish!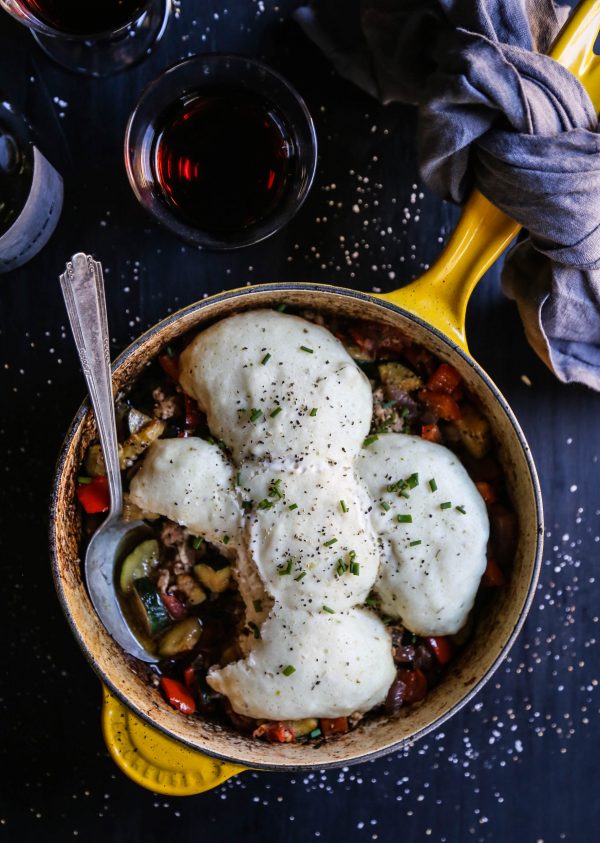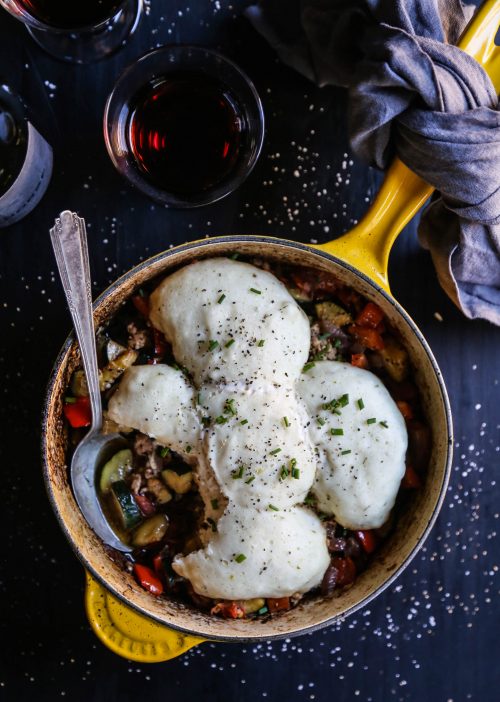 Well, did you survive?
The holiday that is.
We survived, but I'm still stuffed. Like I might have a case of the turkey sweats. Is that TMI? We are all friends here, right? *crickets*
The Monday after a holiday is always a sobering reality. Self reflection is usually skimmed over because in my world calories don't count when I'm on vacation or celebrating a holiday. We have all of January to have a "I'm good enough, smart enough, and gosh darnit people like me" moment.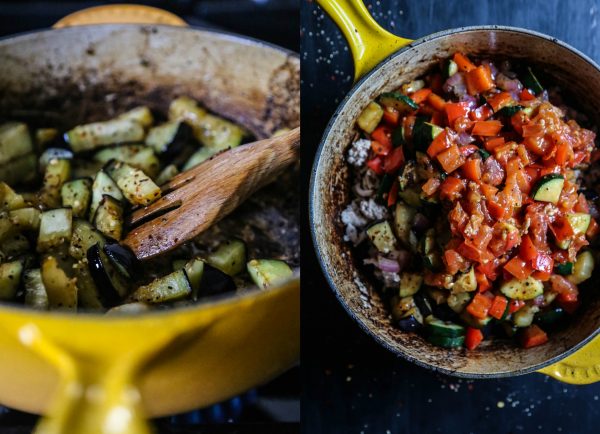 So, as we ease into round two of holiday craziness, I figured we better use up those leftovers! One of my favorite comfort foods to consume is actually a French dish you may have heard of Ratatouille. I made this dish awhile back as the base for a brunch slider. If every dish could come in slider form it would make yours truly so happy.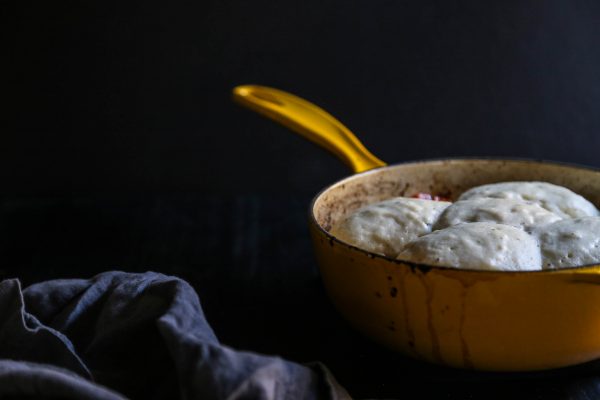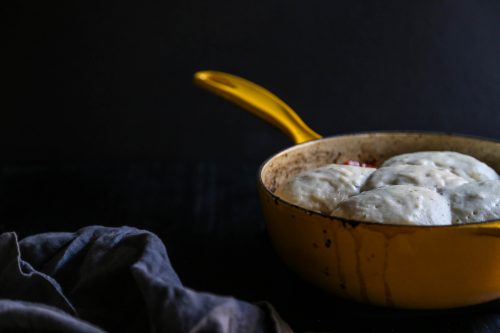 Even though my slider delivery system is wishful thinking, I do want to tell you about this super easy Leftover Turkey Ratatouille Skillet with Herbed Dumplings. The beauty of ratatouille is not only it's simplicity, but it's a great foundation to add whatever additional ingredients your heart desires. I decided to toss in some leftover turkey from Thanskgiving and top it with dumplings.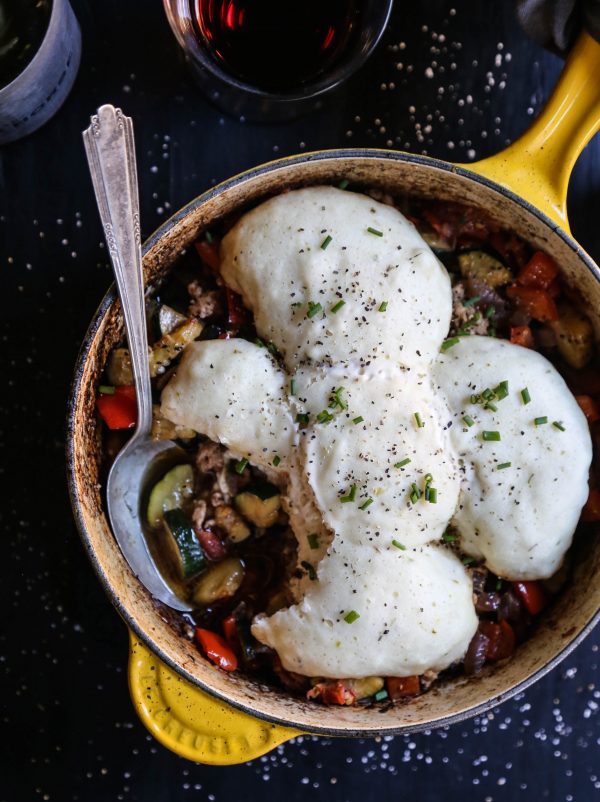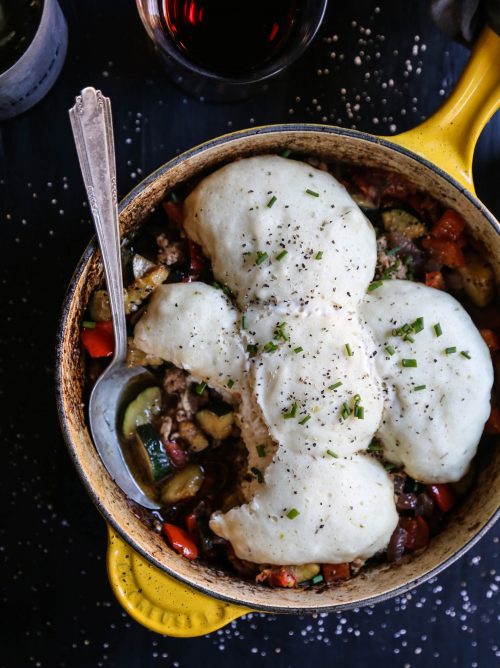 Dumplings are so effing easy to make y'all. It's like a fluffy pancake mixture plopped right on top of your veggie mixture. Then magically it poofs up like a cloud and what you get is a comfort food worthy of second and third helpings.
Just ask Stuart Smalley.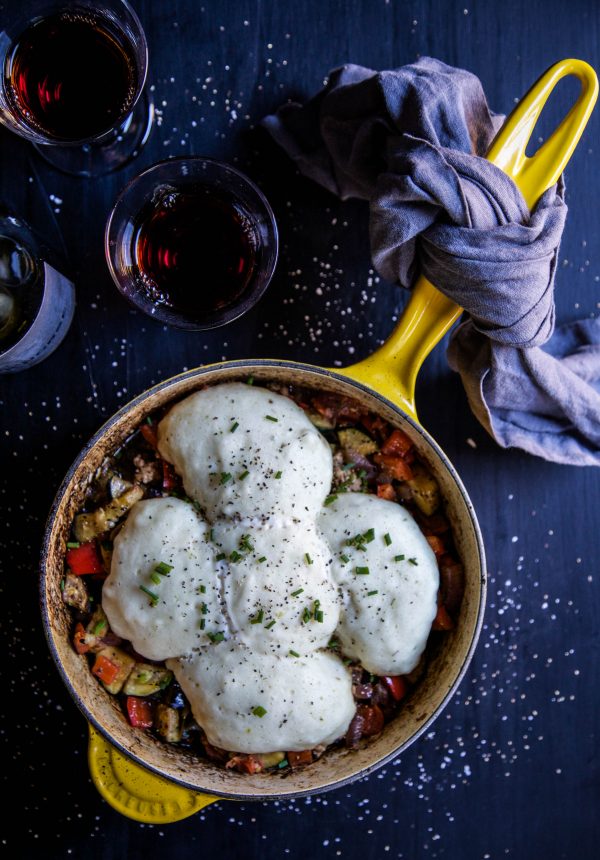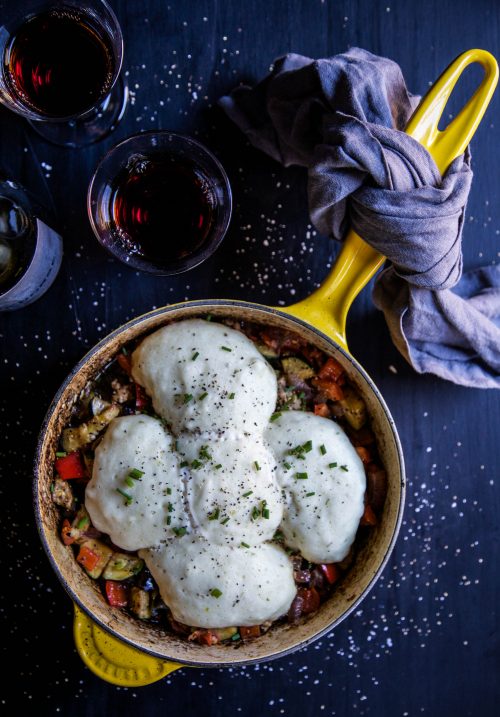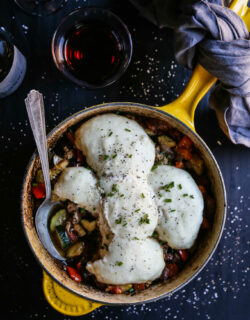 Leftover Turkey Ratatouille Skillet with Herbed Dumplings
Ingredients:
for the ratatouille:
1 cup olive oil
3 medium tomatoes, deseeded, chopped
5 garlic cloves, minced
1 1/4 teaspoons crushed red pepper
salt and pepper to taste
One large eggplant, chopped
2 small zucchini, chopped
1 large red onion, chopped
1 red bell pepper, chopped
1 bay leaf
1/2 cup fresh basil, chopped
1 lb cooked turkey, ground or shredded
for the dumplings:
1 cup all-purpose flour
2 teaspoons baking powder
1/2 teaspoon kosher salt
1 teaspoon herbs de provence
1/2 cup plus 2 tablespoons milk
Directions:
for the ratatouille:
Preheat a large skillet to medium-high heat. Add two tablespoons of olive oil to the pan. First vegetable to brown, tomatoes. Add tomatoes along with one garlic clove, 1/4 teaspoon crushed red pepper flakes, and a pinch of salt. Cook for about five minutes or until soften. Remove tomatoes from skillet and set aside. Wipe skillet if you want. I didn't because everything gets cooked down pretty well. You will repeat the same process with the eggplant, zucchini, onions and red bell pepper. Remember, you have to cook each vegetable individually. Once you've cooked the vegetables, throw everybody back in skillet and add a bay leaf, 1/2 cup fresh basil, leftover turkey,  and about 1/3 cup water (more if needed). Simmer veggies for about 15 minutes until everything is well combined. Remove bay leaf.
Take a spoon and dip into dumpling batter, plop approximately 2 to 3 TBS. batter on top of the vegetable mixture. You will probably have to scoop the batter off the spoon with your finger. The batter will semi-float on top of the veggie mixture. Continue plopping bits of dough on top of veggie mixture until well covered.
Now, turn the heat back down to a nice simmer and COVER the skillet with a tight-fitting lid. You are steaming the dumplings and making them rise. Steam for almost ten minutes. Temperature should be a very low simmer. DO NOT lift the lid. Turn heat off, lift lid, and those dumplings should have risen nice and fluffy. Serve and enjoy!
for the dumplings:
In a medium bowl, mix together remaining 3/4 cup flour, herbs de provence, baking powder, and 1/2 teaspoon salt. Gradually stir in 1/2 cup milk to make a soft batter. It should look like a pancake batter. Add two more tablespoons if too thick.
All images and text ©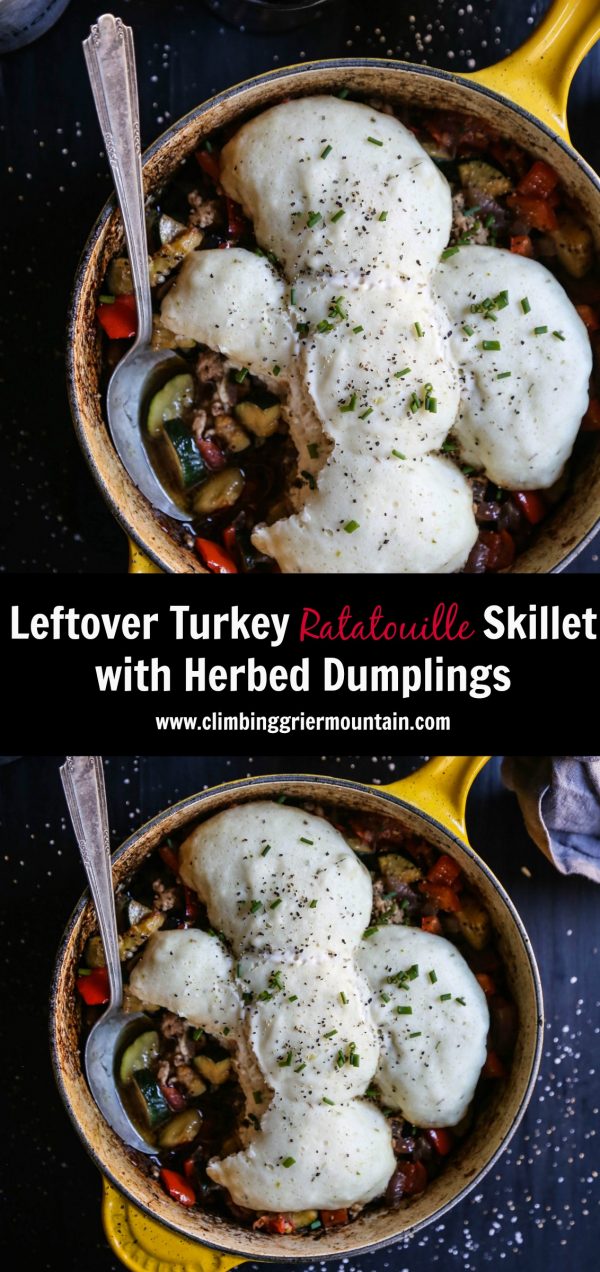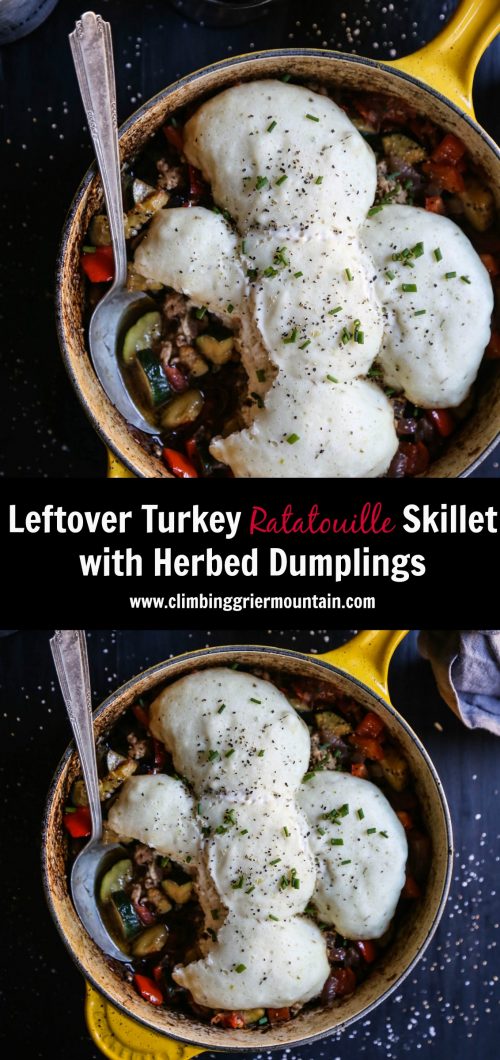 Transform your Thanksgiving leftovers into a savory masterpiece with our Leftover Turkey Ratatouille Skillet featuring delicious herbed dumplings. A perfect post-holiday comfort meal!