Bacon & Cranberry Stuffed Pork Tenderloin
Bacon & Cranberry Stuffed Pork Tenderloin is a gorgeous centerpiece for your holidays! Simple to to make and tastes amazing!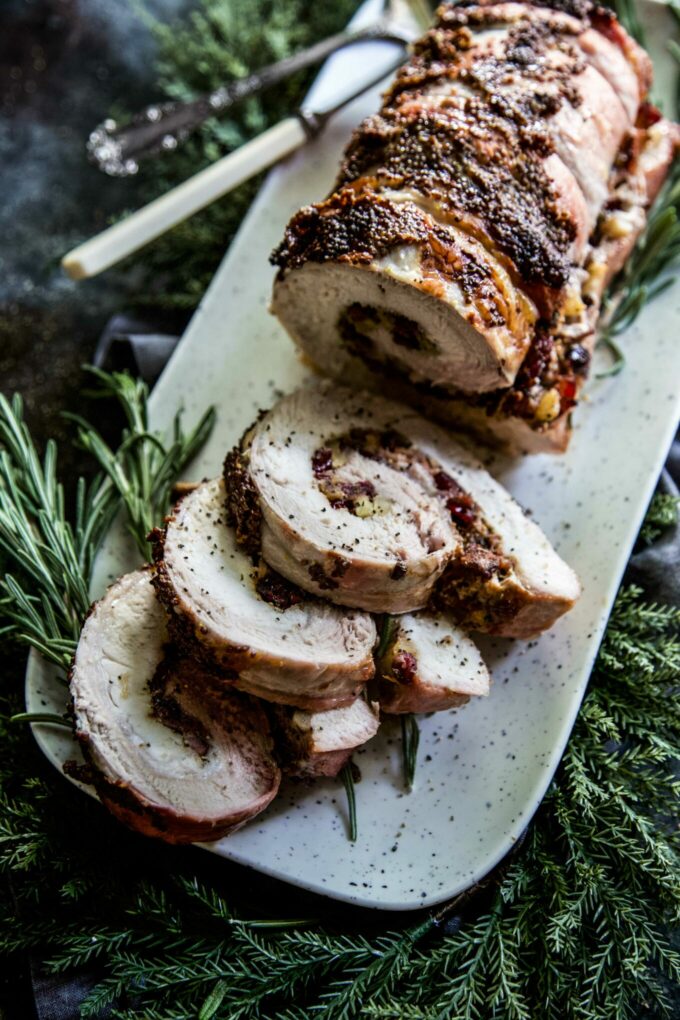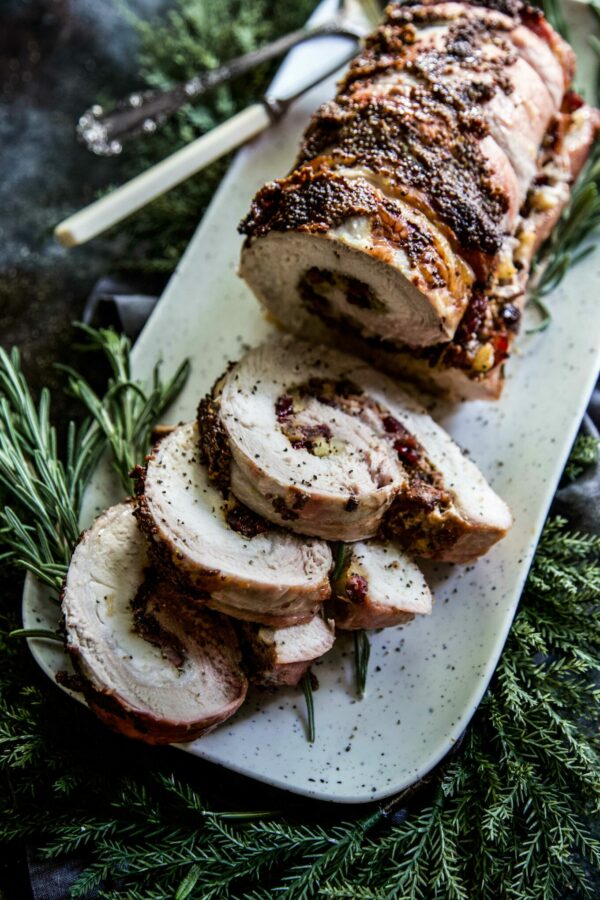 Headed home for the holidays.
Yep, yep.
We are gearing up for another road trip back to Kansas. I must say I feel wayyyyyy more relaxed going into this ten hour road trip.
I am forcing myself to pack in my carry-on suitcase for Charlie and I. This is going to give me some good practice going into next years crazy travel schedule. Also, I had all my presents shipped to my parents house so we aren't a giant sleigh cruising across western Kansas.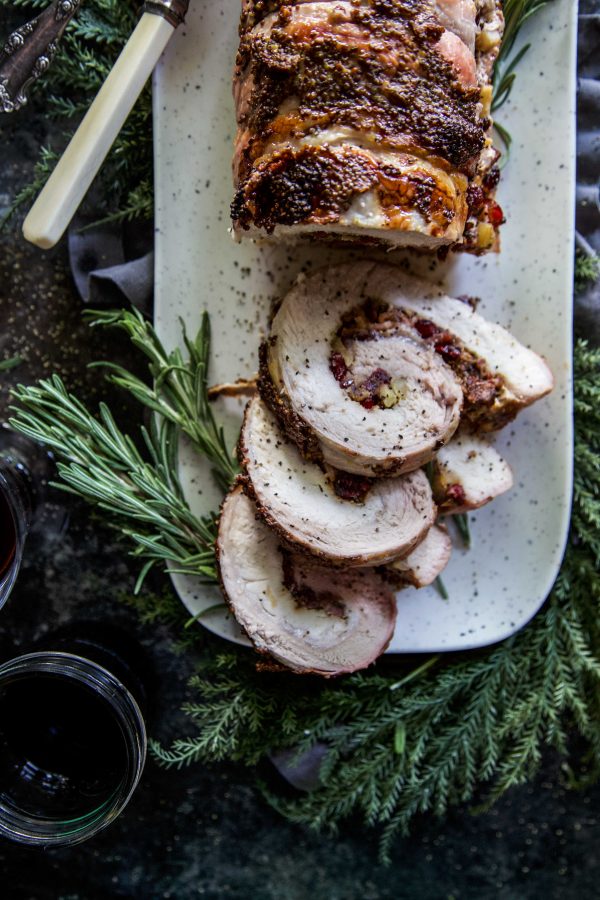 As we gear up for this road trip, I can't tell you how excited I am to experience Charlie's first Christmas at home. I remember telling Mr.B last year that I am kind of tired of being the Margo and Todd in the corner. Glad we changed it because Charlie is going to have so much fun with all of her nieces and nephews. I also got them matching pj's for Christmas morning!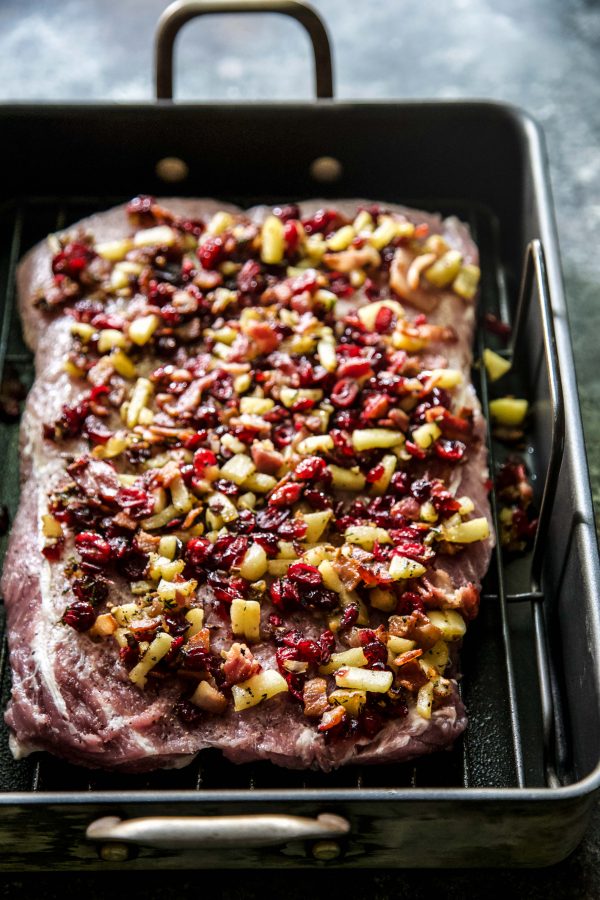 Okay, before I forget, let's chat about the easiest and delicious meal you can possibly make. I'm throwing this out here because you can make this Bacon & Cranberry Stuffed Pork Tenderloin any time of year. I know it looks a little complicated, but I assure you it's a breeze to make.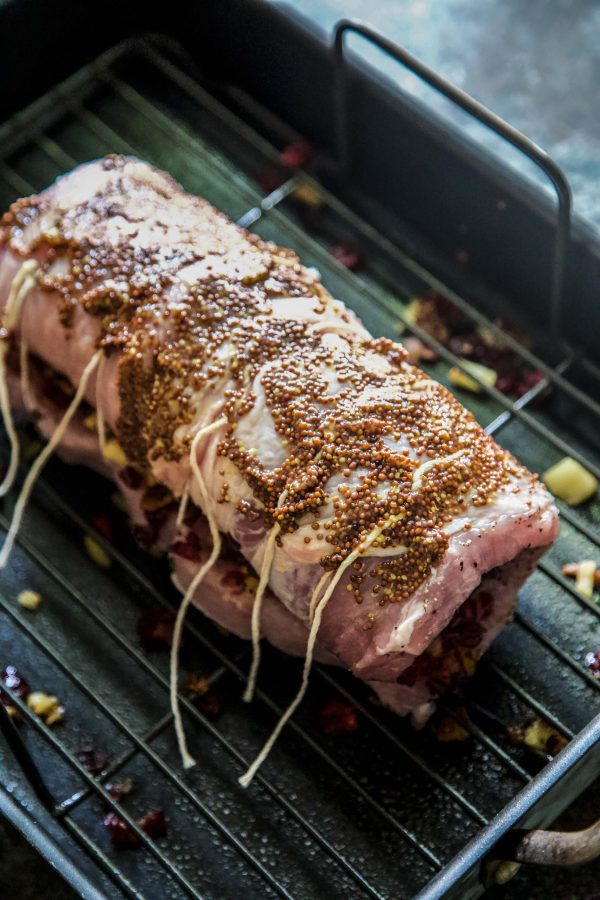 All you do is slice a pork tenderloin in half, pound it a little so it lays flat, stuff, and roll. I should have been making this years ago because pork is so cheap too! Not only is it a stunning display, but like I mentioned above, you can make this anytime of year. Just swap out the ingredients and make them seasonal. For January, I would use up all the citrus and stuff it on in!
Alright, back to packing. Fingers crossed all of Charlie's bows will fit in a packing cube.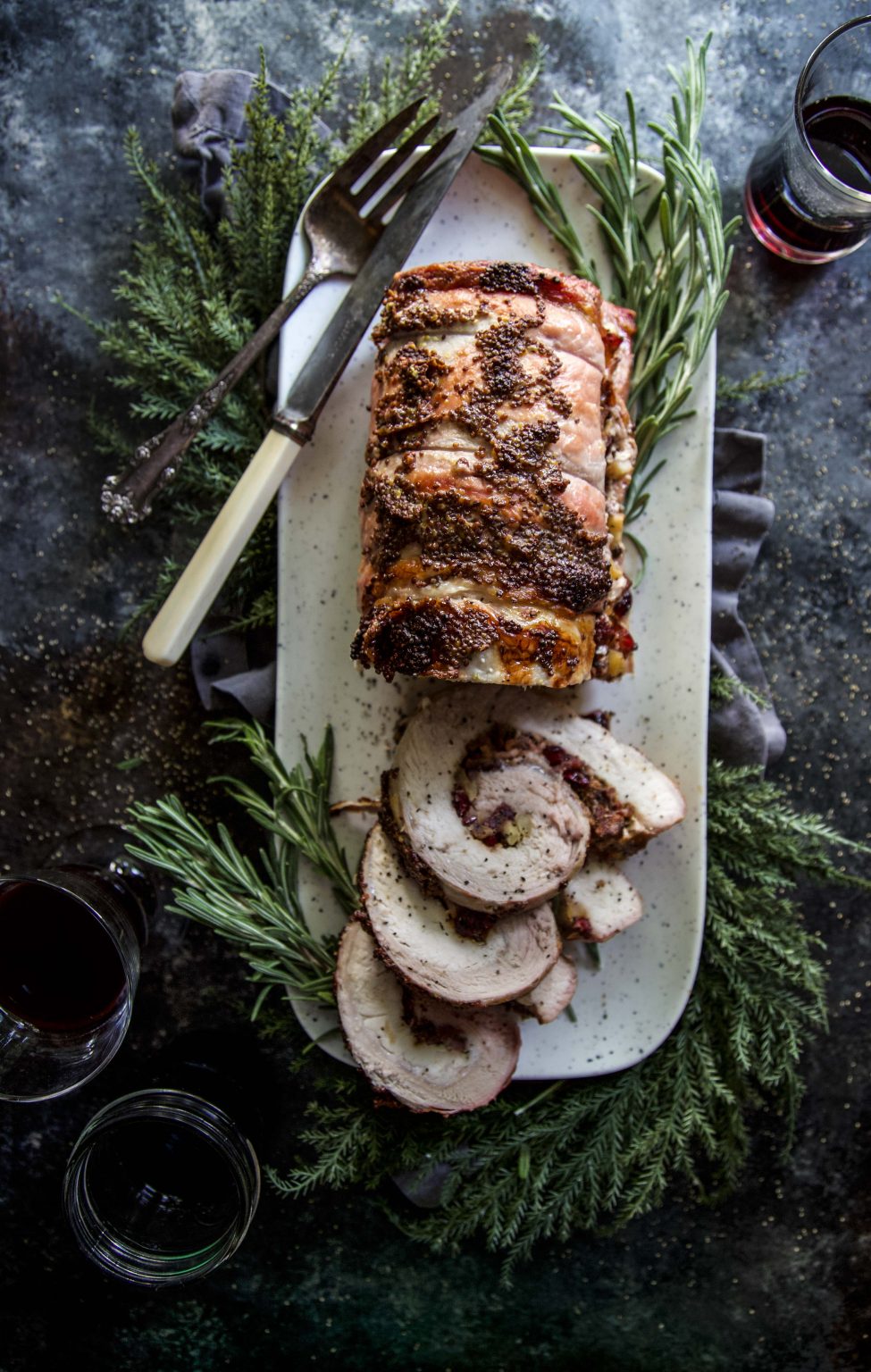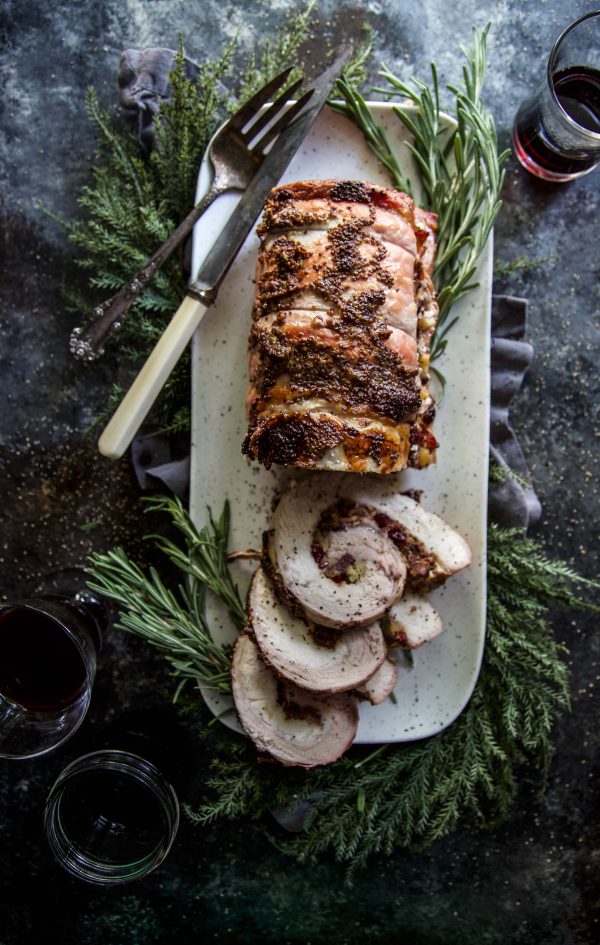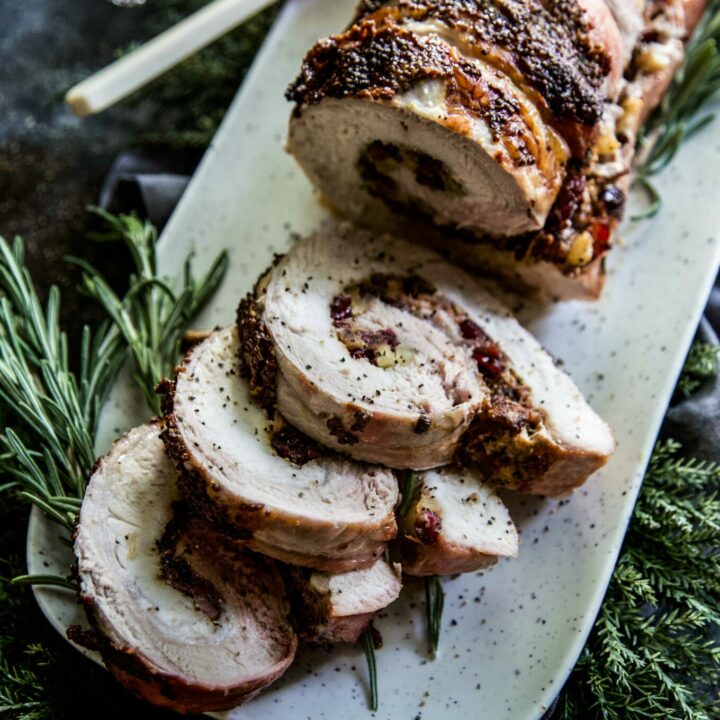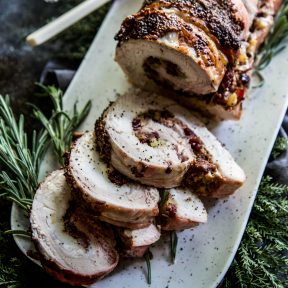 Bacon & Cranberry Stuffed Pork Tenderloin
Bacon & Cranberry Stuffed Pork Tenderloin is a gorgeous centerpiece for your holidays! Simple to to make and tastes amazing! 
Ingredients
6 slices bacon, chopped
2 apples, peeled, finely chopped
1 shallot, diced
3 cloves garlic, minced
1 tbsp chopped fresh rosemary
⅓ cup dried cranberries
4 lb pork loin roast
salt and pepper to taste
2 tbsp whole grain Dijon mustard
Instructions
Preheat your oven to 325 degrees. In a large skillet preheated to medium heat, add the bacon and cook until crispy. Remove the bacon using a slotted spoon leaving some of the bacon fat in the skillet.

Next, add the apples and shallots to the same skillet as the bacon. Saute until softened about five minutes. Add in the garlic and cook until fragrant, about two minutes. Then stir in the rosemary and dried cranberries. Season with salt and pepper.

To butterfly the pork: take a sharp knife and place the roast fat side up. Position your knife about 3/4″ from the bottom of the roast; cut into one-inch toward center of pork. Lift up the top half of the pork and continue making shallow horizontal cuts deeper into the roast, unrolling top of the pork as you cut and keeping knife parallel to cutting board to maintain the same thickness until the pork unrolls to form a rectangle.

Season the pork with salt and pepper. Top all over with the filling. Roll up the pork loin and secure tightly with kitchen twine.

Take the whole grain Dijon mustard and rub it all over the pork loin. Place the pork in a roast pan on a rack and roast for about 1 hour 25 minutes or until an internal temperature registers 155 degrees.

Remove the pork from the oven and let it rest for 15 minutes before serving!
Did you make this recipe?
Please leave a comment below and share a photo on Instagram with the hashtag #thecuriousplate!