Ultimate Party Mix
Ultimate Party Mix is a mixture of my favorite snacks! Pretzels, peanuts, and popcorn tossed with spices. Make a big batch because this mix will go fast!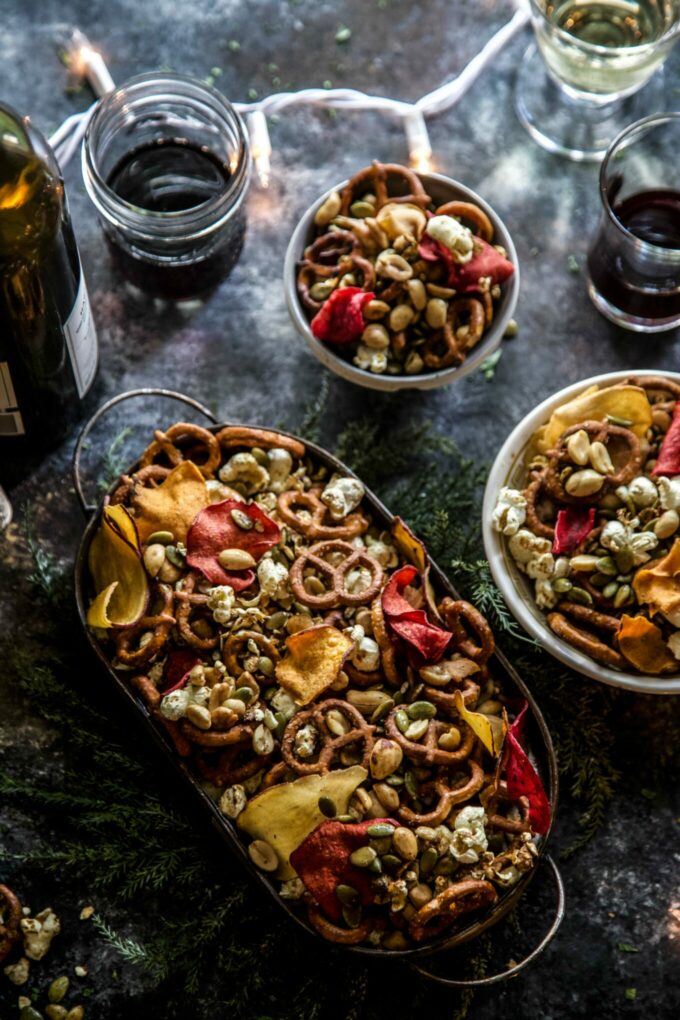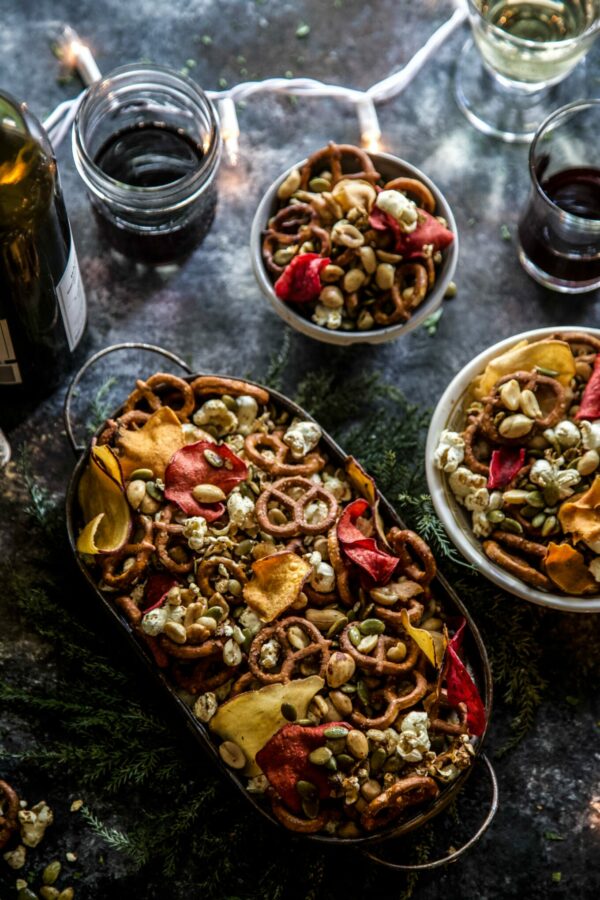 White Elephant Gifts: Yay or Nay?
I asked this question on Instagram the other day and a lot of you were definitely YAY.
Personally I think white elephant gifts are a riot. Coming up with impractical gift ideas is my bread and butter. My immediate family does a white elephant gift exchange every Christmas and I swear we look forward to it more versus swapping regular gifts. Maybe Santa should be sliding white elephant gifts down the chimney instead?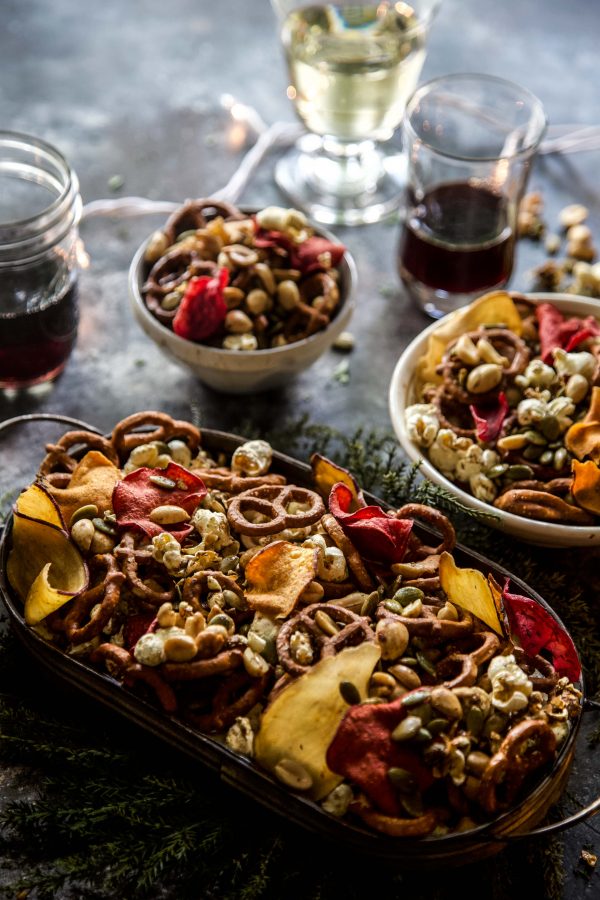 This year I have three white elephant gift exchanges that I need to purchase for. Any ideas? I want to keep things interesting so I thought about going a little more classy this year. Isn't the whole point to steal the gifts too? I don't want to buy a pair of fish slippers and have them just sit on the table. That's not fun. I did see a link for some lightsaber chopsticks that could make things interesting.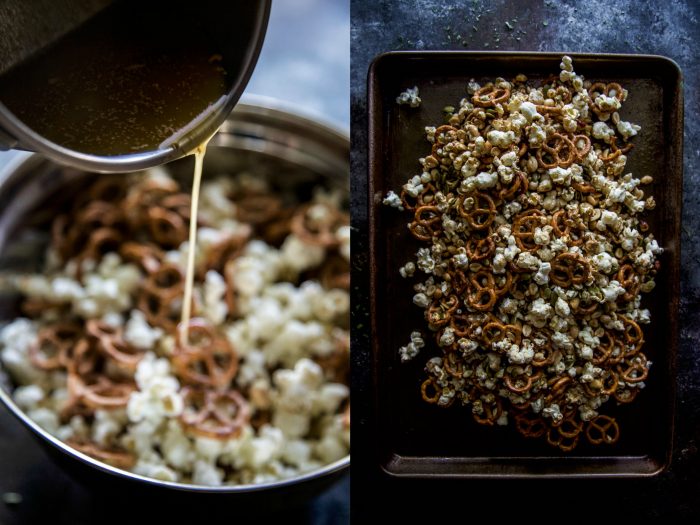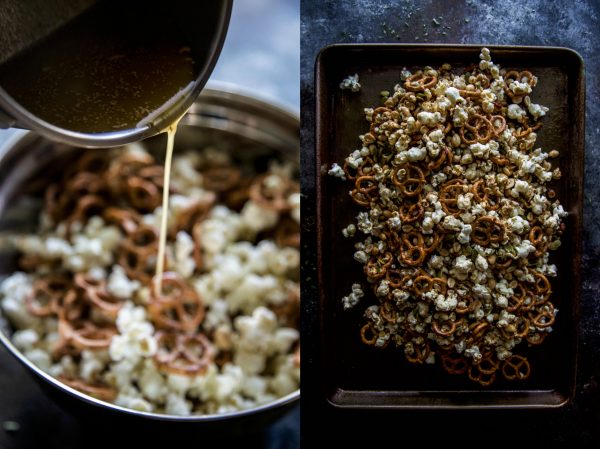 Besides coming up with a gift, I do have to bring a snack/appetizer to one of these exchanges. I am hooker for a good party mix. Something about reaching into a bowl of savory, crunchy goodness while sipping wine makes me so giddy.
Anyways, this Ultimate Party Mix is chock full of delicious goodies – popcorn, peanuts, pretzels, and veggie chips. I tossed them with a sassy spice mix to kick things up a notch.
Set a big ass bowl of this Ultimate Party Mix out and watch it disappear.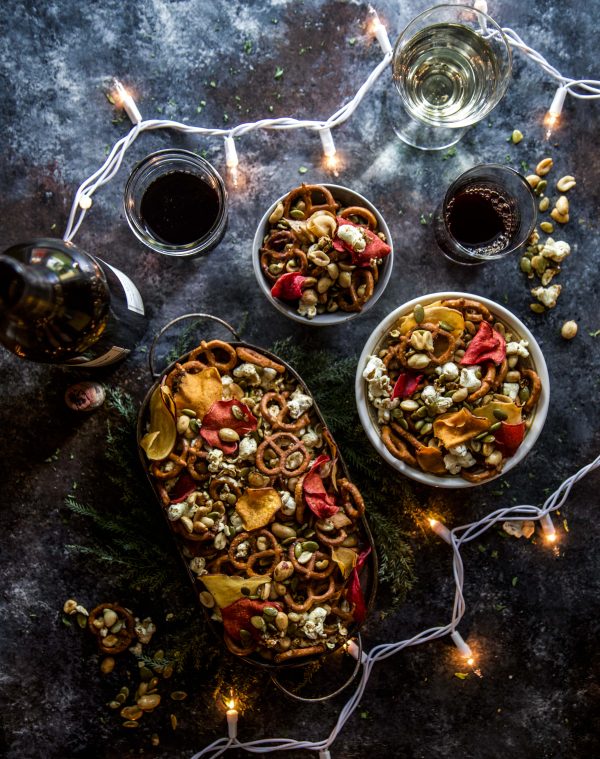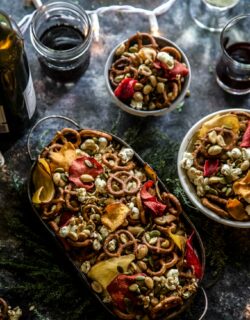 Ultimate Party Mix
Ingredients:
4 cups plain popcorn
3 cups pretezels
2 cups roasted unsalted peanuts
1 cup pepitas
6 tbsp unsalted butter
8 garlic cloves, crushed
2 tbsp Worchestershire sauce
1 tbsp Dijon mustard
1/2 tsp mustard powder
1/2 tsp kosher salt
1/2 tsp paprika + more for garnish
1/2 tsp black pepper
3 cups veggie chips
Directions:
Preheat your oven to 250 degrees. Take the first four ingredients and combine them in a large bowl. Set aside.
In a small saucepan over low heat, add the garlic and butter. Once the butter melts remove garlic cloves. Next, stir in the Worchestershire, Dijon, mustard powder, salt, paprika and pepper. Pour the mixture over the bowl and toss.
Divide the mixture between two baking sheets. Bake for 1 hour stirring every 15 minutes until dry and toasted. Once cooked place the mixture into a bowl and toss with veggie chips. Serve and enjoy!
All images and text ©