Citrus & Toasted Almond Panettone Strata
Citrus & Toasted Almond Panettone Strata is a festive and citrusy breakfast treat that's perfect for the holidays!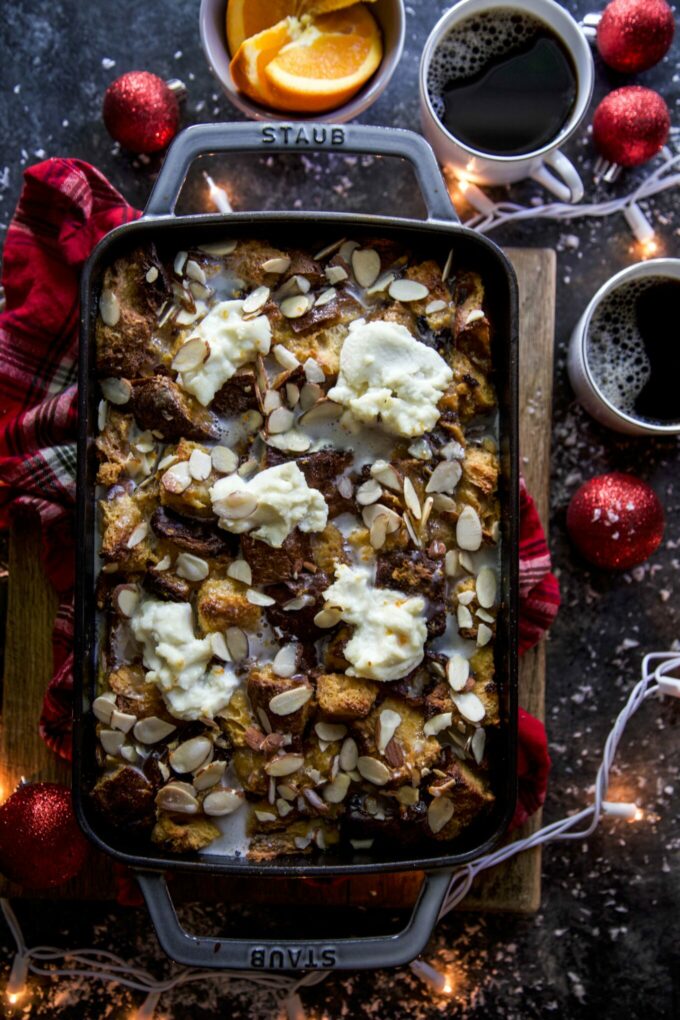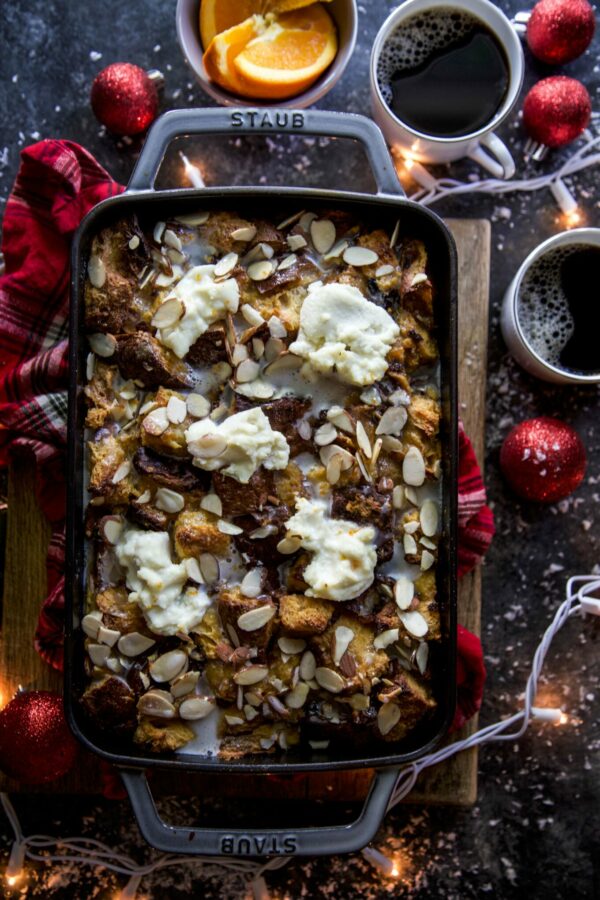 Hold up.
Tomorrow is Christmas Eve.
How the holy balls did that happen? I swear this month has gone by so fast. With this being Charlie's first Christmas, I want to soak up every moment. I literally put her in front of the tree and took 826 photos of her because I want to remember this time forever.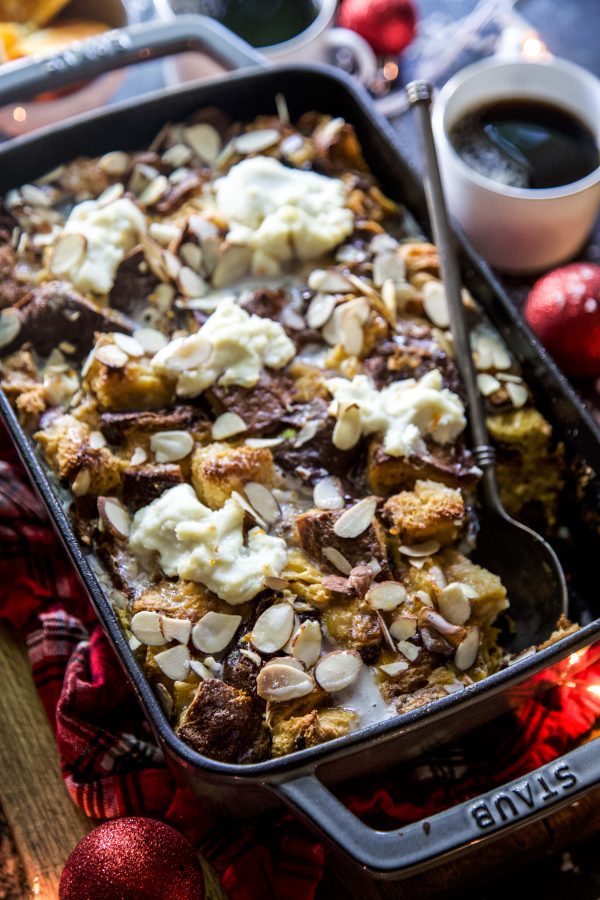 Dear God. I am going to be THAT mom. Maybe I should have asked for more cloud storage on my phone for Christmas? Or maybe Apple should come out with a "mom phone" kind like "mom jeans?"
Anyway, today is going to be a busy day for me. I have lunch with my best G-Phi gaggle, I have to prep lasagna for Christmas dinner, finish wrapping presents and help my mom decorate cookies. Phew. So much for holiday break!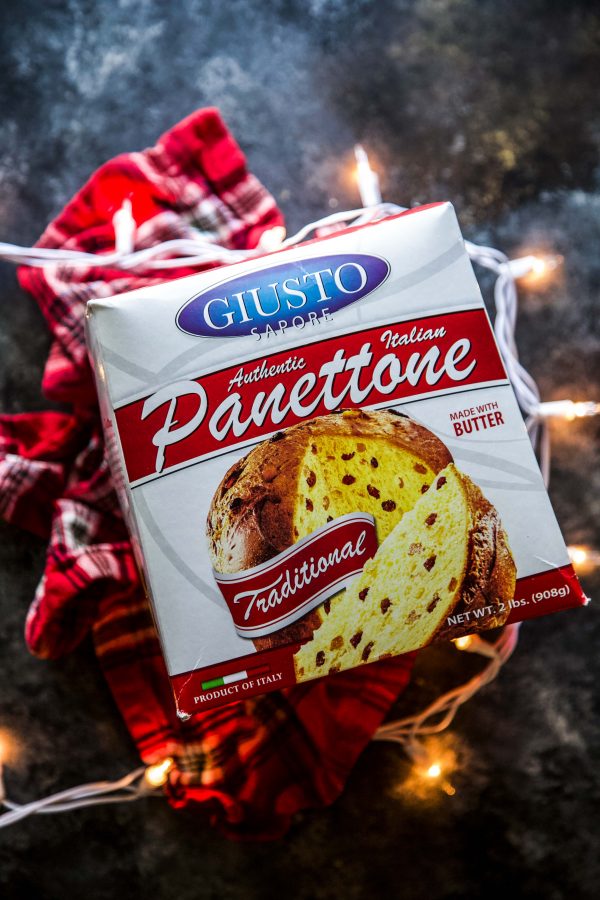 Even though there's a lot going on, I have to tell y'all about this gorgeous Citrus & Toasted Almond Panettone Strata. Have you ever tried a panettone? If you haven't go order one on Amazon. It's an Italian sweet bread that is basically the best thing ever.
You can eat it by the slice, but it's super good when used to make a strata. The panettone makes the strata so fluffy, buttery and acts like a sponge with whatever ingredients you add. Definitely add this Citrus & Toasted Almond Panettone Strata to your must-make holiday list. This would be a dream to devour on New Years Day.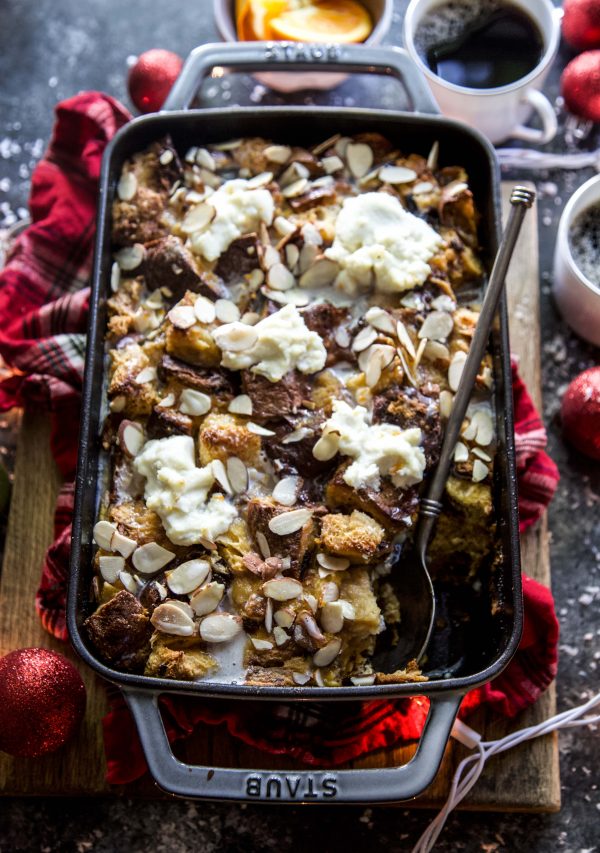 Quick PSA: I am taking the rest of the week off to enjoy being with family and friends. I will be back next week with a delicious appetizer for New Years Eve so stay tuned. Until then, I hope you have a wonderful Christmas!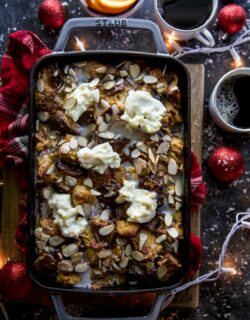 Citrus & Toasted Almond Panettone Strata
Ingredients:
10 large eggs
3 cups whole milk
2 tsp orange zest
3/4 tsp almond extract
2 lbs one-inch cubed panettone (or one loaf)
1 cup whole milk ricotta
1/3 cup toasted sliced almonds
3 tbsp whipping cream
1/3 cup granulated sugar
Directions:
Spray a 3-qt baking dish with non-stick cooking spray.
In a large mixing bowl, whisk together the eggs, milk, orange zest, and almond extract. Add the panettone cubes and toss to combine.
Transfer the panettone mixture to the prepared baking dish. Spoon the ricotta over the top of the strata. I just did small dollops evenly dispersed.
Cover the strata and place in the refrigerate overnight.
Preheat your oven to 350 degrees. Remove strata from the fridge. Sprinkle the top with toasted almonds, brush the cream on top and sprinkle with granulated sugar. Bake for about 1 hour or until set.
All images and text ©