foodie fridays: bacon, apple, and fennel naan stuffing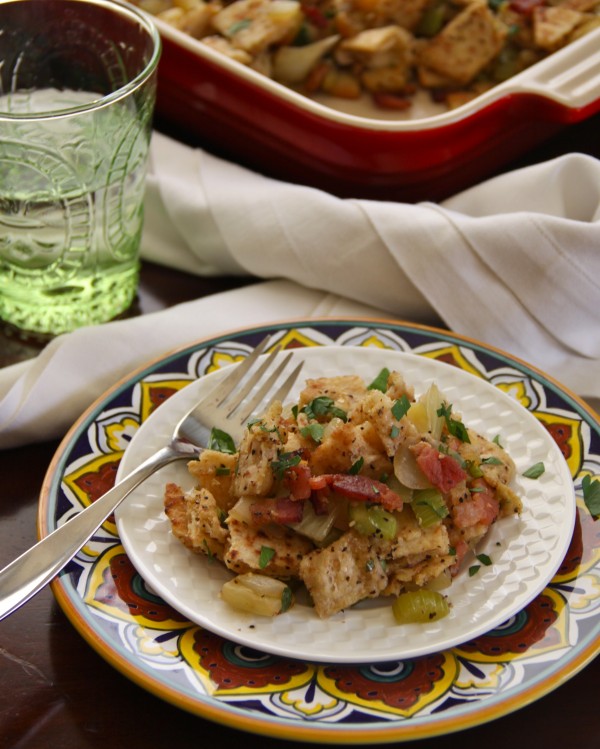 And so it begins.
The holiday food frenzy, that is.
Once we bid adieu to Halloween and less daylight (tear. . .), that's my cue to stock the pantry and prepare the kitchen for holiday madness. I don't know about you, but from November to December, I pump food out of my kitchen like it's a Henry Ford assembly line. Between cooking for friends' Thanksgiving dinners, work parties, and baking Christmas cookies, my counter tops are pretty much covered in flour and bacon grease – and I luuuv it.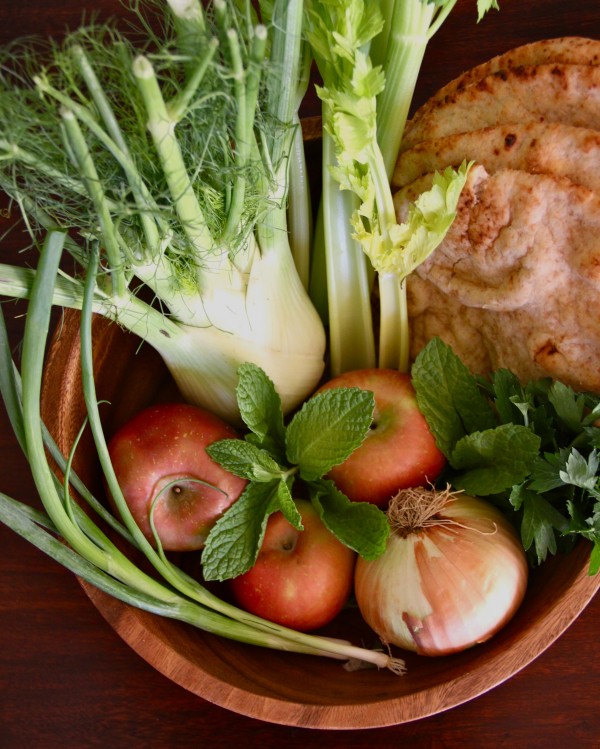 So, to kick off the holiday season, I wanted to share a recipe with y'all that's flavorful, fun, and super easy to make. What's Thanksgiving without a stuffing? It's like making a peanut butter and jelly sandwich without the jelly. It's like watching college football without a big pot of chili and cold tasty beer. It's like making cupcakes without the frosting. You have to have stuffing with Thanksgiving dinner.
You'll recognize a few usual suspects in this stuffing dish – bacon (yes!), celery, apple, and onion. But I've invited two new ingredients to the stuffing party: fennel and Naan. Do wha? Trust me, friends. I was a little skeptical about the anise flavor of the fennel mixing with the other ingredients, but the apple gives the feisty bulb a touch of sweetness.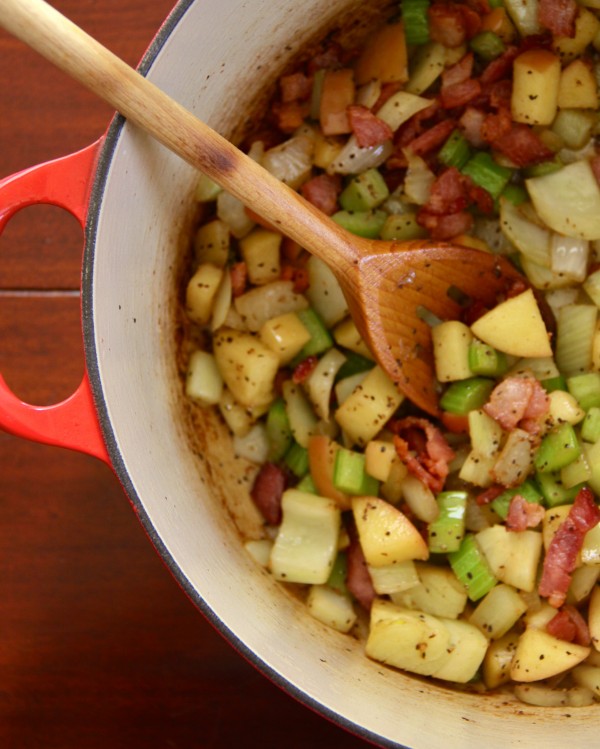 The biggest question you're probably wondering, why Naan? I also gave the ol' stink-eye to this idea. Seriously, too good for sourdough, huh? But let me tell you, it works. Naan may look and taste different, but it parties hardy and soaks up all the delicious goodness.
Alright, back to the assembly line. Does anyone have a large container of lard and a socket wrench handy?
I kid.
Maybe…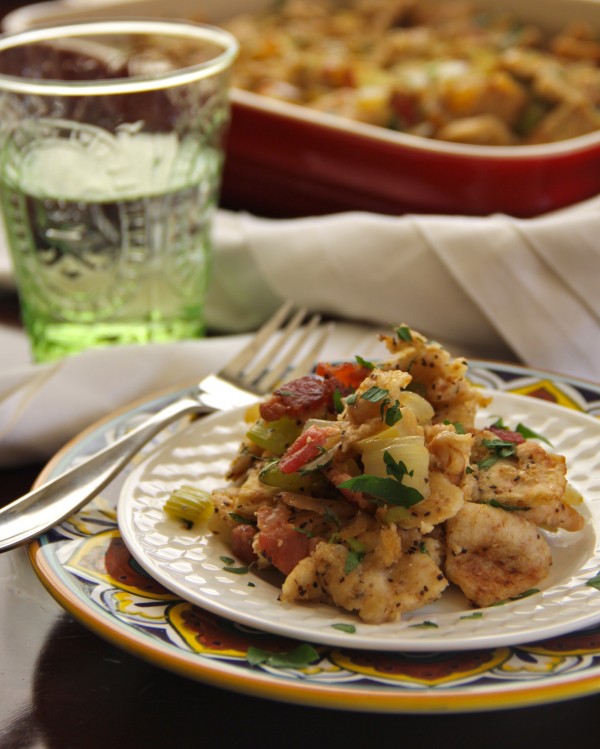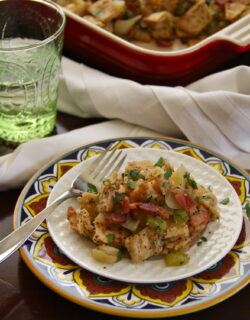 Bacon, Apple, and Fennel Naan Stuffing
Ingredients:
1 package whole wheat naan, torn into small pieces
4 slices bacon, chopped
2 scallions, chopped
1 fennel bulb, chopped
3 celery stalks, chopped
1 onion, chopped
1 apple, chopped
1/4 cup parsley, chopped + more for garnish
1/2 cup chicken stock
Salt and pepper
Directions:
Preheat oven to 350 degrees.
In a large skillet over medium-high heat, brown bacon until crisp. With a slotted spoon, scoop out bacon and place on a plate covered with a paper towel. In the same skillet place, fennel, celery, onion, apple, and saute in bacon renderings until translucent. Add the bacon back in and cook for about a minute. In a large bowl, toss together naan and scallions. Add the bacon mixture along with parsley and chicken stock. Toss to combine.
Place mixture in a 9x13 baking dish. Make sure to spray the bottom with non-stick cooking spray. Cover dish with foil and bake for 20 minutes. Remove foil and bake for another 10 minutes or until golden brown. Garnish with a little extra parsley before serving.
adapted from Bon Appetit and Rachel Ray Magazine
All images and text ©