Broccoli Caesar Salad
Broccoli Caesar Salad is a fun twist on a traditional Caesar salad. Made with fresh broccoli, cabbage, and tossed with a quick Caesar dressing!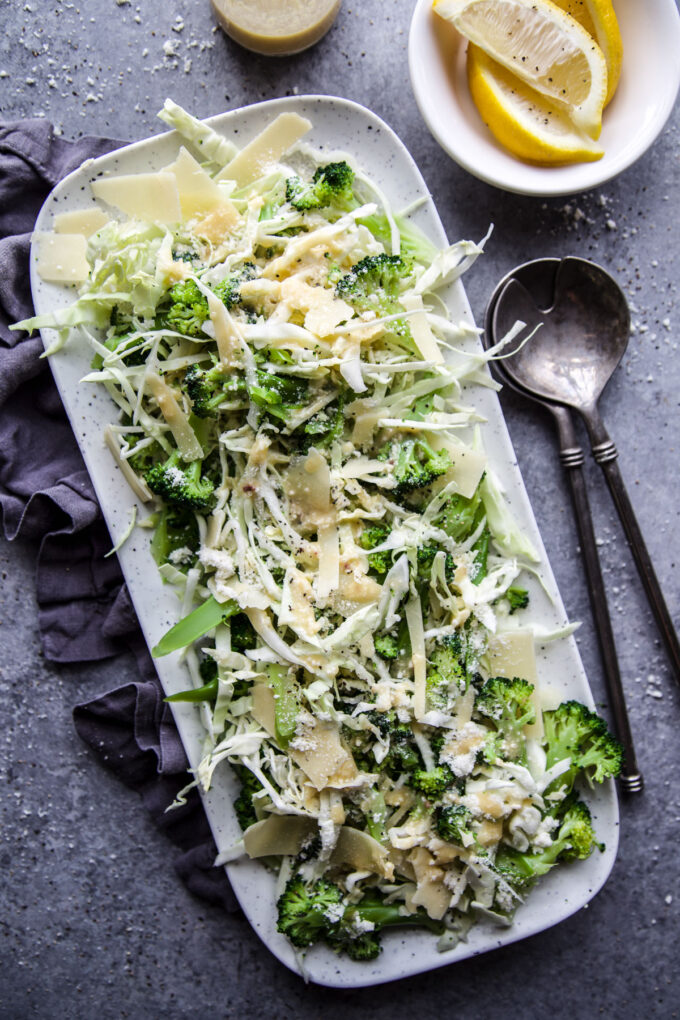 Salads don't have to be boring.
In fact, I think the best way to enjoy a salad is by taking a traditional salad and giving it a twist. Also, if you want to add more veggies that you don't normally eat (ehem, broccoli), I would suggest trying this Broccoli Caesar Salad!
I know, I know, broccoli has a bad rap. However, this cruciferous veggie is so freaking good for you that I feel we need to try to bring it into the circle of vegetable love. I think this Broccoli Caesar Salad will do the trick.
Want to see what all the fuss is about? Let's get cooking!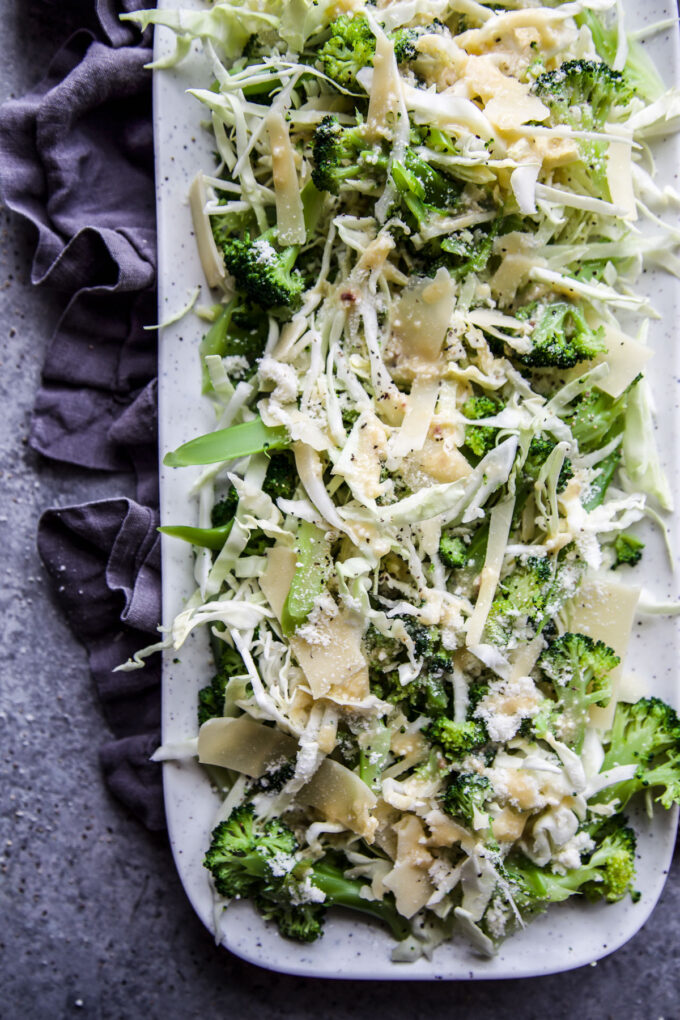 What's in this Broccoli Caesar Salad?
When it comes to a salad, I want something that is flavorful and simple to put together. Generally, I eat a traditional Caesar salad once a week. However, with a new year comes new opportunities which is why I love this Broccoli Caesar Salad.
For this salad you will need:
Broccoli heads
Napa cabbage
Anchovies
Egg yolk
Lemon juice
Dijon mustard
Parmesan cheese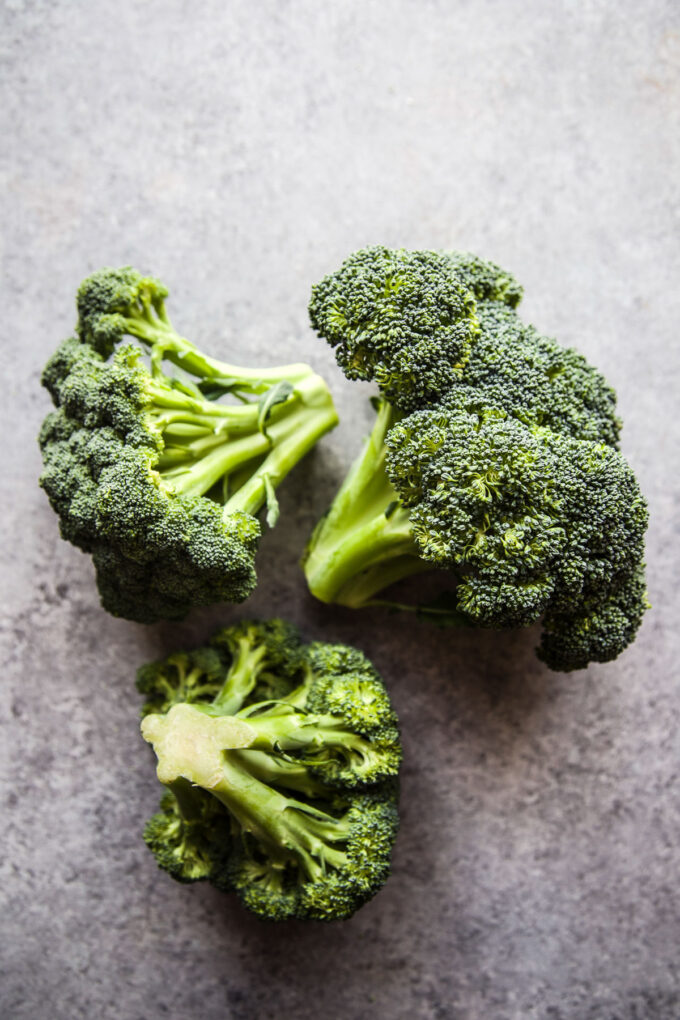 Tips for Making this Broccoli Caesar Salad:
Blanching. Raw broccoli can taste pretty bitter for some folks which is why I recommend blanching the broccoli. It's a simple step where you boil the broccoli for a few minutes and then place it in a bowl with ice and water. This process takes out the bitterness, but keeps the flavor and color of the broccoli.

Anchovies. I know these get a bad wrap, but I assure you that anchovies don't taste fishy. In fact, they are used primarily as a flavor enhancer like salt.

Egg yolk. If a raw egg yolk isn't your jam you can certainly substitute it with about 2 tbsp of regular mayonnaise.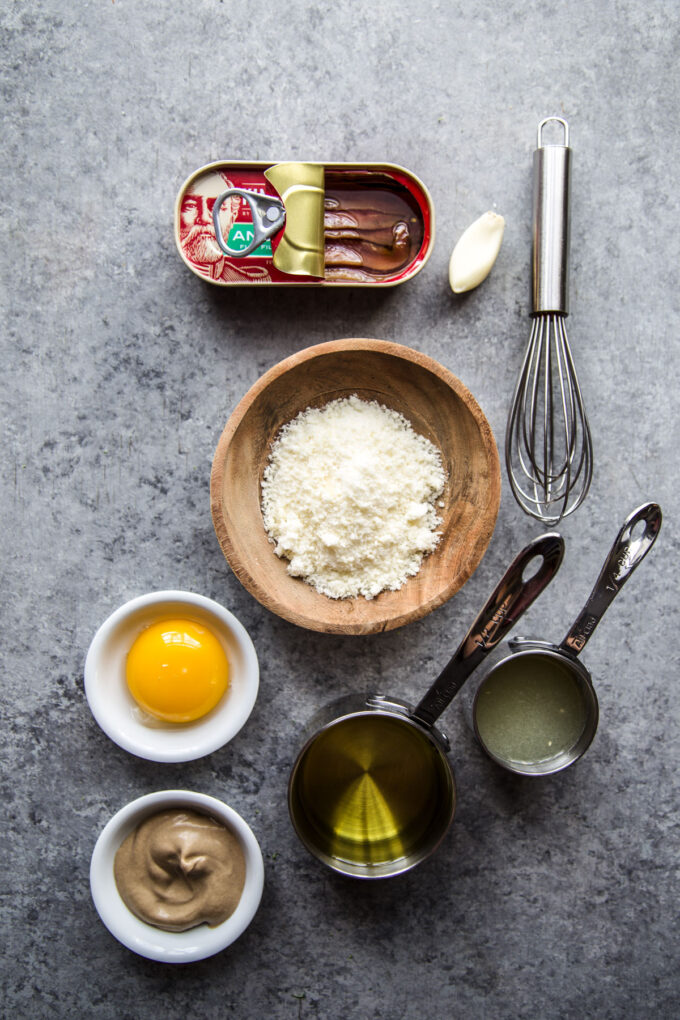 Frequently Asked Questions:
Do you have to use broccoli?
Not at all. If you want to try cauliflower or just simply use regular lettuce that works too!
Can you make the caesar dressing vegan?
You bet. Omit the egg and use vegan mayonnaise instead.
How long will the dressing last in the fridge?
The homemade Caesar dressing can last up to 4 or 5 days in a well sealed container.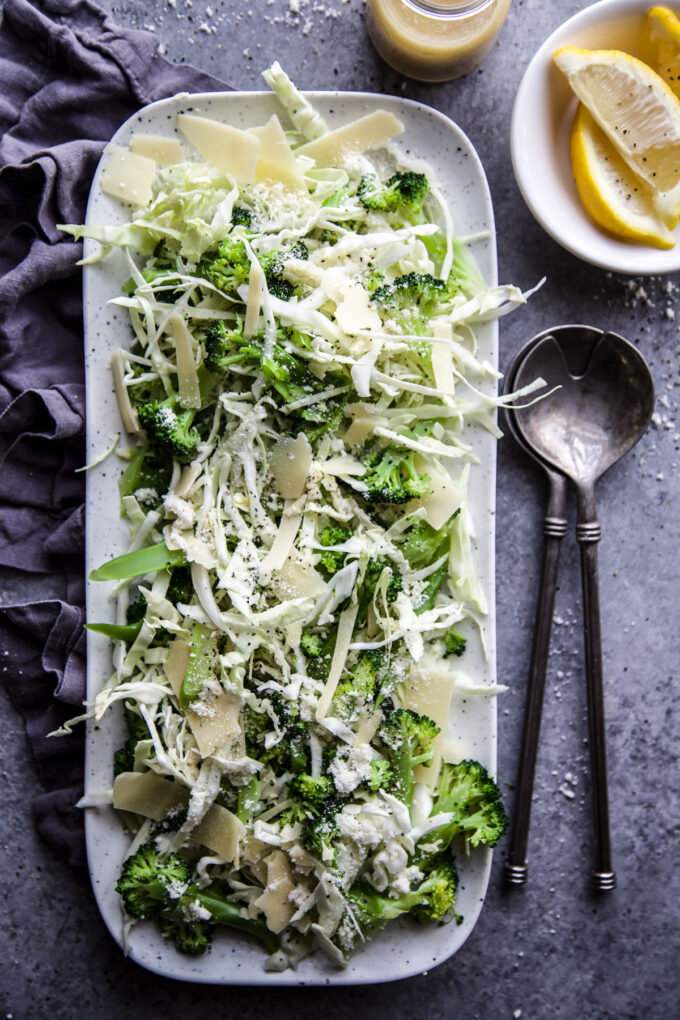 More Delicious Salad Recipes to Enjoy: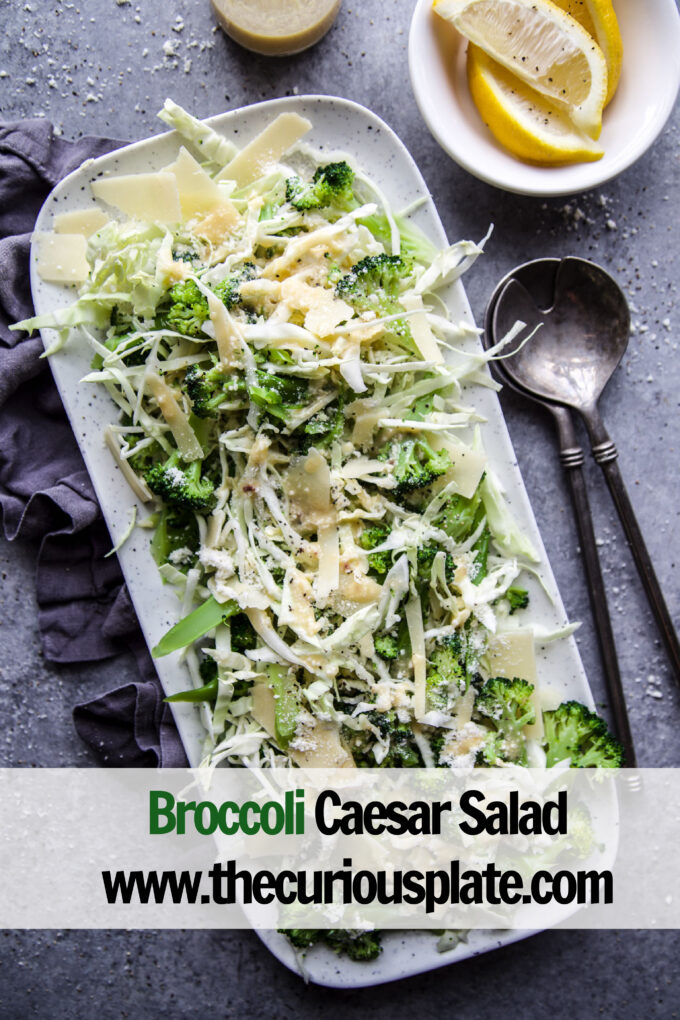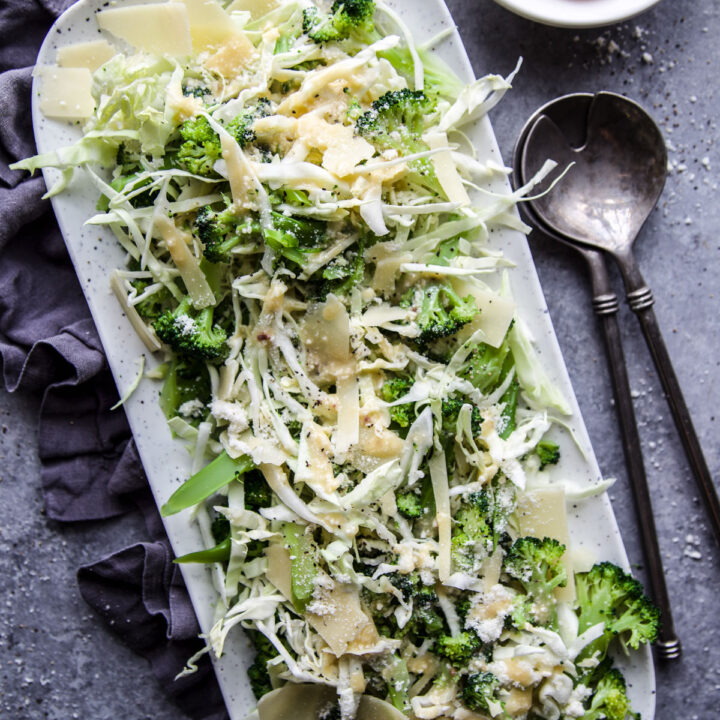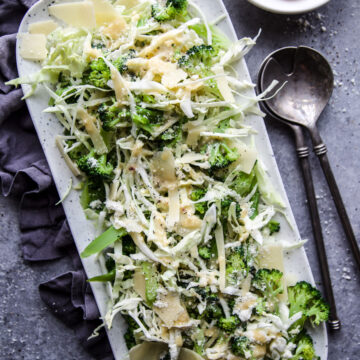 Broccoli Caesar Dressing
Broccoli Caesar Salad is a fun twist on a traditional Caesar salad. Made with fresh broccoli, cabbage, and tossed with a quick Caesar dressing!
Ingredients
2 whole Anchovy fillets, finely chopped
1 whole Garlic clove, minced
1/4 cup Fresh lemon juice
2 tsp Dijon mustard
1 large Egg yolk
1/2 cup Olive oil
3 tbsp Freshly grated Parmesan cheese + more for garnish
2 medium Heads of broccoli, cut into long florets
1/4 cup Napa cabbage, finely sliced
Kosher salt + pepper to taste
Instructions
Fill a large stock pot with water. Bring to a boil. Add the broccoli florets and cook for about 2 minutes. Remove the broccoli from the pot and place them into a large bowl filled with ice and water. Set aside.

In a large mixing bowl, combine the anchovies, garlic, lemon juice, and a big pinch of kosher salt. Next, add in the egg yolk and whisk until smooth. Gradually add in olive oil until the mixture is emulsified. Whisk in the Parmesan cheese.

Remove the broccoli florets from the water and place on a cutting board. Run your knife gently through the broccoli giving it a rough cut. Add the broccoli to a salad bowl along with the cabbage. Toss with the dressing, garnish with more Parmesan if desired, season with salt + pepper, and serve!
Did you make this recipe?
Please leave a comment below and share a photo on Instagram with the hashtag #thecuriousplate!