cajun blt hot dogs with spicy slaw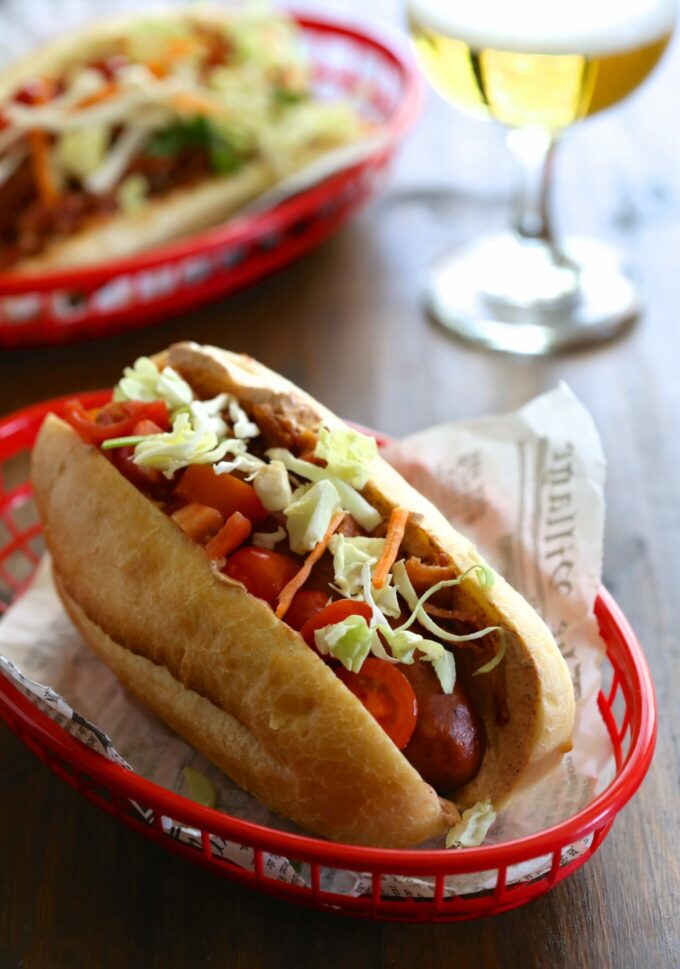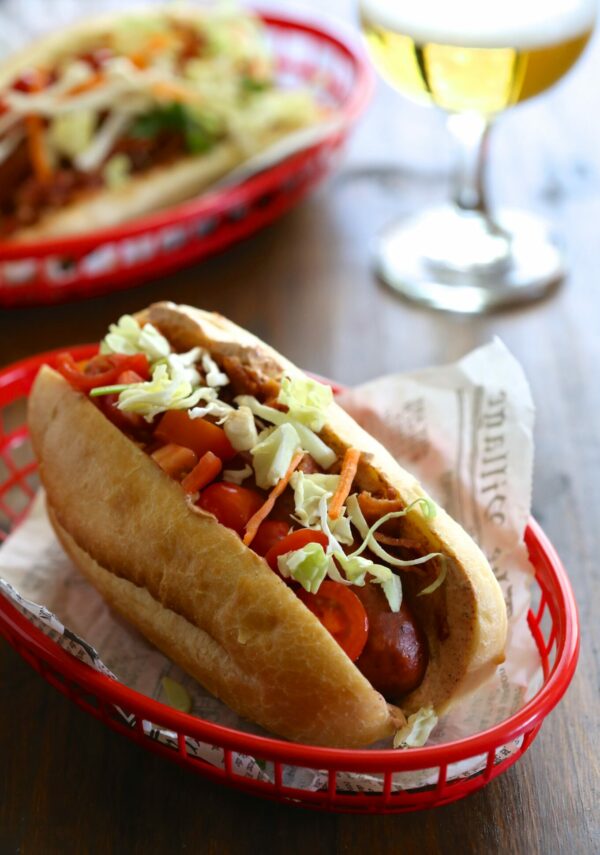 I never met a wiener I didn't like.
Wait. That's not right.
Jeez….where are my manners this morning? Apparently my inner monologue needs a few more cups of coffee. What I meant to say was, "I've never met a hot dog I didn't like?" Better? No? Dang it!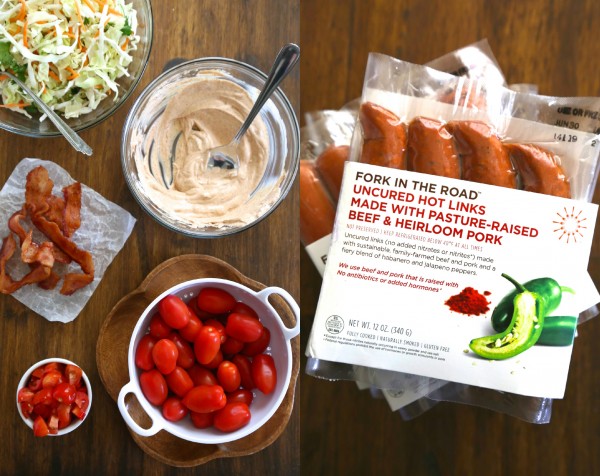 Anyways, with summer in full swing and the Fourth of July right around the corner, what better way to celebrate the long, hot filled days than by grilling up some hot dogs? I don't know about you, but I would rather pound dirt than stand over a hot stove on a summer evening. Grilling makes my life easy peasy so I can get back to watching Orange Is the New Black. Seriously, isn't Crazy Eyes the best character, ever?
Now, when choosing a hot dog, yes, you can go with the old fashioned Oscar Mayer. But! It's 2014 and I like a little sass in my dawg. When I ventured to The Big Traveling Potluck this past April, I sampled some hot dogs from the folks over at Fork in the Road. If you haven't heard of them, let me tell you, they will be ruling the hot dog, deli meat, and rib world.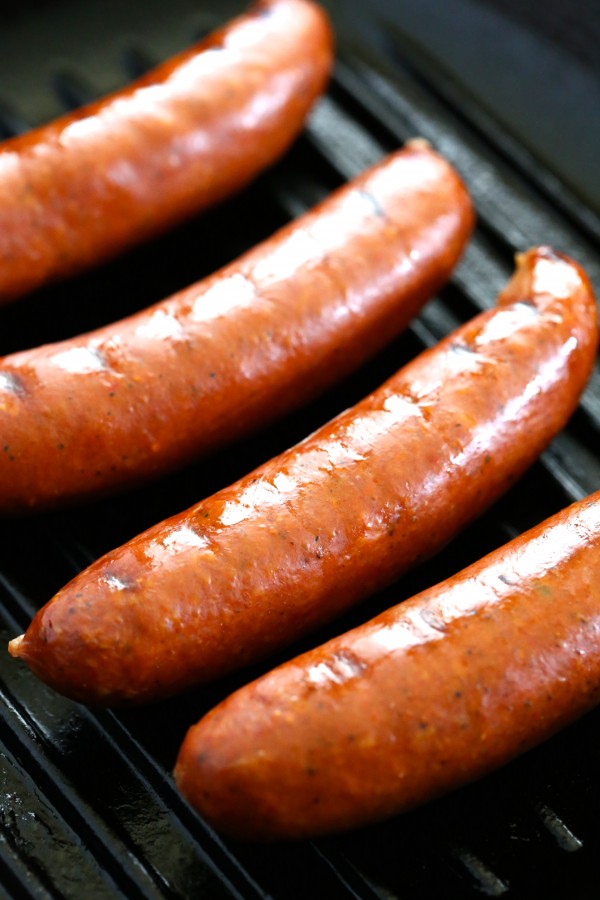 All of their meats are crafted by chefs who season and blend each piece of pork, rib, or hot dog into a smorgasbord of flavor. My favorite part about Fork in the Road (besides their superior meats) is the fact that their products come from family farms. Being raised in Kansas, I have a great amount of respect for folks that feed our community. Well, the Fork in the Road peeps do exactly that with their sustainable farming methods. #pitch-fork-high-five
So to highlight all the fantastic hot dog flavors, I thought a Cajun kick would be fun. Top the hot dogs with some bacon, spicy slaw, and tomatoes…they are finger-lickining good. And the best part, these hot dogs are precooked so all you have to do is heat them through on the grill. It's so easy a pig could do it. Wait.
Happy grilling!
***I was not compensated for this post. I just really, really, really like Fork in the Road!***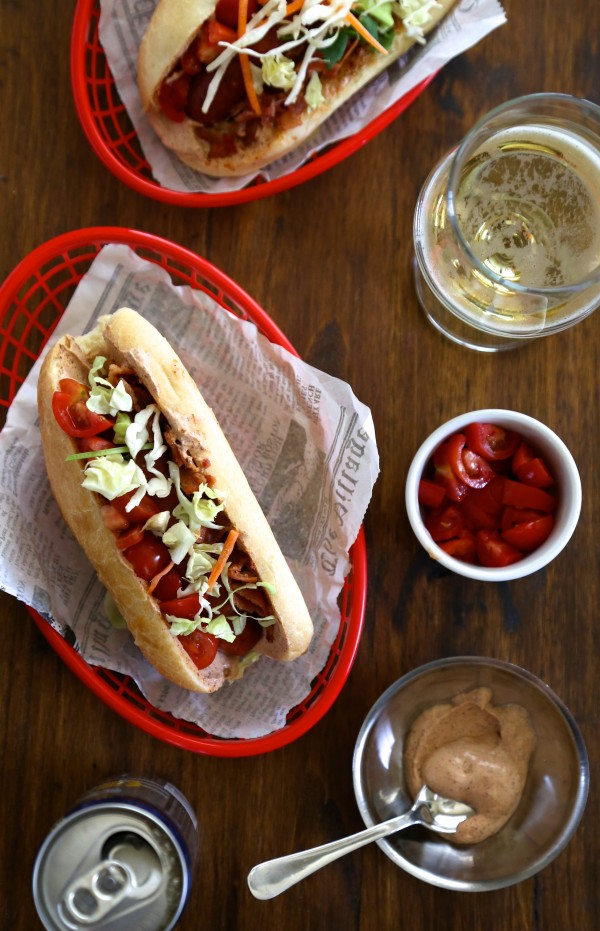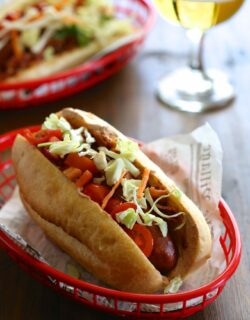 Cajun BLT Dogs with Spicy Slaw
Ingredients:
for the blt hot dogs:
4 spicy Fork In the Road hot dogs
4 hot dog buns
1 cup grape tomatoes, halved
4 pieces bacon, cooked, chopped
1 1/2 cups packaged slaw
1/4 teaspoon red pepper flakes
salt and pepper to taste
for the cajun remoulade:
1/2 cup mayonnaise
2 tablespoons chili sauce or powder
2 teaspoons spicy mustard
1 teaspoon Worcestershire sauce
1 scallion, sliced
pinch of cayenne pepper
2 teaspoons lemon juice
1 teaspoon horseradish
1 garlic glove, minced
pinch of paprika
1/2 teaspoon Cajun seasoning
salt and pepper to taste
Directions:
for the blt dogs:
Preheat your grill to medium-high heat. Place hot dogs on the grill. Grill them for about 5 minutes on each side or until heated through. Meanwhile, toss slaw, red pepper flakes, and salt and pepper in a bowl.
To serve, place a dollop of the Cajun remoulade on the bottom of the hot dog bun. Spread to cover the entire bottom. Place hot dog in bun and top with grape tomatoes, bacon, and spicy slaw.
for the cajun remoulade:
Mix all ingredients in a bowl. Refrigerate for at least 30 minutes to let the flavors combine.
cajun remoulade sauce from Bon Appetit
All images and text ©