pork belly pimento cheese burger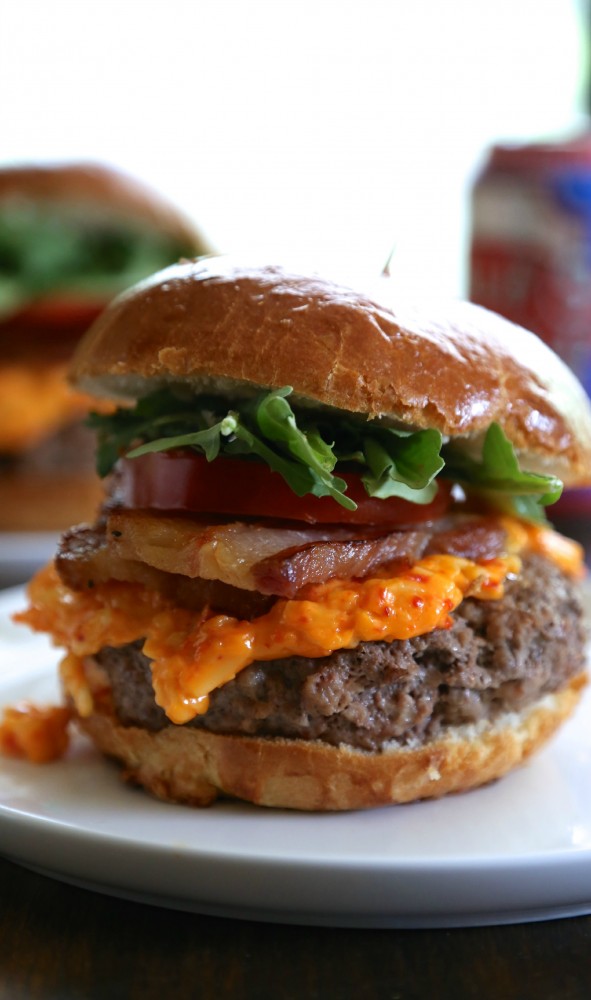 Naughtiness is essential.
Essential to the inner kid in all of us.
I mean, where would we be without tee-peeing, water balloon fights, or Roman candle wars? Or chocolate mint Oreo blizzards and ball park nachos? I'll tell you, it would be a world full of those snake fireworks and carrot sticks. No, thank you.
So, every once in a while, we need to dive into pure naughtiness. Throw caution to the wind, add extra butter, request one more scoop, and take that extra bite. Oh, and by bite, I mean into this decadent pork belly burger with pimento cheese, of course. Because guess what? It's #burgerweek!!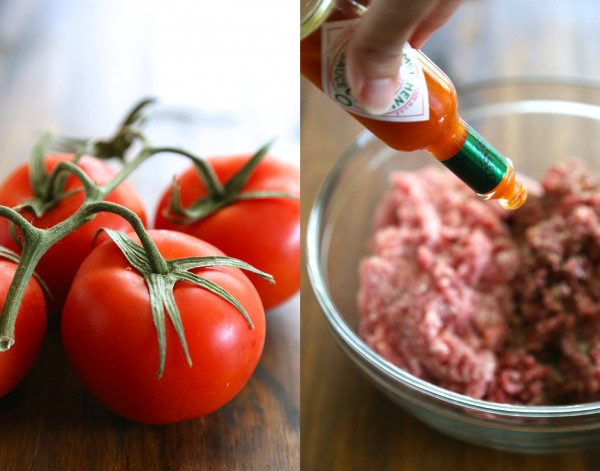 My good buds over at NoshOn.It are hosting a week long burger mania. That's right. A few dozen other food bloggers and I are leaving no burger un-flipped, grilled, sauced or rubbed. I like to think of burger week as a warm up to the best summer holiday, Fourth of July. So fire up those grills and get ready to celebrate 'MERICA all week long.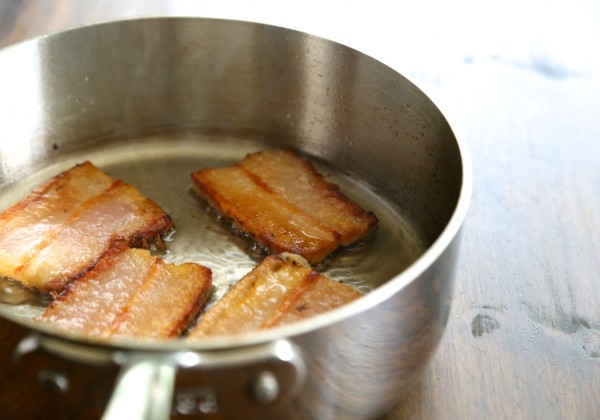 Now seeing how we have been talking all things naughty, the burger I've created for y'all today is nothing short of amazeballs. Slow cooked pork belly, fried, and then layered on top of a burger mixture of ground beef and veal. Then smothered with pimento cheese all nestled between two buttery brioche buns.
Who wants a bite?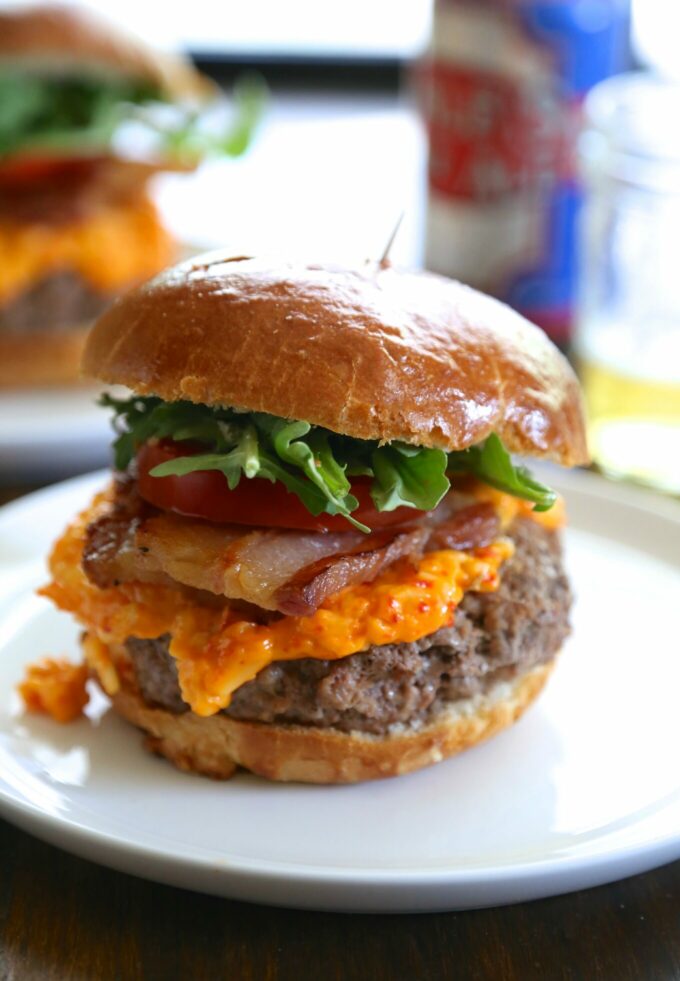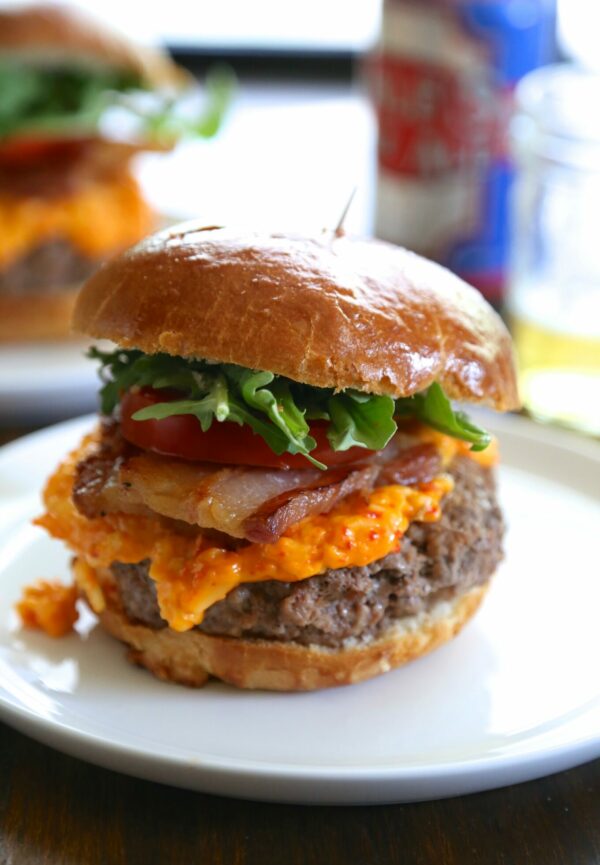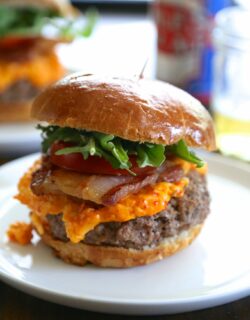 Pork Belly Pimento Cheese Burger
Ingredients:
for the burgers:
1 pound ground beef
1 pound ground veal
1 teaspoon Tabasco
1 cup pimento cheese
4 brioche buns
4 tomato slices
1 cup arugula
salt and pepper to taste
for the pork belly:
1 pound fresh, skin-on pork belly
3 cups chicken stock
Kosher salt
freshly ground pepper
Directions:
for the burgers:
Preheat heat oven to 400 degrees.
In a large bowl, combine ground beef, veal, Tabasco, and s&p. Form into four large patties. Place hamburger patties on a medium-high preheated grill. Grill burgers for about 5 minutes on each side. Remove from heat and let them rest for a minute or two.
Place the bottoms of four buns on the baking sheet. Put a burger patty on each bun and top the burger with a 1/4 cup of the pimento cheese. Place the burgers in the oven for about 5 minutes or until the cheese has melted. Remove from oven and start layering your burger with tomato, sliced pork belly, arugula and bun. Serve immediately and wash down with a big ol' beer!
for the pork belly:
Preheat oven to 275°. Season pork belly generously with salt and pepper. Place in a large ovenproof saucepan. Pour stock over. Bring to a simmer over low heat, cover tightly, and braise in oven until tender (check after 2 hours and 45 minutes). Remove from oven and let it cool. Wrap pork belly in plastic wrap. Put pork belly into a 9-inch dish. Place another 9-inch dish on top and put a 15 oz can on top to keep it weighed down. Place in fridge over night.
Unwrap pork belly and bring back to room temperature. Cut meat into 1 inch slices. Heat 1 tablespoon oil in a large cast-iron skillet over medium-high heat. Add pork and saute until browned on all sides, about 4 minutes. Remove from skillet to cool slightly.
pork belly preparation adapted from Bon Appetit
All images and text ©
GIVEAWAY!!
Do you want to become a grilling pro? Need a new grill? #BurgerWeek sponsor Broil King wants to give you the chance to win one of their high-performance gas grills (a $549+tax value) plus burger grilling accessories to use in your home!
Made entirely in North America, every one of Broil King's gas grills are made of the highest-quality materials and engineering that allows you the versatility to sear the perfect burger or steak, roast chicken or vegetables, or even bake a dessert right on the grill. Their grills are already in more Canadian backyards than any other brand and they're available in the U.S. at Lowe's and many other retailers! To enter to win your own Broil King grill, just click on the banner below.

Make sure and check out a few grill masters who posted today:
Erin @ Naturally Ella: Veg Patty Melt
Dianna @ The Kitchen Prep: Asian Slaw Turkey Burgers
Meagan @ A Zesty Bite: Chili cheese tot burger
Kelley @ Mountain Mama Cooks: Turkey Rueben Patty Melt
Meg @ Beard and Bonnet: GF Vegetarian Tex-Mex Black Bean Burger
Gerry @ Foodness Gracious: Peanut Butter Burger with Savory Strawberry Relish
Vijay @ NoshOn.It: Al Pastor Burger
And for the complete droolicious list of all the recipes posted during #BurgerWeek, check out this landing page on NoshOn.It!