Cantaloupe with Bacon-Cashew Crumble
Cantaloupe with Bacon-Cashew Crumble is an easy, tasty appetizer or side dish that is bursting with flavor!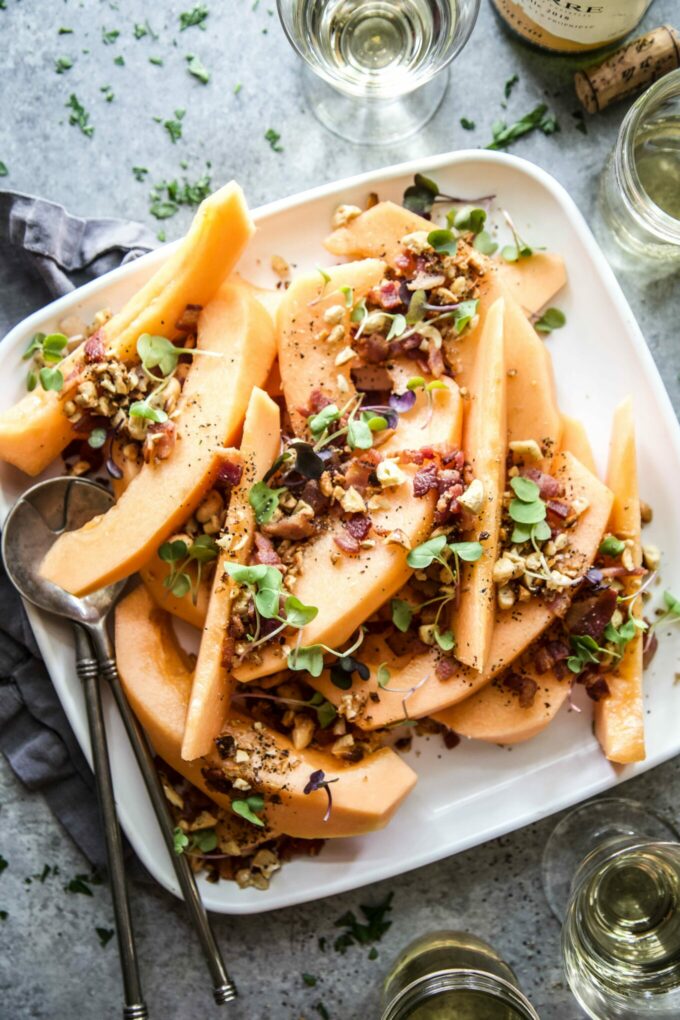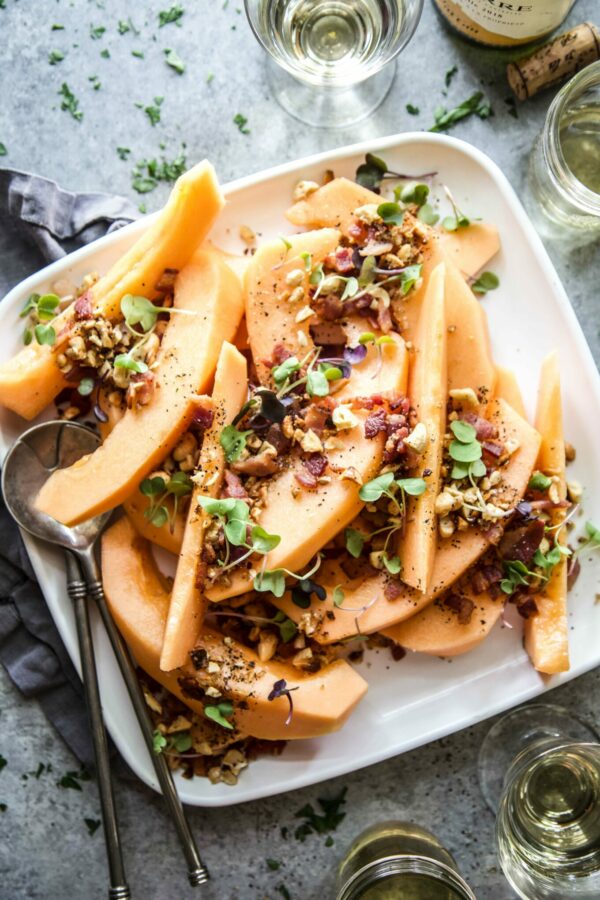 Simple summer side.
Say that three times fast!
Truth: when it's hot outside the last thing that I want to do is cook a whole spread. Sometimes all you need is a glass of wine and a plate of this Cantaloupe with Bacon-Cashew Crumble. Think juicy cantaloupe topped with a sweet and savory crumble that will not only satisfy those happy hour cravings, but takes little to no effort to prepare.
Sounds too good to be true?
Well, let's take a HOT second and make this Cantaloupe with Bacon-Cashew Crumble!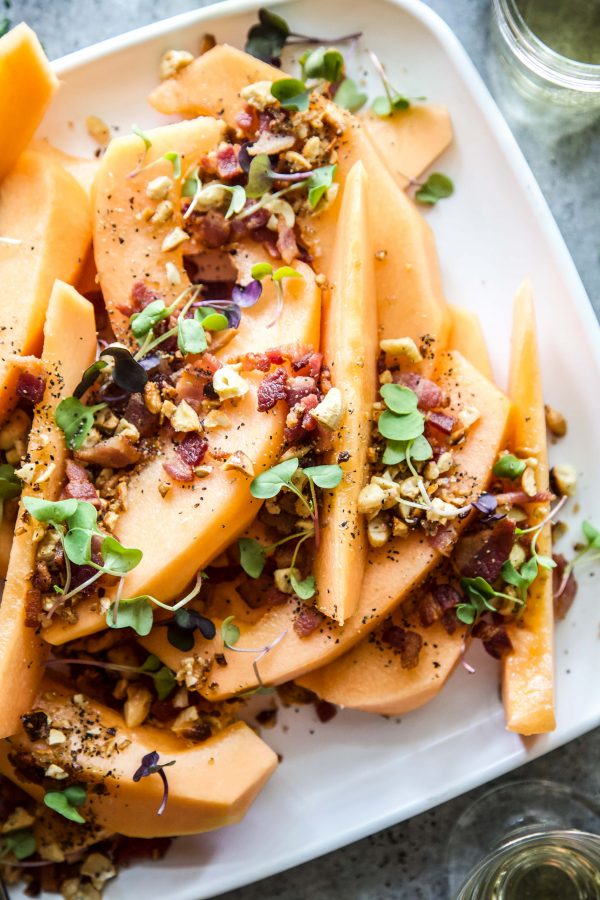 What's in this Cantaloupe with Bacon-Cashew Crumble?
Simple summer side requires minimal ingredients. You want the cantaloupe flavors to reign supreme so for this recipe you will need:
Fresh cantaloupe
Bacon
Cashews
Garlic
Brown sugar
Kosher salt
Micro Greens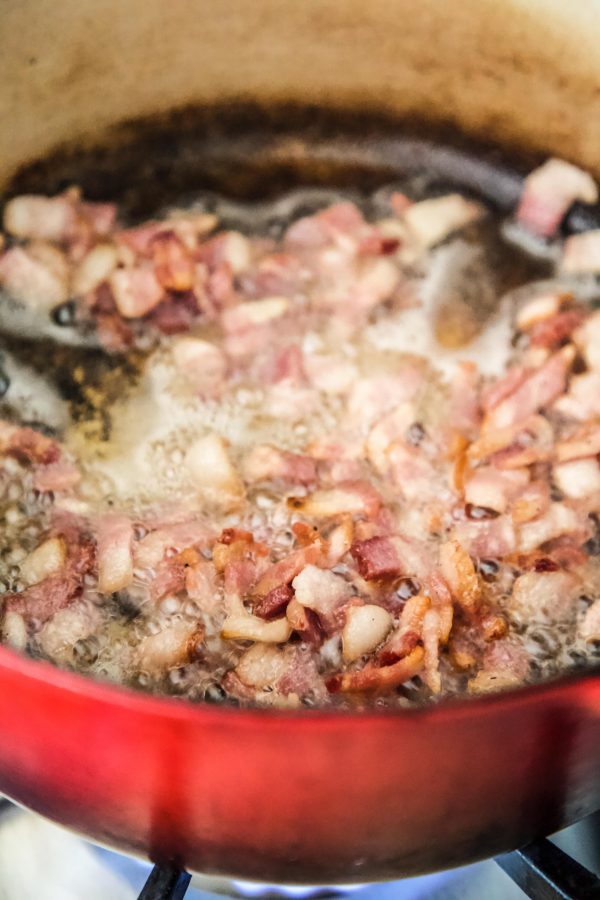 Tips for Making Cantaloupe with Bacon-Cashew Crumble:
1. Cantaloupe. When you are picking out a cantaloupe at the store you want it to be semi-soft when you press on the outer skin. Also, it should have a pleasant sweet smell when it's ripe and ready to cut.
2. How to Cut a Cantaloupe:
a. Start by cutting off both stem ends. This will help create a secure base for peeling. Once both ends are cut, turn the cantaloupe on one side. Take your knife and carefully use a downward cutting motion, to remove the skin. Keep rotating until all the skin has been removed.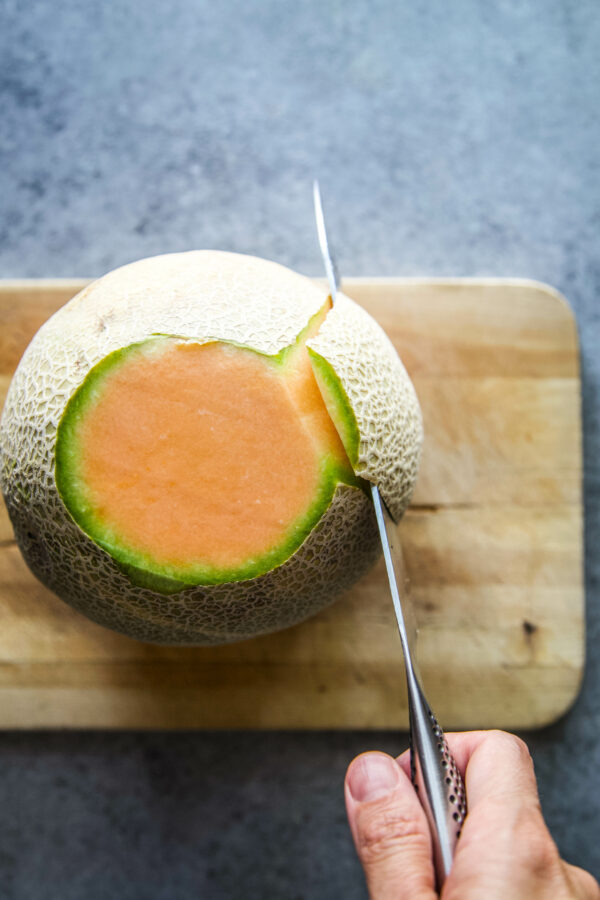 b. Next, cut the cantaloupe in half. Then using a spoon, scrape out the seeds and membranes.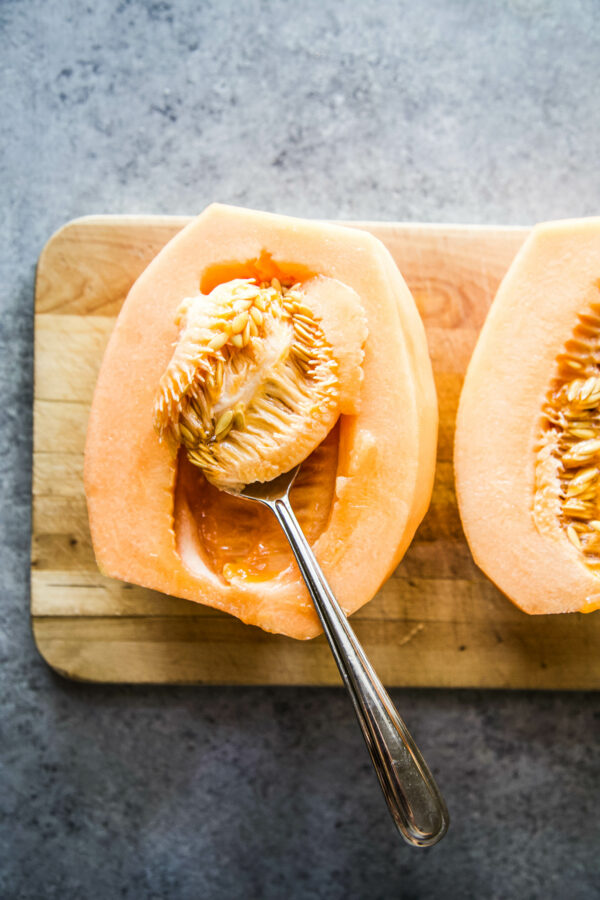 c. Once everything is removed, decide on how you want to slice it. For this recipe, you will want long slices.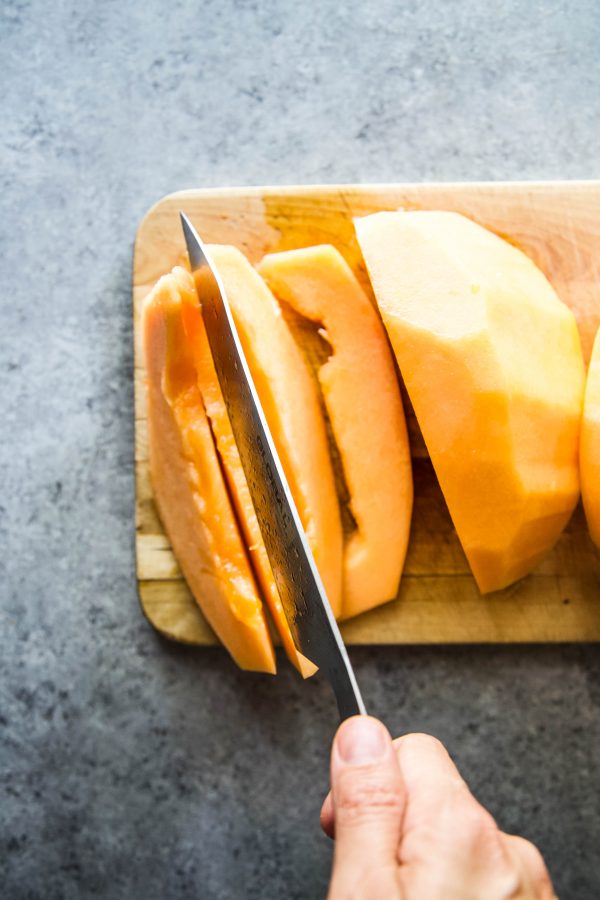 3. Cashews. If you don't like cashews any kind of nut will work. I would try using almond or pecan!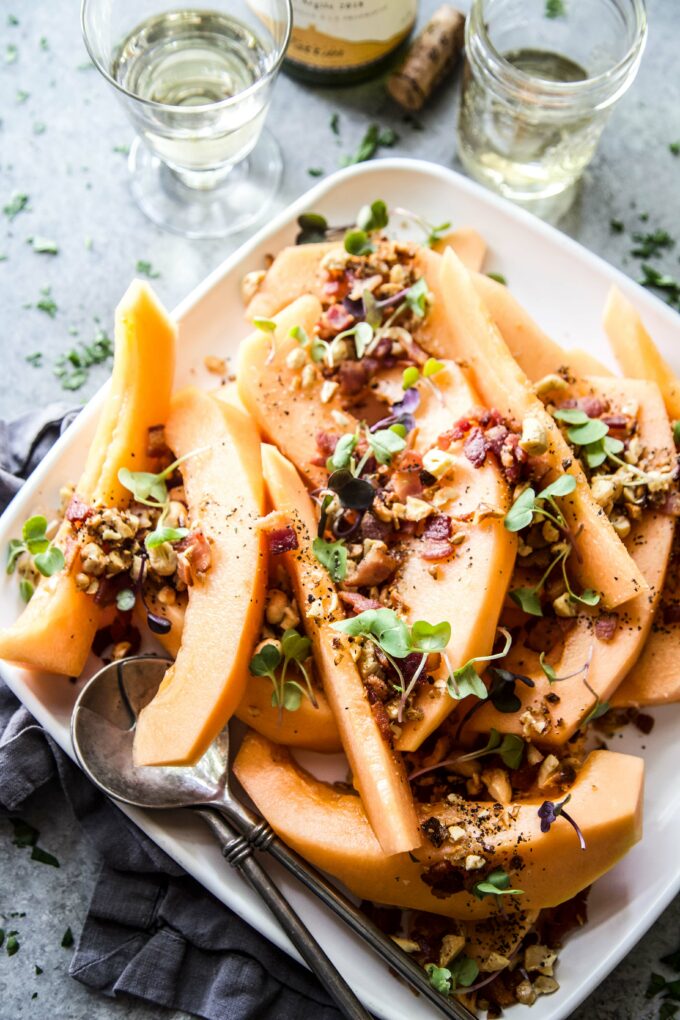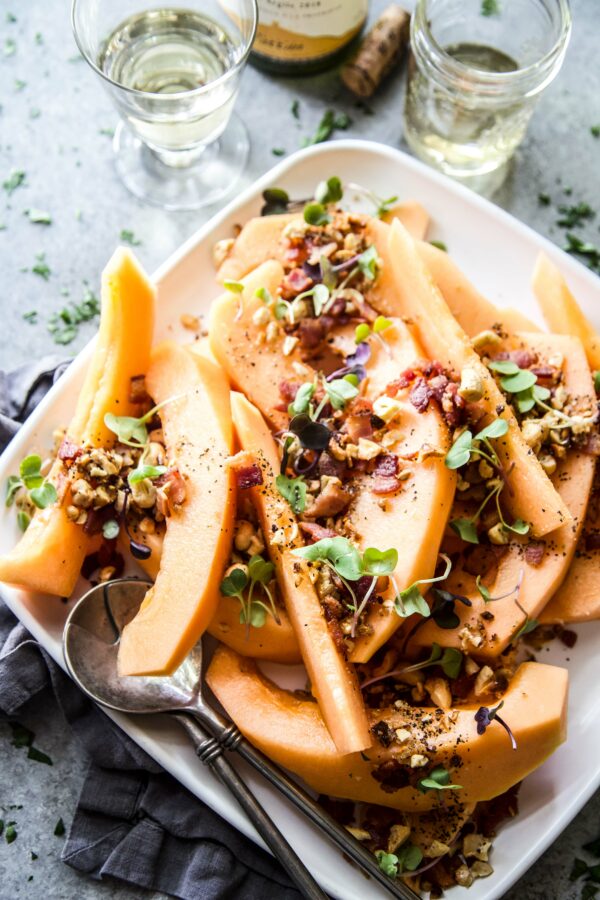 Can I make this dish vegetarian?
You bet! Simply replace the regular pork bacon with vegan bacon!
Not a big fan of cantaloupe?
You could try honeydew, watermelon or cucumbers as a replacement!
More Delicious Fruit Recipes to Enjoy: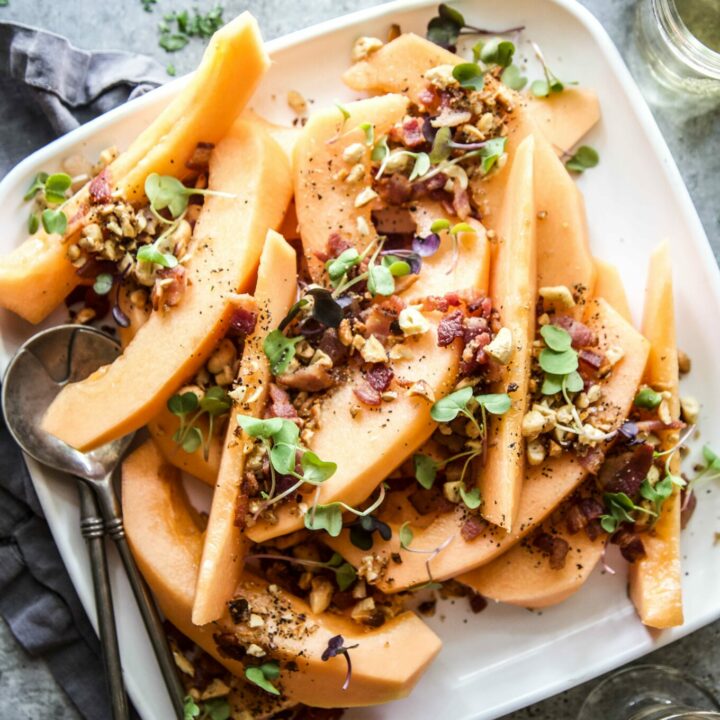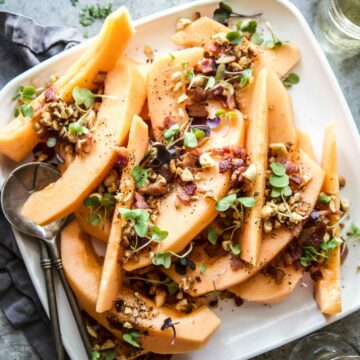 Cantaloupe with Bacon-Cashew Crumble
Ingredients
6 slices of bacon, sliced crosswise, 1/4-inch thick
3 garlic cloves, minced
1/2 cup finely chopped unsalted cashews
1 tbsp brown sugar
1/2 tsp kosher salt
1 2 lb cantaloupe, sliced
micro greens, for garnish
Instructions
In a large non-stick skillet preheated to medium heat add the bacon. Cook the bacon for about five minutes or until golden brown.

Use a slotted spoon to transfer bacon to a plate lined with a paper towel. Leave about 1 tbsp of bacon fat in the skillet and remove the rest.

In the same skillet add the garlic and cook for a minute. Next, stir in the cashews and cook until golden brown about 2 minutes.

To skillet add the reserved bacon, brown sugar, and kosher salt. Stir to combine.

Place the cantaloupe slices on the platter and garnish with crumble and micro greens!
Did you make this recipe?
Please leave a comment below and share a photo on Instagram with the hashtag #thecuriousplate!