Three Cheese Scalloped Zucchini
Three Cheese Scalloped Zucchini is an easy, cheesy side that's low-carb and a great way to use up fresh zucchini!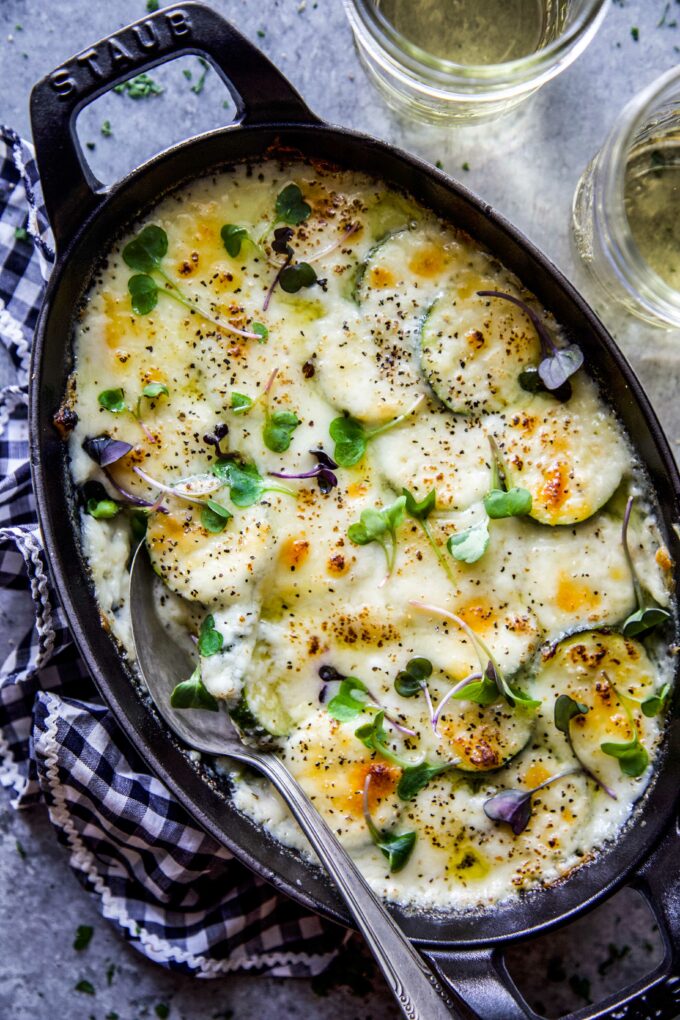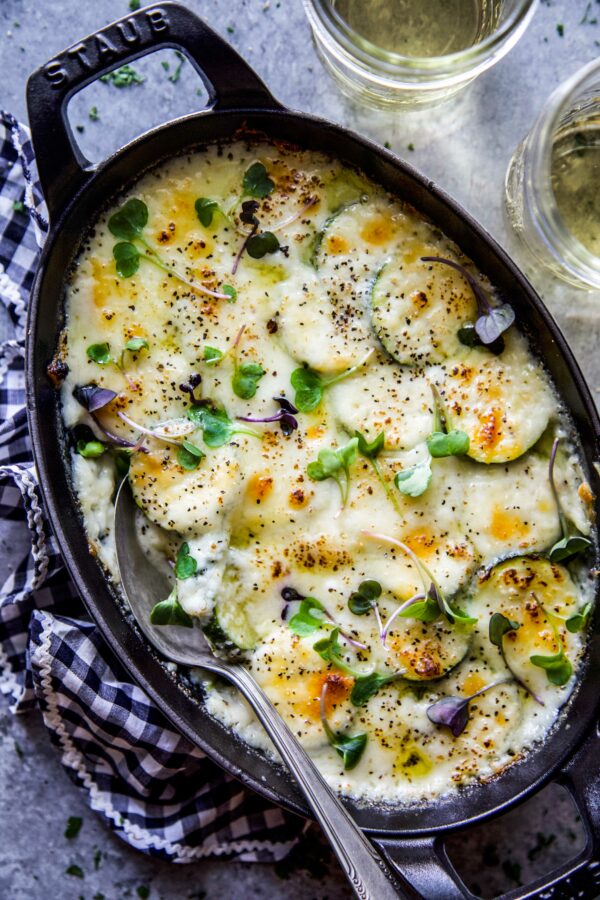 I'm always looking for ways to add more veggies into our dinner routine.
Zucchini is one of those great veggies that are packed with nutrients, but is so versatile when it comes to cooking. Have you tried my French Onion Zoodle Bake? It's one of the most popular recipes on CGM!
Also, check out my Tex-Mex Zucchini Lasagna and Thai Basil Beef Stuffed Zucchini. Both dishes are super flavorful and very easy to prepare!
Anyway, today I'm adding another veggie side dish to the zucchini index with this Three Cheese Scalloped Zucchini. Layered zucchini topped with a cheesy sauce and baked until golden brown. Bonus: it's low-carb too!
Alright, let's get cooking!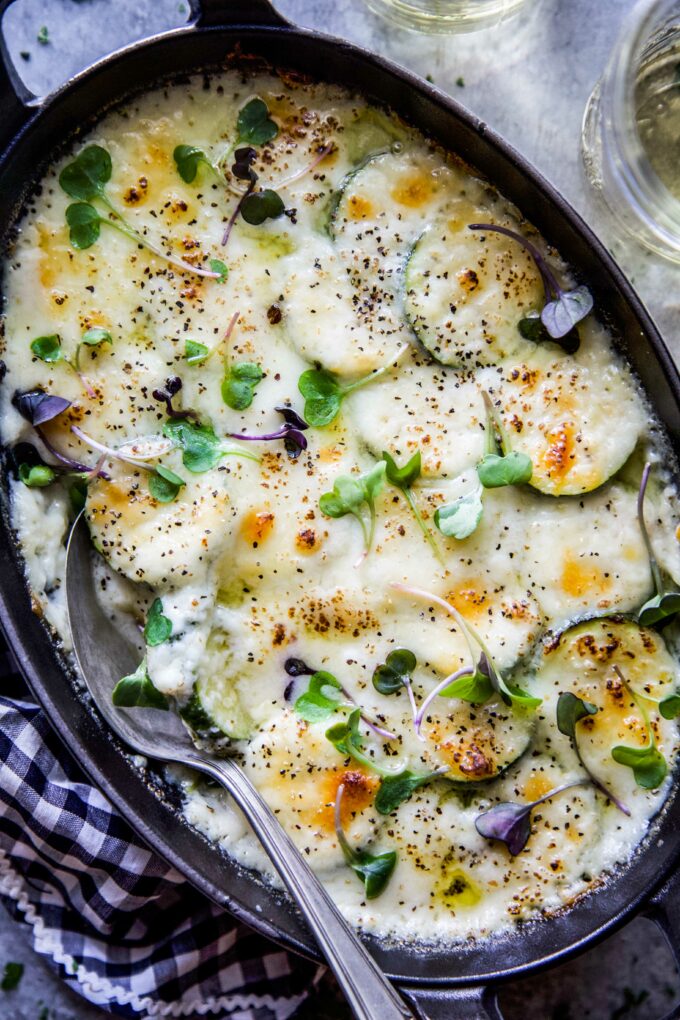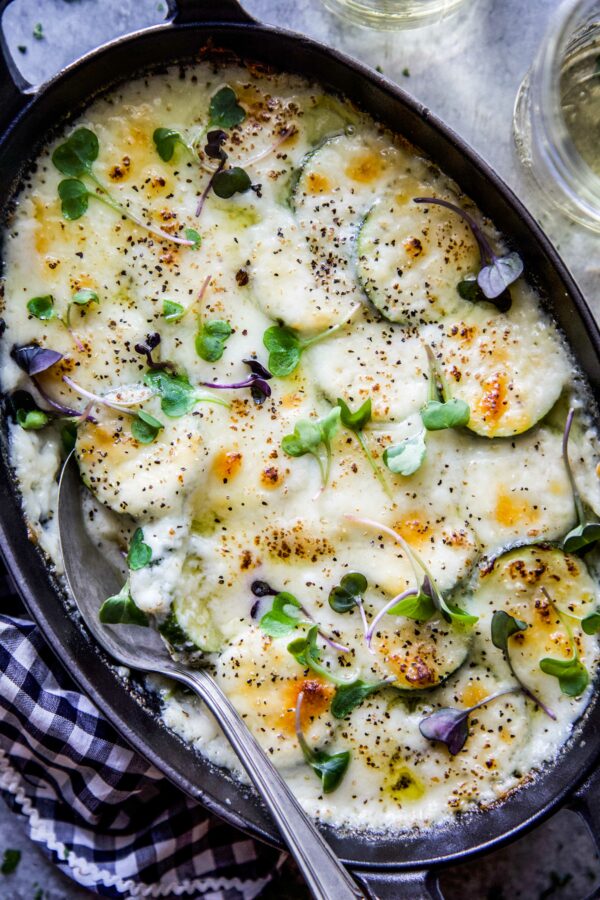 What's in this Three Cheese Scalloped Zucchini?
During the summer months we always have an abundance of zucchini. This side dish is a great way to use up zucchini from the Farmers Market or your garden. You will need:
Zucchini (preferably the same size)
Whole Milk
Parmesan
Gruyere
Mozzarella
Garlic
Butter
All-purpose flour
Tips for Making Three Cheese Scalloped Zucchini:
1) Zucchini. Try to make the rounds of the zucchini the same thickness. For this recipe I used a 1/4-inch so the zucchini will lay nicely on top of each other.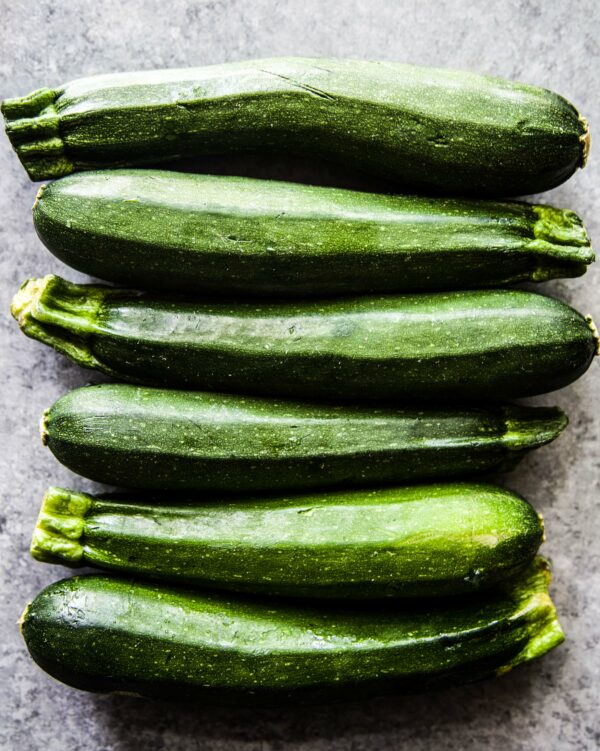 2) Cheese. Please any kind of white cheese you have in the fridge. I always have mozzarella and Parmesan on hand so that's why I threw in. If you don't have Gruyere don't worry about it!
3) Rest after Cooking. Once you remove the dish from the oven, allow it to cool and for the cheese sauce to absorb into the zucchini!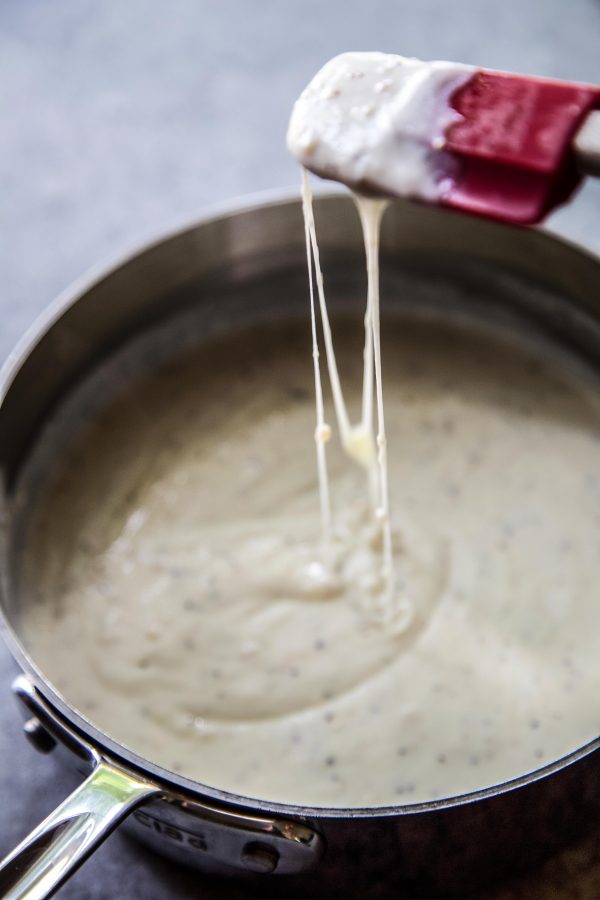 Can I make this using zucchini noodles?
Yes! Just make sure you place the zucchini noodles in a towel and squeeze out the water prior. This will help to ensure the dish doesn't get soggy.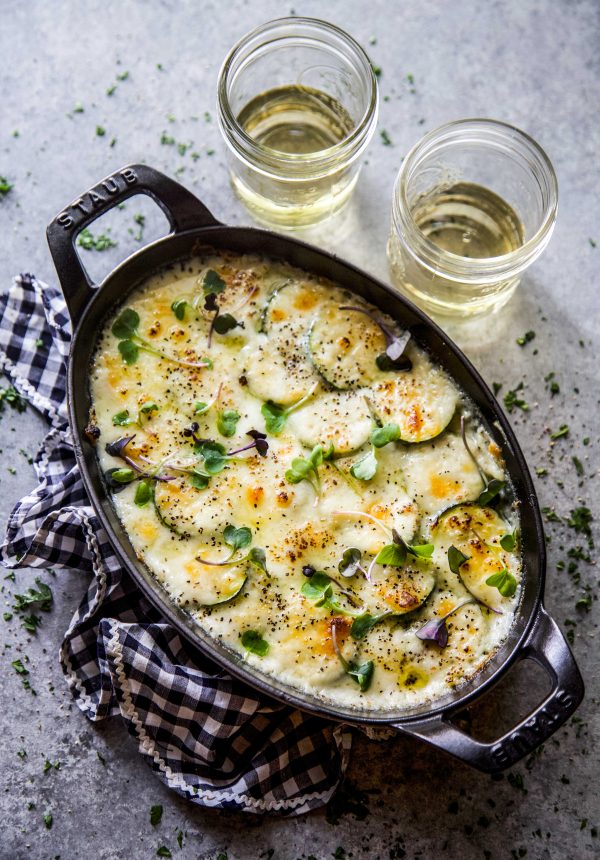 Can I make this dairy free?
Absolutely! Instead of regular butter you could use vegan butter. For the whole milk I would substitute using soy.
More Zucchini Recipes to Enjoy: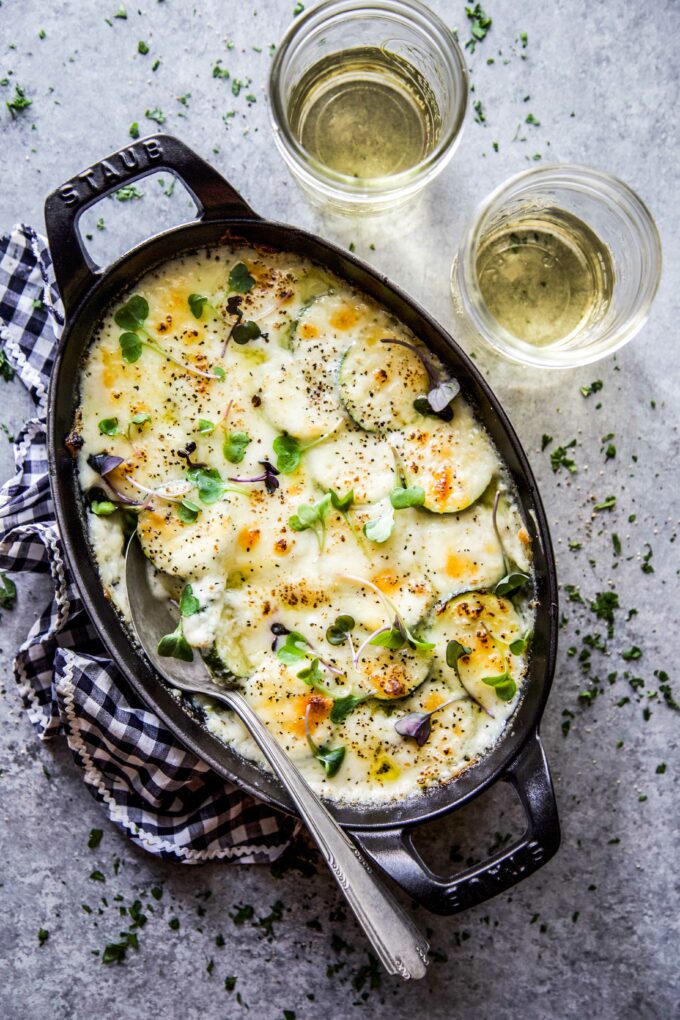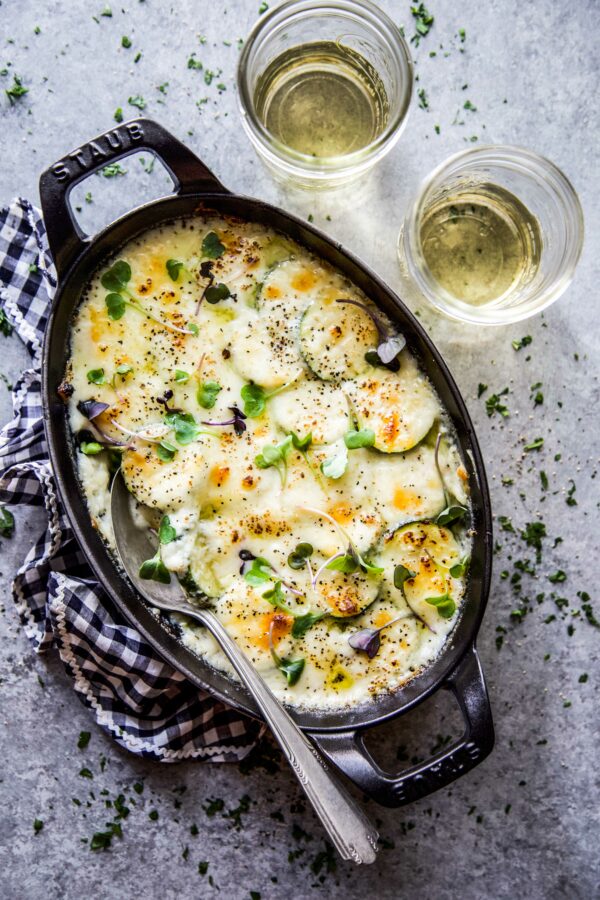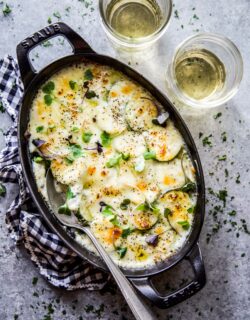 Three Cheese Scalloped Zucchini
Ingredients:
2 tbsp unsalted butter
2 garlic cloves, minced
2 tbsp all-purpose flour
1 1/2 cups whole milk
1 cup shredded Gruyere, divided
1 cup shredded mozzarella, divided
1/2 cup grated Parmesan, divided
salt and pepper to taste
4 medium zucchini, sliced into 1/4-inch rounds
Fresh chopped parsley, for garnish
Directions:
Preheat an oven to 375 degrees and spray a medium sized (oven safe) casserole dish with non-stick cooking spray.
In a large saucepan preheated to medium heat, melt the butter. Next, add in the garlic and cook until fragrant; about 1 minute. Whisk in the flour and cook for another minute until a roux forms.
Next, pour in the milk gradually and begin to stir. Bring the mixture to a simmer and stir until thickened about 2 minutes.
Turn off the heat and stir in the 1/2 cup Gruyere, 1/2 cup Mozzarella, and 1/4 cup Parmesan. Keep stirring until the all the cheese has melted. Season with salt and pepper.
Add a layer of zucchini rounds to the bottom of the casserole dish. Pour about 1/3 of cheese mixture over the zucchini. Repeat process until all zucchini have been used.
Once the layers have been formed top the zucchini with remaining cheeses and bake for about 20 to 25 minutes or until golden brown. Garnish with fresh parsley. Serve and enjoy!
All images and text ©