Caprese BLT Bowl
Caprese BLT Bowl is an easy and delicious dish that is perfect of lunch or dinner on the fly! Fresh burrata, tomatoes, bacon, and arugula piled high on quinoa. 
I want to live inside this bowl.
Is that possible?
I'm sure the bacon, quinoa, arugula, and burrata wouldn't mind a little snuggle fest with yours truly. It is Monday after all and I feel like we could all use the extra nurturing attention. Am I right? Right.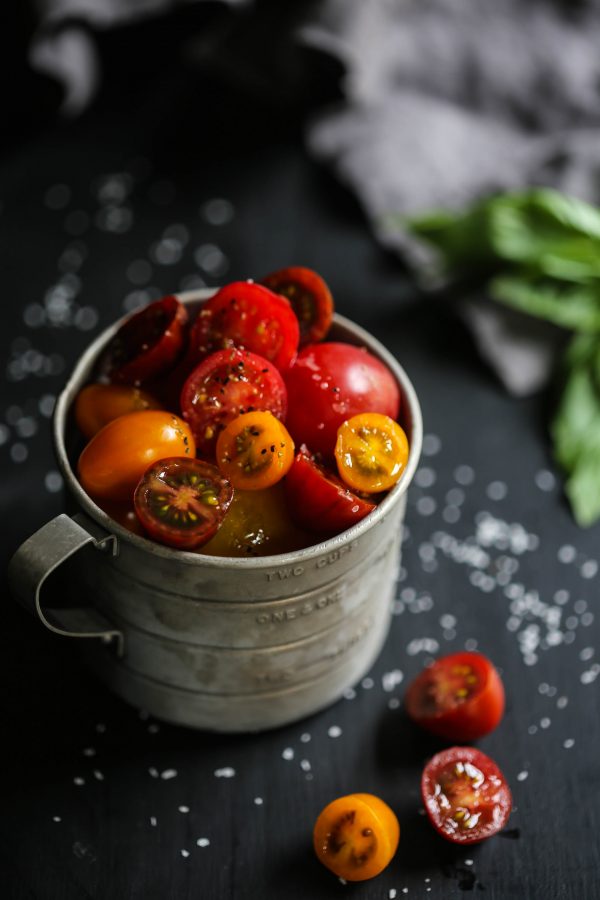 Also, can we talk for a second about the return of burrata and tomato season? I have a mad affection towards anything caprese so much that I am the wack-a-doo lady in January purchasing tomatoes from far across the globe. Even though the tomatoes aren't exactly up to seasonal par, I don't mind because I cover them in burrata and a balsamic glaze. It's enough to satisfy my caprese craving and give old man winter a giant HINT to move along.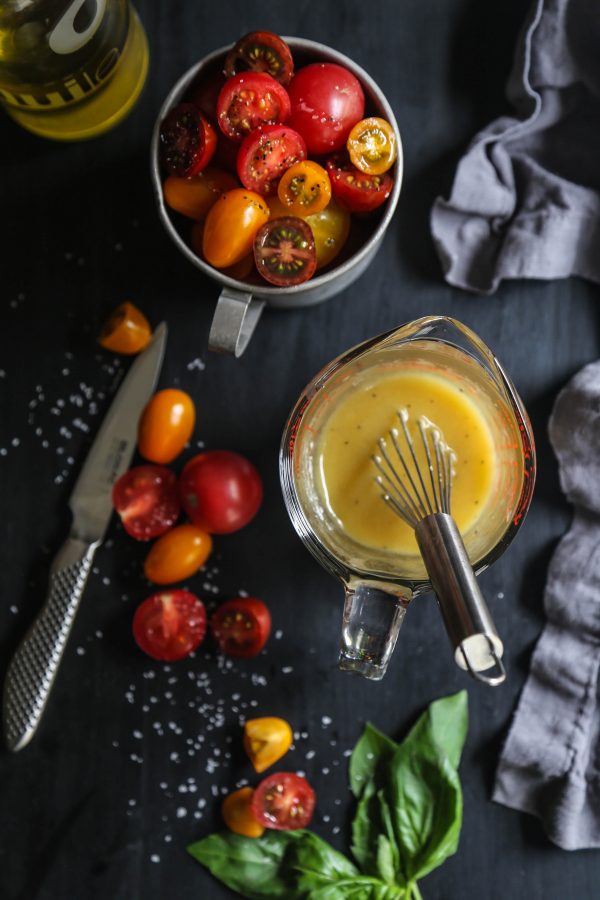 This year Old Man Winter did not get the hint. Um, hello snow on May 1st. WTF? So, this is me putting my foot down because there will be no more snow. Only fresh produce from here on out! DO YOU HEAR ME OLD MAN?!! This Caprese BLT Bowl will quite possibly be my go-to dinner, lunch, and breakfast (slap an egg on that yo!) for the next three months.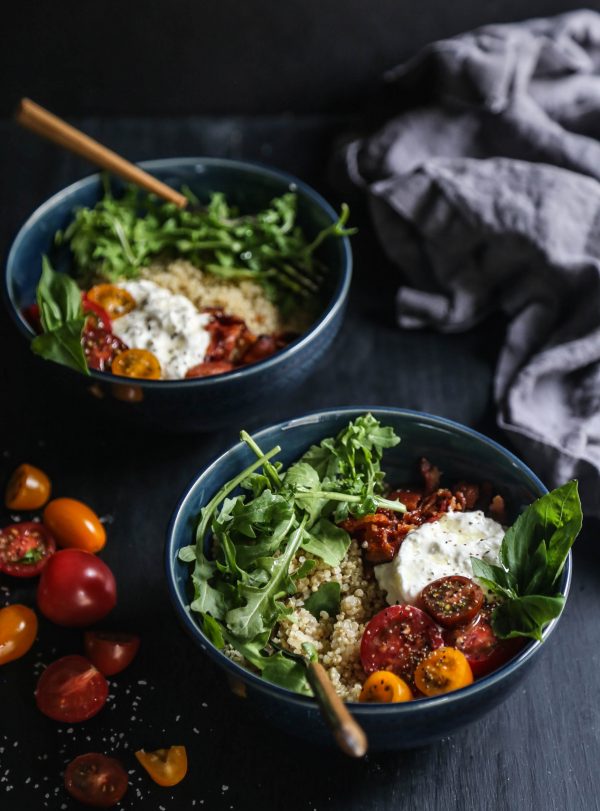 The best part about this bowl is you can sub in and sub out whatever veggies or protein your heart desires. I highly recommend adding some fresh avocado slices too. You know because we all need a little more BLAT's in our lives!
Now, if you need me, I'll be chillaxing in da' bowl.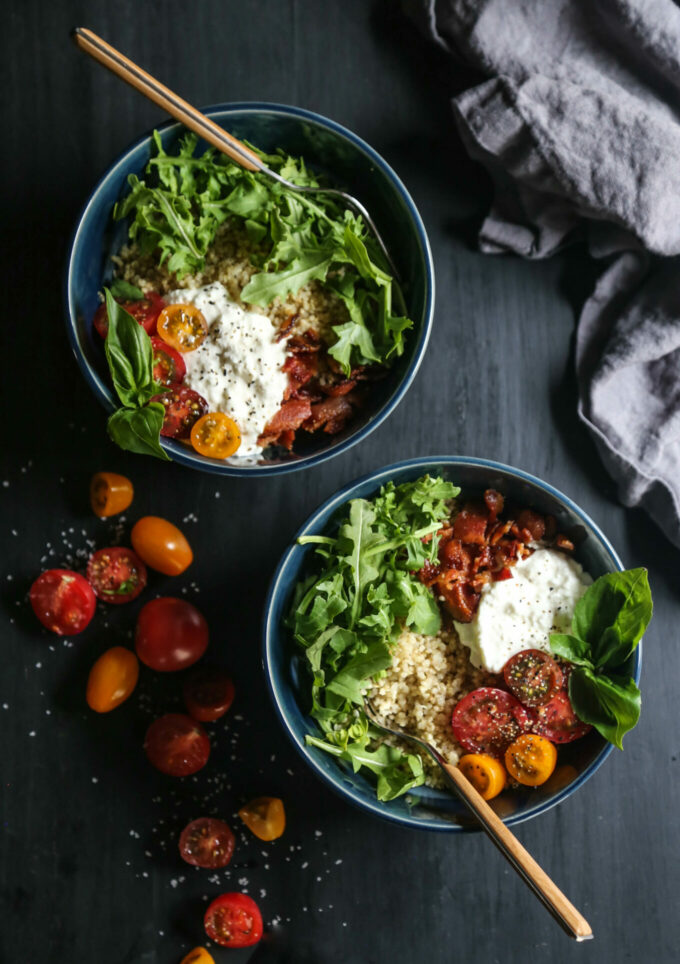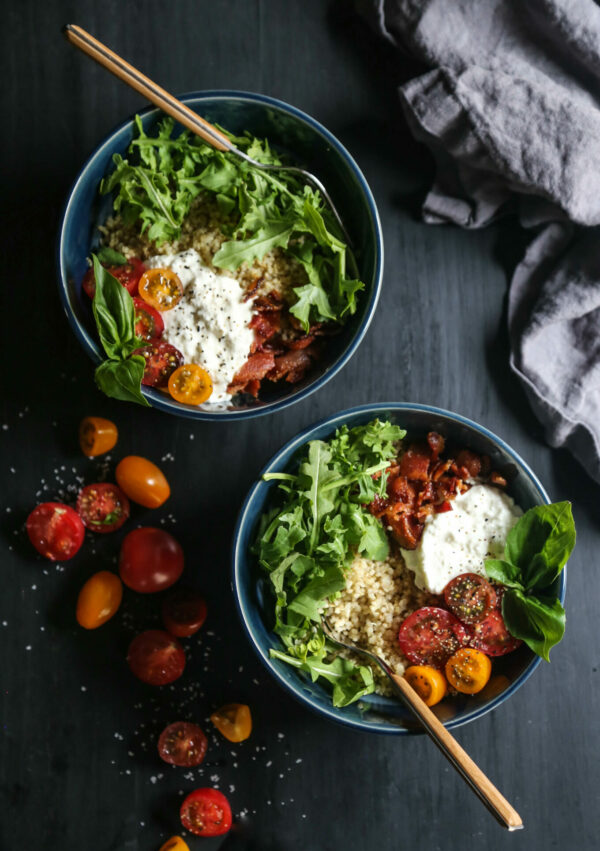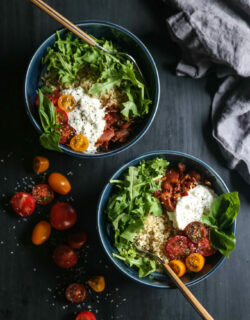 Caprese BLT Bowl
Ingredients:
1 cup cooked quinoa
2 cups arugula
1 cup grape tomatoes, sliced in-half
1/2 cup burrata
1/2 cup cooked bacon, chopped
Fresh basil, garnish
for the Dijon vinaigrette:
1/4 cup olive oil
1 teaspoon sugar
1 teaspoon Dijon
1 teaspoon honey
2 teaspoons red wine vinegar
salt and pepper to taste
Directions:
In a bowl, add 1/2 cup quinoa, 1 cup argula, 1/2 grape tomatoes, 1/4 cup burrata, 1/4 cup bacon, and basil to garnish. Drizzle top with Dijon vinaigrette. Repeat process for remaining bowl.
for the Dijon vinaigrette:
In a bowl, combine all ingredients until the vinaigrette is thickened.
All images and text ©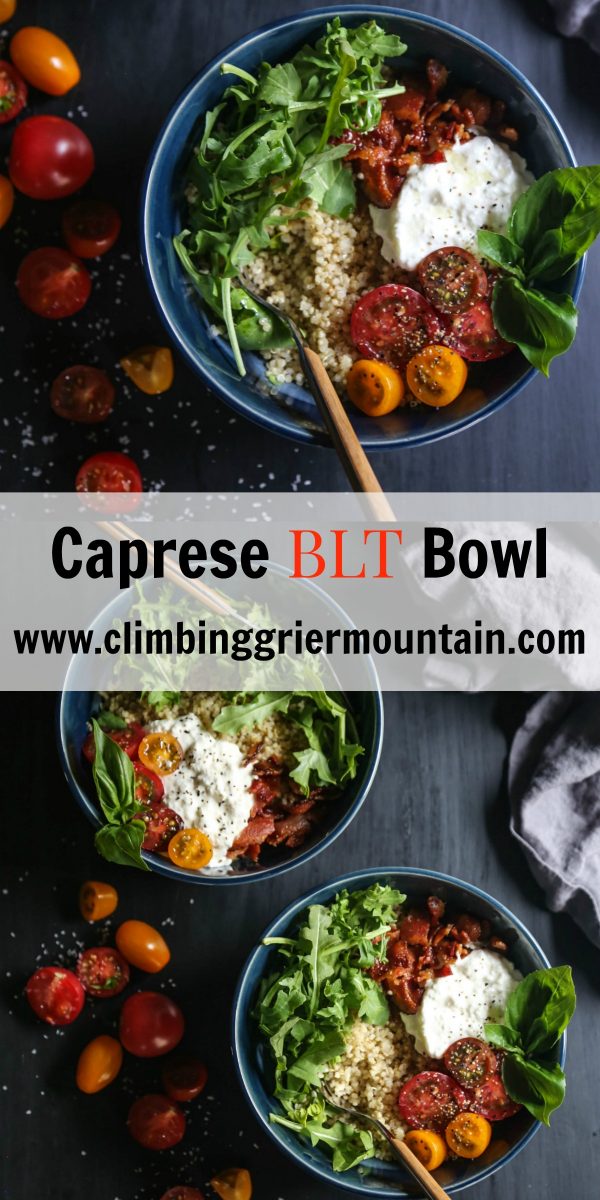 "In conclusion, the Caprese BLT Bowl combines the timeless flavors of Caprese and BLT in a satisfying dish. It's a delicious fusion that leaves a lasting, delightful impression."