Caprese Frittata Pizza
Caprese Frittata Pizza is the perfect meal for breakfast, lunch or dinner! Fluffy ricotta whipped eggs baked and topped with roasted tomatoes and Parmesan cheese! It's a simple, delicious meal ready in 15 minutes!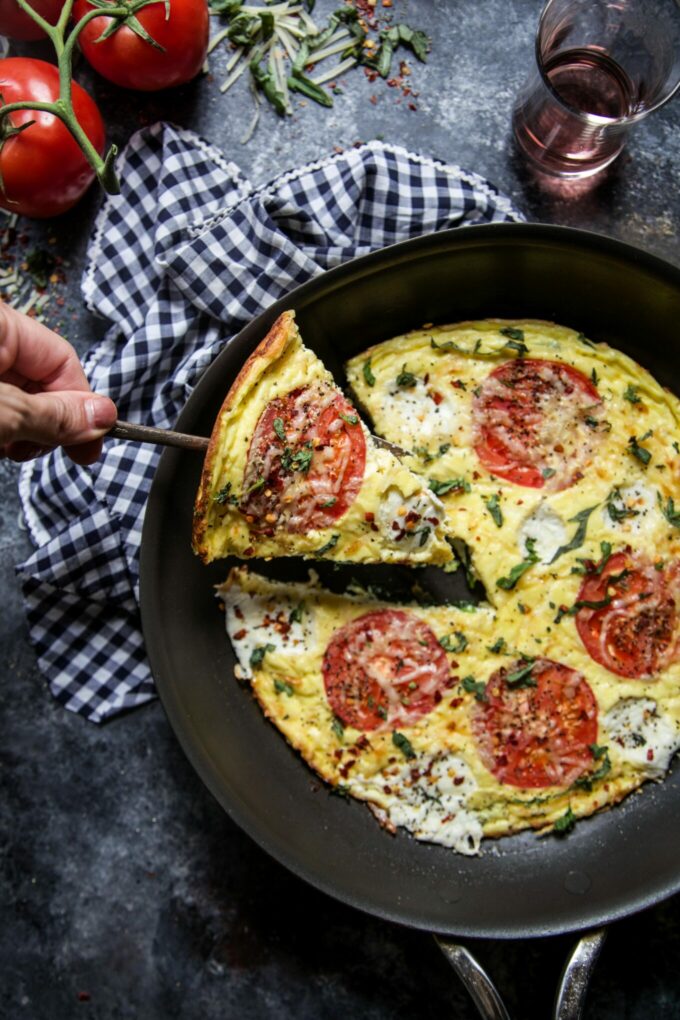 We're back!
Well, for a hot minute I should say.
I am headed to NYC on Wednesday to visit my uncles and then I'm off to the Hamptons for a super fun blogger retreat! WHEW Bessie. I feel like I am marinating on the east coast this summer. To be honest, I love being on eastern time zone. Actually the best is when I travel to Europe because being on London time is a type A personality's dream. I can get all my work done before the US of A wakes up!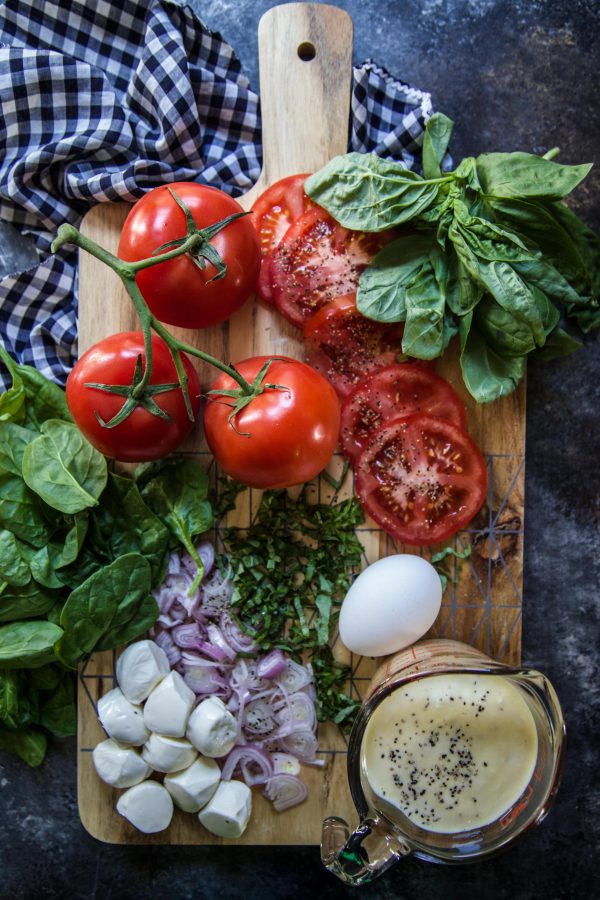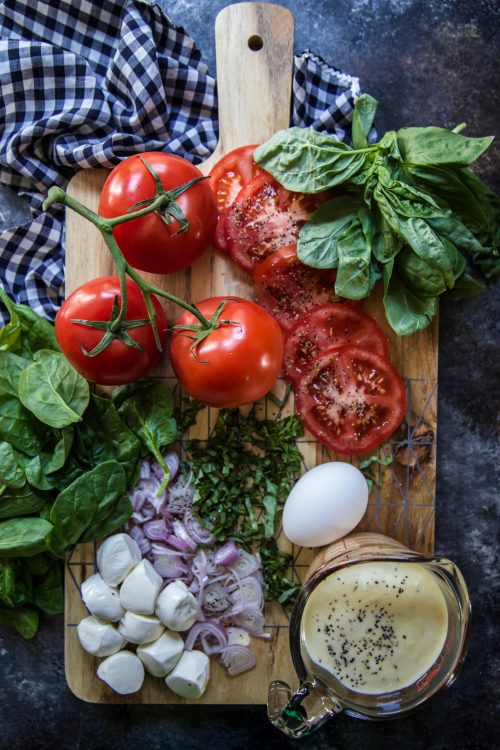 Clearly this is the most important thing you have ever read. Wait. Are you still there? Kidding. Anyway, we did have a blast in Hilton Head. Everyone played well, we celebrated birthdays, biked, marinated on the beach, cooked up a few feasts and spent quality time with the family. I dare to say that I think we shall return to Hilton Head sooner rather than later.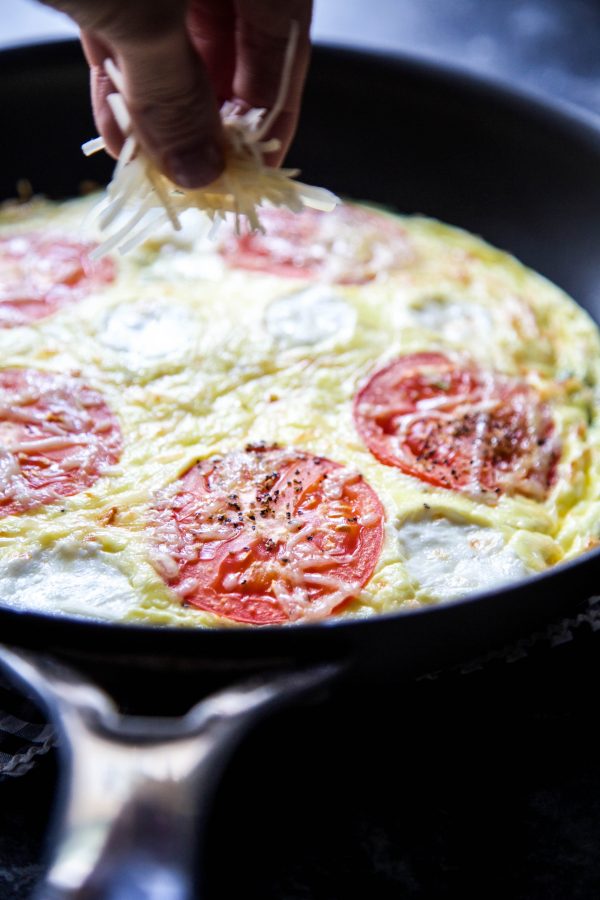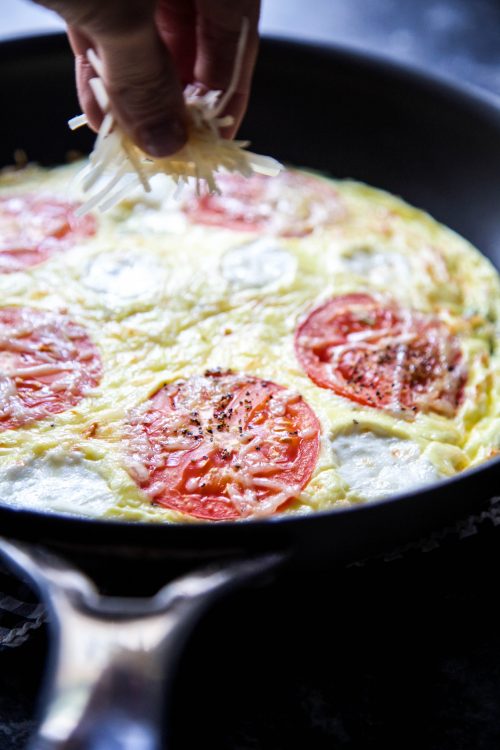 So, how was your weekend? Can you believe it's June?!! GAH. As I mentioned before, I am trying to be present and enjoy this summer. But I'm struggling a bit because my calendar is full, full. Like I won't have a moment at home until July. As I always try to look at things with a glass-half-full perspective, the good news is by the time Mr. B and I are back from all of our travel our garden should be in the prime state! Hello shit load of kale, beets, beans, and tomatoes!!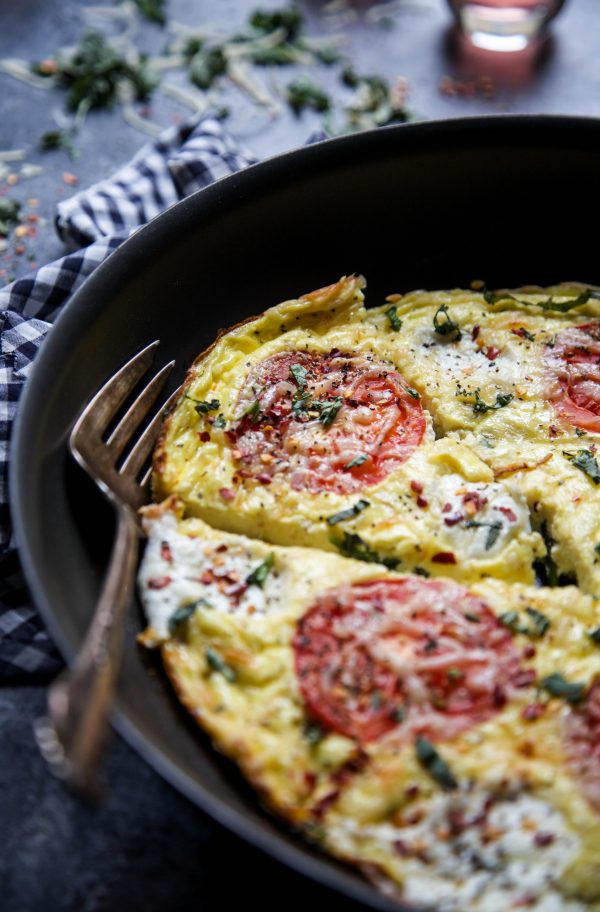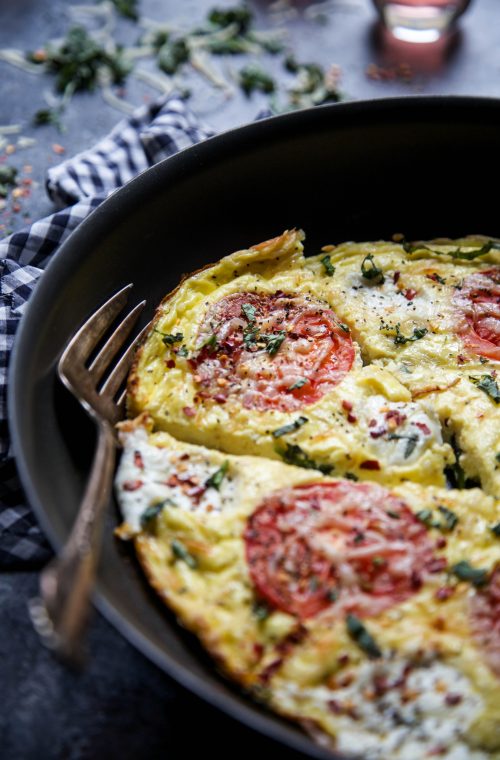 OH! But the best part? I think I will have all the ingredients to make this delicious Caprese Frittata Pizza again. Can you say winning? I actually just got on board the Frittata train this year. I guess better late than never? I dunno. Either way, this Caprese Frittata Pizza is the real deal Holyfield. Eggs mixed with ricotta and then topped with heirloom tomatoes, fresh mozzarella, spinach, and baked into a golden delicious pie. This frittata is perfect for those breakfasts for dinner nights! Or for brunch, naturally.
Alright, I'm off to pack for another east coast excursion. If you've been to the Hamptons let me know. Would love any recs!!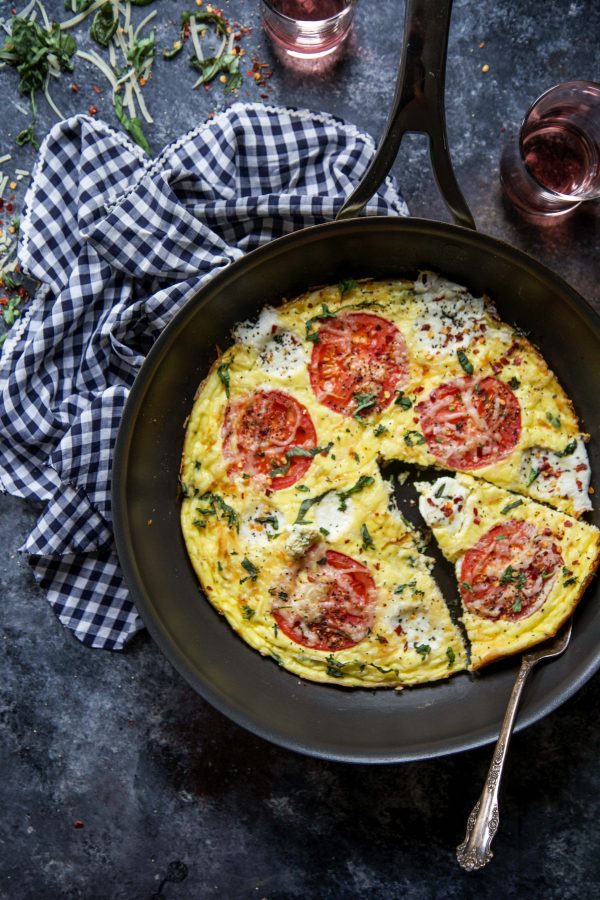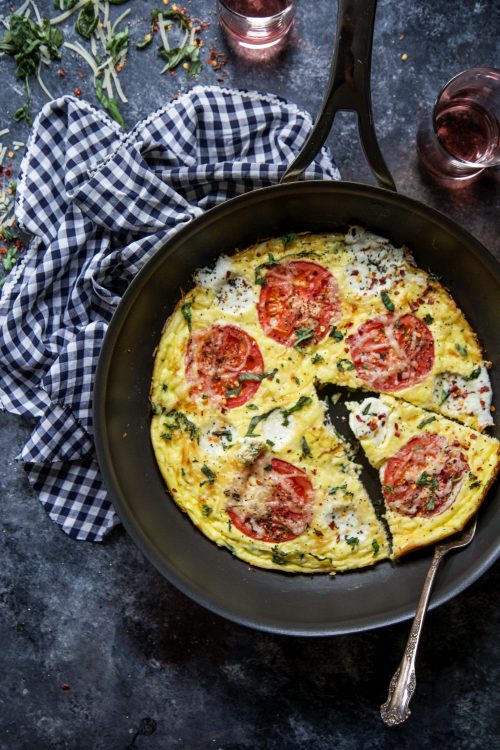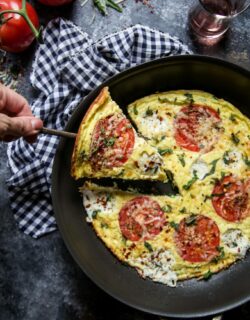 Caprese Frittata Pizza
Ingredients:
1 tbsp olive oil
1/4 cup diced shallots
2 cups fresh spinach leaves
1 cup whole milk ricotta
12 eggs
8 slices or balls of fresh mozzarella
5 tomato slices
1/3 cup grated Parmesan cheese
Fresh basil, for garnish
salt and pepper to taste
Directions:
Preheat your oven to 425 degrees.
Preheat a non-stick (oven safe) skillet to medium-high heat. Add the olive oil, shallot, salt, and pepper. Saute the shallots for a few minutes until softened. Next add the spinach leaves and cook the spinach until wilted.
Meanwhile, in a large mixing bowl whisk together eggs, ricotta, salt, and pepper. Pour the egg mixture into the skillet with the veggies spreading evenly with a spoon. Cook until set around the edges about two minutes.
Transfer the skillet to the oven and bake the frittata until slightly set about five to seven minutes. Remove the skillet from the oven and top with mozzarella, tomatoes, and Parmesan cheese. Place the skillet back into the oven to finish cooking about another five minutes or until no longer runny in the center. Remove the skillet from the oven and garnish with fresh basil. Serve immediately!
All images and text ©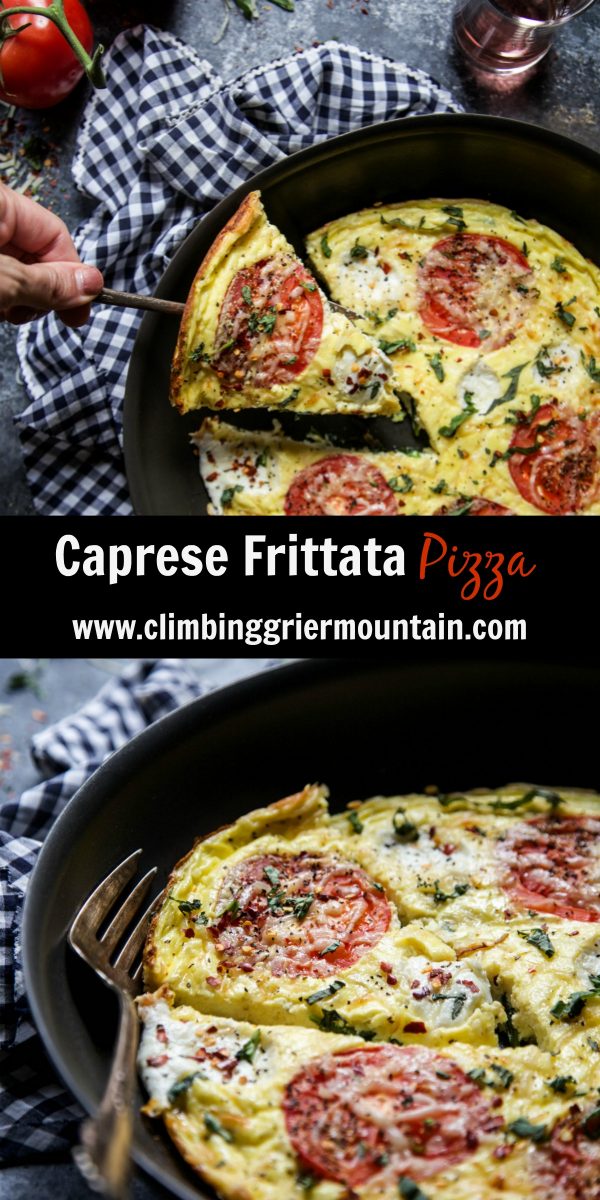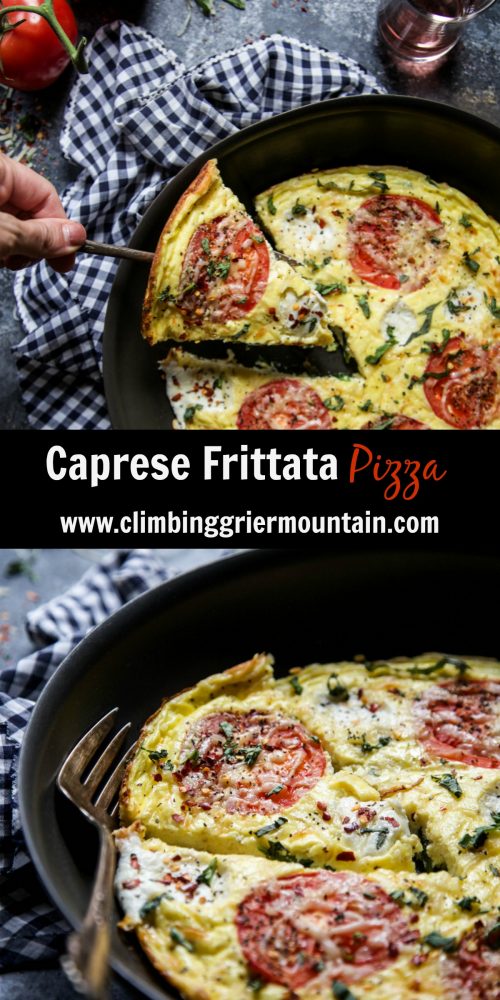 In conclusion, the Caprese Frittata Pizza offers a delightful fusion of two Italian classics. With its harmonious blend of mozzarella, tomatoes, basil, and eggs, it's a flavorful, satisfying, and innovative twist on traditional pizza and frittata. Enjoy this culinary masterpiece!