One-Skillet Coffee Rubbed Steak with Bacon & Spring Vegetables
One-Skillet Coffee Rubbed Steak with Bacon & Spring Vegetables is a delicious and flavorful meal ready in 20 minutes or less! Juicy, coffee rubbed steak with crisp vegetables make for an easy meal all in one-skillet! 
*This post has been brought to you in partnership with Safeway through Kitchen PLAY.*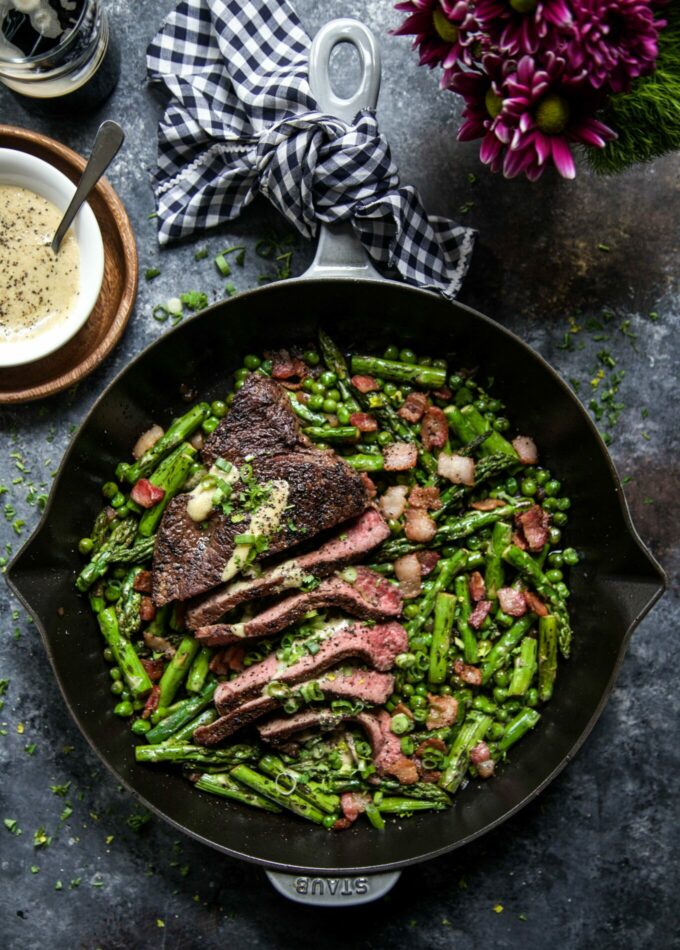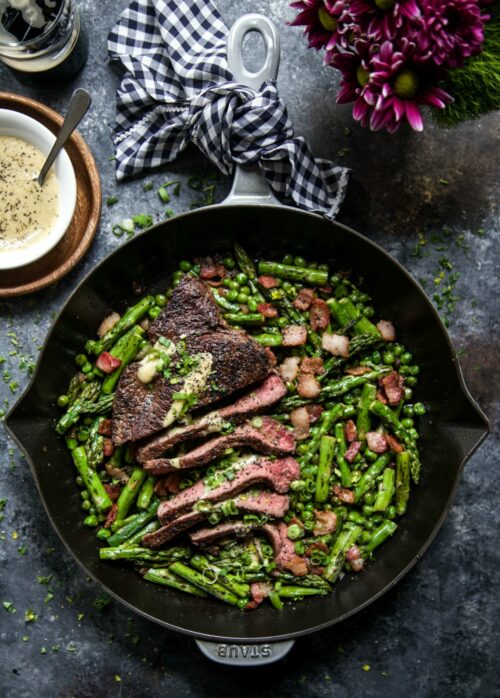 Spring can be a frustrating time of year as a Coloradan.
Not frustrating in a beauty sense, of course. But in a patience sense. You see, our way of life is built around being outside a good chunk of the year. From snow skiing in the winter to hiking in the summer to food and music festivals in the fall. If there is a chance to be outside, we are like moths to a flame.
BUT! Every May it rains…. a lot, in Colorado. And I'm not talking like your cute London showers, I'm talking monsoon, heavy rains that make you pause for a moment and question going outside. Even our galoshes question stepping out into Mother Nature.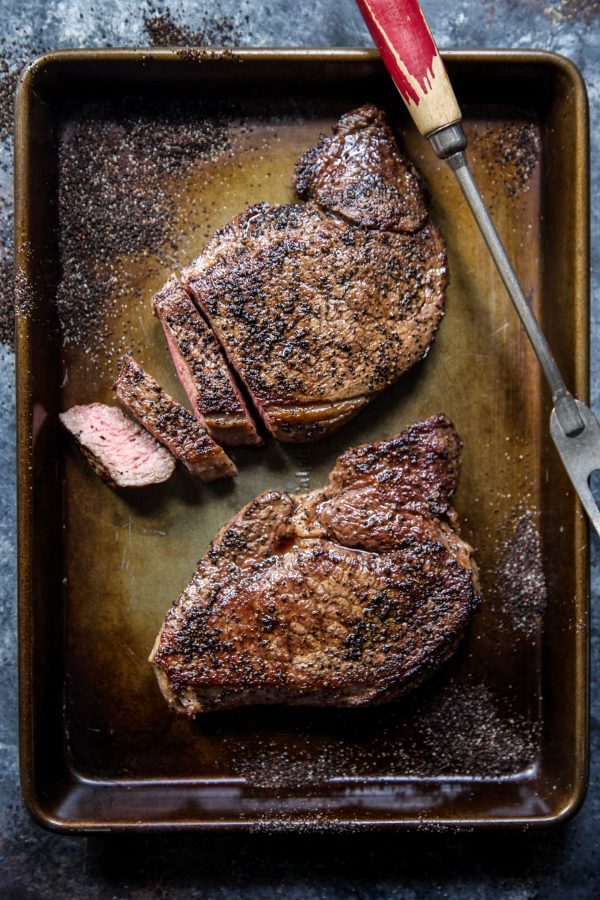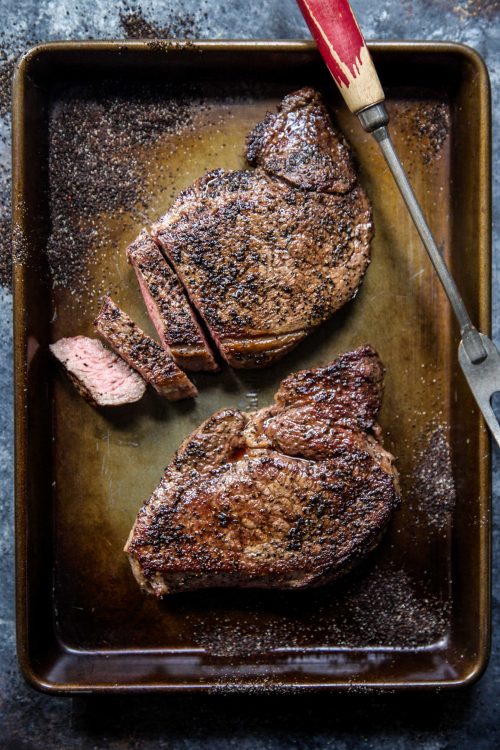 However, as I wait patiently for the rains to subside, the weather does give me a chance to get creative in the kitchen. And thanks to the wonderful folks at Safeway, I have the best products and ingredients at my disposal. Did you know that the Signature line, available exclusively at Safeway, includes more than 4,000 items – from coffee to juice, to soup to cereal, fresh produce, fried chicken (um yes!!), and delicious prepared foods to trusted home staples?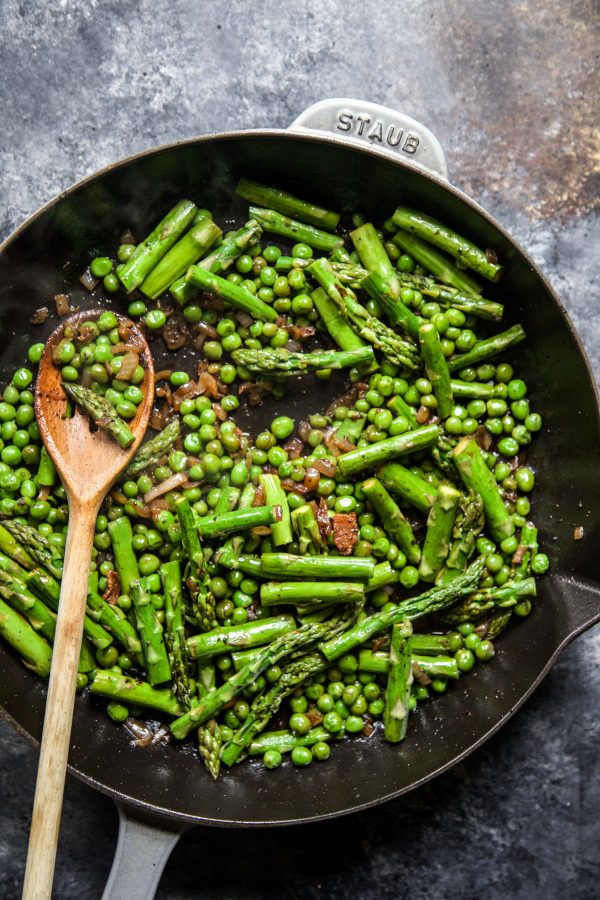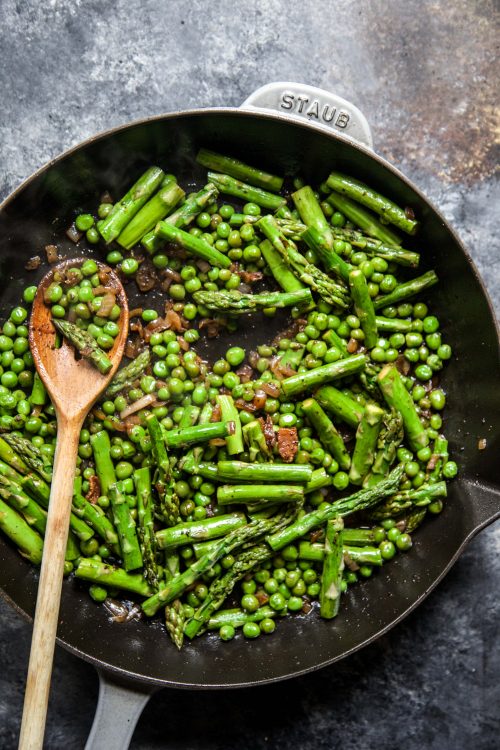 When I was creating my cookbook, I practically lived at Safeway and knew that I could count on finding the necessary ingredients in order to make the book come to fruition. Well, today's recipe is no exception. I found three amazing ingredients: Signature Farms® Bacon, Signature SELECT™ coffee, and Signature SELECT olive oil that help make this One-Skillet Coffee Rubbed Steak with Bacon & Spring Vegetables two snaps up.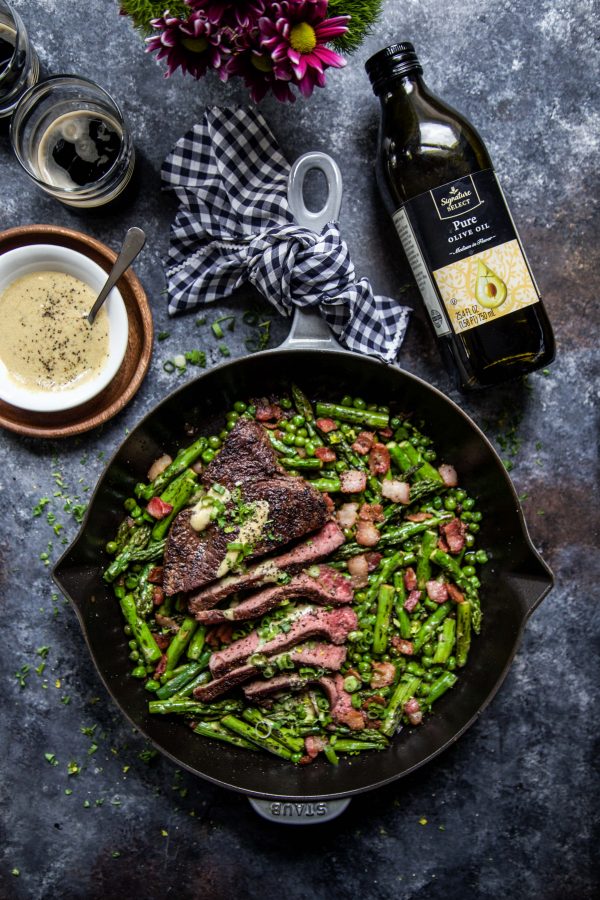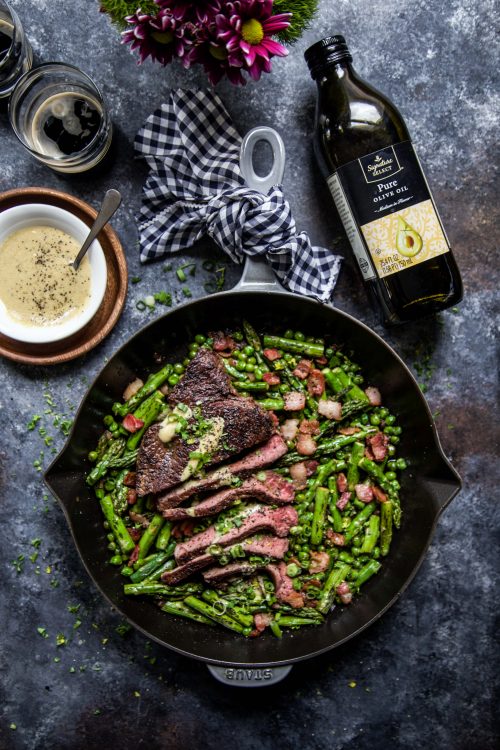 Besides the delicious ingredients, I love this dish because it can be made via one pot! Which means I will have more time to catch up on binge watching Sherlock Holmes on Netflix. Just rub the flank steak with Signature SELECT coffee grounds, fry up some delicious Signature Farms bacon, and whip up a delightful vinaigrette using the Signature SELECT olive oil. Pile it all in a skillet and BOOM! Dinner in 30 minutes and just enough time to step outside to enjoy a few moments of sunshine.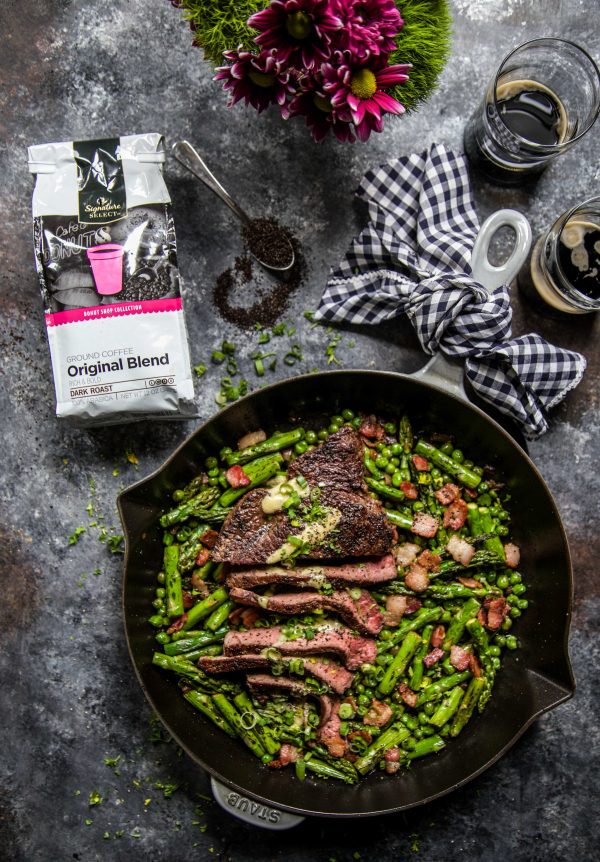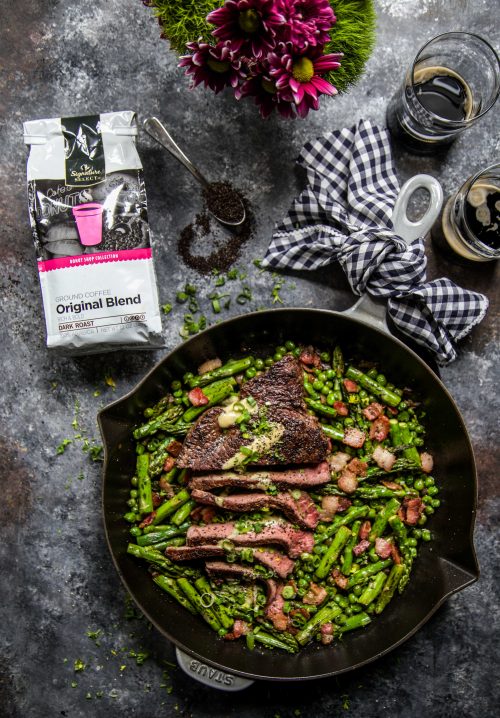 ***This post is sponsored by Safeway. I received Signature SELECT products from Safeway and used them to create this amazing recipe. As always, all opinions expressed are 100% my own.***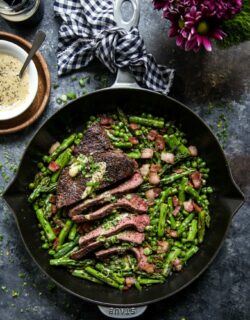 One-Skillet Coffee Rubbed Steak with Bacon & Spring Vegetables
Ingredients:
for the steak, bacon, and vegetables:
1 lb flank steak
2 tbsp Signature SELECT olive oil
2 tbsp ground Signature SELECT coffee
1 tsp garlic powder
1/2 tsp cayenne pepper
4 slices Signature Farm's bacon, chopped
1/4 cup diced shallot
1 bunch asparagus, trimmed, cut into 1-inch pieces
1 1/4 cups frozen peas
Scallions, sliced thinly, for garnish
Fresh chopped parsley, for garnish
salt and pepper to taste
for the mustard vinaigrette:
1 garlic clove, grated
1/3 cup Dijon mustard
1 tbsp red wine vinegar
1 tsp honey
1/4 tsp cayenne
1/3 cup olive oil
1 tbsp water
Directions:
Place the flank steak on a baking sheet. Rub 2 tbsp of Signature SELECT olive oil all over the flank steak. Next, in a small bowl mix together the ground Signature SELECT coffee, garlic powder, 1/2 tsp cayenne, salt, and pepper. Once mixed, rub the coffee mixture all over the flank steak. Let the flank steak sit at room temperature for at least 30 minutes, which will allow the steak to cook more evenly.
While the steak comes to room temperature you can assemble the mustard vinaigrette. In a small bowl combine, garlic, Dijon mustard, vinegar, honey, 1/4 tsp cayenne, 1/3 cup olive oil, and water,
water. Whisk until combined adding more salt and pepper as desired. Set aside until ready to serve.
Next, preheat a cast iron skillet to medium-high heat. Add the chopped bacon and cook for about five minutes until crispy. Remove the bacon with a slotted spoon and set aside on a paper towel. In the same skillet as the bacon, add the flank steak. Cook the flank steak for about four to minutes on the first side, flip, and continue to cook for another two to three minutes. Once cooked, remove the flank steak from the skillet and place on a cutting board to rest before slicing.
Remove excess fat/ oil from the skillet where you cooked the flank steak, keeping  about 1 tbsp in the skillet. Turn the skillet to medium heat and add the shallots along with salt and pepper. Cook the shallots until softened, about two minutes. Next, add in the peas with a splash of water and cook until the peas are tender about five minutes. Lastly, add the asparagus stems. Cook the asparagus stems until tender, about five minutes.
Remove the skillet from the heat. Slice the flank steak and place it over the vegetables. Drizzle the steak with the mustard vinaigrette and garnish with scallions and fresh parsley. Enjoy!
All images and text ©