Moroccan Potato Salad
Moroccan Potato Salad is a sassy, summer potato salad perfect for picnics or backyard barbecues!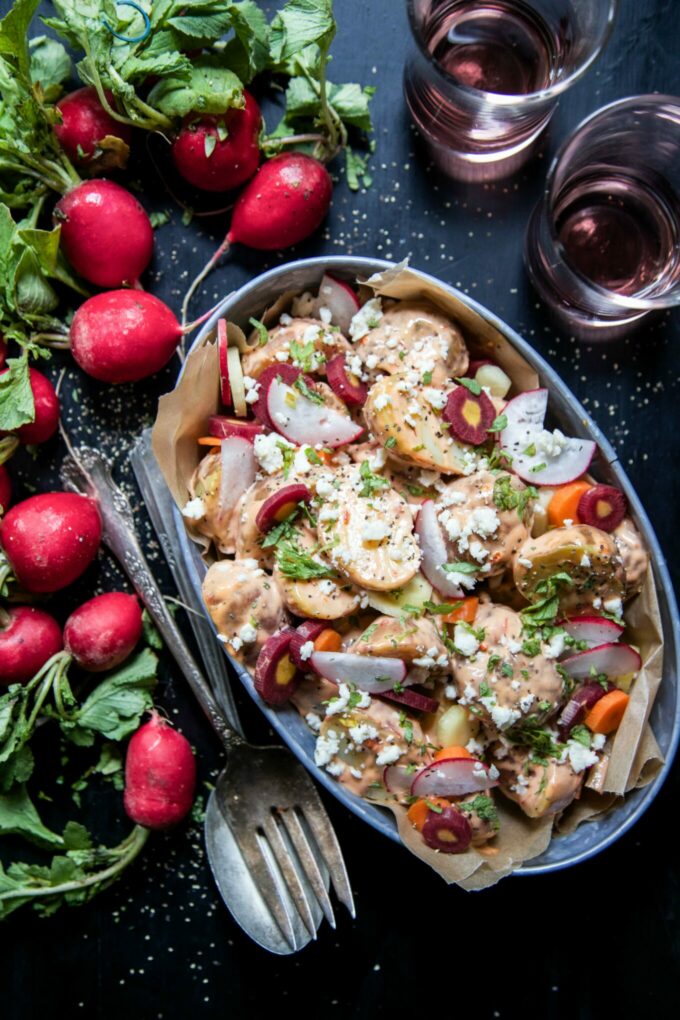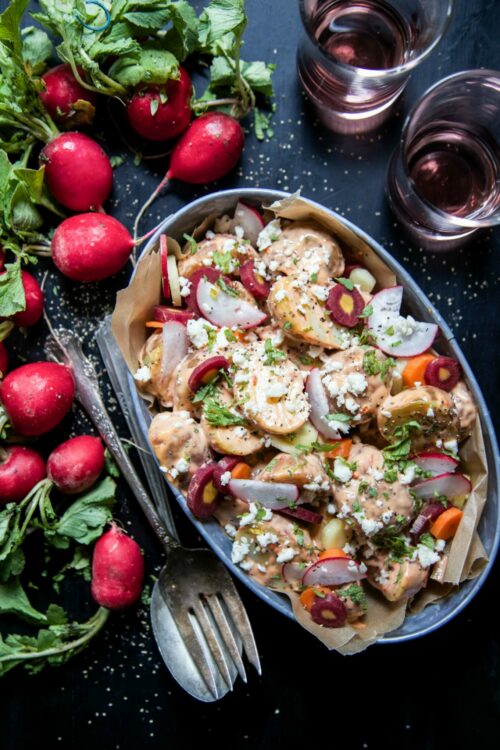 'Tis the season for tater salad.
I don't know about you, but I'm ready for backyard barbecues, picnics in the park, and camping underneath the stars. Isn't summer the best? I remember thinking as a kid once school was out, I had all the time in the world to go on wild adventures. Albeit in my parents backyard, but it was the long summer days that made any dream feel possible.
As an adult, I like to think I have that same dream intensity. Yes, a few more restrictions apply like paying bills, etc. But for the most part once Memorial weekend passes, I'm on the fast train to summer adventure land. And what do all adventures include? You guessed it, tater salad.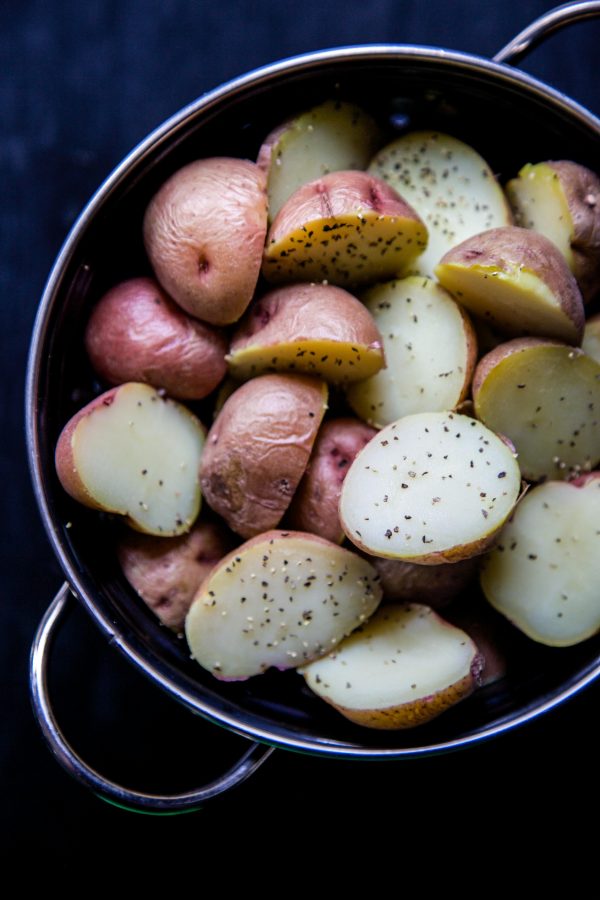 Now, there are 4,296 different types of tater salad. I'm not entirely sure how the grocery stores keep up with the volume. When I look at the tater salad containers all I can hear is Bubba from Forrest Gump saying, "You've got mustard tater salad, shrimp mayo tater salad, dill tater salad, Cajun tater salad…." And it just keeps going.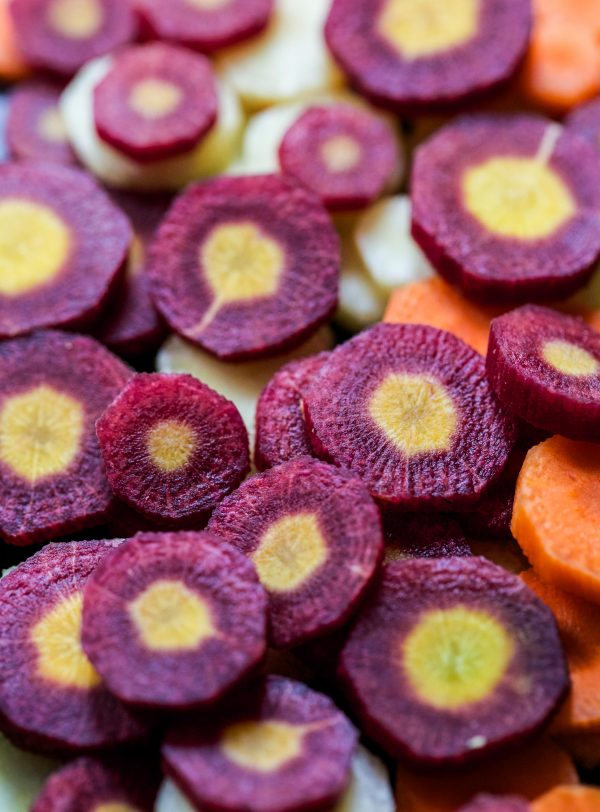 Well, forget about going to the grocery store and standing in front of the deli counter mouth breathing your way through the different options. Instead! You guys have to try this Moroccan Potato Salad! A few simple ingredients is all that stands between you and summer bliss.
To make this sassy potato salad you'll need is jarred harissa which you can find at any regular grocery store. It's typically stocked near the Indian cuisine aisle. For this recipe I decided to go with mayonnaise because if you're going to do tater salad you have to go BIG. You could certainly sub Greek yogurt to keep things lighter.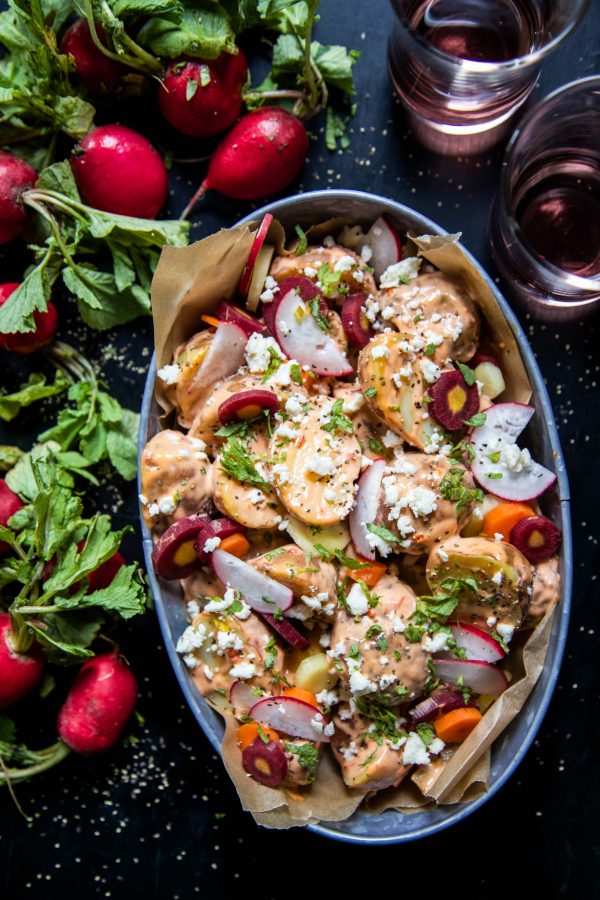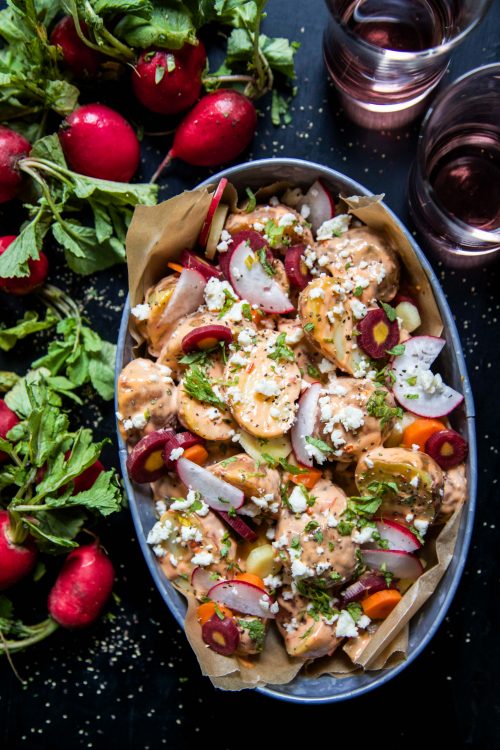 Okay! Simply mix the harissa and mayo together. You'll make potatoes like any other standard potato salad recipe – place the potatoes in a stock pot filled with cold water and then bring to a boil. By doing this it will help ensure the potatoes cook evenly. Once cooked and cooled, toss the potatoes with the harrisa mixture then add in all the fun toppings like carrots, pomegranates, feta, radishes, fresh mint, etc.! GO WILD! Because it's summer and it should be an adventure!
Now, who's ready to camp? My parents said we could use their backyard.
Kidding.
Maybe.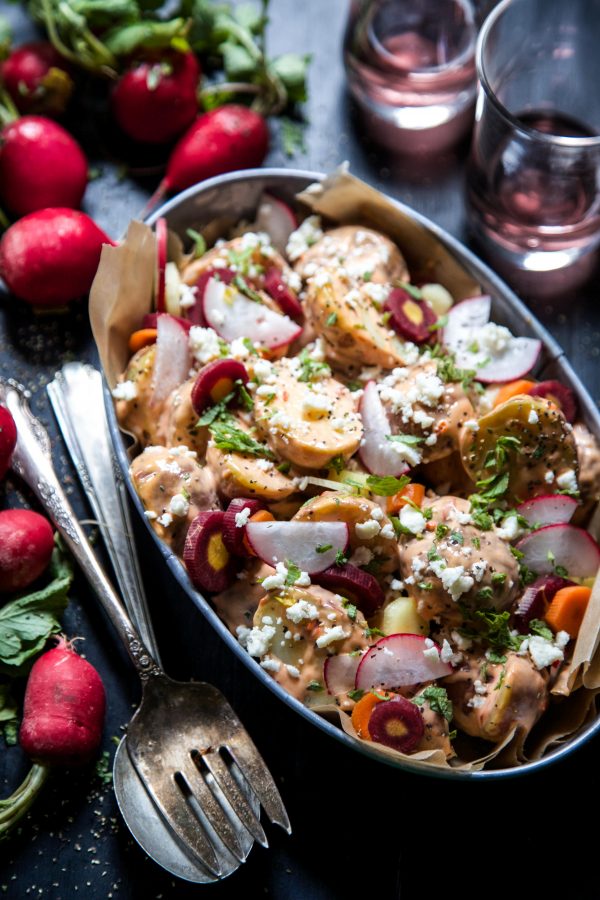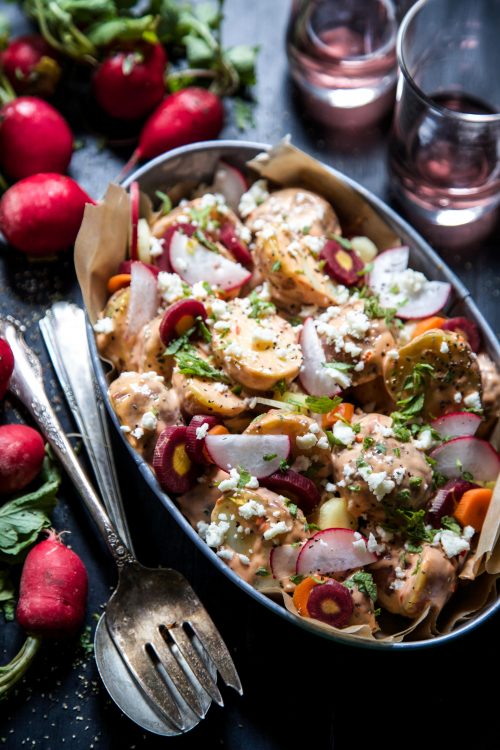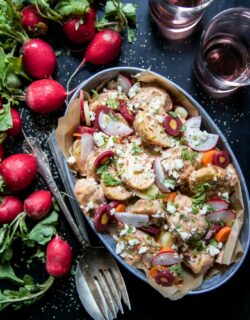 Moroccan Potato Salad
Ingredients:
2 1/2 cups multi-colored potatoes, washed
1/3 cup mayonnaise
1/4 cup jarred harissa
1 tsp lemon juice
1/4 cup red onion, diced
1/3 cup multi-colored carrots, sliced into rounds
Pomegranates, for garnish
Crumbled feta, for garnish
Fresh chopped parsley, for garnish
Fresh chopped mint, for garnish
Sliced radishes, for garnish
salt and pepper to taste
Directions:
Fill a large stock pot with cold water. Add the potatoes and bring water to a boil. Boil the potatoes for 20 minutes or until fork tender. Drain the potatoes and let them cool completely. Meanwhile, mix together in a small bowl mayonnaise, harissa, lemon juice, salt, and pepper.
Next, halve the cooled potatoes and place into a large serving bowl. Add red onion, carrots, and mayo mixture. Toss to combine adding salt and pepper as needed. Garnish the potato salad with pomegranates, feta, parsley, mint, and radishes.
All images and text ©