Slow Cooker BBQ Chicken Tacos with Texas Caviar
Slow Cooker BBQ Chicken Tacos with Texas Caviar is an easy and delicious summer meal! Slow cooked juicy barbecue chicken stuffed into a soft tortilla and then topped with fresh Texas Caviar. These tacos will be in your regular summer dinner rotation!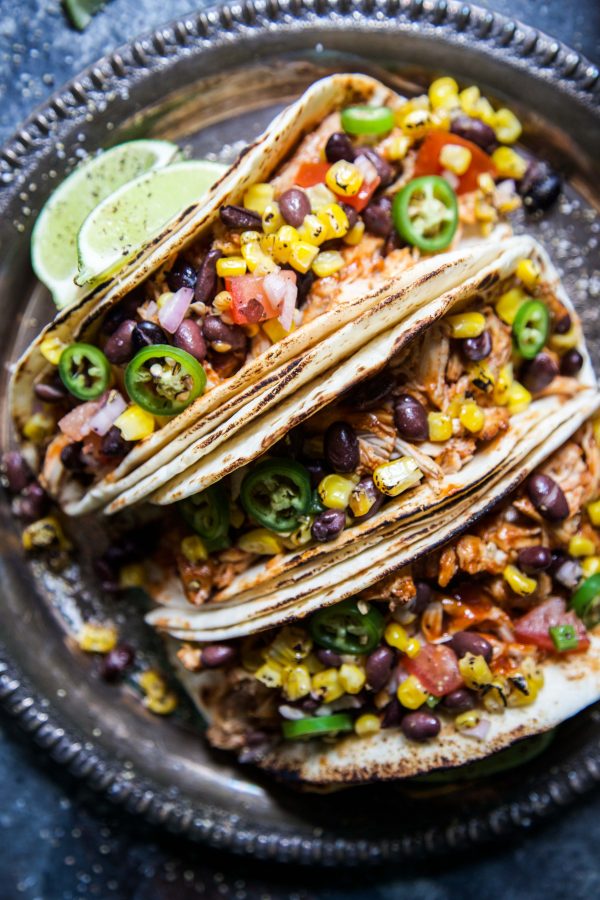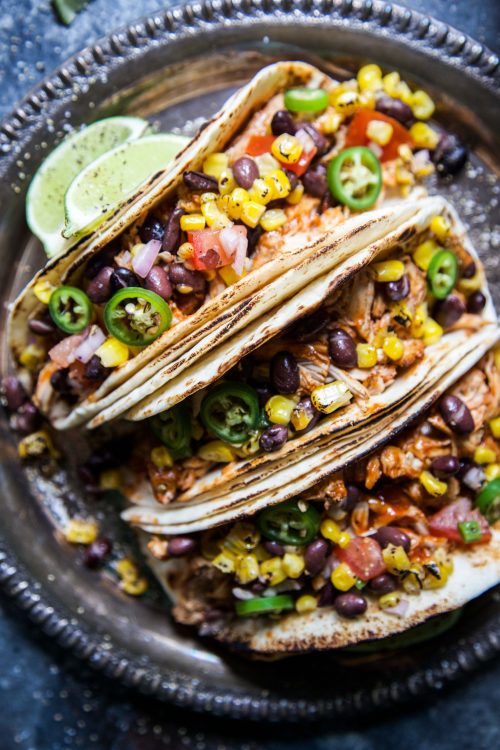 Hello, Hello, Hello!
How are you on this fine Monday morning? I hope you had a wonderful weekend. I got back late last night from an unreal trip to NYC/Hamptons. Like unreal, unreal. Actually, can we just go back? I had a fantastic time catching up with my uncles, talking shop with some wonderful food bloggers, and of course, checking out the Hamptons scene! I must say the east coast has it going on during summer!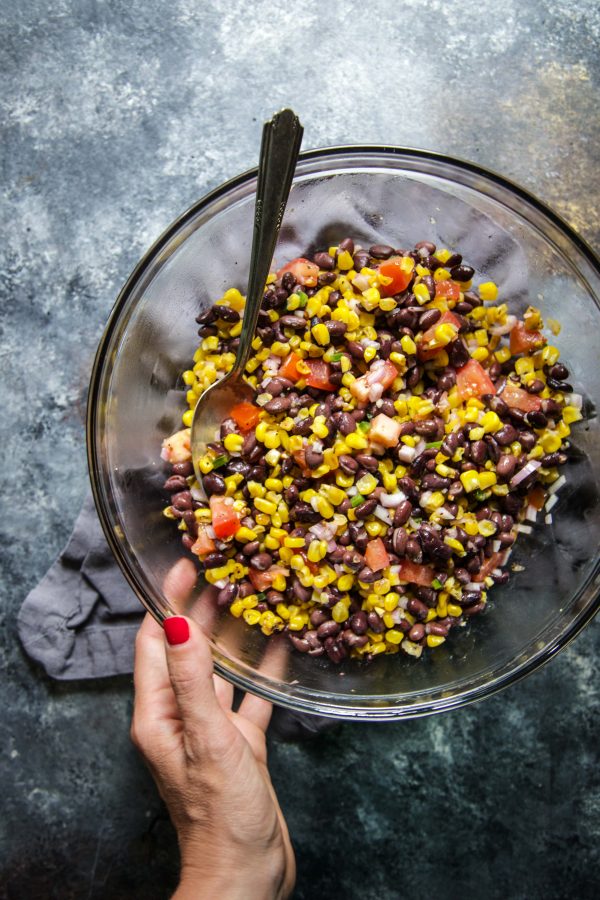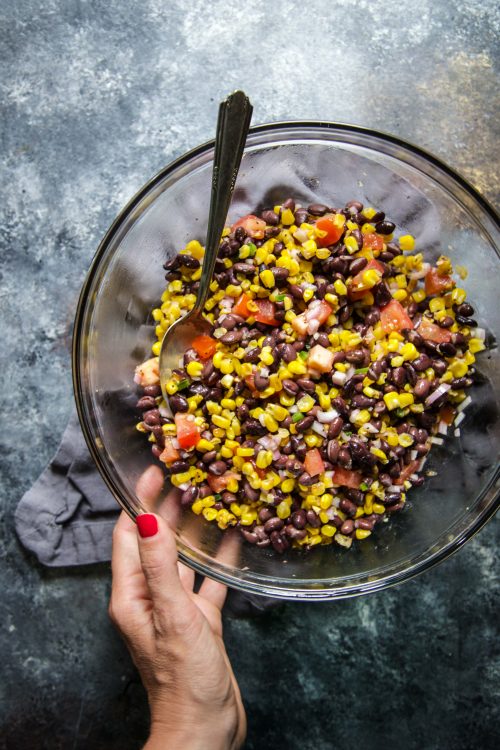 Anyway, I've got a bunch of stuff to catch up on (hello never ending inbox!), but I wanted to ask you guys have you see this new show called American Gods? UM, AMAZE-BALLS. I will probably butcher what the plot is about because really there are so many moving parts. BUT! All you really need to know is that Ian McShane is in it and is a complete badass, naturally.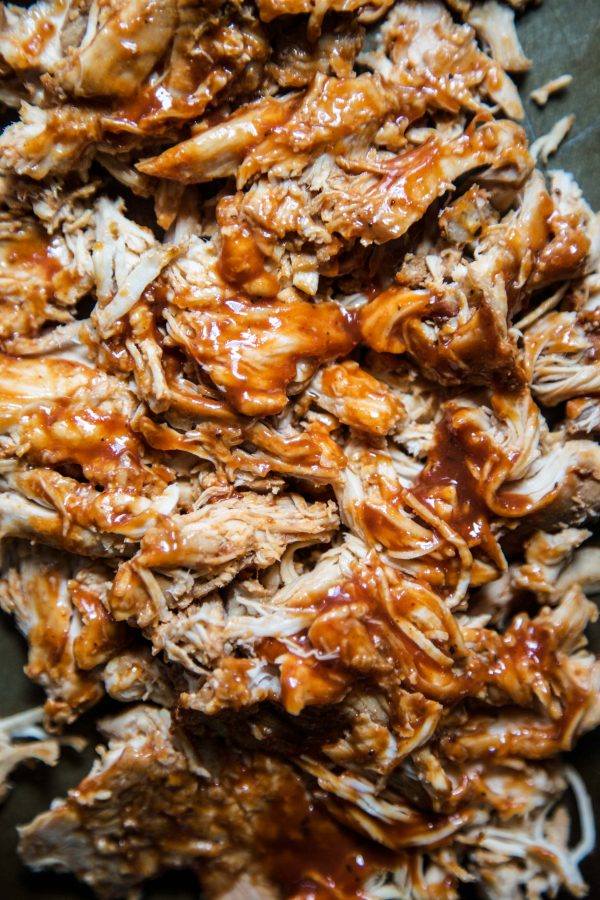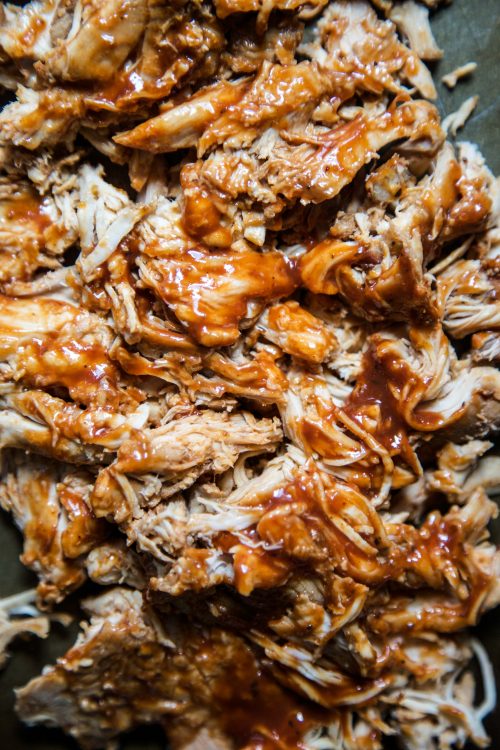 Man….I feel like I am all over the place this morning. Maybe it's the coffee? Or the fact that I've been up since 5:45 am thanks to some lovely jet lag. But before I forget let's talk about these Slow Cooker BBQ Chicken Tacos with Texas Caviar.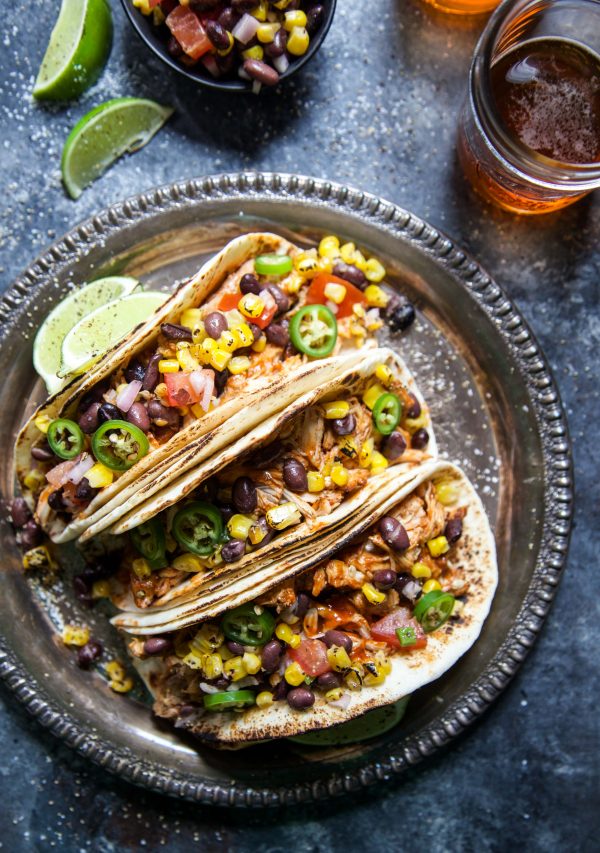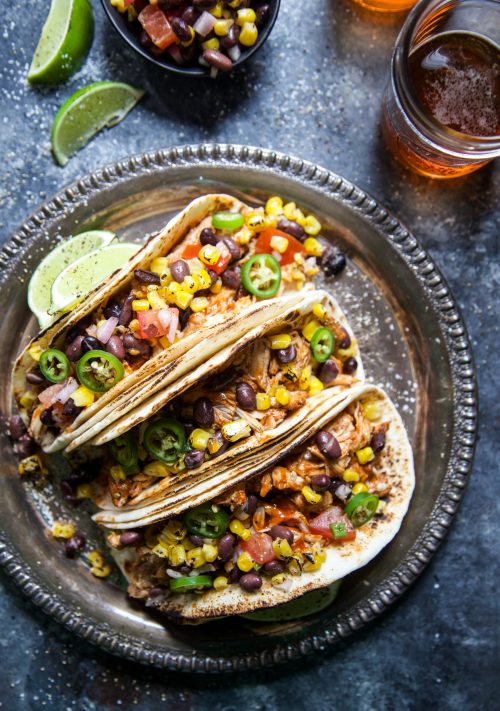 First, the slow cooker BBQ chicken is something that I make at least once a week because all you need are two ingredients: chick thighs and your favorite barbecue sauce. Throw these two gents into the slow cooker and let the magic unfold. I typically serve the chicken in a wrap, bun, or on top of salads. But the other day, I got a wild hair and decided to add them to tacos!! Clearly I should have been doing this ages ago because I think it's my newest obsession.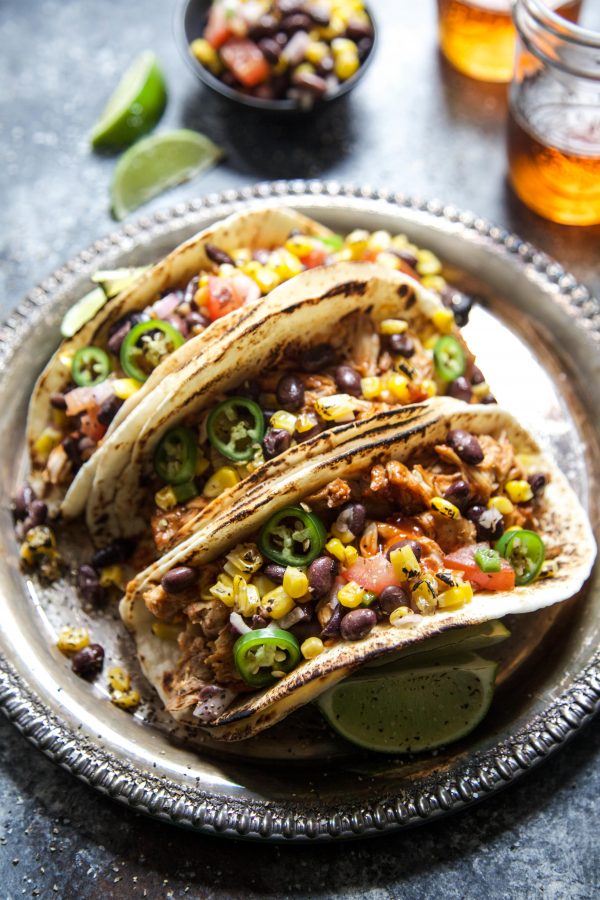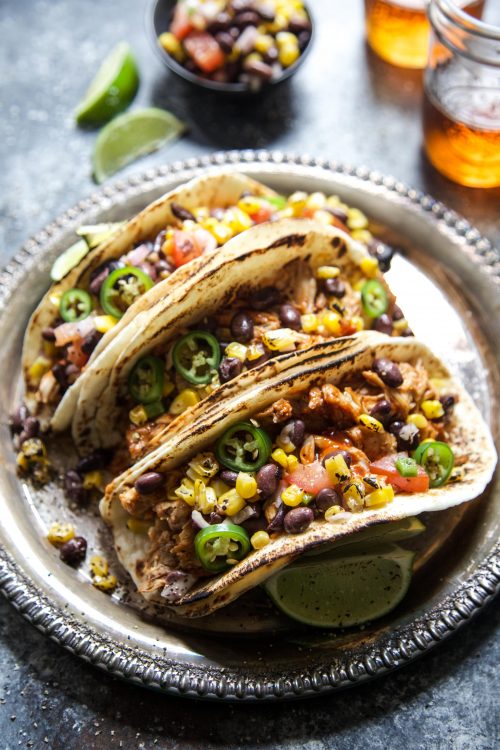 Second, what really makes these tacos legit, legit is the Texas Caviar. Which is a mixture of corn, black beans, jalapeno, tomatoes, onion, and red wine vinegar. All tossed together and then piled-high on top of the barbecue chicken.
These Slow Cooker BBQ Chicken Tacos with Texas Caviar are a great meal prep for a Sunday or easy to throw together for those upcoming backyard parties or picnics. Or for when you need a full belly watching American Gods. No seriously, consider yourself warned.
Now, back to the grind.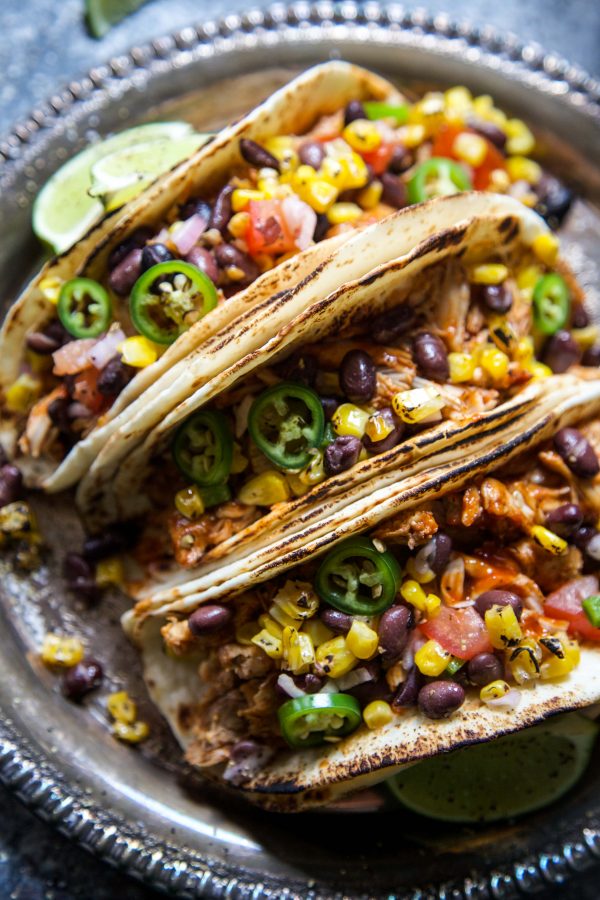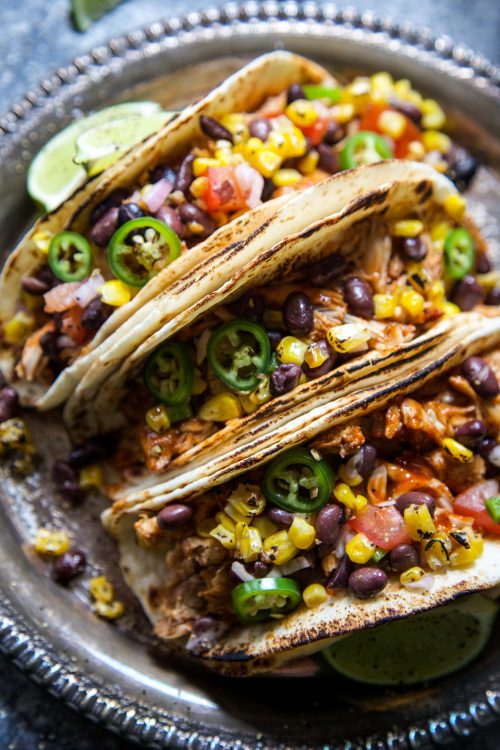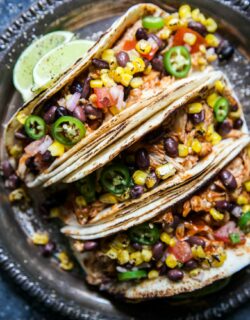 Slow Cooker BBQ Chicken Tacos with Texas Caviar
Ingredients:
for the slow cooker BBQ chicken tacos:
1 1/2 lbs boneless skinless chicken thighs
2 1/2 cups favorite barbecue sauce
8 soft tortillas, toasted
for the Texas Caviar:
3 cups grilled corn kernels
2 15 oz cans black beans, drained, rinsed
1 small tomato, diced
1/2 jalapeno, deseeded, diced
1/2 cup red onion, diced
1/2 red pepper, diced
1/4 cup red wine vinegar
1/4 cup olive oil
salt and pepper
Feta cheese crumbles, garnish or mix in 1/2 cup (optional)
Directions:
for the slow cooker BBQ chicken tacos:
In a slow cooker add the chicken thighs and barbecue sauce. Set the slow cooker either on high for 4 hours or low for 8 hours. Once the chicken has cooked, remove the chicken from the slow cooker and place on a cutting board. Using two forks, shred the chicken and set aside. To serve, stuff some of the shredded chicken into a soft tortilla. Top with Texas caviar. Serve and enjoy!
for the Texas Caviar:
In a large bowl, combine corn kernels, beans, tomato, jalapeno, red onion, and red pepper. Mix together olive oil and red wine vinegar. Pour mixture over veggies and toss to combine. Season with salt and pepper. Garnish with feta or mix in about 1/2 cup if desired.
All images and text ©