Cardamom Blueberry Crumble Pie
Cardamom Blueberry Crumble Pie is an easy and scrumptious dessert to use up all those blueberries!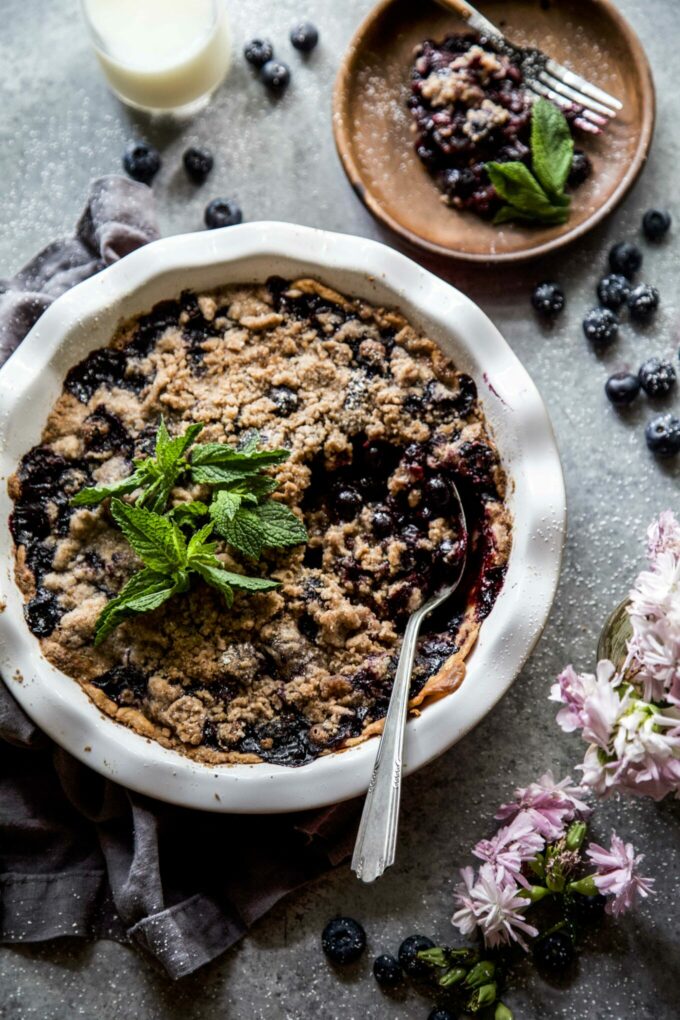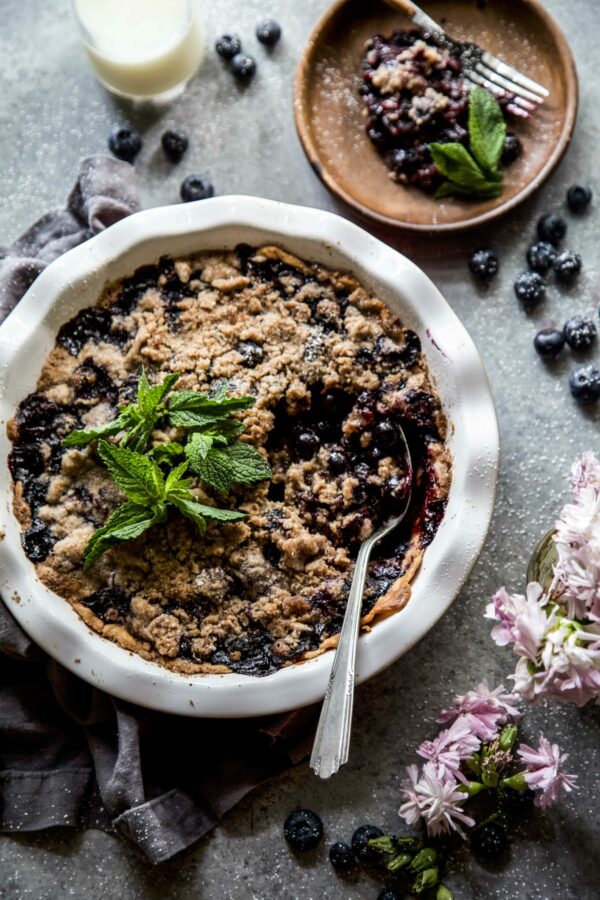 I've got a new T.V. show for you to watch.
Wait.
You've probably seen it. Mr. B and I are so far behind on our Netflix shows that we're probably the only people who haven't watched Tiger King. I know! By the way, should we watch it? Asking for a friend.
Anyway, the show I am talking about is Perry Mason starring Matthew Rhys. Um, he is an amazing actor especially in The Americans. He is also married to the best person ever, Kerri Russell! Or Felicity, if you will. The premise of the show is about a kidnapping, mega churches, death, and it all takes place in 1930's L.A.
The acting and plot are phenomenal. BUT! Literally every scene Mr. B and I look at each other and say, "Did you see that light fixture? OOOH….what about the wallpaper?" It's all art deco and I'm here for it. Let me know if you've seen it because it's soooooooo good!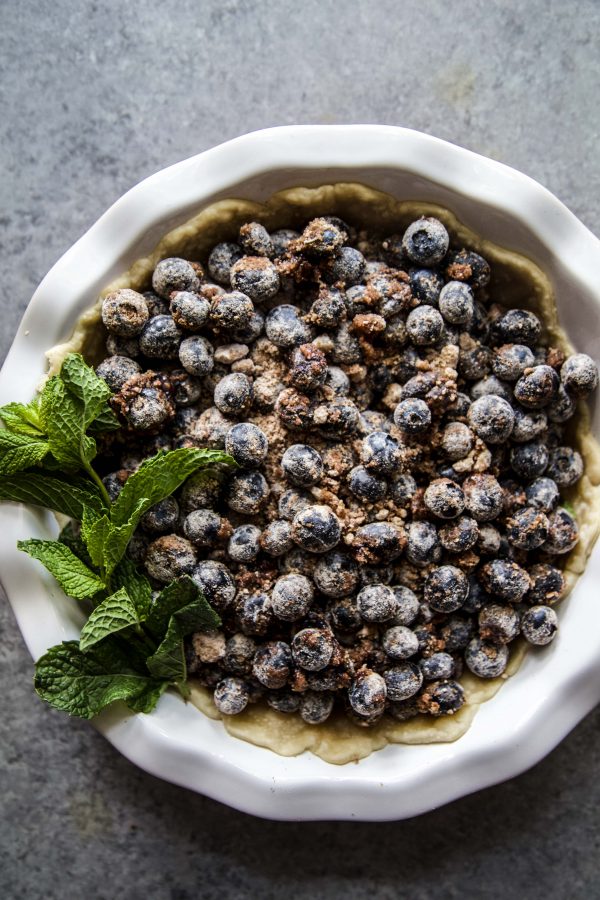 Okay, on with the show. I'm currently in the mountains for round two of family vacations. I forgot how much I love being up here. Since we've finished the remodel I definitely see us spending more time up in the high country. Fingers crossed ski season happens!
Anyway, I made this Cardamom Blueberry Crisp Pie last week because I had a bazillion blueberries. Not sure how that happened, but alas, I needed to do something with them besides freeze! And y'all know that I don't bake so when I say this pie comes together quickly it does.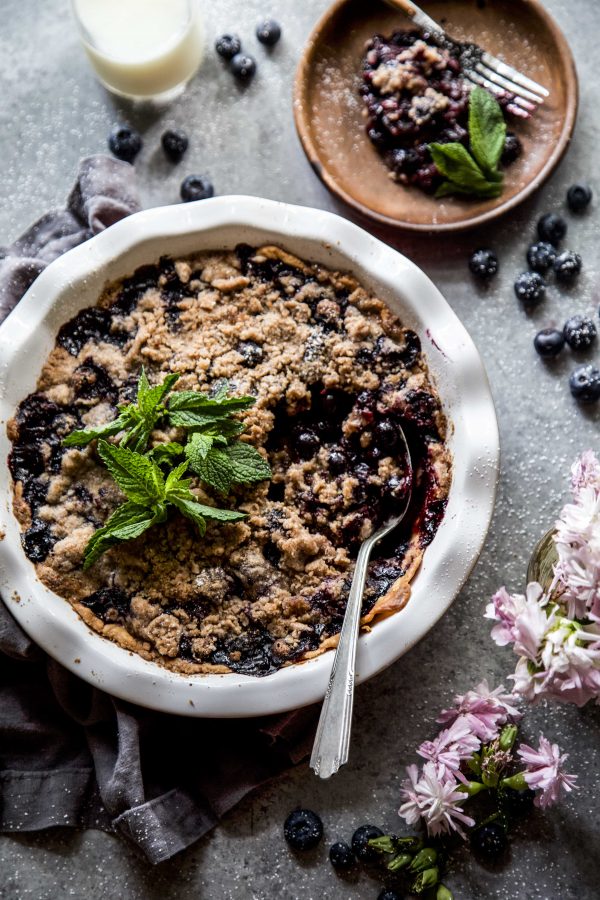 First, I used a store bought pie crust because I don't have time to make some from scratch. Chasing Charlie is now my new pastime. Second, with the crust secured all you need to do is assemble the filling and topping. Lastly, layer it all together and bake. That's it.
It was a big hit this past week with the fam. Bonus if you add ice cream on top!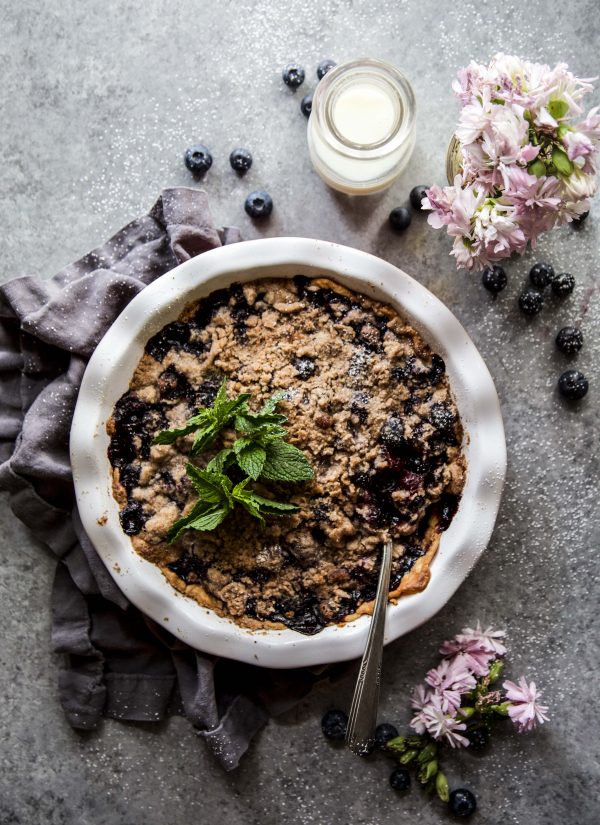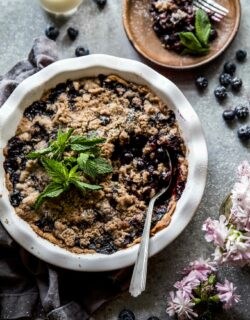 Cardamon Blueberry Crumble Pie
Ingredients:
1 pkg of store bought pie dough
for the pie filling:
4 cups frozen or fresh blueberries
1/3 cup brown sugar
1/2 tsp ground cardamon
1/4 cup all-purpose flour
1 tsp ground cinnamon
1 tbsp vanilla extract
for the crumb topping:
3/4 cup all-purpose flour
1/3 cup brown sugar
1/3 cup granulated sugar
1/2 tsp cardamon
1 tsp ground cinnamon
1/4 tsp kosher salt
1 stick unsalted butter, cold, cut into small cubes
Directions:
Preheat an oven to 350 degrees. Spray a 9-inch wide baking pie dish with non-stick cooking spray. Gently roll out the store bought dough onto the pie dish. Press the dough into the dish. Cut any overhang with a sharp knife. If you want use your fingers to pinch the edges to make it a bit fancy.
Take the fork and prick the bottom of the dough. Bake for about 15 minutes. Remove from oven and set aside to cool.
For the pie filling, combine all the ingredients. Pour the ingredients into the partially baked pie crust.
For the crumb topping, combine the flour, granulated sugar, brown sugar, cardamon, cinnamon and kosher salt. Next, add in the butter and use your fingers or a pastry blender to combine until crumbly. Sprinkle the crumb topping onto the pie filling.
Bake the pie for about 50 minutes or until bubbling and golden brown. Let cool before slicing a serving!
All images and text ©