Mixed Berry Almond Pancakes
***This is a sponsored post written by me on behalf of Safeway. As always, all opinions expressed are 100% my own.***"Start your morning with a burst of flavor – our Mixed Berry Almond Pancakes are a delightful fusion of berries and nutty richness, a perfect homemade breakfast treat."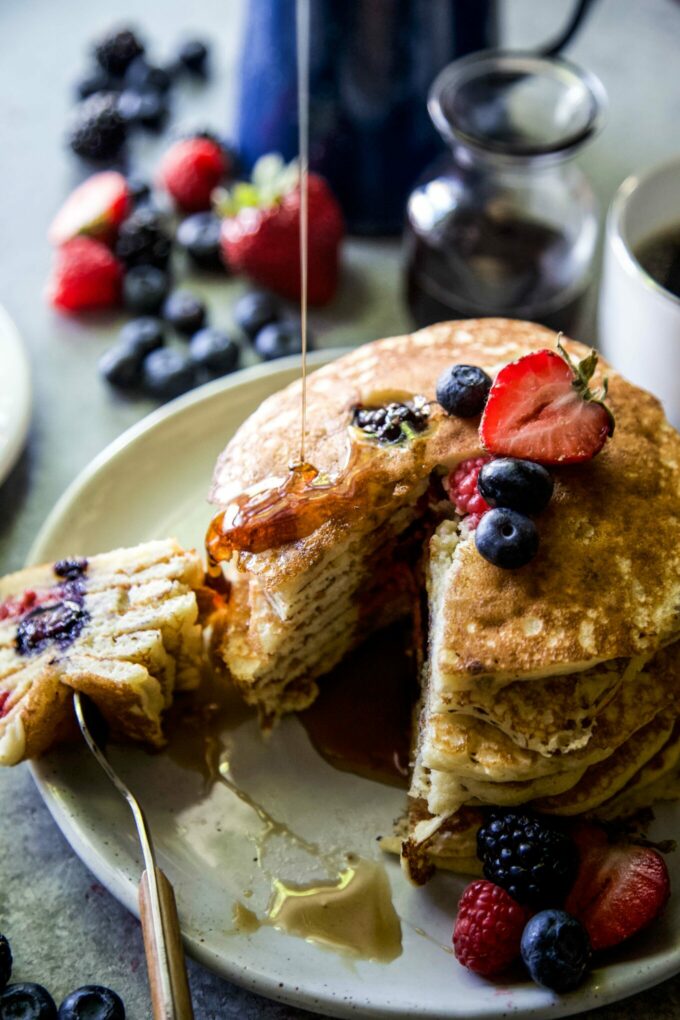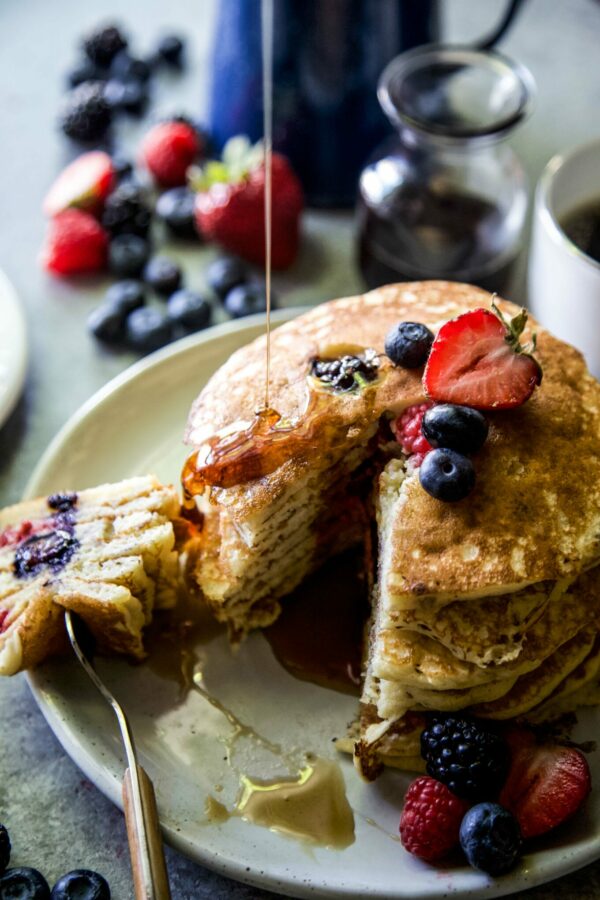 Pancakes.
Is there ever a wrong time to consume them?
Literally the perfect meal for breakfast, lunch, or dinner. In fact, growing up my dad would always make a big stack of pancakes for my brothers and I for dinner. Something about fluffy, perfectly golden pancake topped with maple syrup just brings a smile to a kid's face.
Now that Charlie is eating food, I've been giving her pancakes throughout the day. They are super easy to make ahead and you can add whatever ingredients to them as well.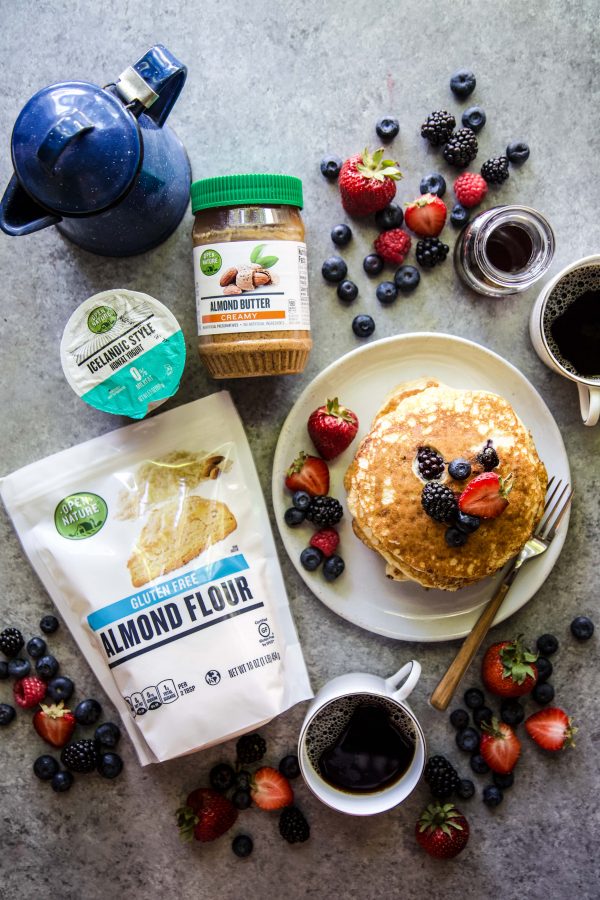 We've been making these Mixed Berry Almond Pancakes a lot lately. Oh, the pure joy of summer produce! I always have on hand strawberries, blueberries, raspberries, or blackberries. BUT! What makes these pancakes really flavorful are these three ingredients:
· Open Nature® Almond Flour
· Open Nature® Almond Butter
· Open Nature® Icelandic Yogurt, Plain 0%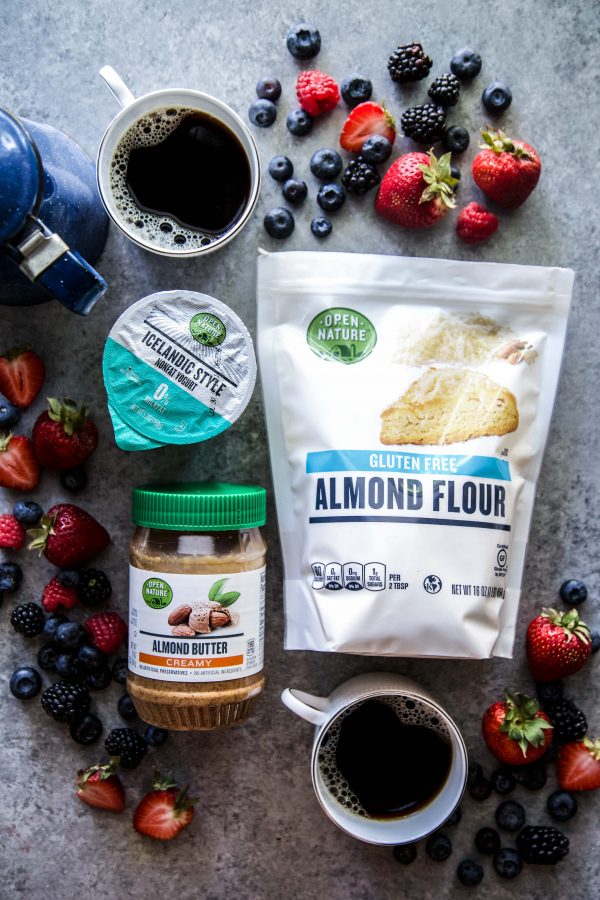 I am so lucky that I live down the street from Safeway because my access to Open Nature products is so easy! All of these high-quality products are made with ingredients from nature without any artificial flavors and come at an incredible value! Which makes this mama very happy!
Plus, I get to give Charlie different types of flavor whether through the Open Nature Almond Butter or Open Nature Icelandic Yogurt, Plain 0%. Or a chance to try Open Nature Almond Flour which is a great option if you want to do gluten-free. Open Nature products offer a variety of healthy alternatives such as plant based, protein rich, gluten free options along with compostable and biodegradable based on lifestyle & wellness needs.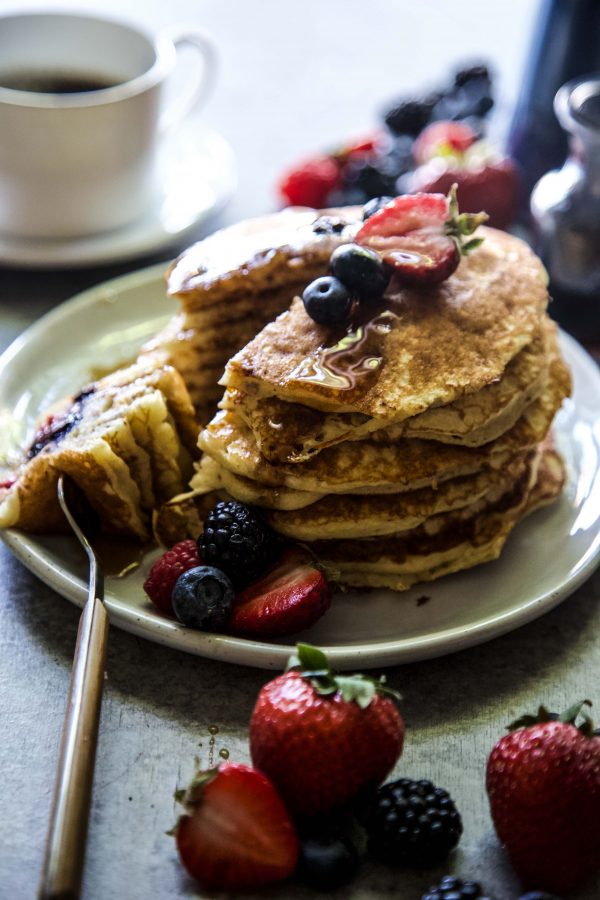 To make these Mixed Berry Almond Pancakes all you have to do is mix the almond flour, almond butter, milk, yogurt, banana, baking soda, baking powder, egg, and vanilla in a bowl. Once combined pour the batter into a hot skillet, sprinkle your mixed berry medley on top, flip, and enjoy! 
Just don't forget the copious amounts of maple syrup drizzled on top!
If you are looking to buy more O Organics and Open Nature products and don't have a Safeway near you can also find them exclusively at the Albertsons Companies family of stores, including Albertsons, ACME Markets, Jewel-Osco, Vons, Pavilions, Randalls, Tom Thumb, Shaw's, Star Market, United Supermarkets and Carrs/Safeway.
For more information make sure to visit Safeway.com/exclusivebrands to find a store near you and discover more recipe ideas!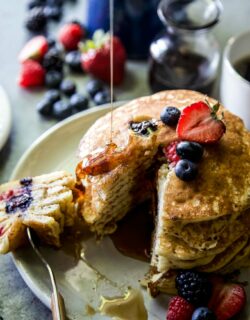 Mixed Berry Almond Pancakes
Ingredients:
1 medium banana, mashed
3/4 cup Open Nature® Icelandic Yogurt, Plain 0%
2 large eggs
1 tsp vanilla extract
1/2 cup gluten-free all-purpose flour
1/2 cup Open Nature® Almond Flour
1 tsp baking powder
1/4 tsp baking soda
1/2 cup milk
1 tbsp Open Nature® Almond Butter
1 cup mixed fresh berries – strawberries, blueberries, raspberries, blackberries
Directions:
In a large bowl combine the banana and Open Nature® Icelandic Yogurt; whisk in the eggs and vanilla. Next, stir in the gluten-free flour, Open Nature® Almond Flour, baking powder, and baking soda. Whisk in the milk and Open Nature® Almond Butter.
In a large non-stick skillet preheated to medium heat spray it with non-stick cooking spray. Take a 1/4 cup of the batter and pour it into the skillet. Top with pancake with mixed berries. Cook until bubbles form on the uncooked side; flip and continue to cook until brown and golden. Repeat process until all the batter has been used!
All images and text ©