carrot cake waffle sandwiches with cinnamon frosting
Carrot Cake Waffle Sandwiches with Cinnamon Frosting are a fun twist on classic carrot cake! They're perfect to serve for breakfast or dessert!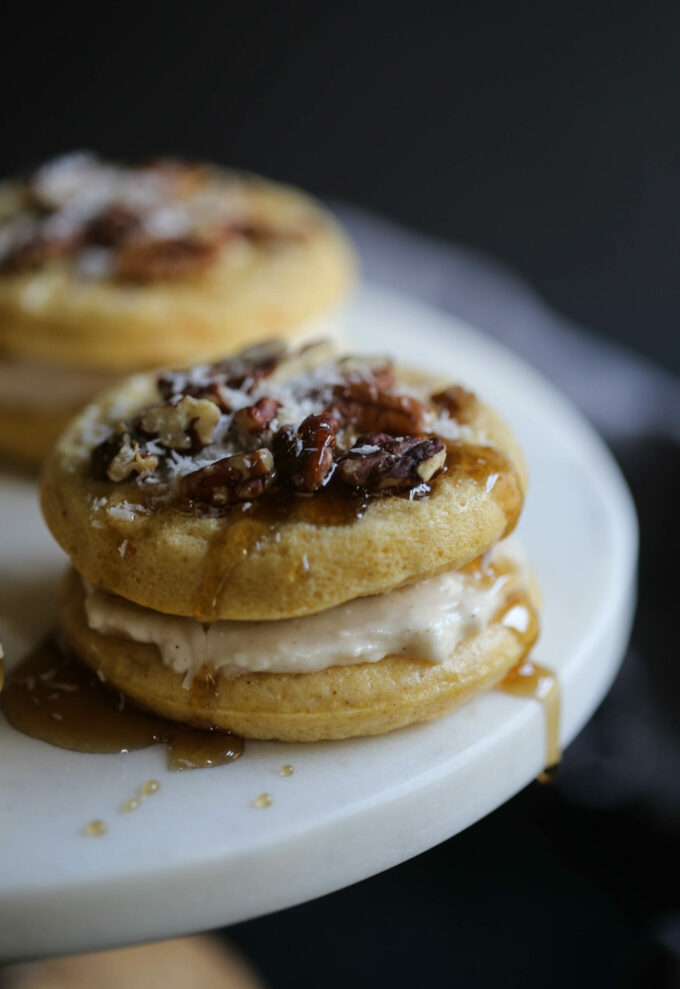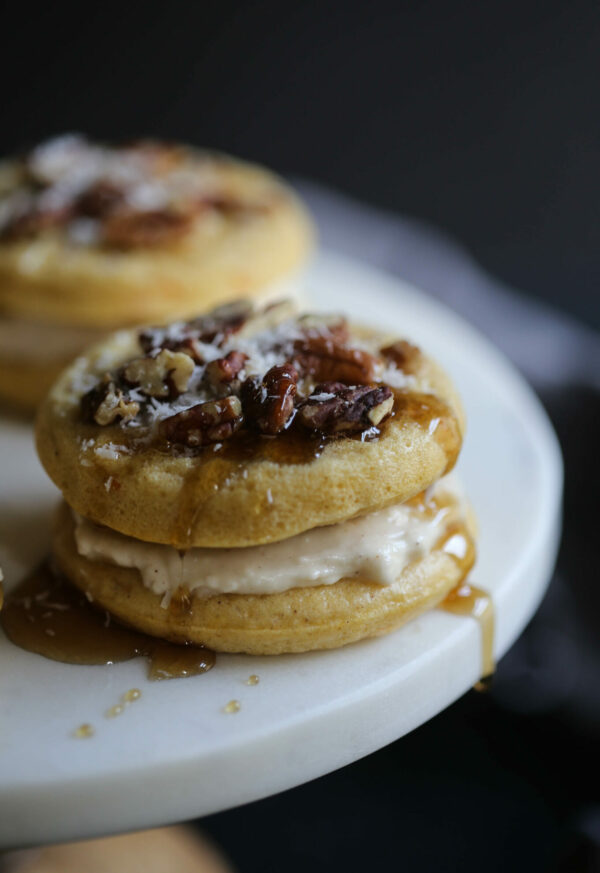 I have a confession to make.
This maybe TMI, but we are all friends here, right?
The last time yours truly ate an actual slice of carrot cake was on Spring Break circa 2001 in Padre Island. You can probably guess where this story is headed. It was our last night on the island so what's a gaggle of girls supposed to do? We had a fancy dinner, ordered dessert (insert carrot cake consumption here), drank a mixture of shades of giggle juice, and stayed out with owls.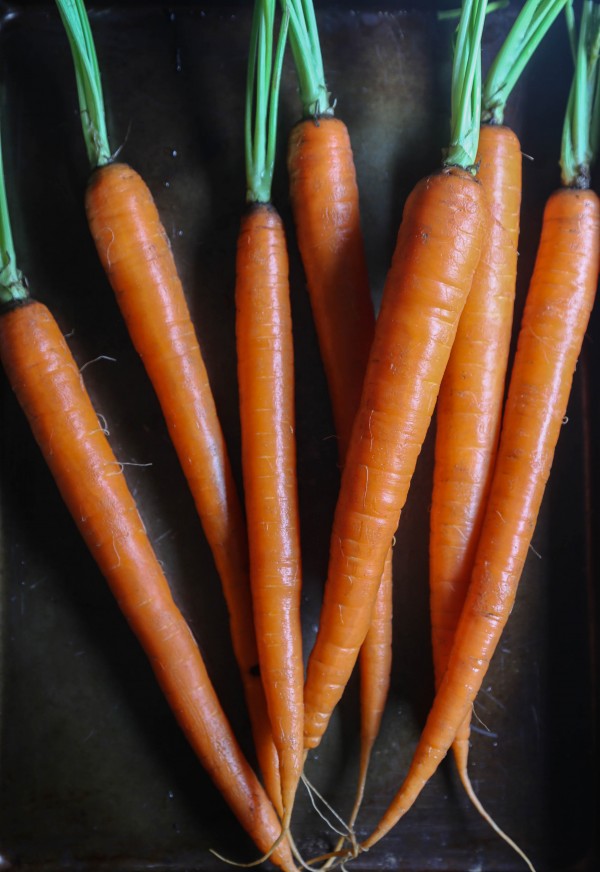 Well, the combination of the above mixture allowed for the glorious second appearance of said carrot cake. So, since 2001, I haven't had a single bite of carrot cake. Please tell me I am not alone in the "I haven't touched food since it made an unexpected encore" situation. I promise I won't judge!
Even though carrot cake and I haven't seen fork to eye in years, I do miss it because it's actually a good cake, especially during the Easter holiday. I think that's why these Carrot Cake Waffle Sandwiches with Cinnamon Frosting came to fruition. It's like a stomach and emotional comprise.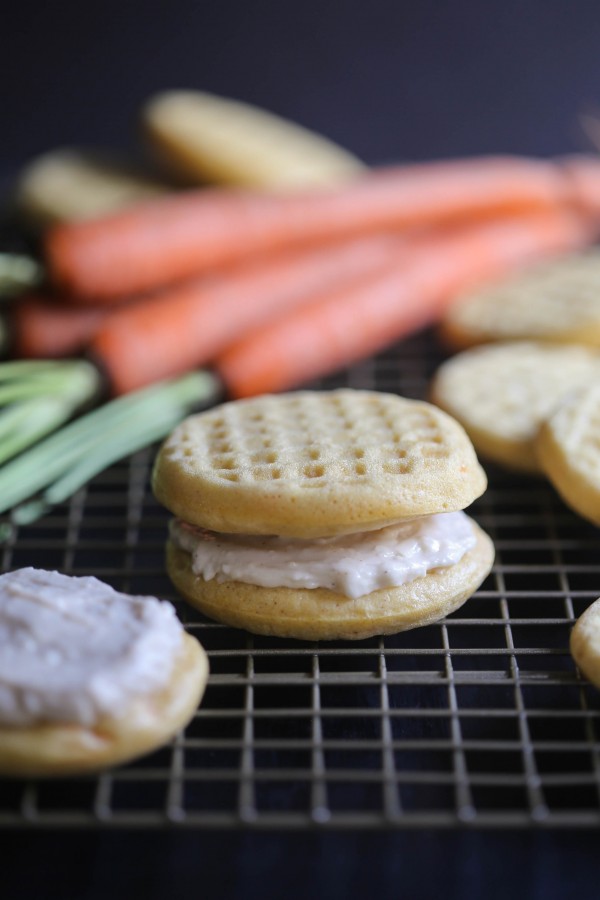 Y'all know that I am a sucker for waffles – savory or sweet. These Carrot Cake Waffle Sandwiches can be eaten as a dessert or whipped up on Easter for breakfast. Or, it might be better served as DESSERTFAST. Yep! It's totally a thing. Just don't forget the cinnamon frosting. I promise it won't make a an unexpected encore.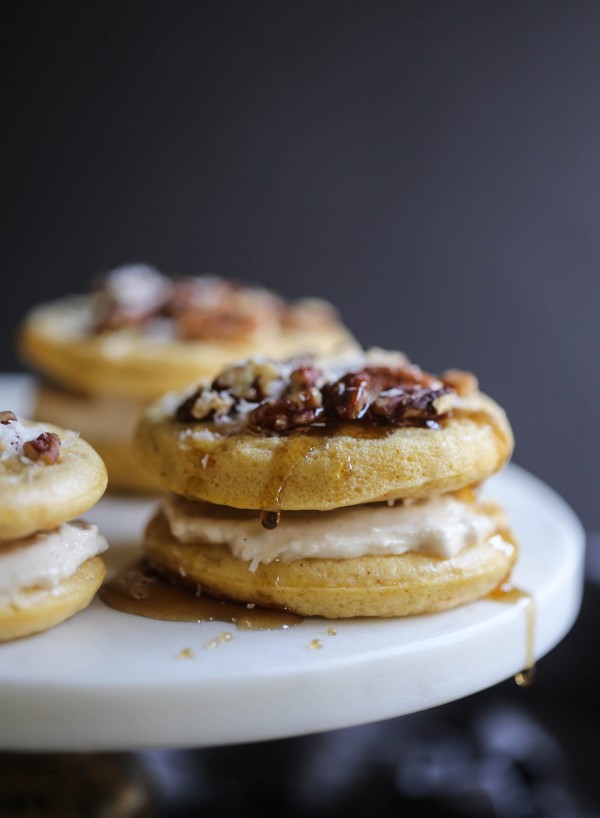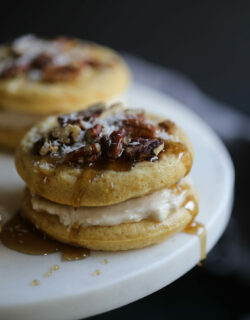 Carrot Cake Waffle Sandwiches with Cinnamon Frosting
Ingredients:
for the waffle sandwiches:
1 1/2 cups all-purpose flour
2 large eggs
1 1/2 teaspoons baking powder
1 1/2 cups whole milk
3 tablespoons unsalted butter, melted
2 tablespoons granulated sugar
1 teaspoon vanilla extract
1/4 teaspoon kosher salt
1/4 teaspoon ground cinnamon
1/4 cup carrots, shredded finely
Chopped pecans, garnish
Maple syrup, garnish
Coconut flakes, garnish
for the cinnamon frosting:
4 oz plain cream cheese
1/2 cup powdered sugar
1 teaspoon milk
1/2 teaspoon vanilla extract
1/4 teaspoon cinnamon
Directions:
for the waffle sandwiches:
Preheat oven to 325 degrees. In a large bowl, combine the first 10 ingredients. Spray a Ice Cream Sandwich sheet pan with non-stick cooking spray. You can find this kind of sheet pan at Target, Amazon, etc. Divide the waffle batter evenly. You might have leftover batter, which is okay. Save for another use or make more later. Place the sheet pan into the oven and bake for about 8 to 10 minutes or until golden brown.
Remove pan from oven and let the waffle sandwiches cool completely. Once cooled, take one sandwich end and spread the cinnamon frosting on top. Place another sandwich end on top of the frosting. Garnish top with pecans, coconut flakes, and maple syrup. Repeat process until all six waffles sandwiches have been made!
for the cinnamon frosting:
In a large bowl, combine all ingredients. Add additional milk if frosting gets to thick.
All images and text ©