loaded sweet & sour turkey meatball subs
Forget ordering take-out while watching March Madness. Try making these Loaded Sweet & Sour Turkey Meatball Subs instead. These subs are packed full of flavor and healthy too!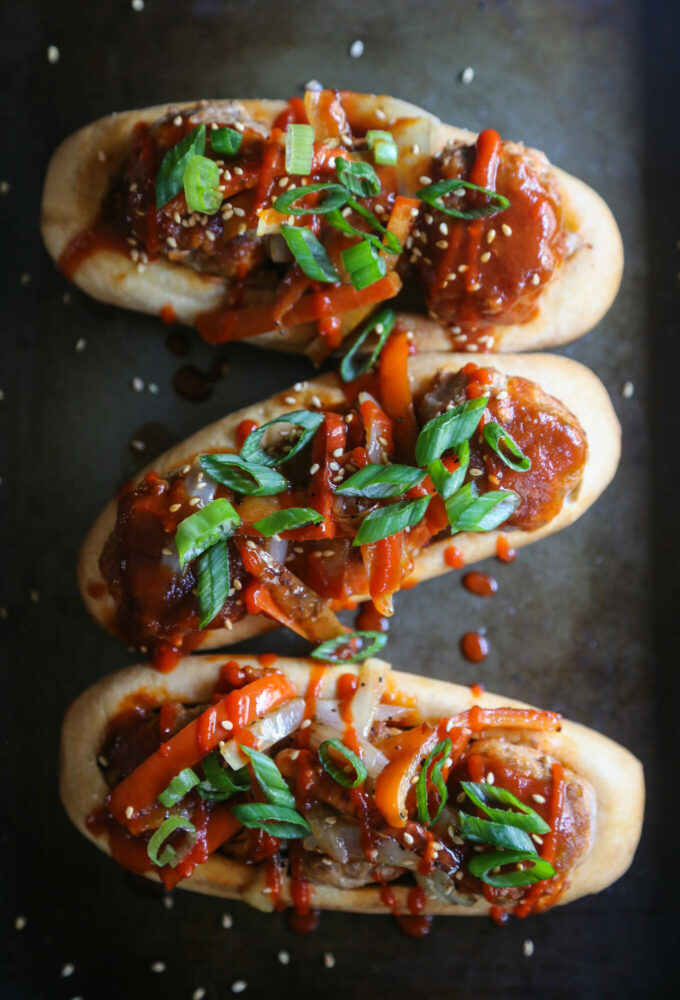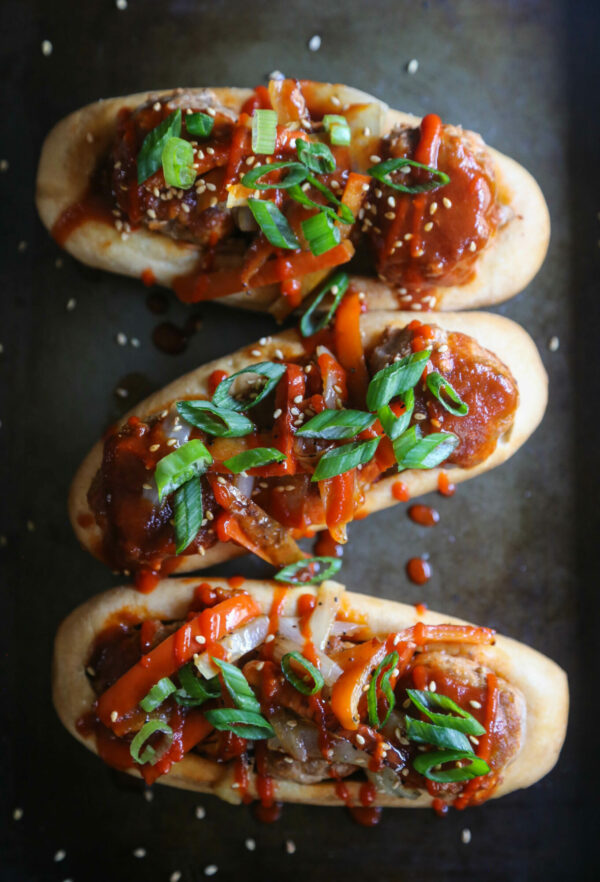 Sooooooo…..it's officially SPRING, folks.
I thought we would never make it!
Actually, this winter has been pretty mild. We had some serious snowfall right after the first of the year, but it's been in the sixties pretty consistently around the mile high city. As I say this though, I can feel a giant ass snow storm waiting to unleash. Meh, it happens. Small price to pay to the spring/summer gods.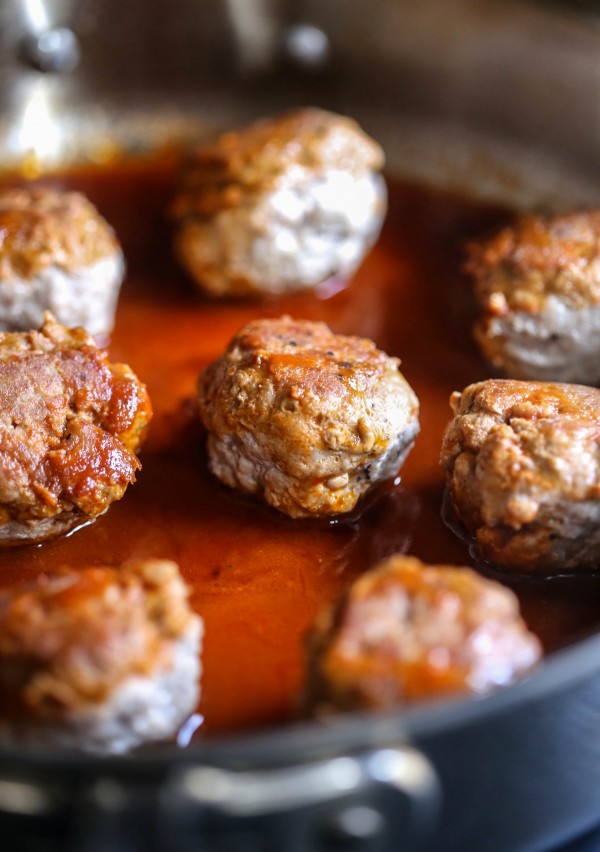 Now that we are frolicking through spring meadows, can we talk about baseball and my love for Opening Day? Being raised in Kansas my heart will always belong to the Royals. Seriously, was last year not the best EVER? GAH! Even though I haven't been to a Royals game in forever, I still like to show my support for America's pastime by cheering on our own team The Colorado Rockies.
Yes, a little league team could quite possibly beat them, but hey, there's always room for improvement. With Opening Day just around the corner, I thought it would be fun to have a few folks over, marinate in the sun, sip a few Coors Light, and make these Loaded Sweet and Sour Turkey Meatball Subs.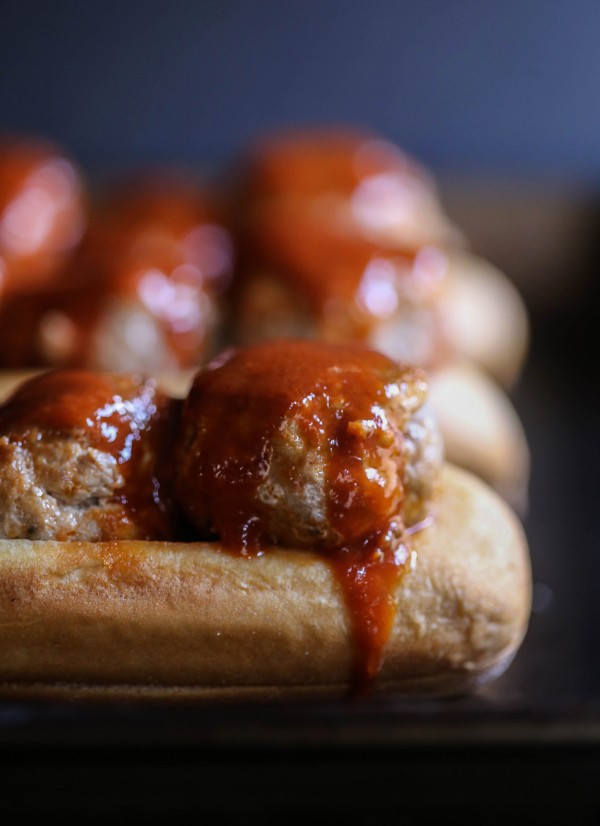 When it comes to baseball comfort food, my stomach knows no limit. I have a mad obsession with ball park nacho cheese. I know it's not even real cheese, but when I see it, I am like a moth to a flame. So, I figured to combat my lust for nacho cheese, I figured these Loaded Sweet and Sour Turkey Meatball Subs will do the trick. These might be my newest obsession because since they are made with turkey they are practically healthy. Also, the sweet and sour sauce is killer.
So, load 'em up, wash it down with cold beer, and say it with me now, "Take me out to the ball game…."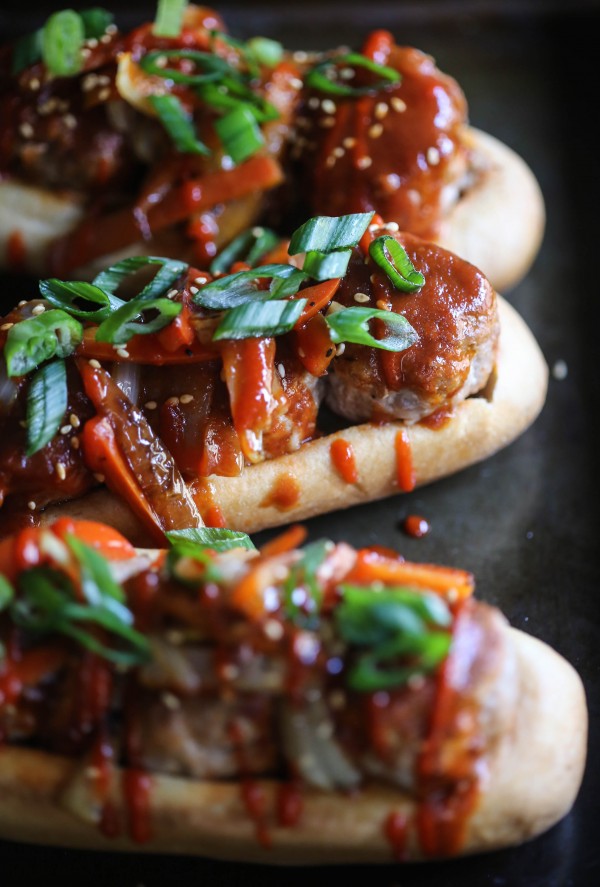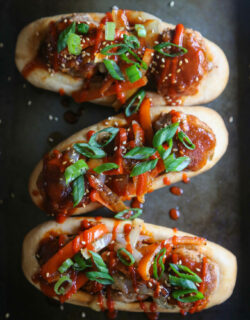 Loaded Sweet & Sour Turkey Meatball Subs
Ingredients:
3 sub rolls
1.5 lbs ground turkey
2 tablespoons dark sesame oil
2 tablespoons green onions, diced
1/4 cup water
1/4 cup ketchup
2 tablespoons Sriracha
1 1/2 tablespoons oyster sauce
1 1/2 teaspoons Worcestershire sauce
3 tablespoons olive oil
1 red pepper, sliced thinly
1 yellow onion, sliced thinly
Sesame seeds, garnish
Cilantro, garnish
salt and pepper to taste
Directions:
In a large bowl, combine turkey, sesame oil, green onions, salt and pepper. Form the turkey mixture into nine, one-inch sized meatballs. Preheat a skillet to medium-high heat. Add 2 tablespoons olive oil to the skillet and along with the meatballs. Sear each meatball one minute per side or until golden brown. Remove meatballs from skillet and set aside.
In another large bowl, combine water, ketchup, Sriracha, oyster sauce, Worcestershire sauce, salt and pepper. In the same skillet that the meatballs were cooked (making sure the skillet is at medium-high temperature), add the ketchup mixture to the skillet and begin to whisk. Bring to a slight boil, return meatballs to the skillet, cover and reduce heat to simmer for about 7 to 10 minutes or until the meatballs are cooked through.
In another large skillet preheated to medium-high heat, add the remaining olive oil. Next, add the red pepper, onion, salt and pepper. Saute until the veggies have softened about seven minutes.
To serve, place three meatballs into a sub roll. Top with sauteed veggies, sesame seeds, and cilantro. Repeat with renaming two subs. Serve immediately.
adapted from Cooking Light Magazine
All images and text ©