corned beef melt with caramelized cabbage
Corned Beef Melt with Caramelized Cabbage is the perfect sandwich to make to celebrate St. Patrick's Day. Easy, delicious, and oh so cheesy!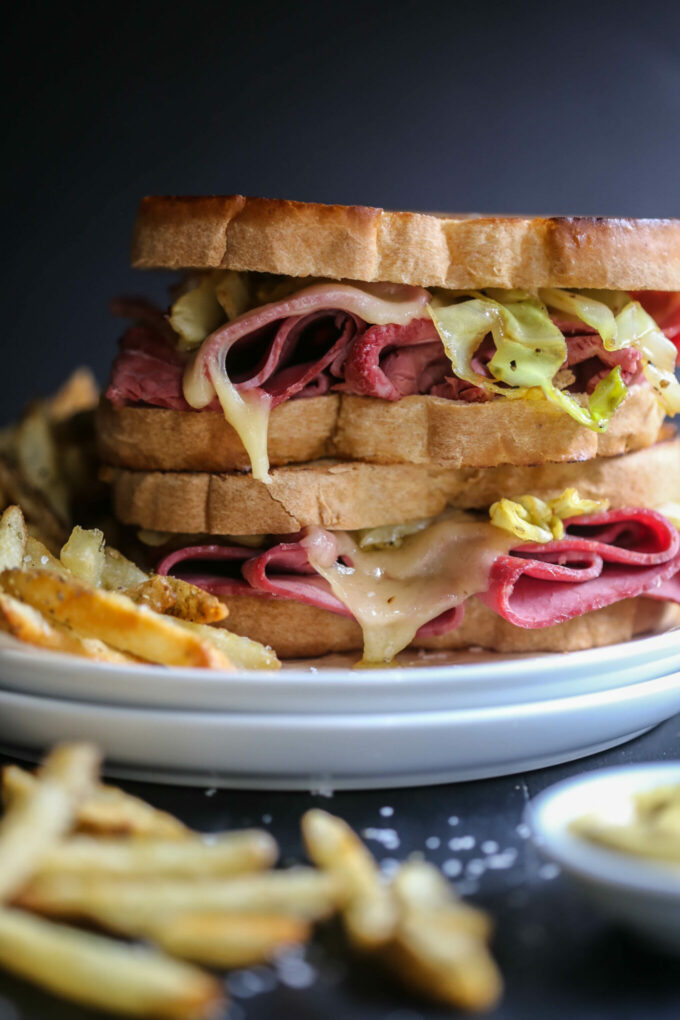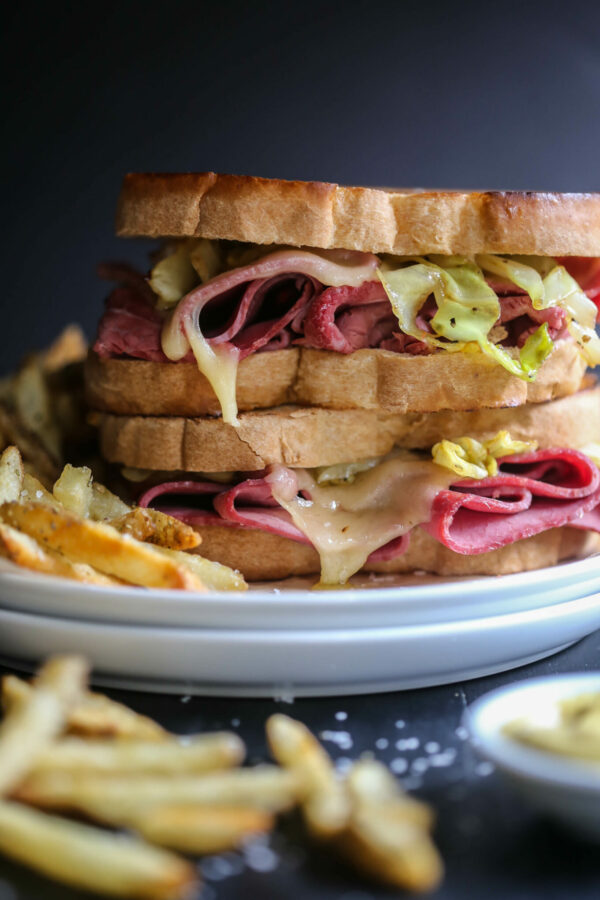 You should have seen Mr.B's face when I burped these up.
Okay, not quite burped up. That sounds more like a bird feeding, huh? Wait. I just made it worse, didn't I? Sorry.
And we're walking……..one of Mr. B's favorite things to eat this time of year is corned beef. He has fond memories of his grandmother (Granny) fixing a feast for St. Patrick's Day for him and his brothers. And the star of said feast? You guessed it, corned beef. Note to self: I need to find that recipe.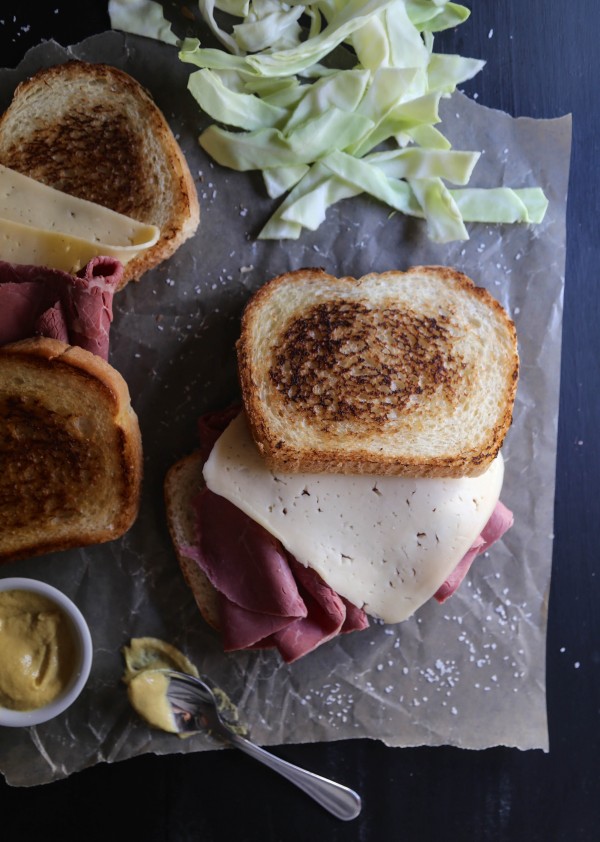 Even though this Corned Beef Melt with Caramelized Cabbage doesn't hail from Granny's kitchen, it sill provides that comfort food taste that makes Mr. B grin from ear to ear. This melt is a great way to use up leftovers. Pile all your St. Patrick's Day fixings in between two slices of rye bread, slap some cheese on top, and let the melting begin.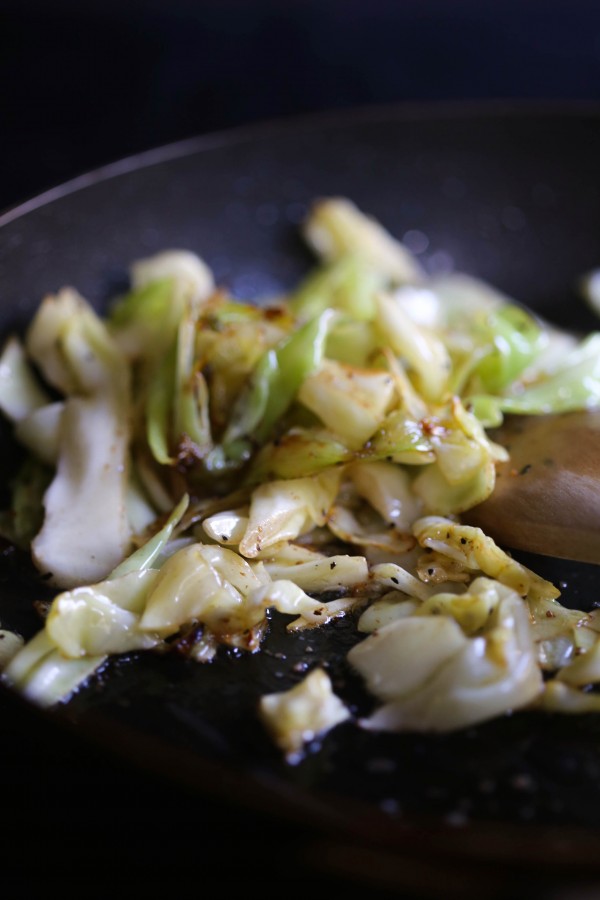 But whatever you do, don't forget the caramelized cabbage! You are lucky I didn't fry the cabbage. Wait. Is that a possibility? Anyway, the crisp, golden cabbage adds a luxurious flavor to these standards melts. You guys know how I feel about leftovers so to be able to add a little something, something is a home run as far as I'm concerned.
So, happy (almost) St. Patrick's Day, friends.
Don't forget to burp up green. Shite. I mean wear green!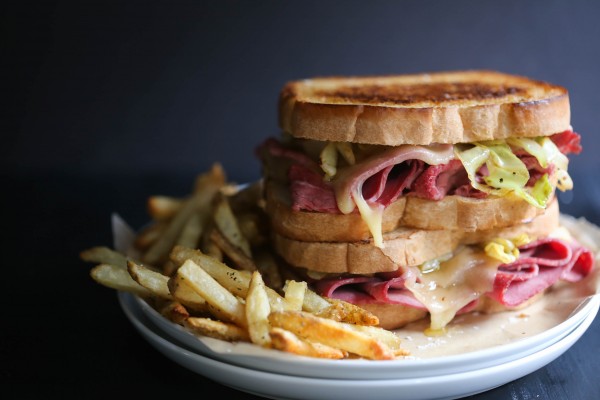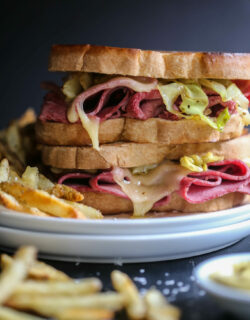 Corned Beef Melt with Caramelized Cabbage
Ingredients:
8 slices rye or sourdough bread
2 tablespoons unsalted butter
1/2 head Napa cabbage, sliced thinly
1 lb corned beef, sliced thinly
4 slices Irish white cheddar cheese
Thousand Island dressing, garnish
salt and pepper to taste
Directions:
In a large skillet, melt two tablespoons butter over medium-heat. Next, add the cabbage, salt, and pepper. Saute the cabbage until caramelized about seven minutes. Remove from skillet.
Preheat broiler. Place four slices of bread on a baking sheet. Top each slice with corned beef, a slice of cheese, Thousand Island dressing (if desired), and cabbage. Place baking sheet under broiler until cheese has melted and the sandwich has warmed through. Remove sheet from oven and top with remaining slices of bread. Serve immediately.
All images and text ©