cauliflower mashed "potatoes" in a lemon cup with smoked paprika
Surprise!!!! Happy Baby Shower, Liz!!
I am so fist-pumping, throwing your tots in the air and wave them like I just don't care excited to celebrate Liz and her soon-to-be bundle of joy #2 today! Liz is the talented author behind the beautiful and healthy food blog, The Lemon Bowl. I had the pleasure of not only meeting Liz in real life at BlogHer Food this year, but we were also roomies in the infamous bardo. How we survived a fun filled foodie weekend in Austin, while enduring the #condocurse is still a mystery!
Liz is an absolute gem. Her wealth of knowledge when it comes to life, food blogging, and overall shenanigans, makes me eternally grateful that I get to call her my friend. Not only is she a two-snaps around the world friend, her recipes are killer. I am completely smitten with her garlic-soy marinade, steamed pork dumplings, and chicken shawarma. I'm getting hungry just thinking of the endless possibilities. Plus, she totally bats for Team Tot so naturally we are kindred spirits.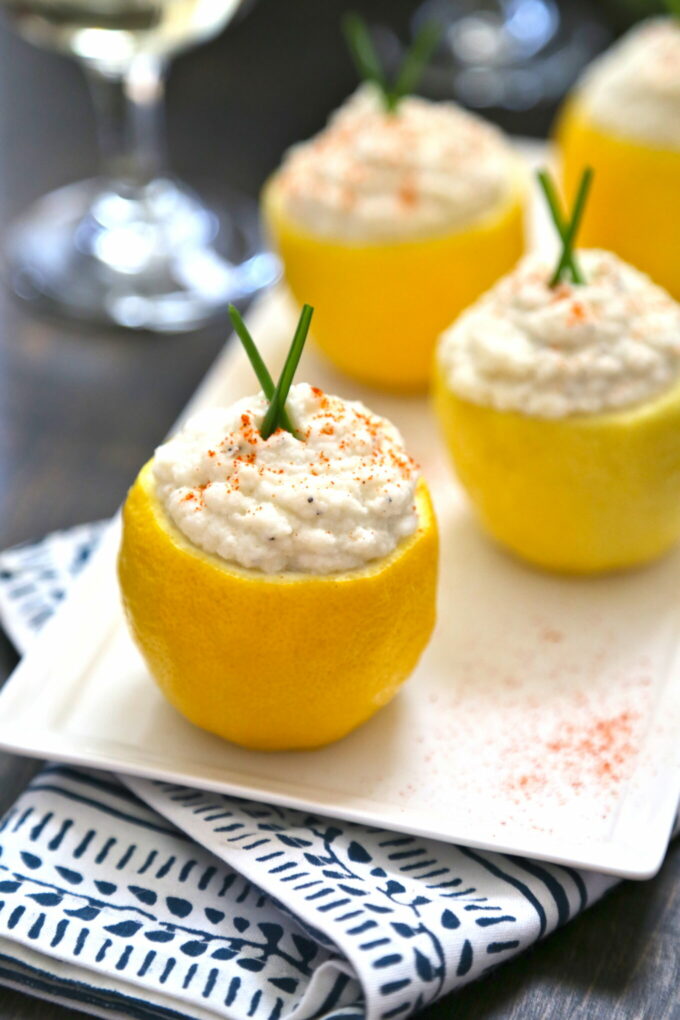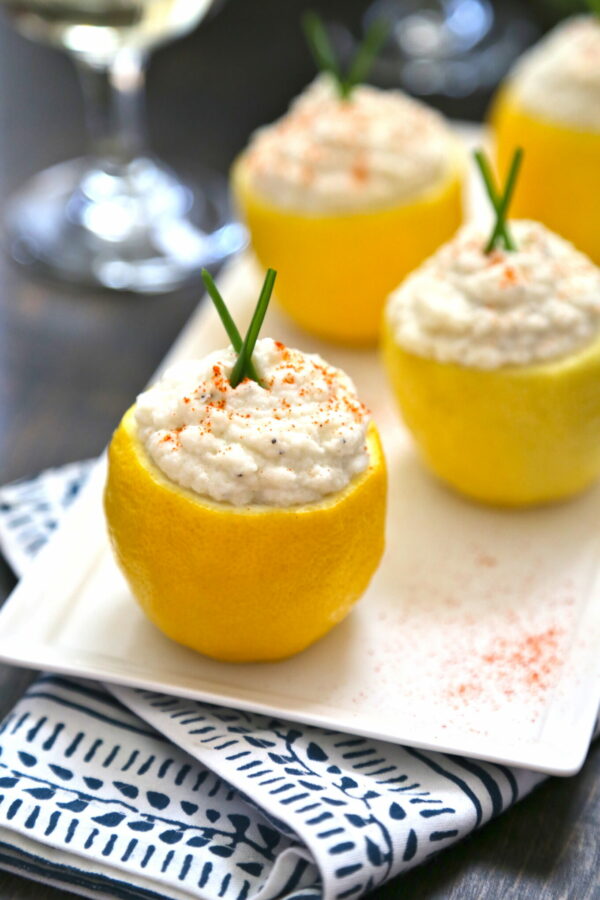 So today, 15,342 food bloggers and I are catering this shower with the best lemon themed appetizers, entrees, desserts, and mocktails. Yours truly went the ol' appetizer route because I knew exactly what I wanted to make for the queen of lemons.
Aren't these lemon cups the cutest darn tootin' things? GAH! If I could fill them with sunshine and lollipops and not look like a major tool shed, I totally would. Instead, I figured I should keep them healthy and whip up some cauliflower mashed "potatoes."
If you haven't had cauliflower mashed potatoes, they are a great lower carb alternative than regular potatoes. You make them the exact same way and truth be told, they taste the same too! Can I get a whut, whut?!!
Happy Baby Shower, Liz! You're our number one prego stunner!
Make sure and check out the rest of the baby shower catering crew:
Appetizers
Beverages
Salads
Main Dish
Desserts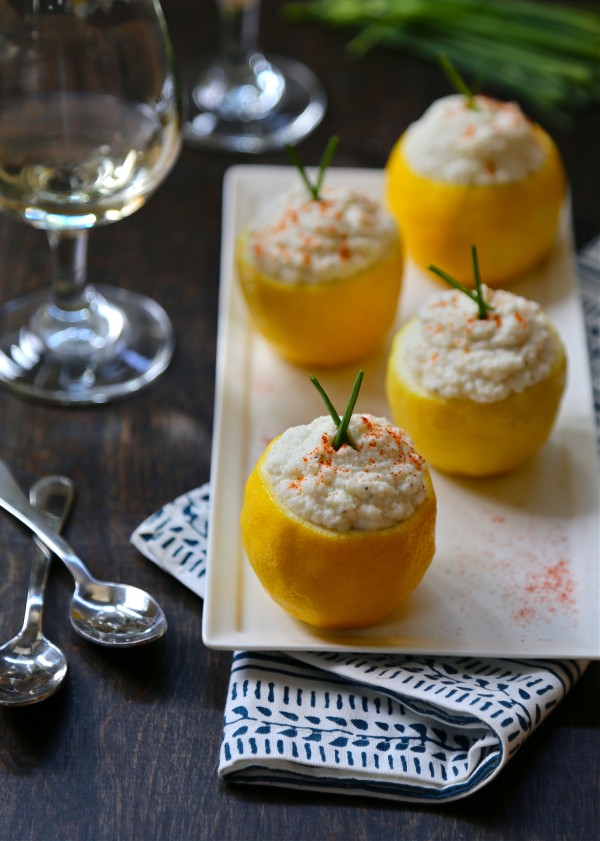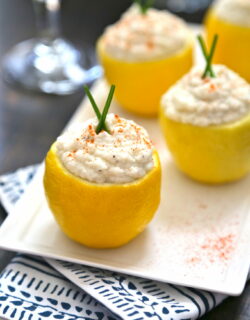 Cauliflower Mashed "Potatoes" in a Lemon Cup with Smoked Paprika
Ingredients:
1 head cauliflower, cut into florets
3 tablespoons milk
1 tablespoon unsalted butter
2 tablespoons sour cream
1 teaspoon garlic powder
salt and pepper
8 lemons
Smoked paprika, garnish
Chives, garnish
Directions:
Place cauliflower in a saucepan filled with water. Bring to a boil and cook until tender about 10 minutes. Strain cauliflower and place florets into a food processor. Add the milk, butter, sour cream, garlic powder, and a pinch of s&p. Puree until smooth. Add more milk if needed. Place puree in a Ziploc bag. Cut a bottom corner of the bag and piper into lemon cups.
To make the lemon cups: Take a lemon and slice about a quarter of the way down removing the top. Take a knife and run along the edges of making it easy to scoop out the flesh. Scoop out the flesh and then pat the inside dry removing any juice. Pipe the cauliflower mashed potatoes into the lemon cups and garnish with chives and smoked paprika.
All images and text ©