cheesy breakfast nacho tots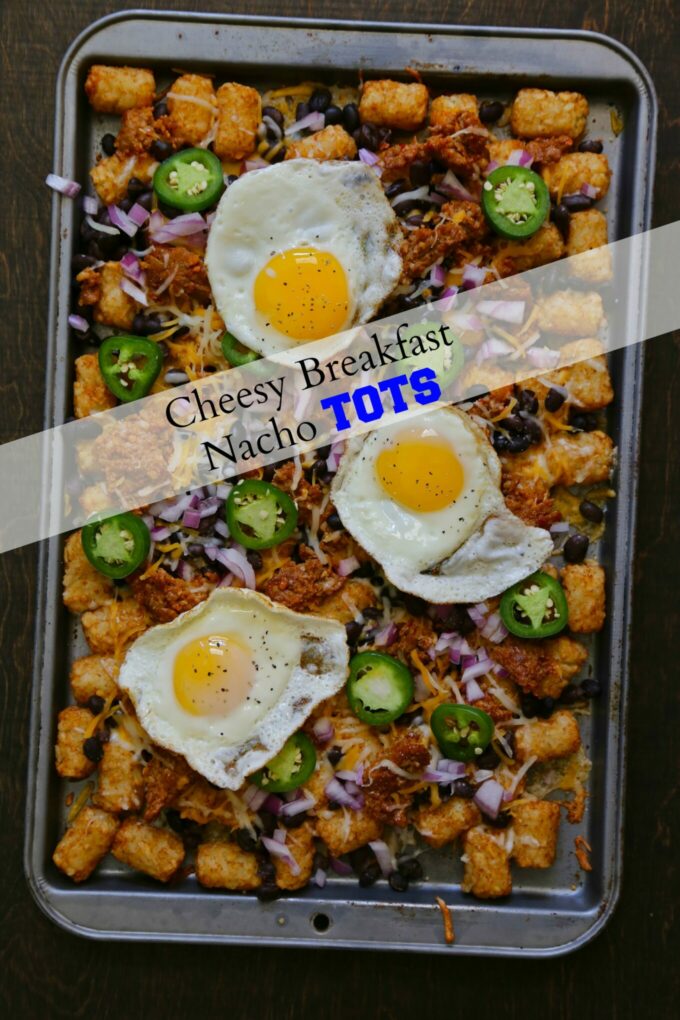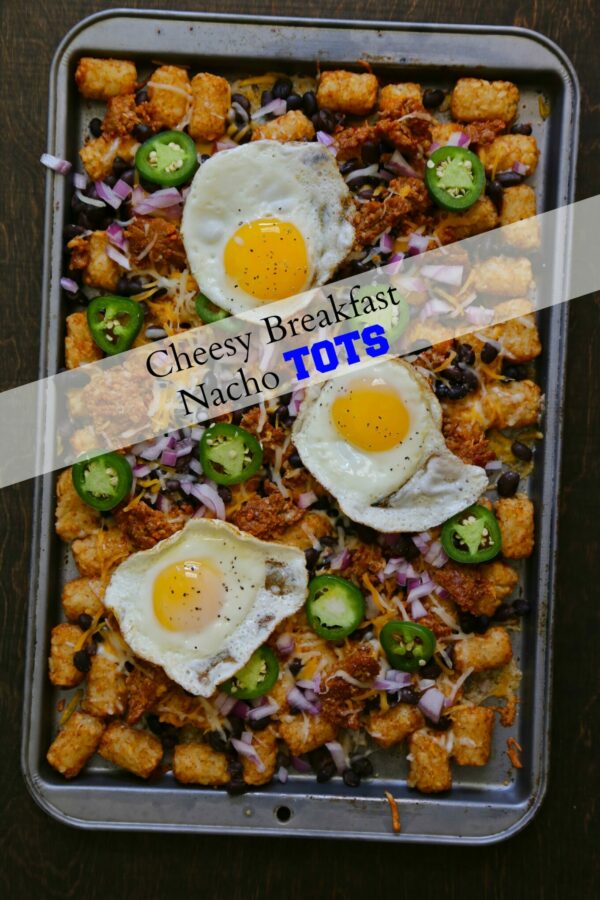 Today is the day.
A reckoning, if you will.
Not quite Armageddon (did anyone watch The Walking Dead season premiere? So glad they didn't kill off Daryl!), but it is more of a crystal ball, "I see different kinds of tots in your future" kind of reckoning.
By the way, have any of you ever visited to psychic? Part of me really wants to go and find out if I will ever meet James Van Der Beek (post Dawson's Creek of course). Seriously, have you seen that Cars.com commercial? I pee my pants every time it comes on the tellie! But then the other part of me is scared to death because what if the psychic tells me I'll have 4 sets of twins? Could you imagine?!! Kate Gosselin would look like a princess if they ever filmed my life!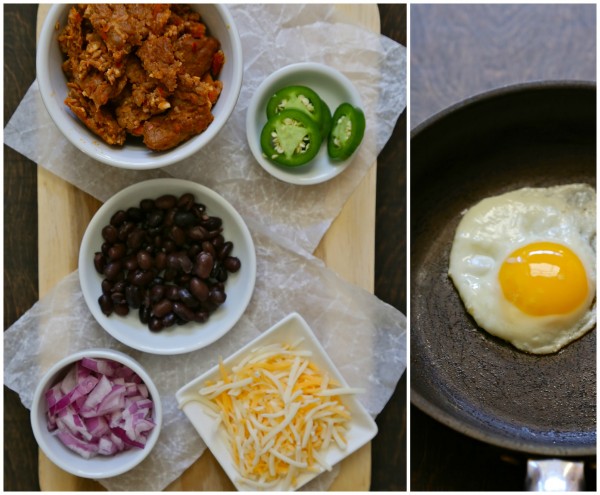 Anyways, after making my sweet potato tater tots with sriracha aioli and apple tater tot crisp, the idea of a breakfast tot version started dancing around in my head.  Well, foodie folks, today is the day. I've looked deep into the crystal ball and saw my tot making future. It looks crispy, cheesy, and more golden than a King Midas touch.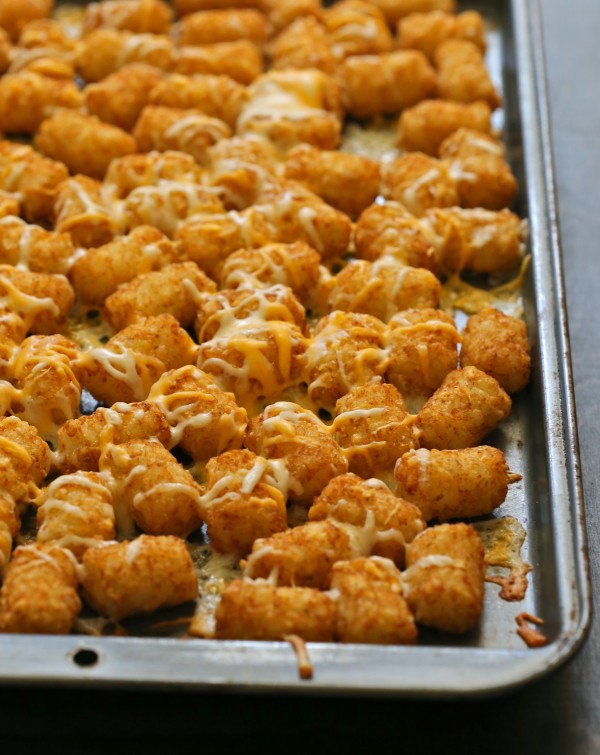 This may be my favorite tot version yet. Bold, yes. True, you betcha.
Not only is it breakfast perfection with chicken chorizo and a perfectly cooked sunny-side up runny egg, but the thought to eat nachos for breakfast makes me James Van Der Beek giddy. I couldn't think of a better way to start the day than with some baked, gooey cheese with jalapenos, black beans, and red onions nestled between perfectly cubed leftover fried mashed potatoes.
I mean, if the apocalypse were to go down and for some reason Daryl was a no show (God forbid!), I would want these tots to be my last meal. I see a new slogan in our future.
Tots, breakfast of zombie killer champions.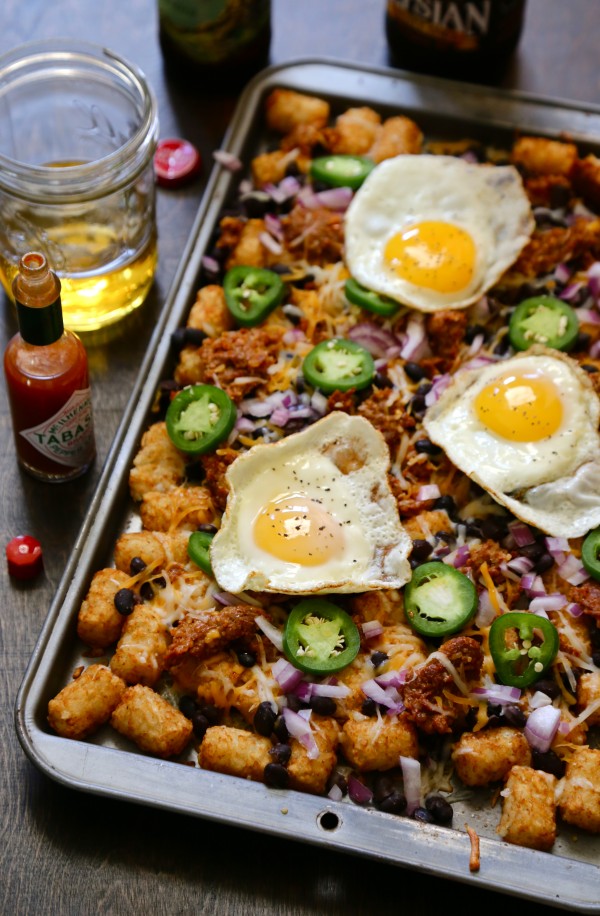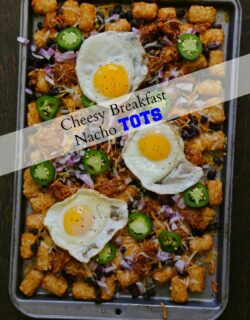 Cheesy Breakfast Nacho Tots
Ingredients:
1 bag of your favorite frozen tater tots
1/2 lb ground chicken chorizo, sauteed
1 jalapeno, sliced into rounds
1/2 cup red onion, diced
1 cup black beans, drained, rinsed
1 1/2 cups Monterrey jack shredded cheese
3 eggs, cooked sunny-side up
Directions:
Preheat oven to 425 degrees. Place tater tots on a baking sheet and bake for about 20 minutes. Then remove tots from oven and sprinkle 1 cup cheese on top. Place back in the oven and bake for another 5 minutes.
Remove tots again and top tater tots with chicken chorizo, red onion, black beans, and remaining cheese. Place back in the oven for another 5 minutes. Remove tots and top with jalapeno slices and eggs. Serve immediately.
All images and text ©