cheesy chicken enchilada 'double' stacks
Surprise!!! Happy Baby Shower, Bev!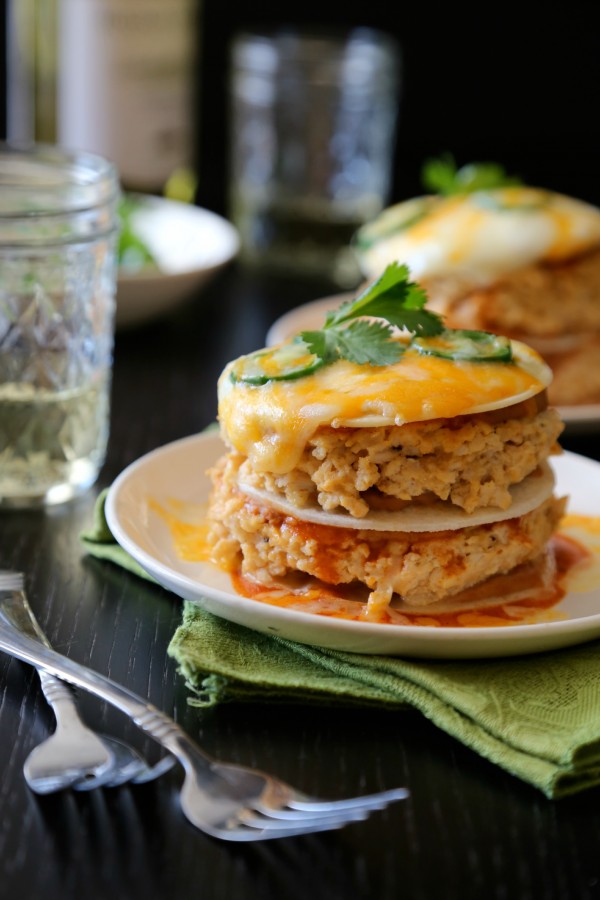 I am jazz-hands-put-the-record-on-the-turn-table-and-drop-it-like-it's-hot excited to be celebrating Bev's not one, but TWO soon-to-be bundles of joy! That's right. Bev is expecting twins, a boy and girl to be exact. Not only is Bev the cutest prego person ever (seriously, check out her pregnancy thoughts here, here, and here), but she is also one of my favorite food bloggers.
Bev and I haven't met in real life, but she lives in my parents' hometown of Kansas City and has a dog named Charlie, so I know she is major cool beans. Did I just say that? Bev writes a hysterical food blog, Bev Cooks, that is chocked full of savory recipes with the occasional dessert.. Some of my favorite recipes are Spicy Breakfast Taquitos, Grilled Veggie Naan Pizzas, and Creamy Chicken and Jalapeno Enchiladas. Not only are her recipes droolalicious, her writing will make you pee your pants from laughter, while her photography will have you yearning for seconds.
Today, 18,583 food bloggers and I are serving up the best appetizers, mocktails, entrees, side dishes, and desserts that will have you doing a double take. Yours truly went with the entree and decided to whip up an easy, cheesy, double stacked, Bev-approved dish. If chicken enchiladas and meatloaf were to have a baby, this would be the outcome – a savory stack of awesomeness.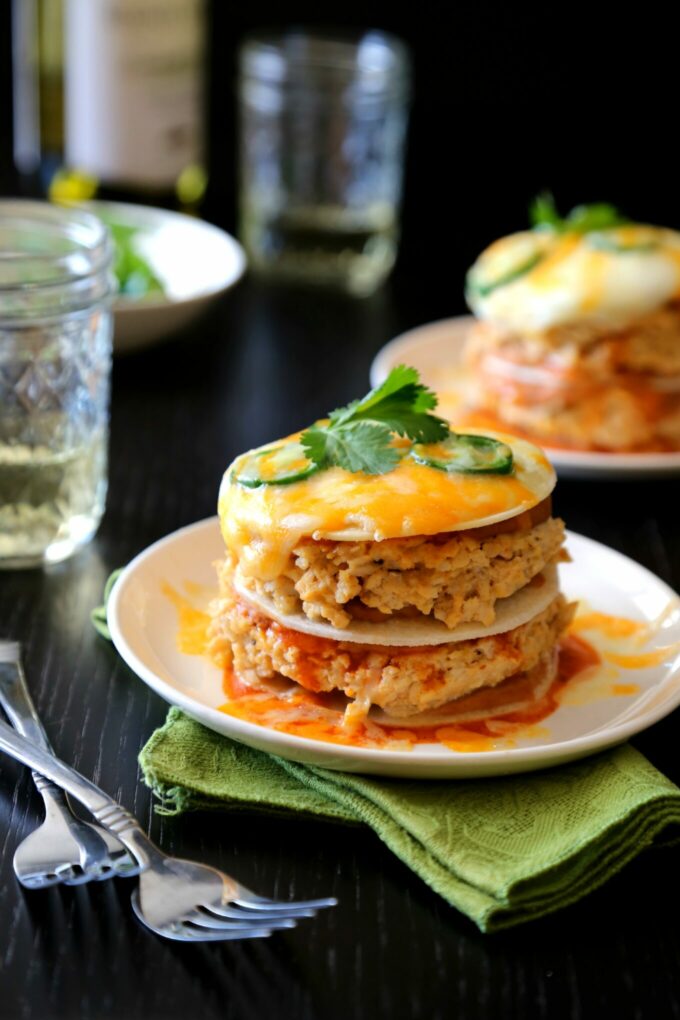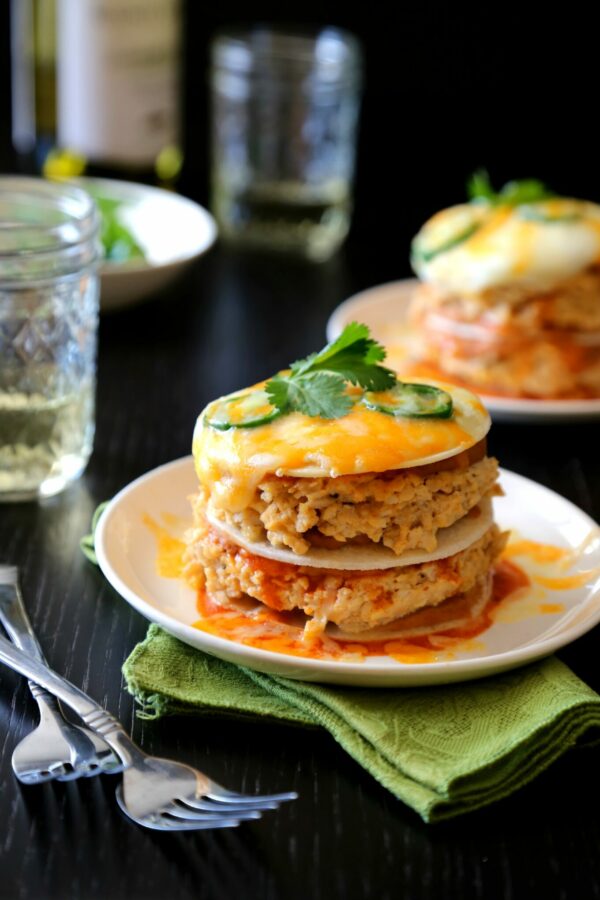 Happy Baby Shower, Bev! We <3 you!
Appetizers
Bacon Cotija Guacamole from Gaby Dalkin
Gruyère Gougères from Shaina Olmanson
Lemon Risotto Tarts from Kelly Salemi
Goat Cheese Crostini with Pesto and Roasted Red Peppers from Liz Della Croce
Spinach and Feta Quinoa Bites from Aggie Goodman
Roasted Red Grape, Brie and Rosemary Flatbread from Laurie McNamara
The Fastest Appetizer Ever from Brooke McLay
Apple Pear Tart – Two Ways from Sarah Glyer
Drinks
Chocolate Chai Frappe from Brandy O'Neill
Cherry Chocolate Kiss Smoothie from Amy Flanigan
Cranberry Sorbet Bellini – Non-Alcoholic and Alcoholic from Megan Keno
Peppermint Mocha Affogato from Christina Lane
toasted marshmallow cream hot chocolate from Jessica Merchant
Pomegranate Lemonade Punch from Heather Christo
Salads
Kale Salad with Pomegranate, Orange and Pine Nuts from Rachel Gurk
Pear Cranberry Arugula Salad from Tracy Benjamin
Brussels Sprout Salad + maple roasted cranberry dressing from Katie Unger
Gluten-Free Pasta Salad from Lisa Thiele
Hearty Roasted Winter Vegetable Salad with Honey Ginger Dressing from Heather Disarro
Winter Citrus Salad from Catherine McCord
Entrees
Creamy Roasted Red Pepper and Chicken Sausage Pasta from Heidi Larsen
Eggplant Parmesan Lasagna from Joanne Ozug
cheesy chicken enchilada 'double' stacks from Lauren Grier
Jalapeno Popper Chicken Soup from Kevin Lynch
Thai Spiced Chicken with Coconut Cream Swiss Chard from Brandi Evans
Sausage and Red Pepper Quiche from Tasty Kitchen
Roasted Red Pepper Pasta with Goat Cheese from Julie Deily
Desserts
Soft and Chewy Oatmeal Coconut Chocolate Chip Cookies from Averie Sunshine
Glazed Dulce de Leche Pound Cake from Meagan Micozzi
Mississippi Mud Pie Brownie Ice Cream from Megan DeKok
Buttermint Frosted Sugar Cookie Cups from Shelly Jaronsky
4-Ingredient Peanut Butter Chocolate Cookies from Ali Ebright
Sweet Potato Creme Brulee from Brian Samuels
Whole Wheat Double Chocolate Mint Cookies from Aimée Wimbush-Bourque
Mini Chocolate Stout Cheesecake with Salted Beer Caramel Sauce from Jackie Dodd
Red Velvet Hi Hat Cookies from Kristan Roland
Double Chocolate Panini from Kathy Strahs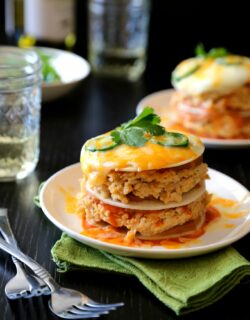 Cheesy Chicken Enchilada 'Double' Stacks
Ingredients:
for the enchilada:
1 pound ground chicken
1/3 cup red enchilada sauce (+ more for stacking sauce)
1 teaspoon cumin
1 teaspoon coriander
1 tablespoon chili powder
1 teaspoon garlic powder
1 teaspoon paprika
1/2 teaspoon salt
1/4 teaspoon ground pepper
1 egg
1/2 cup pepper jack cheese, shredded
6 tortillas, cut into 3-inch rounds
Jalapenos, cut into rounds
Cilantro, garnish
for the refried beans:
1 15 oz can refried beans
1/2 cup cheddar cheese, grated
2 tablespoons milk
Directions:
for the enchilada:
Preheat oven to 350 degrees.
Spray a small baking sheet with non-stick cooking spray. In a large bowl, combine the first ten ingredients. Take the enchilada mixture and press into the baking sheet. Instead of baking it as a loaf, we are basically making a meatloaf to divide into circles later. Bake the enchilada/meatloaf for about 20 to 30 minutes or until golden brown. Let it cool slightly and then take a 3-inch biscuit cutter and cut four rounds out of the enchilada mixture. You will have leftovers.
for the refried beans:
Preheat a small saucepan to medium-low heat. Add refried beans. Slowly add the cheese and milk. Stir to combine until the beans have softened and are smooth. Turn heat off and keep warm.
to serve: to serve: in a mini oven proof dish, spoon about a tablespoon of enchilada sauce on the bottom. Place one tortilla round on the bottom followed by a chicken enchilada circle on top. Spoon about one tablespoon of the refried beans on top followed more red sauce.Top with another tortilla circle. Repeat step again. Top with enchilada red sauce, more pepper jack cheese, and jalapeno rounds. Place oven proof dish under brolier to melt cheese. Remove from oven and garnish with fresh cilantro. Repeat same process for second stack. Sere immediately.
All images and text ©