cheesy naan reuben pizzas with thousand island drizzle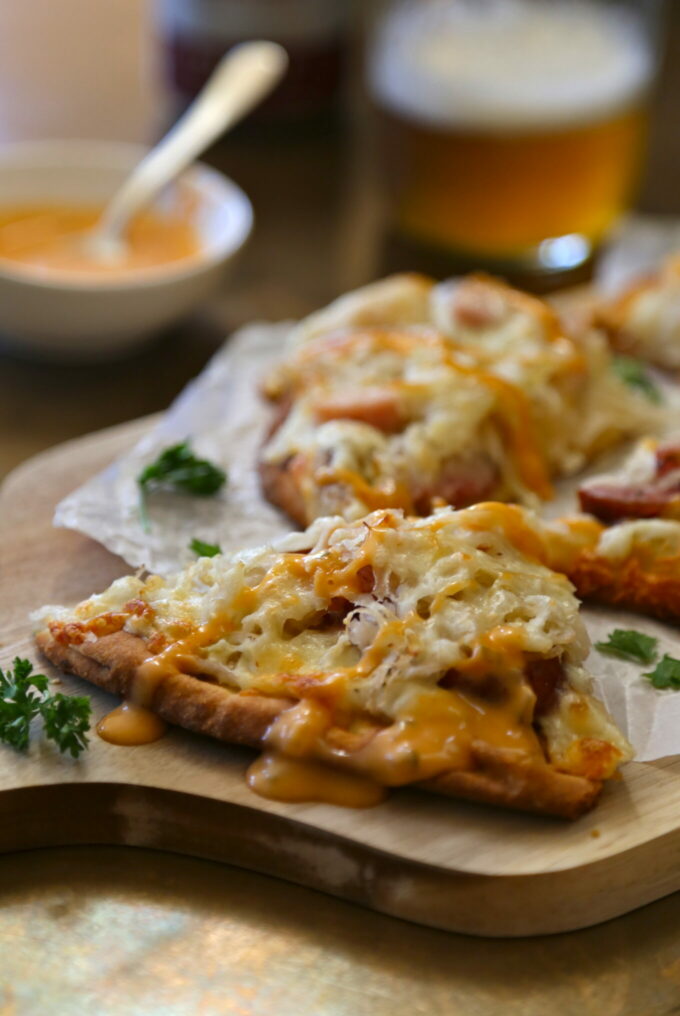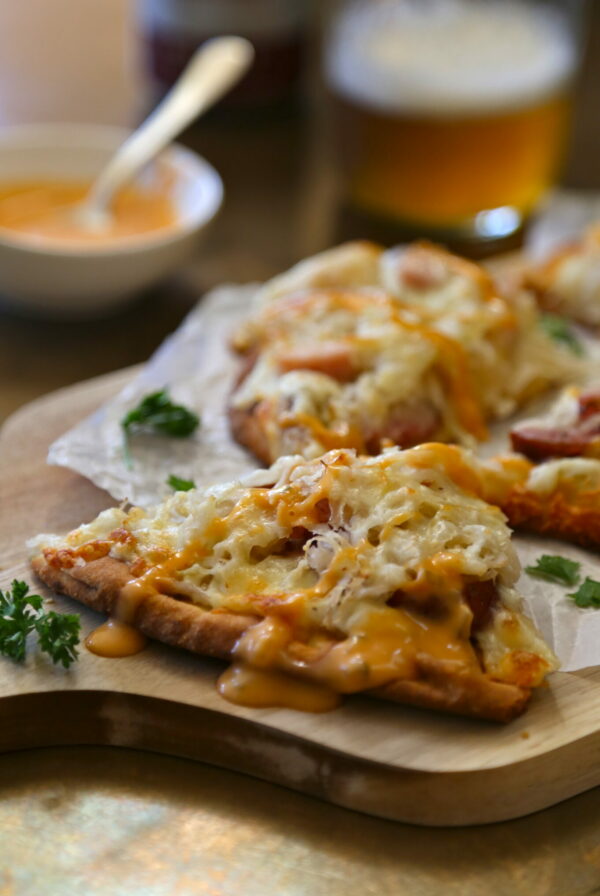 Well, I've done it again.
I have developed an addiction. Not quite the full 12step, "Hi, my name is Lauren," kind of addiction, but a severe craving nonetheless. The Reuben has me hook, line, and sinker. If they sold Reuben flavored paint, I'd purchase a bazillion gallons.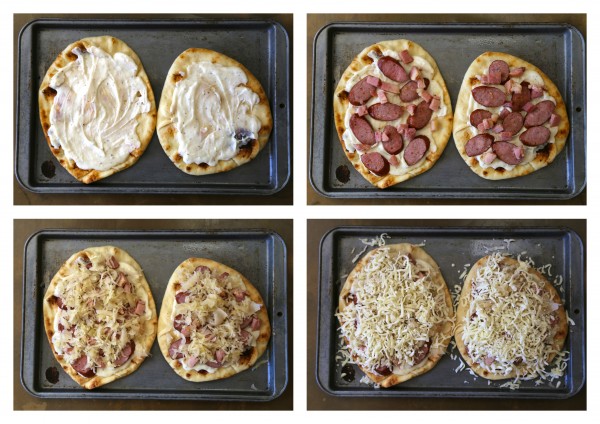 My obsession with this sandwich piled high with hot corned beef, gooey swiss cheese, sauerkraut, and Thousand Island dressing is rather recent. A couple of years ago, I totally gave it the stink-eye. Mr. B has always been on Team Reuben so whenever he would order one at a restaurant, I would roll my eyes and commence the mean mug stare. The taste and smell of the sammie did not jive with me whatsoever.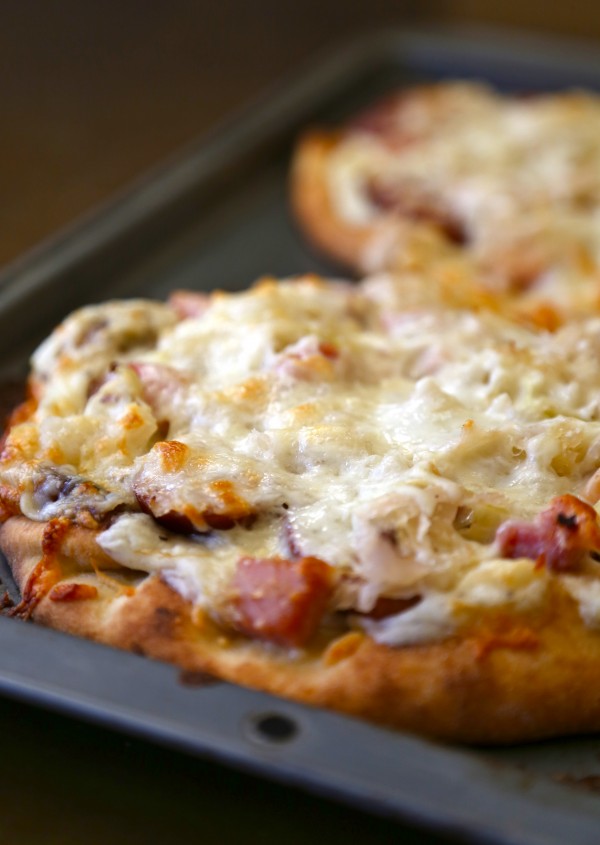 But like some things in life, you slowly learn to like and accept things from your past. Yes, this includes food. Hello….super green-town brussel sprouts and spinach. Let's be honest, what six year-old yearns for a big plate of cooked veggies as an afternoon snack or for dinner? I think not. Same theory applies. Eventually you think, maybe I should try this spicy, manly sandwich. So, your thirty year-old self tries a bite of your hubby's sandwich. Bam! Fireworks go off and you instantly realize that you've wasted a 1/3 of a lifetime not enjoying this classic sandwich.
And the crazed Reuben obsession begins.
It started with this Reuben chowder I made a couple of weeks ago. I still have dreams about that delicious chowder. The hubby gave it two spoons up so naturally my curiosity wheels were spinning and I was wondering what other kind of vehicles I could put the Reuben in. Enter, the Reuben pizza. Yes, the Reuben pizza has been done before, but I went all Naan on this version. I'm telling you, rye bread ain't got nothing on buttery Naan. With a little Thousand island drizzle on top, you'll be, "Reuben sandwich, what?!"
Now, about that flavored wall paint…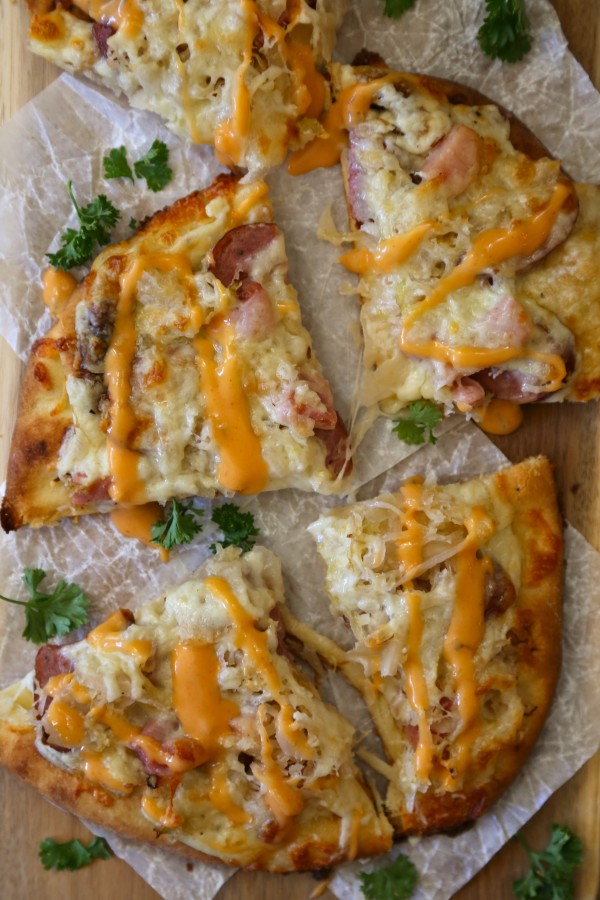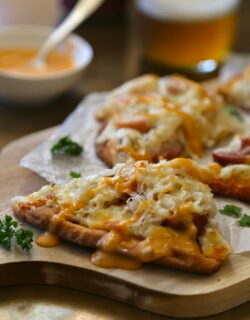 Cheesy Naan Reuben Pizzas with Thousand Island Drizzle
Ingredients:
4 pieces Naan
1 tablespoon olive oil
2 cups andouille sausage, sliced
1 cup ham, diced
2 cups sauerkraut, drained
1 cup provolone cheese, shredded
1 cup mozzarella cheese, shredded
1/2 cup thousand island dressing
parsley, garnish
for the white sauce:
3 tablespoons all-purpose flour
3 tablespoons unsalted butter
1 cup whole milk, room temperature
1/8 ground nutmeg
salt and pepper
Directions:
Preheat oven to 400 degrees. Spray baking sheets with non-stick cooking spray. Place two pieces of Naan on each baking sheet. Preheat a medium skillet to medium-high heat. Add olive oil to skillet, and then andouille and ham. Saute for a couple of minutes or until golden brown. Remove from heat and set aside.
Ladle about 1/4 cup of the white sauce onto each Naan piece leaving room for a border. Top each piece of Naan with andouille, ham, and sauerkraut. Next, top with cheeses. Place in oven and bake for about 15 to 20 minutes or until golden brown. Remove from oven and let the pizzas cool slightly. Drizzle top with Thousand Island dressing and garnish with fresh parsley. Cut and serve!

for the white sauce:
In a small saucepan, add butter. Once melted whisk in the flour. Let the flour cook out for a minute and then slowly add the whole milk whisking while adding. Bring to a slight simmer and reduce heat to medium low. Let the sauce thicken for about about five minutes. Add nutmeg, along with a pinch of salt and pepper. Stir until the sauce coats the back of a spoon.
All images and text ©