dark chocolate monster stacks with orange marshmallow frosting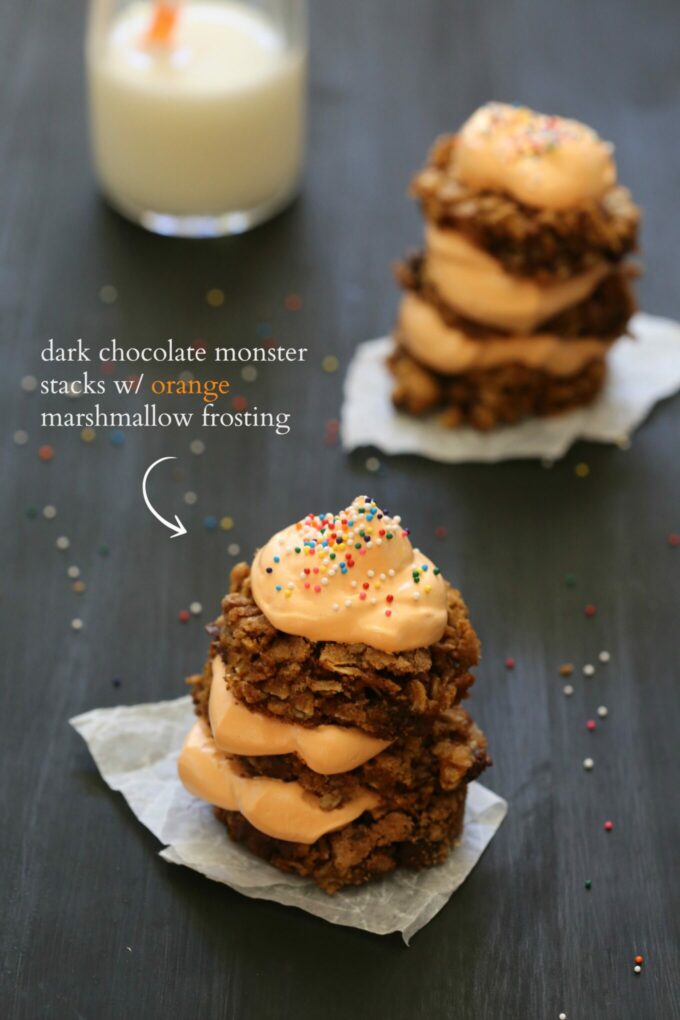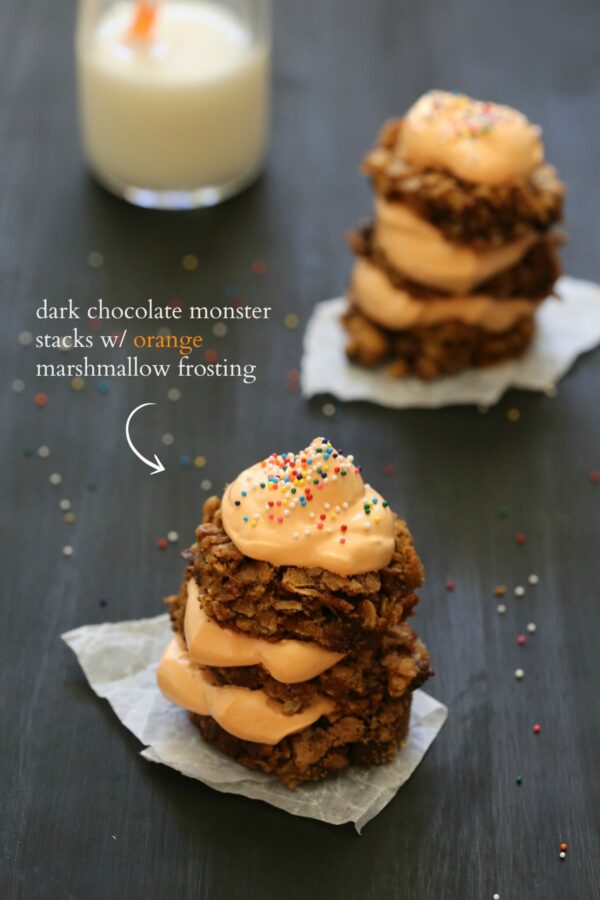 "I was working in the lab late one night, when my eyes beheld an eerie sight. . . "
He did the mash. He did the Monster Mash.
I can't count on my fingers how many times my brothers and I shimmied, and shook, our tookus' to this song in our living room growing up. Besides Paula Abdul and Michael Jackson, on our regular cassette rotation, we danced and giggled to the Monster Mash until we couldn't mash no more.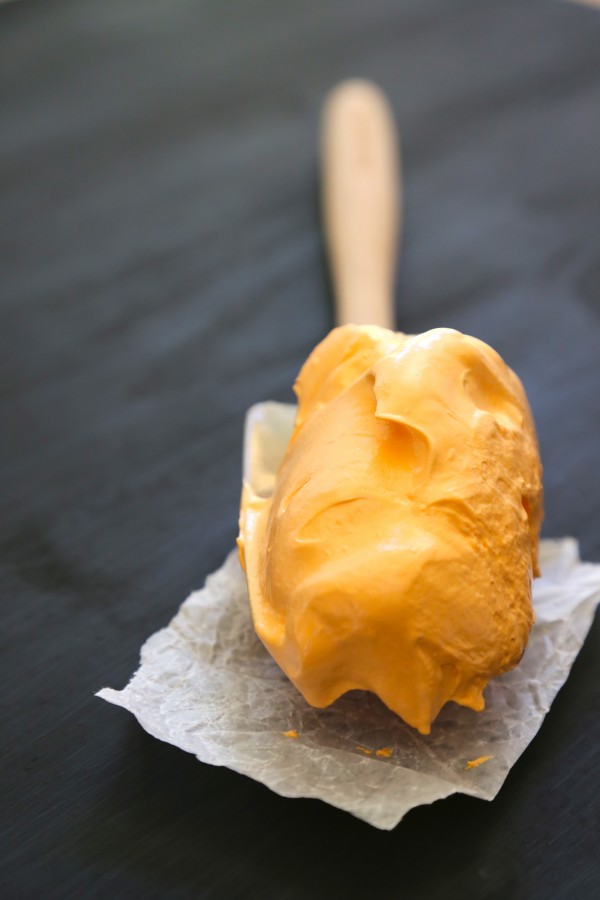 Growing up, Halloween was a BIG deal in our house. My mother, who is a Halloween addict, would ghoul all out (<—- get it?) in celebrating this holiday. I'm talking covering our front porch with an obscene amount of cobwebs, jack-o-lanterns, orange hanging lights, and the piece de resistance, Ferdinand the dummy. Ferdinand was key to the Halloween magic. He's named after my great-great grandfather, who is probably looking down on us and thinking, "I did not sign up for this!" Sorry, Ferdster.
Ferdinand was a dummy stuffed with newspaper that we assembled every year. Now that I think about it, that sentence sounds a little morbid. Eh, it's Halloween and not a scene from Psycho. Ferdinand's face was a mask that looked like a bank robber who smoked four cigars a day. Still, even with his unfortunate looks, and uneven newspaper-stuffed body parts, he was our center of Halloween celebration.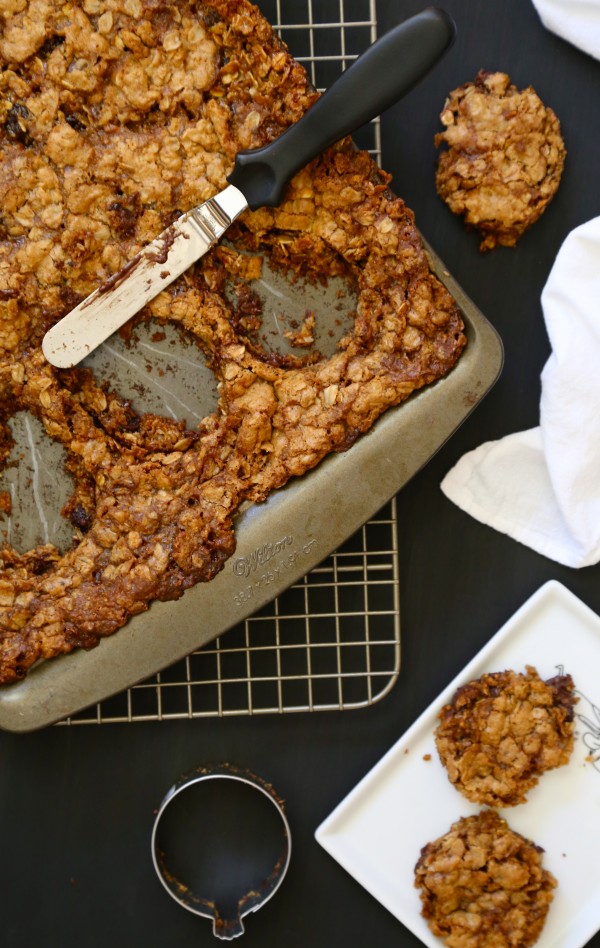 Come to think of it, I'm pretty sure my brothers and I attempted to get Ferdinand to do the monster mash with us. But every time we attempted to try, his rigomortis would act up. Maybe instead of dancing, I should have made him these monster stacks with orange marshmallow frosting. I mean you would have to be a DUMMY not to like dark chocolate, peanut butter oat bars with sugary, fluffy topping right? Thought so.
Cue the mash!
"He did the mash, he did the monster mash…."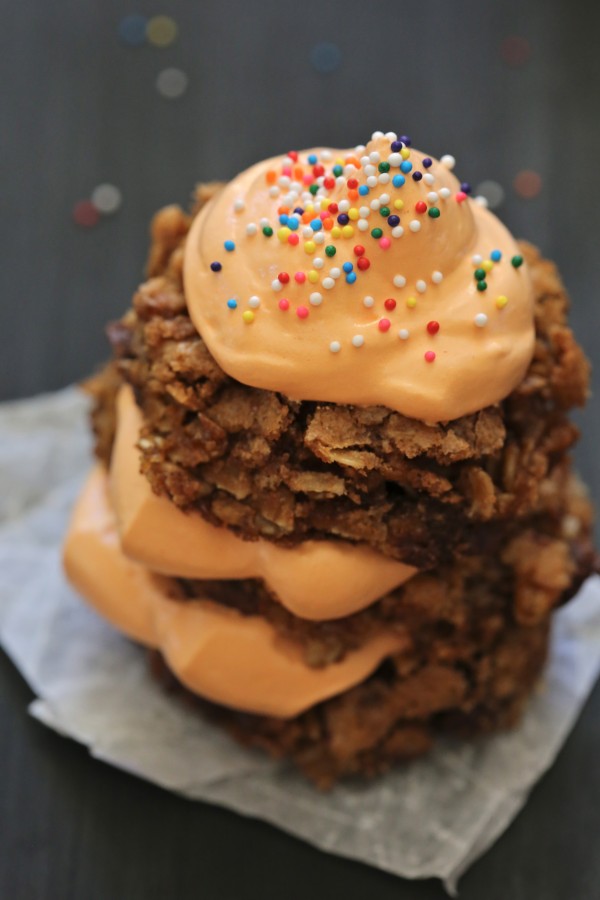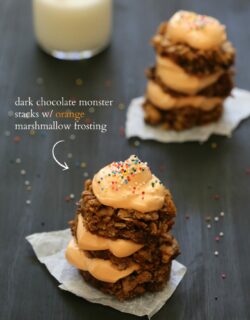 Dark Chocolate Monster Stacks with Orange Marshmallow Frosting
Ingredients:
for the monster stacks:
1 stick unsalted butter, room temperature
1 cup brown sugar
1 cup granulated sugar
1 cup creamy peanut butter
3 eggs
1 teaspoon vanilla extract
2 teaspoons baking soda
4 cups oatmeal
1 cup dark chocolate chips
1 cup semi-sweet chocolate chips
for the marshmallow frosting:
2 egg whites
1/4 teaspoon salt
1/4 cup granulated sugar
3/4 cup corn syrup
1 teaspoon vanilla extract
orange food coloring
sprinkles, garnish
Directions:
for the monster stacks:
Preheat oven to 350 degrees.
Spray a medium shallow baking sheet or jelly roll pan with non-stick cooking spray. In a large bowl, mix all ingredients together. Take the batter and press it gently into the shallow baking sheet or jell roll pan. Bake for about 20 minutes or until golden brown. Let them cool before cutting out circles. Once cooled, take a 1-inch circle cookie cutter and cut three circles out. Be careful because the dough will be a little crumbly. Place the three circles on a plate and then place the plate into the freezer for a couple of minutes. This will help keep the cookies from falling a part so you can stack them. Remove from freezer and pipe the orange frosting on top of one cookie, top with another cookie, pipe again, top with another cookie, and pipe again. Garnish with sprinkles.
for the marshmallow frosting:
In a stand mixer with a whisk attachment, beat 2 egg whites with salt until frothy. Gradually add sugar, beating until soft peaks form. Heat syrup in a glass microwaveable dish until it boils. Pour syrup in thin stream over egg white mixture, a little at a time. Beating on high speed until harder peaks form. Add vanilla, food coloring, and beat until glossy!
adapted from the Roder Family Cookbook
All images and text ©