foodie fridays: pumpkin mousse with candied squash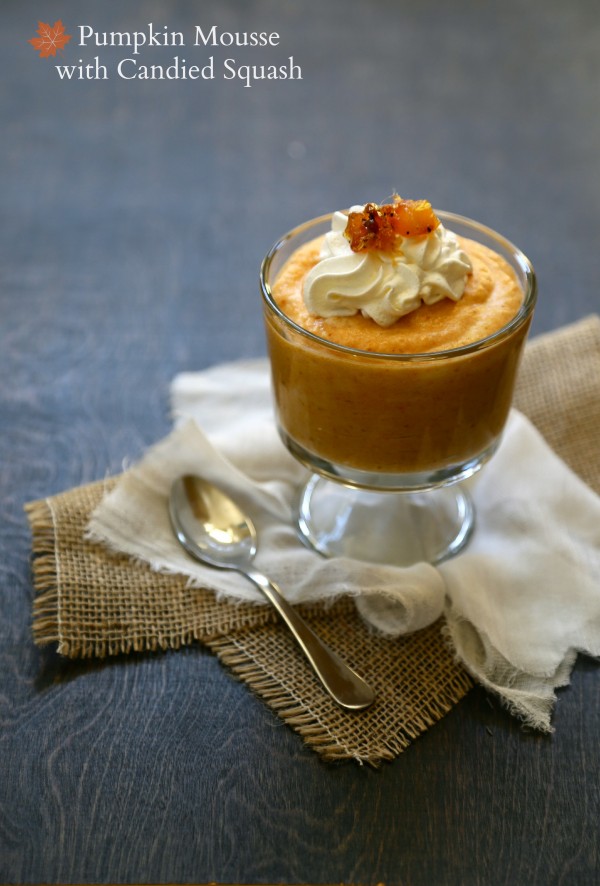 I think the story of Cinderella was on to something.
First, always make friends with a mouse named Gus. He is hands down my favorite character in the movie. Gus may not be on top of everything all the time. More often than not, he finds himself tangled in situations with a repulsive cat named Lucifer.  Yet, his laugh is contagious and he will always make you giggle. Plus, he's always good for a slice of cheese.
Second, step siblings who are off-the-rocker-got-hit-with-the-ugly-stick-tear-a-part-your-dress crazy, probably have serious daddy issues. Pay no attention to them and encourage the necessity of seeing a therapist.
Last, nothing ever good happens after midnight. Clearly, the fairy godmother didn't want Cinderella to get deep into the giggle juice and make a scene at the ball. The prince totally would have had second thoughts if she would have stuck around afternoon midnight. Could you imagine her trying to explain her pumpkin ride while three sheets to the wind? Awwwwkward.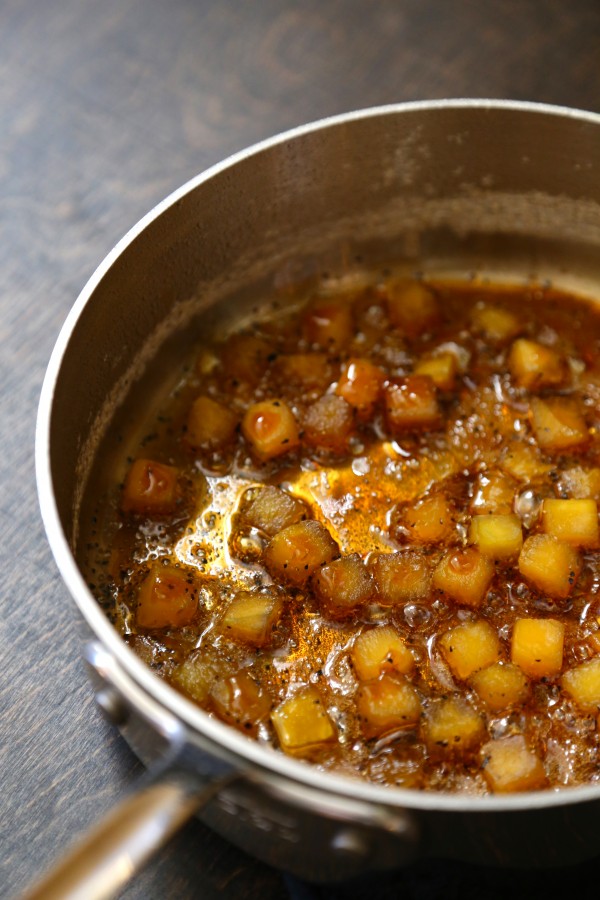 And speaking of magical pumpkins, did you know that a gaggle of two-snaps up food bloggers and I are dedicating an entire week to nothing but pumpkin recipes?!! I know. Totes magical. We are leaving no pumpkin unpicked, carved, baked, sautéed, or whipped. This week is like one GIANT pumpkin makeover and you are getting VIP access to all of these fabulous recipes.
Not to toot my horn <TOOOOOOOOT!!!!>. Sorry. Where are my manners? Jeez. But fo' reals, I need to tell you about this pumpkin mousse. Okay really, I need to tell you about  candied squash. Did you know you can candy a vegetable?
PSA: Hey parental units, if you want your kids to eat vegetables just candy the suckers. I didn't know you could do these things until last week. Basically you simmer the squash in some simple syrup with a splash of pepper, and BOOM! Candied squash.
Plop it on top of some delicately whipped pumpkin mousse and you have yourself one award winning, Emmy approved makeover.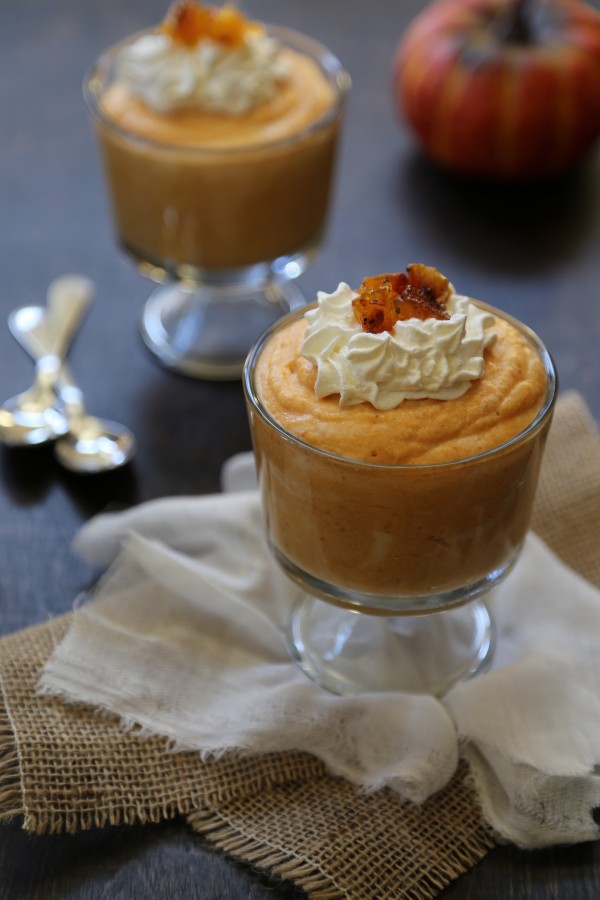 Don't forget! Make sure and check out the rest of the magical pumpkin crew:
Monday:
Beka: @ Kvetchin' Kitchen – Pumpkin Streussel Bread
Kirsten @ Comfortably Domestic – Pumpkin Cinnamon Rolls
Tuesday:
Jeanne @ Inside NanaBread's Head – Pumpkin Hazelnut Waffles with Cinnamon Honey Butter
Carrie @ Bakeaholic Mama – Pumpkin Pie Macaroons
Wednesday:
Megan @ Country Cleaver – No Bake Cheesecake Pumpkin Cheese Caramel Cones
Allison @ Decadent Philistines Save the World – Pumpkin Marshmallows & Pumpkin Spice Syrup
Shana @ Pineapple and Coconut – Creamy Maple Bacon Pumpkin Risotto
Thursday:
Anne @ From My Sweet Heart – Pumpkin Donuts with Cream Cheese Icing and Candied Pepitas
Kat @ Tenaciously Yours – Marbled Pumpkin Gingersnap Tart
Mads @ La Petite Pancake – Pumpkin Spice Cake with Maple Frosting
Friday:
Yours Truly – Pumpkin Mousse with Candied Squash
Kirsten @ Comfortably Domestic – Pumpkin Kiss Cookies
Madeline @ Munchin' in the Mitten – Savory Pumpkin Tart
Saturday:
Beka @ Kvetchin' Kitchen – Pumpkin Scones
Monica @ The Grommom – Pumpkin Ice Cream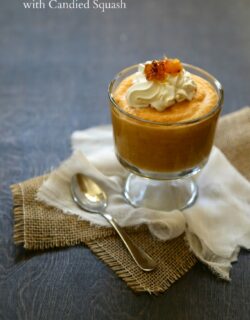 Pumpkin Mousse with Candied Squash
Ingredients:
for the mousse:
3/4 cup pumpkin puree
3/4 cup granulated sugar
1/4 teaspoon cream of tartar
3 egg whites, room temperature
1 cup whipping cream
for the candied squash:
1/2 cup granulated sugar
1/2 cup water
1 teaspoon vanilla extract
1/2 teaspoon finely ground black pepper
1 cup diced butternut squash
Cool whip, garnish
Directions:
for the mousse:
In a mixer fitted with a whisk attachment, whisk cream until fluffy. Set aside. In a mixer fitted with a whisk attachment, blend egg whites and cream of tarter until frothy. Slowly add the granulated sugar. Whisk until soft peaks form. Set aside.
To make the mousse, combine pumpkin with meringue. Gently fold until well combined. Then gently fold in whipping cream. Place pumpkin mousse in fridge to let it chill for at least 30 minutes. Serve with candied squash on top and cool whip.
for the candied squash:
Place sugar, water, extract, and pepper into a medium saucepan. Stir to combine. Bring to a boil and stir until the sugar has dissolved. Place the butternut squash into the saucepan and cook the squash in the pepper sugar mixture until tender, glossy, and sugary perfection! Probably about 10 to 15 minutes. Be patient. Trust me, it's worth it! You'll want to let the squash cool before you plop it on top of the mousse and cool whip.
candied squash from Food and Wine Magazine
All images and text ©